HTC One S hands-on
While the One X may be HTC's new flagship, the One S is arguably the most cohesive all-round package: a balance of design, screen size and performance with the benefits of Ice Cream Sandwich. Sense 4.0 has been cleaned up and pushed back to its roots – improving the core OS experience, rather than merely making it look different – while HTC's legendary hardware expertise has been pushed to the next level with some attention-grabbing production processes. Read on for our hands-on first impressions.
Plastic – even if it's micro-drilled and carefully polished – always runs the risk of feeling cheap; that's not a criticism you can level at the One S. HTC has readied two versions, each study metal and creak-free, one black with so-called "Ceramic Metal" finish and another with a grey "Graded Anodization" finish.
The former One S finish is the more exciting, though not necessarily as eye catching. Both have an almost soft-touch feel, but the "Ceramic Metal" One S borrows manufacturing processes from satellite production for something that's five times stronger than regular anodized metal. Called "Micro Arc Oxidation", the unibody fame is effectively bathed in plasma and then electrocuted, resulting in a momentary temperature hotter than the sun that oxidizes the surface and leaves it incredibly scratch-resistant. Although you can mark it with a fingernail, HTC promises us the scratches are in fact our nails wearing down, not the surface of the phone being marred.
Overall, the One S feels long and narrow. It's fronted by a 4.3-inch AMOLED running at qHD 960 x 540 resolution, with excellent viewing angles and the sort of rich colors we're used to from OLED-based displays. As with the other phones, HTC has turned to optical lamination to bond the AMOLED panel to the fascia glass, leaving the picture looking as though it's swimming on the surface of the phone itself.
Inside there's a 1.5GHz dualcore Qualcomm Snapdragon processor with 1GB of RAM, HSPA+ connectivity – along with WiFi b/g/n and Bluetooth 4.0 – and MHL-HDMI via the microUSB port, though no NFC unlike the One X. HTC has also opted for a micro SIM, which slots in underneath the camera surround panel on the back of the handset, but you won't find either a removable battery or a microSD card slot. Instead, the 1,620mAh power pack is fixed, as is the 32GB of internal storage.
On the back is an 8-megapixel camera, using a Backside-Illuminated (BSI) sensor and a new f2.0 lens for 44-percent more light than the typical f2.4 lens other smartphone cameras might make do with. HTC has also introduced its own image processing chip, the uninspiringly named HTC Image Chip, which applies color correction and generally processing to the RAW frames, rather than – as with most phone cameras – converting to JPEG and then processing.
HTC is particularly proud of its camera experience on the new range, and the effort put in shows. The camera app boost swiftly – HTC tells us 0.7 seconds – and autofocus lock is even faster, at 0.2 seconds. We've seen fast autofocus on the Galaxy Nexus, though the downside can be somewhat poor fixes in the process, something which in our limited play the One S looks to have avoided.
Useful are the dual controls which allow for both stills and video to be captured simultaneously, and the burst photo mode that, rather than demanding you dig through the settings to activate it, automatically triggers when you keep your finger on the button. You can preset it to take up to 99 frames, and as soon as you lift your finger you're presented with a gallery of all the shots to choose between (though you seemingly can't play them back as a stop-motion clip). Even the flash has been fettled, addressing one of our common complaints – that LED flashes often wash out the frame – by having it automatically choose between seven levels of brightness depending on the proximity of the subject.
HTC Sense 4.0 is present, the company refusing to grant us pure Android 4.0 Ice Cream Sandwich, but the UI is less cartoon-like overall. HTC claims to have made a conscious effort to pare back anything that unnecessarily added lag, such as widget animations or screen transitions, and Sense now feels crisper and less faux-analog.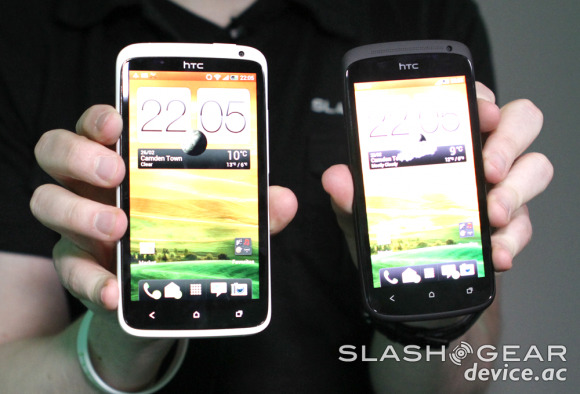 Openness to third-party ecosystems has apparently been HTC's watchword with Sense 4.0, and so the preloaded apps play more readily with external services. The Music app has now become a hub, bringing in not only your own local music but FM reception and services like Spotify, TuneIn radio and others. New services can be added from within the hub itself, and the end result is less jumping between apps (though you can't apparently create a single playlist from multiple sources). You still get HTC Watch – now with support for HTC's new MediaLink HD wireless HDMI dongle – and access to the HTC marketplace of apps and HTCSense.com online.
Best of all, though, with this phone HTC seems to have delivered everything the company promised was in the pipeline: the One S is solid, feels premium in the hand and is almost completely up to date with top-tier hardware from rivals – the only blip really being the missing NFC. With availability expected within 60 days – and, HTC told us privately, with a target of early April in Europe, with a Spring release on T-Mobile USA – this could be one of the stand-out phones of Q2. We'll save our full opinion for the full SlashGear review, but HTC is definitely off to a better start than last year.
[Video Processing]