Google IO 2012: Nexus 7 and Nexus Q hardware wrap-up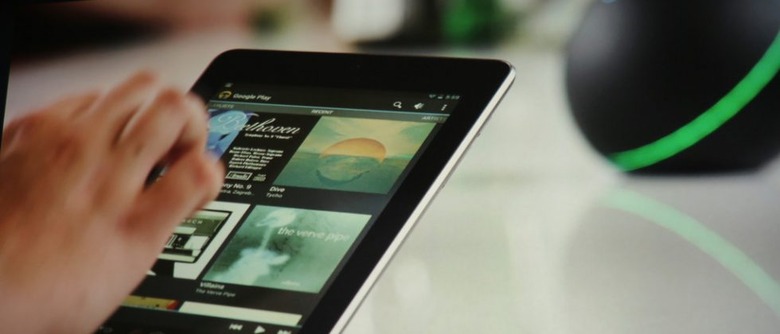 Google's IO Keynote wasn't all about Jelly Bean: the company also had some slick new hardware to demonstrate in the shape of the Nexus 7 tablet and Nexus Q media computer. The ASUS-made Nexus 7 came as little surprise, a 7-inch 1280 x 800 tablet running Jelly Bean on a Tegra 3 processor. As for the Nexus Q, that takes a little more explaining.
The orb-like gadget is part headless-phone – running Android, of course – and part Apple TV alternative, hooking up with HDMI to your TV and throwing in speaker connections too. It can be used as a media streamer, pulling in content from YouTube and other cloud stores such as Google's new movie purchase system, as well as a communal jukebox of sorts, with a shared playlist accessible from Android devices. It's priced at a hefty $299 and will ship in 2-3 weeks time in the US.
One such Android device that could control the Nexus Q is the Google Nexus 7. The tablet ticks all the spec-sheet boxes – it has a 1.2-megapixel front camera, WiFi b/g/n, Bluetooth, 8GB/16GB of internal storage and 1GB of RAM, all in a 198.5 x 120 x 10.45mm form factor weighing 340g – but comes in at $199 for the entry-level model.
The 4325 mAh battery is good for up to 8hrs of use, Google claims, and there's a microphone, NFC, accelerometer, magnetometer, GPS and a gyroscope. Interestingly, it runs Chrome for Android as the default browser, and comes with a specially updated version of Currents.
Standby for hands-on content with both new Nexus devices!