Nexus Q demonstrated with cloud music and movies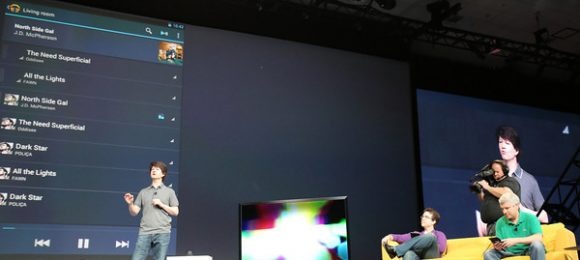 This week at Google I/O, a brand new device has been revealed going by the name Nexus Q, a cloud-based system which connects to your sound system, video system, and more, complete with Android. This system is made to bring on the heat for Google Play in many ways more than one, and is connected to everyone in a room at a given time. A couple of folks sitting on the couch can add songs to a list, each of them connecting with their own Android device.
This system can also connect to your HDTV and transmit your data wirelessly from Google Play. The content comes from the cloud, your Android smartphone or tablet works like a controller. All of your systems are connected to Google Play, and it all works, again, completely wirelessly – save for the connection between the Nexus Q and your television.
Google has also released a video of the system in play here:
Check out the gallery below for more information on the Nexus Q and check out our Nexus Q portal as well – and stick around all week at our I/O 2012 portal and our Android portal too!