Google unveils Nexus Q Android-powered computer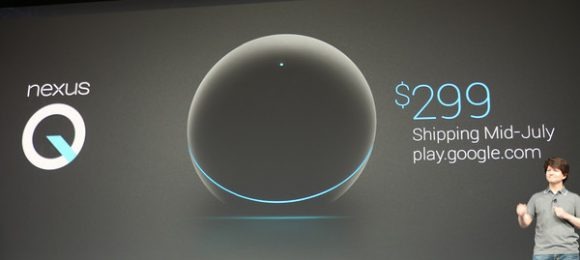 Google has just pulled the wraps off its mysterious Project Tungsten, now unveiled as the Nexus Q. What's the Nexus Q? It's a small Android-powered computer taking the form of a small orb designed to sit in your home as a central entertainment system that can interact with any Android smartphone or tablet.
This interaction isn't limited to your own Android smartphone or tablet. By this we mean that your friends can interact with your Nexus Q with their Android smartphone or tablet as well. For instance, they can send music from their playlist directly to your Nexus Q or grab a movie off your Nexus Q onto their smartphone.
The Nexus Q is always connected to the cloud and can pull content directly from Google Play. When you interact with it using your smartphone or tablet, the media played is actually pulled directly from the cloud rather than from each device. It can stream music, movies, and TV shows from Google Play and YouTube and is being touted as the first social media streaming device.
It also features a built-in high quality audio grade amplifier at 25-watts which is plenty to fill a room with crisp clear sound. It's powered by the same OMAP 4460 chip used in the Galaxy Nexus and features 1080p video support, dual-band WiFi, Ethernet, and a micro USB port.
The device will be available in July for purchase directly from Google Play. It is priced at $299 and is available for pre-order today.