Avi Greengart's Products of 2009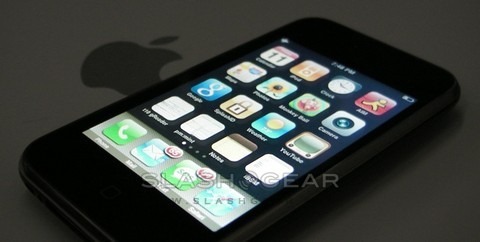 As 2009 comes to a close it's time to acknowledge some of my favorite tech products of the year.
The first "product" on the list works across the iPhone 3G, iPhone 3GS, and iPod touch: Apple's App Store. The hardware upgrades to the iPhone and iPod touch in 2009 were less impressive than the price drop on the iPhone 3G and the greatly expanded capabilities that application developers were given for writing for the iPlatform. The developer community responded with tens of thousands of new apps that turn an iPhone or iPod touch into a portable game console, heart monitor, prayer book, GPS navigator, eBook reader, and myriad other possibilities. Other platforms also rolled out app stores this year, but Apple retains an enormous lead in both the number and quality of options.
Palm reinvented itself this year with Palm webOS which offers unique capabilities (visually rich multitasking, integrated social networking) married to an exceptionally polished and well conceived user interface. The first two webOS smartphones (Palm's Pre and Pixi at Sprint) can be slow and have Lilliputian keyboards, but the OS itself sets a new standard for personal productivity.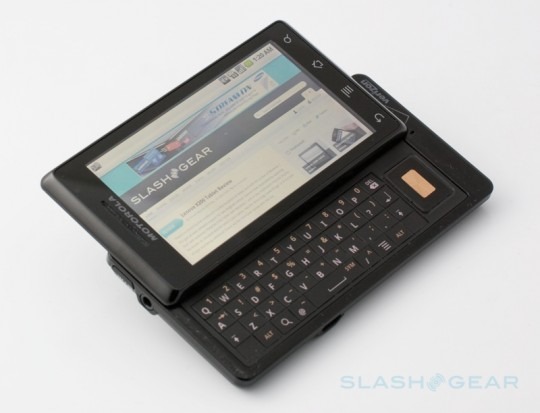 Motorola was another company facing a do-or-die year, and it has tied its future to Google's Android OS. The CLIQ with BLUR is interesting, but the real hit is Motorola's DROID ($199 with contract). The DROID is distinguished both by its hardware – incorporating a large, high resolution screen over a sliding QWERTY keyboard in a slim package – and its software – it is still the only phone running Android 2.0. Also onboard is Google's new Navigation app, which has some unique features, generally works almost as well as other turn-by-turn options, and has the added benefit of being free (though the mounting arm for your car is a strongly recommended $30 option). Some reviewers have panned the DROID's physical QWERTY keyboard; while it isn't great, I still find myself using it often. The DROID was so heavily promoted by Verizon Wireless – and there is such great pent-up demand for a good iPhone-like smartphone at the carrier – that it would probably have done well even if it was awful. Fortunately, it lives up to the hype.
HTC has been the manufacturer behind the scenes building Windows Mobile and Android phones for years. In 2009, HTC evolved its animated interfaces beyond just eye candy, and
HTC Sense phones go well beyond what their native operating system offer, combining rich home page environments, contact-centric messaging, and social network integration. Sense can be found on Android phones in the U.S. today (the
at Sprint, $179 with contract, and DROID ERIS at Verizon Wireless, $99 with contract), and Windows Mobile gets Sense when the
(current available in Europe) arrives at a U.S. carrier early next year.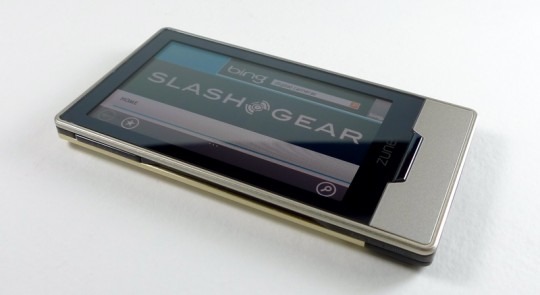 Microsoft seems to have focused all its promotional activity on Windows 7, and the lack of hype around the Microsoft Zune HD ($219/16 GB, $289/32 GB) is really a shame – the Zune HD is really an extraordinary music player. The hardware is terrific (AMOLED capacitive touchscreen running on an NVIDIA Tegra processor) and the user interface is smooth, gorgeous, and well designed. A new QuickPlay menu makes it easy to find what you were doing last or designate content for repeat consumption, and the Zune HD finds photos, discography, bios and related artist information for your music automatically, creating a more immersive and interactive music experience without the need to purchase special "LP" albums. A Zune Pass subscription makes the experience better but isn't strictly necessary, and HD radio is thrown in regardless. Apple has redefined mobile media players as mobile applications platforms, a feat that the Zune HD is not yet trying to pull off, and Microsoft has little hope of upending the iPod, no matter how good the Zune HD might be. But for the music enthusiast, the Zune HD is the best music playback device on the market.
For whole house music without the expense of custom installation, nothing works better than a Sonos system. Sonos brings its own wireless mesh network (which is more reliable than regular WiFi in my experience) and can pull music from a PC acting as a server or streaming Internet services like Rhapsody with no PC required. However, until recently, even Sonos required users to bring their own speakers in each room. The new Sonos ZonePlayer S5 ($399) is Sonos' first single box (per room) solution that sounds good, looks terrific, and is actually less expensive than its previous ZonePlayer-speaker combinations. Sonos sells dedicated controllers to manage your music, but the S5 is being marketed as an iPhone companion, so if you have an iPhone or iPod touch, the whole system can be controlled with a free app. Either way, the control interface is simple and attractive and anyone can use it, no manual required.
Logitech has long had a competing streaming audio system, Squeezebox. It is not as easy to install or use as Sonos, and I have run into problems getting some services to synchronize properly as a multi-room system (in contrast, Sonos is basically bulletproof). However, a new member of the Squeezebox family has me impressed: the Logitech Squeezebox Radio ($149). The Squeezebox Radio includes everything you need to stream Internet radio and several third party services such as Slacker. A color screen, oversized navigation wheel, and pre-built "station lists" makes finding just what you want simple.
Logitech improved its nearly perfect travel mouse – 2007's VX nano – by giving the Logitech Anywhere MX mouse ($79) the ability to track on glass, which I have found is a surprisingly common desk surface at hotels. Like its predecessor, the MX comes with a super tiny USB transmitter that can stay put in your laptop (or netbook) at all times. This means you can leave the adapter in and close your laptop, put the laptop in a bag, take it out later, and go again without having to wait for drivers to load, or figuring out which side of the little USB thingie is up when you insert it over and over again. The MX works on PCs and Macs, has a battery-saving on/off switch, and power is automatically cut if you hide the transmitter inside the mouse itself. It takes regular batteries which can be replaced at the hotel gift shop, though it won't require battery changes all that often. The MX also features Logitech's "engine" – the same technology in Logitech's bigger, more expensive MX Revolution mouse – that changes the way the scroll wheel works depending on what application you're in. You can use free spin for zipping smoothly up and down Word documents or web pages, and the traditional ratchet-click mode which is better for things like moving cell by cell through a spreadsheet.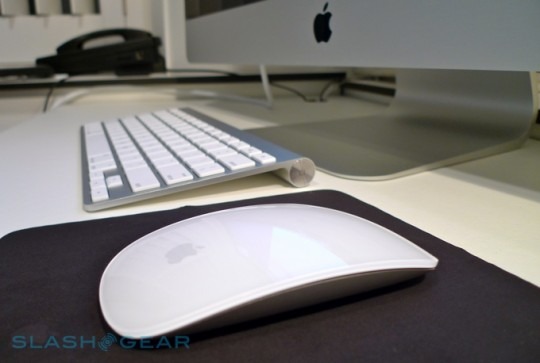 The only trick the MX can't do is work completely dongle-free via Bluetooth. I don't have a good PC Bluetooth travel mouse recommendation, but for the Mac, Apple's Magic Mouse ($69) is a huge improvement over the disappointing Mighty Mouse. The Magic Mouse's shape still isn't ergonomically ideal, but the touch controls work extremely well. The Magic Mouse is compact enough to serve as a travel mouse, and while it lacks a case, it has an on/off switch. While we're talking about input peripherals, if you don't like mice at all, Kensington's SlimBlade TrackBall is my favorite mouse alternative. A low profile and huge ball help justify a huge price point ($149).
This year brought another way to bring connectivity to your devices: Novatel's MiFi ($49 with contract). While inexplicably available only at CDMA carriers (Sprint and Verizon Wireless in the U.S.), the MiFi is a modem the size of several stacked credit cards that converts a 3G data signal to WiFi for up to five devices. Not only is it a good alternative to a USB 3G data modem, it's perfect for small workgroups and families, too: there are a lot of WiFi-enabled mobile devices out there beyond laptops, such as the Sony PSP, Nintendo DSi, and Apple iPod touch.
Flip video pioneered the category of super-simple digital camcorders and the new Flip minoHD ($199) keeps the company on top with a carefully balanced combination of performance, style, and software. It's this last aspect that really sets Flip products apart even as the competition intensified from traditional camcorder vendors and new entrants like Apple's video-capable nano – it is much easier to find, edit, and share Flip videos than on any other product.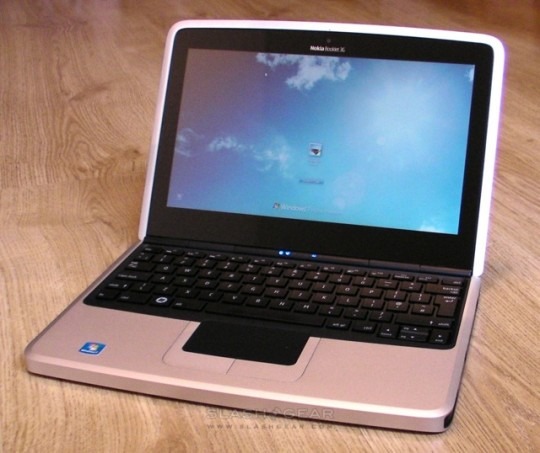 The Nokia Booklet 3G ($599 or $199 with contract) is an overpriced netbook with terrible performance. Yet, for the road warrior who prioritizes battery life, connectivity, and style, there isn't anything on the market that is comparable. The aluminum design looks like a shrunken Apple MacBook Pro – in a good way – and the keyboard and trackpad are good enough for email and Word documents. Performance beyond web browsing and Office work is awful: initial startup is slow, HD video stutters (despite an HDMI output), and you do not want to use a Booklet 3G for photo editing or gaming. I would prefer a VGA output (for presentations) instead of HDMI. However, slip in a SIM card from an AT&T smartphone, and you've got connectivity without signing up for a separate data plan. I got well over eight hours of real world battery life with the WiFi and 3G radios turned on so you can leave the (small!) power brick back in your room. That also makes the Booklet 3G the ideal netbook for long flights. (Fellow SlashGear columnist
also found
.)
Honorable mentions:
• Beatles Rock Band ($59 – $249). Rock Band, plus Beatles songs. What could be better?
• Roku expanded its lineup to three products: SD ($79), HD ($99), and HDxr ($129) and added a new channel "store" for content. Other than Major League Baseball and Pandora, the new content isn't all that impressive yet, but Roku remains an inexpensive way to add streaming movies from Netflix or Amazon, and it is dead-simple to use.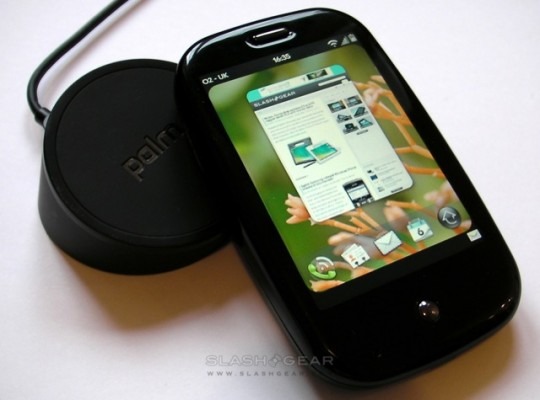 • Generic inductive charging pads still have a ways to go – I'm expecting significant improvements at the upcoming CES show in a few weeks – but for Palm Pre or Pixi owners, Palm's Touchstone ($79) is the ideal way to charge your phone without first performing a mating dance between it and a directional microUSB connector. Like other charging cradles or pads, the Touchstone also means you'll always know where you put your phone.
• SugarSync ($49 – $249/year) itself wasn't introduced in 2009, but the clients for the iPhone and Android were launched this year, and the service (which synchronizes and backs up all your data across multiple devices) became much more useful this year as consumers adopted netbooks and smartphones.
• There are plenty of PC speakers that do a decent job for music and gaming, but the AudioEngine A2 ($199) is more like a set of miniaturized studio monitors. Due to their size they lack bass – AudioEngine has larger models which should perform better in this respect – and they absolutely require burn-in ("breaking them in" by playing music or white noise for a day or two before they sound their best). However, the sound is almost completely neutral and they can play ridiculously loud without distortion.
Full disclosure: I have extensively used all products listed. The products listed above were selected solely due to their performance; no payments were made for inclusion in the list above and Current Analysis clients received no preferential treatment. As an analyst, I rarely pay for products I evaluate, and I return most products that I am sent. In some cases, I keep products for long term loans; these are typically products which are expected to gain functionality via software upgrades or where the return shipping charges exceed the product's depreciated value.