Flip MinoHD camcorder with 120-minute capacity debuts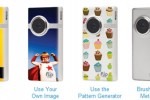 Flip popularized the tiny camcorder category with its Mino line of camcorders that were cheap and designed to be carried everywhere you go. The Flip line uploads directly to YouTube making them very popular with the video uploading crowd. We have reviewed the Flip Ultra camcorder before here at SlashGear. Flip has announced a new version of its camcorder called the MinoHD 120 that will ship on November 9 from the Flip website with 120 minutes of recording capacity.
The camcorder is evidently already available at some online retailers in the brushed metal finish. You can design your own camcorder online by adding your own pics or choosing your own pattern. The new version has 8GB of internal flash storage and records in 1280 x 720 resolution.
The rear LCD is a 2-inch unit and the camcorder has an omni-directional mic built-in. Power comes from a lithium-ion battery good for up to two hours per charge. An HDMI out is built-in for sending video directly to a big screen. The downside to the MinoHD is that it lacks optical zoom and only has 2x digital zoom. The camcorder sells for $229.