Four Reasons to Buy the Nokia Booklet 3G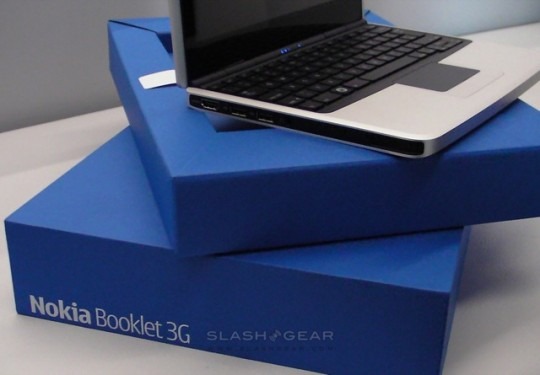 Nokia's first PC (as opposed to the phones they refer to as multimedia computers) got a lot of hype when it was announced and is getting a lot of mixed reviews from folks who complain mostly about price/performance and that you can get better specs in a netbook for less money. After spending some time with a Booklet 3G, I'm once again reminded that there's more to a purchase than speeds and feeds, and that value, much like beauty, is in the eye of the beholder. So I'm not going to discuss the relatively slow processor or hard drive. We can agree that the Booklet isn't a speed demon. It is, however, how a good PC experience should be and that's worth paying for in my opinion.
1. Style. The Booklet's got style. It's small, thin elegant and doesn't feel like it's made out of plastic. The metal construction of the body, the solid heft and firm click of the keys make it feel like it's a product that came from Cupertino, CA not Finland. In fact using it at Starbucks, several people asked me if I was using an Apple (even though the lid CLEARLY says Nokia). If your product gets confused with something made at 1 Infinite Loop, that's a good thing. Almost every other netbook on the market feels cheap and toy like by comparison.
2. Quality. The quality of the Booklet is excellent. Nokia has really worked hard to make everything from the beautiful blue packaging and out of box experience to using the Booklet a delight. There's very little bloatware installed and no need to spend hours "flattening" the hard disk and trying to either remove junk or just re-installing Windows from scratch. The 3G experience was a delight. I just popped an AT&T SIM into the Booklet and it immediately recognized it and connected to the network. No configuration or ATT connection software required.
3. Indulgence. Yep, it's a little indulgent to spend $599 for an un-subsidized Booklet but that's not a bad thing. The best products we purchase should feel a little indulgent; the Booklet's quality of materials and overall build justify that feeling.
4. Battery Life. Battery life is excellent. With the screen on 40% brightness and WiFi or 3G on, the Booklet can easily go for 8 hours or more. That's a full day of computing with no power adapter, or enough juice to get you from the east coast to west with enough battery life left to still check your email when you land. Sorry, 2-3 hours just doesn't cut it these days and the Booklet delivers.
The Booklet is a product with a lot of contradictions. On one hand it's fairly slow, booting took me a good two minutes (but once booted, sleep and/or suspend take very little time) but on the other hand has amazing battery life. There's an HDMI connector but no way to connect a VGA projector out of the box. It is a netbook class PC but carriers a pretty hefty price tag. On balance, it's not a machine for everyone but there's a lot here to like. If I were looking for a small, light companion machine to take on day trips and cared about form factor, build quality and battery life, I'd probably spend the extra money and go for the Booklet and not a cheaper netbook. I could also take some comfort in the fact that Booklet isn't the most expensive Atom based device on the market. I could by two Booklets for the cost of one Sony VAIO X and still have enough money left over for a smartphone, an eBook reader or one of those cheap, plastic netbooks.
Want a second opinion on the Nokia Booklet 3G?  Check out the SlashGear review.