Sonos ZonePlayer S5 wireless speaker makes distributed audio (a little) cheaper [Video]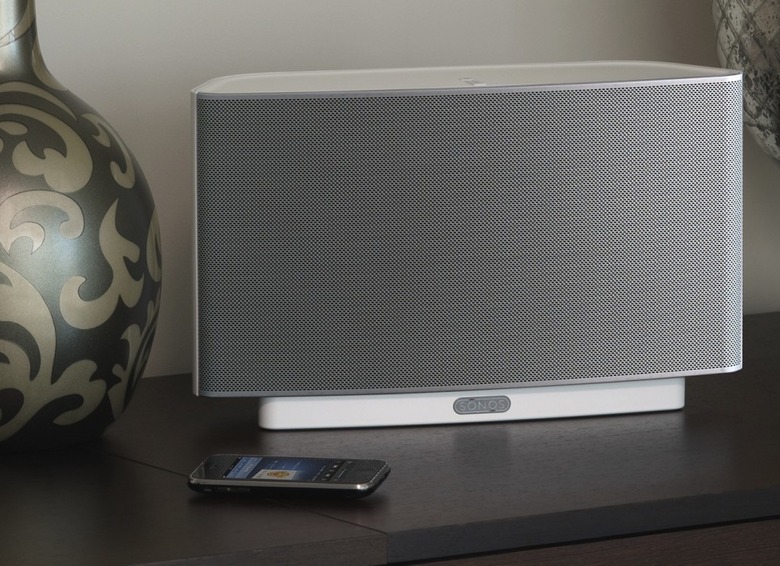 Sonos have pushed out a new ZonePlayer in their distributed home audio system, and in doing so drops the entry price by a (relatively) high amount.  The Sonos ZonePlayer S5 packages together a receiver and an amplified 5-driver speaker into a single unit, which for $399 (or €350 in Europe) undercuts the previous entry-level ZonePlayer 90 which demanded a separate set of powered speakers on top of its $349 sticker price.
Video demo after the cut
The ZonePlayer S5 has twin tweeters, twin mids and a 3.5-inch subwoofer, together with a headphone socket for private listening.  Setup involves simply plugging the speaker into the mains; assuming you already have a Sonos network, it will connect to the existing mesh wireless system, or you can pick up a $99 ZoneBridge that plugs into your router and hooks up all the ZonePlayers.
Control is either via the Sonos CR200 controller, or you can use the free iPhone/iPod touch app or the free desktop PC/Mac app.  The Sonos ZonePlayer S5 measures a shelft-friendly 217 x 365 x 123 mm and will begin shipping in the US at the end of October and from November 10th in Europe.
Press Release:
SONOS INTRODUCES THE SONOS ZONEPLAYER S5: THE ALL-IN-ONE WIRELESS MUSIC SYSTEM CONTROLLED WITH AN IPHONE

Wirelessly play music in any or every room of the house for $399 per room

Enjoy room-filling, high-performance sound with all digital architecture

Access your iTunes® library, plus thousands of radio stations and millions of songs from the Internet

Control your music experience with free Sonos Controller for iPhone™ app or any other Sonos Controller

SANTA BARBARA, Calif. – October 13, 2009 – Sonos®, Inc., the leading developer of wireless multi-room music systems for the home, today introduced the Sonos ZonePlayer S5, an all-in-one wireless music system that can be controlled with an iPhone, iPod® touch or any Sonos Controller. The S5 delivers crystal-clear, room-filling sound that rivals much larger, more complicated audio equipment. Plus, the S5 provides instant access to unlimited music with control from the palm of your hand. Now music lovers can find and play any song from an iTunes library, plus, a world of music and radio on the Internet, in any room of the house. The S5 will be available for $399 in late October. To see the S5 in action, please visit: www.sonos.com/S5demo.

"Our customers tell us they listen to twice as much music after bringing Sonos into their homes," said John MacFarlane, CEO of Sonos. "The new S5 is our latest effort to simplify the Sonos experience so more people can enjoy more music than ever before."

The S5 features a 5-driver speaker system that packs a big sound – filling an entire room with music. Sonos uniquely designed the S5 with an all-digital sound architecture for precise sound reproduction. The S5 includes two tweeters, two mid-range drivers and a built-in single subwoofer – each individually powered by a dedicated digital amplifier and optimized to deliver room-filling sound with smooth tonal balance and deep bass. All filter settings, bass and treble controls, active equalization, and time-alignment are done in the digital domain through state-of-the-art DSP circuitry, so there's absolutely no loss of audio quality or energy.

With the Internet-connected S5, you can listen to way more music than you can with a dock that only plays the songs that fit on your iPod. The S5 gives you instant access to a world of music, including 25,000 Internet radio stations, shows and podcasts —all free of charge and pre-loaded on Sonos. Sonos works seamlessly with the most popular music services to provide computer-free access to millions of songs and stations from the likes of Last.fm, Napster, Rhapsody, Pandora, SIRIUS Internet Radio, and Deezer. The S5 also gives you instant access to any iTunes library stored on any computer or Network Attached storage, such as an Apple Time Capsule. The S5's analog audio input lets you connect to an external audio source (such as an iPod, CD player, TV, DVD, VCR, or radio) and play music or audio on all ZonePlayers in the system.

When it comes to controlling your S5, you simply reach into your pocket for your iPhone or iPod touch. With the free Sonos Controller for iPhone app (available on the iTunes App Store), you can search for songs and stations, choose the music and control the volume in as many rooms as you like. And because the iPhone is controlling the music, and not the source of it, when a text comes in or you need to make a phone call, the music doesn't stop. That also means you can keep your iPhone in your pocket, not stuck in a dock. The S5 also includes free Sonos Controller software for your Mac or PC. Or you can let everyone in the house share the control with the dedicated Sonos Controller 200 (sold separately).

As with all Sonos ZonePlayers, the S5 is simple to set up, easy to expand and 100% compatible with all other Sonos products. Just plug in the S5 wherever you want music. One ZonePlayer or Sonos ZoneBridge™ (sold separately) must be connected to your router and all the rest will work wirelessly. When you're ready to play more music in more rooms, simply add S5s or other ZonePlayers without adding wires. Now you can play the same song in every room with perfect synchronicity or mix it up by playing different songs in different rooms.

The S5 will be available for purchase in the United States beginning in late October. To learn more or to locate an authorized Sonos dealer, please visit www.sonos.com or call 877.80.SONOS.