Palm Pre Review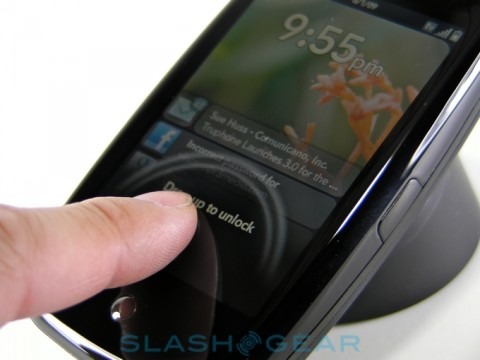 A lot can happen in five months. Announced to dropped jaws at CES back in January, the Palm Pre has captured attention in a way usually only Cupertino can. Tightly patrolled demos at intervening tradeshows have only added to the allure; now, on June 6th, it's Palm and Sprint's chance to see whether hype adds up to sales. SlashGear have been living, breathing and sleeping Pre for the past couple of weeks: read on for our full review.
It almost seems unnecessary to go over the Pre's hardware: it's been pored over since the CES launch. As well as the obvious things – the 3.1-inch 320 x 480 capacitive touchscreen, slide-out hardware QWERTY keyboard, multitouch strip under the display and 3-megapixel camera on the back – there's EVDO Rev.A, WiFi b/g, Bluetooth 2.1+EDR and a multitasking-capable processor lurking inside.
Palm ship the Pre with its 1,150mAh battery, an AC adapter, stereo headset, microUSB sync cable and carry pouch. There's also the documentation: a Getting Started guide, Feature Guide, Terms of Service and a recycling envelope for a previous phone. Our video unboxing, below, should show you everything you need to see about the retail packaging. The phone itself measures 2.3 x 3.9 x 0.67 inches, making it thicker but otherwise smaller than the iPhone 3G and BlackBerry Bold. Hardware controls – QWERTY aside – are minimal, with a power button, 3.5mm headphone jack and ringer switch up top, volume controls on the left, microUSB charge/sync port on the right, and a central chromed button on the front under the display.
Less obvious are the ambient light sensor (for auto-controlling the screen backlighting; we found even at its lowest setting the display was usable), accelerometer (to flip orientation in the browser, camera and video playback app) and proximity sensor (to let the Pre know if you're holding it to your face). On the back there's a very loud, clear speaker; the speakerphone is impressively powerful, and it also does a good job playing music (albeit in mono, not stereo).
Audio quality in-call is good too, in fact the Pre delivered some of the best voice performance we've experienced on a cellphone. Similarly, the display is bright, crisp and richly colored, a real pleasure to look at, with the multitouch proving just as responsive as on the iPhone. As for the hardware keyboard, while they're small we found the hard, domed keys to be decent for typing, helped by the slightly grippy coating Palm have given them. Overall build quality is high, and the Pre nestles in the hand far better than many other smartphones manage.
webOS is a true, multitasking platform, treating individual open apps as different cards that can be shuffled, fanned through and flicked away to close. Palm are yet to put a hard number on how many cards can be open at once – they say it's a function of individual memory use more than anything – but we had in excess of 9 to 12 open with no problems. Put simply, webOS' main advances over previous Palm platforms can be boiled down to three areas: Synergy, Universal Search and multitouch with gestures. The latter is one of the most obvious improvements, using swipes and flicks to handle webOS' cards – each a separate app or webpage – as well as call up the quick-launcher menu.
Synergy, meanwhile, is Palm's system to integrate data from multiple accounts – in this case Microsoft Exchange, Google and Facebook – into one set of combined records. Contacts and calendar entries from all three (plus tasks from Exchange) are pulled into one Contacts and one Calendar app on the Pre, with the option to view them separately or, more usefully, see a combined view. The Pre intelligently collapses down free space to fit more appointments on screen at any one time, color codes automatically, and warns you if the appointment you're about to make conflicts with something on another calendar.
As for Universal Search, that's accessed from the homescreen and queries first contacts and local applications, and then one of four different online services: Google search, Google Maps, Wikipedia or Twitter search.
In practice, Synergy and Universal Search work best when used in conjunction. Since many users will potentially have hundreds of contacts in Facebook alone, the Pre's address book will soon be overflowing; scrolling through the list to identify a single person is time-consuming and, thanks to Universal Search, pointless. Instead, we found ourselves speedily pulling out contacts after just a few search keypresses. Unfortunately, Universal Search doesn't go far enough: it stops short of indexing emails, calendar entries or tasks. There's also no way to add your own search providers to the list.
Synergy also pulls together various types of mobile messaging. The Pre offers SMS, MMS (picture and video messaging), AIM and GTalk, and a conversation started via one medium can quickly be switched to another via the drop-down menu on the top-left. As for email, in addition to timed and manual POP3 and IMAP retrieval the Pre can handle push email from Exchange and GMail; again, there's a single mailbox for all of the accounts, though you have the option of switching account whenever you send out a new message or reply.
Since it would be a shame to have all that connectivity and a sub-par internet experience, Palm have stepped up and delivered one of the better mobile browsers. As well as multitouch gestures – such as pinch to zoom – it supports both landscape and portrait orientations, automatically and speedily switching between the two. Web pages are presented pretty much as they would be on a desktop browser, albeit without Flash support, and rendering times are comparable with the iPhone's Mobile Safari. As well as manual "pinch" zoom there's an intelligent auto zoom: double-tapping on a block of text or image zooms to fit it on-screen, while another double-tap zooms back out. Rather than as tabs, the Pre shows different pages as cards in the webOS deck, and the usual flick-it-offscreen gesture is used to close them.
As YouTube videos aren't viewable through the browser, Palm pre-load a standalone app to play back streaming content. It allows for searches, viewing the popular videos from different YouTube categories, and the app history; however it's limited to YouTube, meaning Hulu users and fans of other Flash video sites need not apply. Still, it performs well, with the Pre automatically flicking to landscape view when the video starts.
The Pre obviously has its own, local media player too, happy with MP3, AAC, AAC+, WAV and AMR audio together with MPEG4, H.263 and H.264 video. As we've already heard in the past week or so, Palm have built iTunes sync support into their new smartphone: when connected via USB you can choose between "USB Drive", dragging and dropping files over, or "Media Sync", and use iTunes to copy non-DRM video, audio and photos. There's roughly 7GB of non-expandable space to be had, and you can also spend money on-device filling it with the Amazon MP3 store. A standalone app, tracks can be searched, browsed, previewed and bought on either WiFi or Sprint connections, though frustratingly they'll only download on the former. From launch, Palm will be offering a Music Assistant which will automatically copy newly-purchased tracks from the Pre to your computer whenever you sync it.
Video and picture quality is, as you'd expect from the stunning display, excellent. Sound quality is also decent, especially if you replace the basic stereo headset Palm supply with a reasonable aftermarket alternative. Stereo A2DP Bluetooth is also a possibility; we had no problems hooking the Pre up to our test headphones, and found range to be roughly 12-14 feet. Not only does music playback continue in the background, with the media player a separate card, but there are play/pause/skip controls in the notification area at the bottom of the screen.
Despite lacking autofocus, the Pre's 3-megapixel camera produces surprisingly good quality images. Certainly nothing to replace your DSLR, and most point-and-shoot cameras do better, but compared to other smartphone optics Palm have seemingly made a decent choice. The LED flash has a sweet-spot between over-saturating and under-illuminating the subject, but the absence of autofocus means frames are quick to take and the Pre's GPS can be set to automatically geotag them. At launch there's no video recording – according to Palm they wanted to concentrate on still quality first – but that should be addressed with a firmware update at some point after launch. Once images have been snapped, they can be instantly uploaded to online galleries such as Photobucket or Facebook, emailed or sent by MMS.
Other preloaded software includes Google Maps, which also benefits from the Pre's speedy GPS, and Sprint's own Navigation app. Thanks to the turn-by-turn directions and loud speaker, the Pre is a useful in-car navigation tool, somewhere rivals often fall down. There's also Sprint TV, which offers a selection of streaming live and on-demand content over EVDO or WiFi connections, and Sprint NASCAR, which is likely only of interest to fans of car racing. The Pre's App Store is, compared to Apple's, bare at launch, with an estimated twelve titles expected to be present, but there's some useful stuff in there already such as a couple of Twitter clients and Pandora, the streaming personalized radio of which could help avoid filling up the Pre's storage with MP3s. Of course, thanks to webOS you can leave Pandora playing in the background while busying yourself with email, messaging and internet browsing.
Battery life varies dramatically depending on your messaging settings. If left set to push email and with the IM accounts logged in, the Pre can gallop through a full charge in less than a day with reasonable use. Palm recommend pulling email every two hours, something we reckon most Pre users would find too infrequent; still, even by setting the email to manually check every few minutes, we stretched out battery life.
One of the Pre's more striking accessories is the Touchstone, a $70 inductive charger that goes on sale alongside the smartphone and works as a desk-stand for it. Thanks to the Pre knowing when its on the magnetic Touchstone, it can automatically switch between the speakerphone and earpiece when put down or picked up mid-call, and lifting a ringing Pre from the charger automatically answers the call. Neat, but Palm's decision not to bundle a wall adapter with the Touchstone and instead expect you to use that which came with the Pre feels cheap, and the fact that a standard computer USB port won't put out sufficient power for the Touchstone's liking is frustrating.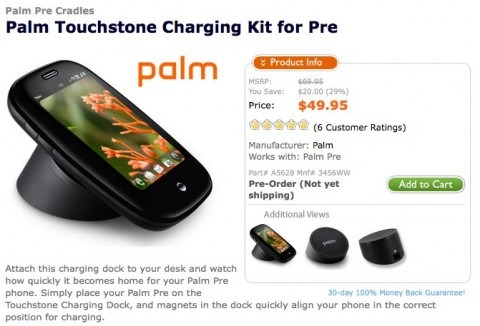 That, though, is a rare hardware issue in a phone the flaws of which are mainly software based. We certainly prefer it that way: software shortcomings are easily addressed, and from our discussions with them over the course of testing, Palm are clearly already planning which over-the-air (OTA) changes will come first. We're hoping that the Pre's text-handling abilities are among the earliest tweaks. While the handset can cut, copy & paste from all editable text-fields, you're unable to do the same with normal text: that means no copying from webpages, received messages or Google Maps search results. It's a frustrating and confusing decision. Meanwhile the Pre's auto word completion seems half-hearted – obvious shortcuts like double-pressing space for a period are missing – and there's no spellcheck.
Still, these are shortcomings in a first-generation platform on first-generation hardware, and we're happy giving Palm the benefit of the doubt. Perhaps it's the threat of financial ruin, but the company seems far more attuned to user feedback than previously; there's a lot riding on the Pre, and Palm know we know it. Thankfully they've delivered a smartphone not only capable but honestly impressive and distinctive. Improvements to webOS will only make it better, but even in this fledgling state we'd readily recommend the Palm Pre.
Unboxing Palm Pre
[vms f202f26c1a174c735758]
Palm Pre Setup
[vms 0db1d11b6acca57d8ea8]
Palm Pre Intro Video: HaveFun
[vms 8efacc9b924ec161e763]