Apple orders ban on 8 Galaxy smartphones in USA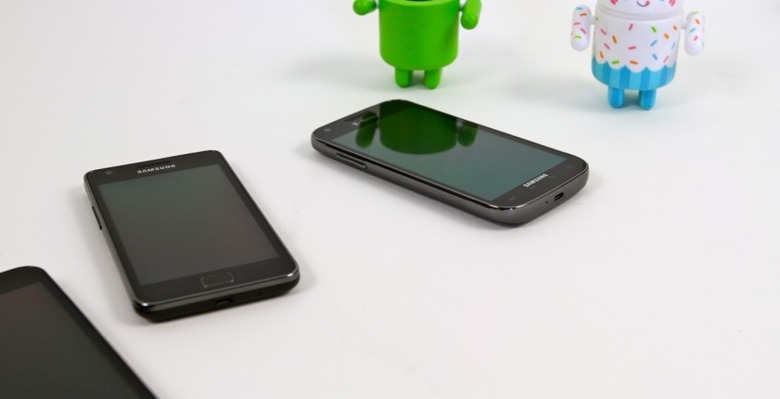 This week the folks at Apple are continuing their assault on Samsung in the courtroom with further legal action against the manufacturer, attempting here early in the week to have 8 Android devices banned from the USA. These devices are all smartphones and the majority of them come from the Samsung Galaxy S II generation of Samsung smartphones. Along with that set of devices there's also a 4G iteration of the original Samsung Galaxy S as well as a few other oddities.
The full list includes the Galaxy S 4G, each of the Galaxy S II devices that've been released in the USA over the past year, and the Droid Charge, Galaxy Prevail, and Galaxy S Showcase. These devices were each found "guilty" so to speak of patent infringement in one way or another in the 3-week court case that had its verdict read at the end of last week. This Apple vs Samsung trial has been what many have labeled the most important technology-related legal trial of the year as both sides of the battle are major players in the ever-growing mobile gadget market.
•

•

•

•

• Galaxy S Showcase

•

• Galaxy Prevail
We've had hands-on looks and reviews done of many of the devices you see above, each of their linked names leading to a post containing said material. These devices appeared in the full Amended verdict that was released over the weekend as well. The Samsung Galaxy S II line has been on the market for over a year with the international version of the original device not appearing here as it's not sold inside the states. Similar trials are happening currently in several countries around the world.
A similar case in Korea recently results in not only Samsung smartphone bans, but the banning of Apple products as well. This
banned the iPhone, the iPad, and the Samsung Galaxy S II from being sold inside the country until further notice. Back in the USA, only one device is currently banned from Samsung's sales lineup, and it's about to be on appeal since it was not found to infringe on Apple's patents in the case at hand: the
.
Have a peek at our timeline below to see other key points in this trial and stay tuned to the main news feed to see if Apple does indeed get a court order on Samsung to stop the sales of their best-selling smartphones. Note also that the Galaxy S II lineup is still in stores as the
is now Samsung's hero lineup – also available in stores across the USA right this minute.