AT&T 4G LTE Speed Report: HTC Vivid And Samsung Skyrocket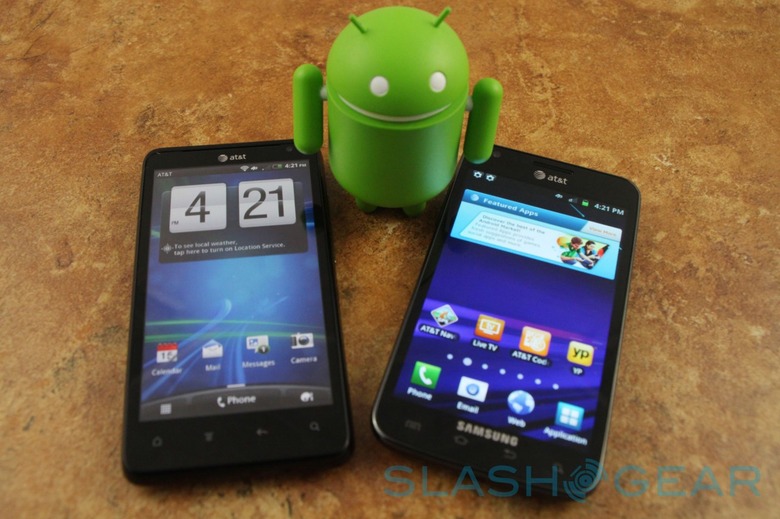 At the moment, AT&T's LTE network is only a fraction of the size of its "4G" HSPA+ network, though it's scheduled to do some growing up on November 6th. Right now only San Antonio, Dallas-Fort Worth, Houston, Atlanta and Chicago have AT&T LTE access, and come Sunday, the network goes live in Boston, Washington D.C., Baltimore and Athens, Georgia will also be supported. That's the day that the very first AT&T LTE smartphones also go on sale, namely the HTC Vivid and Samsung Galaxy S II Skyrocket. Since yours truly is only an hour away from the DFW area and I've so recently been blessed with review units for both phones, I took a short roadtrip to get some real-world tests.
The following speed tests were performed at exactly the same time corresponding to each other, on the western side of Fort Worth. The time was roughly 9:30 at night, and combined with the fact that only hotspot-style devices and the odd tablet currently use the system, you can believe that the LTE network was under a very low stress load. Tests were performed outside in a mostly open area.
The HTC Vivid averaged just over 17Mbps down and 9.4 Mbps up. The Samsung Skyrocket managed 16.5Mbps down and 8.3Mbps up. Both phones occasionally spike to a nearly 20Mbps download speed. These aren't scientifically standardized restults, and given the changes from one test to another, I'm not prepared to declare either phone an outright winner in a speed race – there's simply too many variables. But I'd say that even with moderate LTE coverage, you can expect consistent downloads of at least 15Mbps, a marked improvement over HSPA+.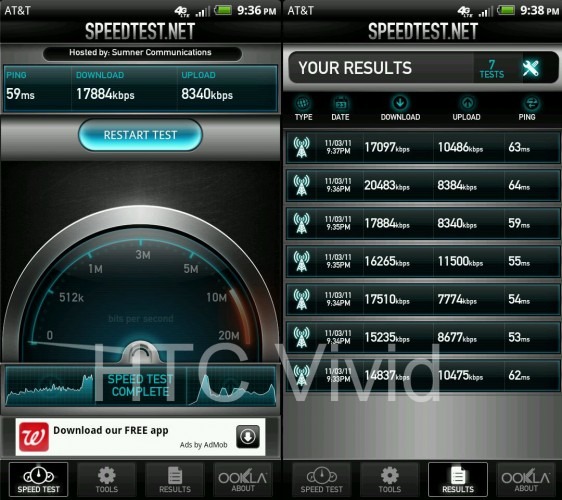 Speed tests don't always accurately measure real-world use, of course. When downloading large files with the phones' built-in browsers, I managed about 100 megabites every minute on both. YouTube and Netflix streams began almost instantly, and most Android Market downloads were finished downloading even before the on-screen download notification timed out.
We won't do a direct comparison with Verizon's LTE network, since its larger coverage area will have even more varying results – SlashGear editors have seen everywhere from below HSPA+ speeds to the theoretical maximum download of of 42Mbps. Needless to say, if you're lucky enough to live in an LTE coverage area and you pick up the Vivid or the Skyrocket, you're almost sure seeing some really impressive network performance.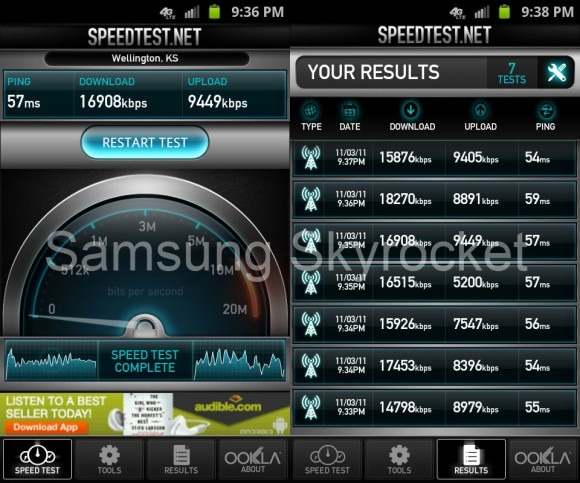 A note on data plans: they're exactly the same as AT&T's 3G and "4G" HSPA+ plans. That means that you're still limited to a maximum of 200MB, 2GB or 4GB of download and upload before getting charges for overages, unless you're lucky enough to be grandfathered in on an unlimited plan. With the speeds shown above, you can definitely blow through that in a hurry – the Skyrocket managed 350MB in less than four minutes.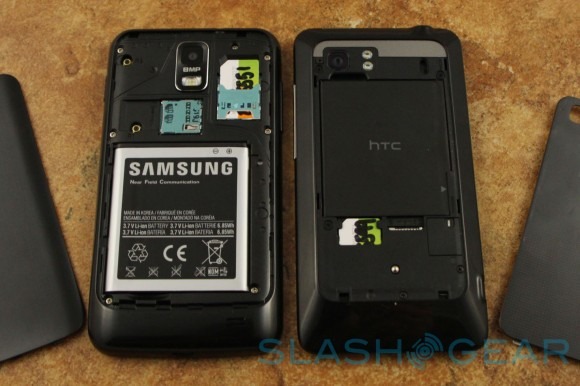 When we asked an AT&T representative, we were told that LTE smartphones will require new SIM cards. Our own testing bore this out. When a standard 3G AT&T SIM was used with the HTC Vivid, the phone connected to the data network at HSPA+ speeds, but wouldn't use the faster LTE connection. When it was inserted into the Skyrocket, the phone wouldn't connect to the data network at all, and it could only make and receive calls. AT&T says that customers upgrading to an LTE smartphone will get a new SIM free, or current account holders can get a new SIM at any retail location.