AT&T LTE Mobile Hotspot Elevate 4G and USB modem due this summer; new international data plans outed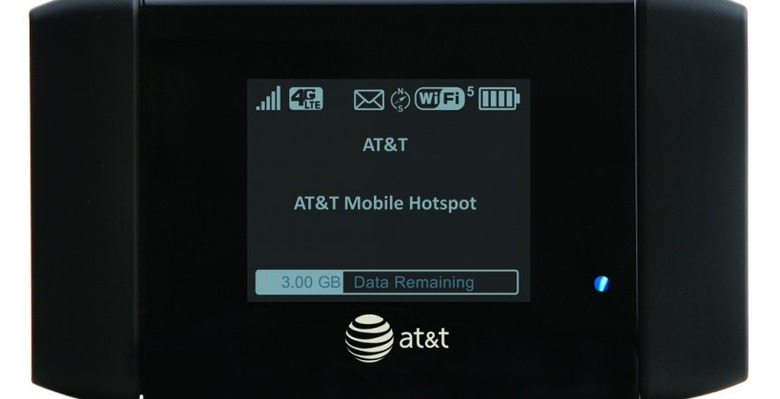 AT&T has outed a pair of new 4G LTE modems, ready for launch this summer on the carrier's fledgling LTE network. The AT&T USBConnect Momentum 4G is a USB modem with a built-in microSD card slot, intended for use with a single laptop, while the AT&T Mobile Hotspot Elevate 4G is a portable router that can share its 4G connection with up to five WiFi-connected clients. Meanwhile, as of July 17 there will be a new range of international data plans, offering more megabytes for your money.
Both the USBConnect 4G and Mobile Hotspot Elevate 4G feature triband HSPA+ roll-back for when you're outside of LTE coverage, together with quadband GSM/EDGE for when your signal gets really spotty; there's also GPS. The chunky USB modem measures 2.6 x 1.05 x 0.51 inches and supports up to 32GB microSDHC cards; it'll work with PCs and Macs. Meanwhile, the mobile hotspot has WiFi b/g/n support, a 160 x 128 color status display, and an 1800 mAh battery good for up to eight hours use.
AT&T isn't saying exact dates, but the USBConnect 4G will drop for $49.99 with a two-year agreement and after a $50 mail-in rebate, while the Mobile Hotspot Elevate 4G will be $69.99 with the same conditions. As for the data packages, they're updated as follows:
50MB package for $24.99/month compared to the current 20MB package for $24.99/month
125MB package for $49.99/month compared to the current 50MB package for $59.99/month
275MB package for $99.99/month compared to the current 100MB package for $119.99/month
800MB package for $199.99/month compared to the current 200MB package for $199.99/month