Samsung demands Galaxy Tab 10.1 US sales permission plus Apple damages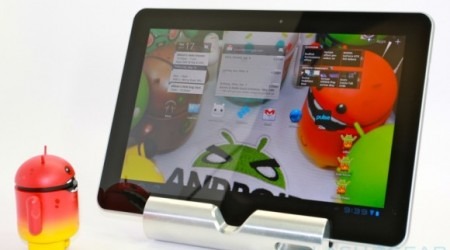 Samsung has asked that the Galaxy Tab 10.1 sales ban in the US be overturned and is demanding damages for lost sales from Apple, after the tablet was deemed not to infringe on any patents. Apple secured a preliminary injunction against the 10.1-inch Android tablet back in late June, with Judge Lucy Koh describing it as "virtually indistinguishable" from the iPad and iPad 2. The Apple vs. Samsung jury did not agree, however, ruling that the Tab 10.1 did not in fact overstep the mark on any of the Cupertino firm's IP, potentially giving Samsung a chance to grab at least part of the $2.6m bond its rival posted to secure the sales block.
Samsung needs the court to actively cancel the preliminary injunction, however; it's not enough that the jury decided against Judge Koh's original decision. The Korean firm filed its motion to make that request late on Sunday, writing that:
"On June 26, 2012, the Court preliminary enjoined Samsung from "making, using, offering to sell, or selling within the United States, or importing into the United States, Samsung's Galaxy Tab 10.1 tablet computer, and any product that is no more than colorably different from this specified product and embodies any design contained in US Design Patent No. D504,889". Samsung timely filed a notice of appeal that same day. A trial in this matter was held from July 30-August 24, 2012, resulting in a finding by the jury that the Galaxy Tab 10.1 did not infringe Apple's D'889 patent. The Court has entered final judgment reflecting the jury's verdict. Accordingly, Samsung requests that the Court dissolve the preliminary injunction and retain the $2.6 million bond posted by Apple pending a determination of damages suffered by Samsung as a result of the injunction" Samsung filing
Exactly when that determination will take place is unclear, though the court has already set a tentative September 20 date for the injunction hearing. Apple and Samsung must first file their own post-trial motions, with Apple expected to demand the maximum possible penalty from Samsung, a total that could exceed $3bn.
In those terms, the $2.6m bond Apple posted to secure the Galaxy Tab 10.1 preliminary injunction seems like small change, but it's a minor victory for Samsung all the same. Concerns have already been voiced from some quarters about the speed at which the jury reached a decision and whether it awarded damages to Apple out of an attempt to punish Samsung rather than – as legally required – compensate the Cupertino firm.
[via IDG]