Apple iMac 27-inch (2012) Review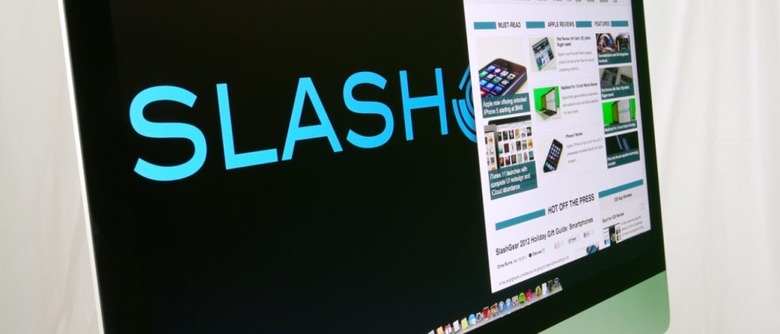 Apple doesn't change things for the sake of change, and that's why we've had to wait a few years for a redesign of the iMac. When a fresh model does arrive, though, it arrives in style: for 2012, the iMac is slimmer than ever, with a crisp new casing that borrows aerospace construction methods and iPhone display technology to wrap together a beautiful, slim computer that's pleasing to the eye whether or not it's powered up. Still, as Apple's mainstream desktop, the new iMac has to perform, too, and with space at a premium there are some interesting choices to be made as to what goes inside. Read on for the full SlashGear review.
Design
Visual sleight-of-hand and some impressive manufacturing innovation have helped Apple come up with a new design for the 2012 iMac, which from certain angles leaves it looking as slender as a MacBook lid. In fact, the heavily tapered aluminum rear narrows to just 5mm at the edge, though it bows out toward the middle to accommodate everything that needs to fit inside an all-in-one computer.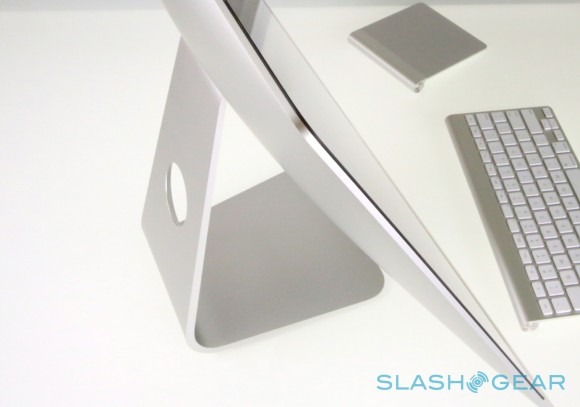 That accommodation and construction uses everything Apple has learned so far from unibody notebooks, scaled up to suit a 21.5-inch or bigger desktop. So, you get carefully stacked logic boards and custom speaker enclosures, along with a single central fan that pulls cool air from a row of holes under the front edge, and pushes it back out of vents behind the tilting stand. You also get minimal upgrade potential: the 21.5-inch iMac is an entirely closed box, with nothing intended to be user-accessible, while the 27-inch iMac has a small panel by the power socket that allows access to the memory but nothing else.
[aquote]Apple's production magic is friction-stir welding[/aquote]
Apple's production magic is friction-stir welding, more commonly used in the aerospace industry, and repurposed for the new iMac to bond the front and rear panels together. Traditional welding the seams wasn't possible, thanks to the slimline build, and so a technique where the panels are pressed tightly together, heated, and fused was implemented. There's a sizable reduction in weight, too, versus the old design – the 21.5-inch iMac is down 8 pounds to 12.5 pounds, while the 27-inch version is down 9.5 pounds to 21 pounds – which is useful if you're moving the computer around.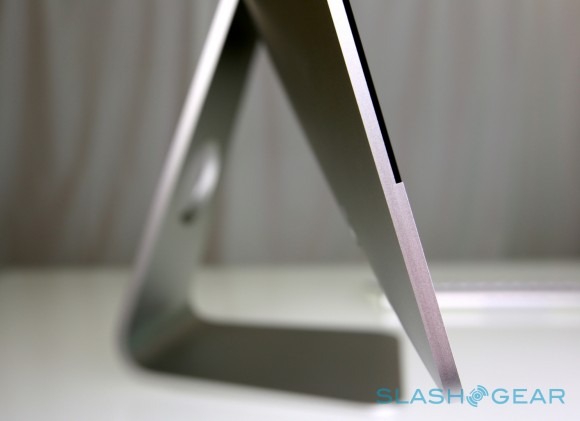 Face-on, meanwhile, and you'd be forgiven for not realizing that you were looking at a new iMac. The black screen bezel and slim aluminum chin look just as they did before, and it's only when you see things from the side that the new design stands out. The obvious loss from the blunt-edged last-gen model is the optical drive, with the 2012 iMac following the trend of the MacBook Air and MacBook Pro with Retina and focusing on digital distribution for apps and multimedia.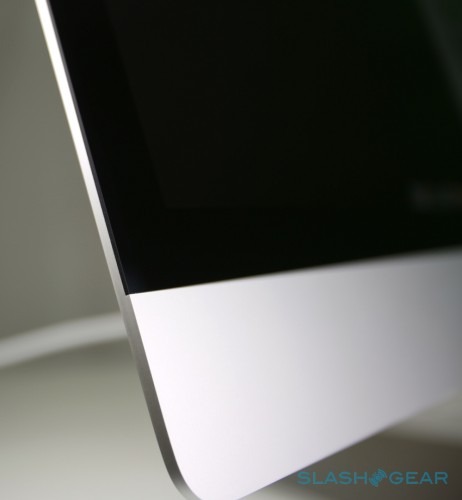 On the back, as before, there are the ports clustered to the left side and the power button on the right. No matter which size iMac you choose, you get the same connectivity: a 3.5mm headphone jack, an SDXC memory card reader, four USB 3.0 ports, two Thunderbolt ports, and a gigabit ethernet port; inside, there's WiFi a/b/g/n and Bluetooth 4.0. Up front, there's a FaceTime HD camera above the display, together with a pair of digital microphones that can use beam-forming technology to isolate your voice from ambient noise.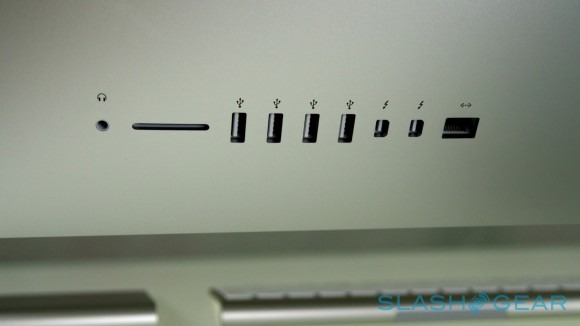 The new iMac's speakers deserve a little attention on their own, given that they're nothing like as anaemic as we feared they could be given the 40-percent smaller chassis. In fact, Apple has been able to accommodate two 20W amplifiers, one driving each of the speakers, which themselves fire down from holes alongside the front-edge air intakes. Despite the unusual positioning, sounds feel like they're coming directly from the display and quality is strong. These speakers are easily capable of being cranked up to uncomfortably loud levels, without encountering any distortion until you're at the very top end of the scale.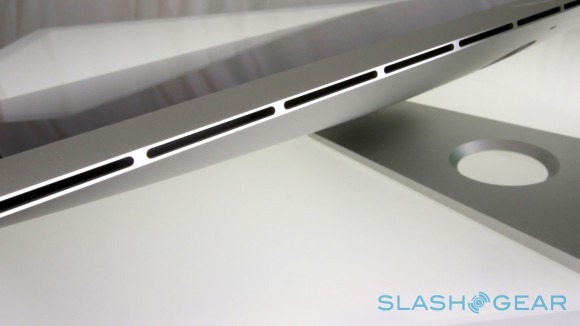 Display
Finessing the iMac's display is no small part of the redesign process for 2012, though there's more to it than pure pixels. The LCD panels themselves are the same as in the previous-generation – either a 21.5-inch LED IPS screen running at 1920 x 1080, or a 27-inch LED IPS running at 2560 x 1440 – but the way they've been assembled has changed.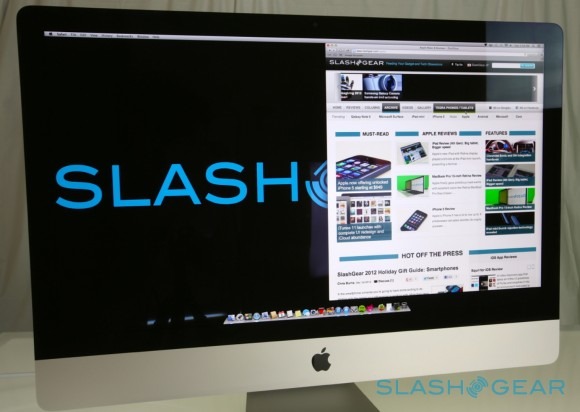 Called full lamination, it's a technique where the cover glass is fused to the LCD panel rather than sandwiching them together with a gap in-between. Apple – and others – have already used it to good effect on phones and tablets, but the 2012 iMac is the first time it's been implemented on such a large display. The upshot is a thinner panel overall, by around 5mm, and an improvement in picture quality.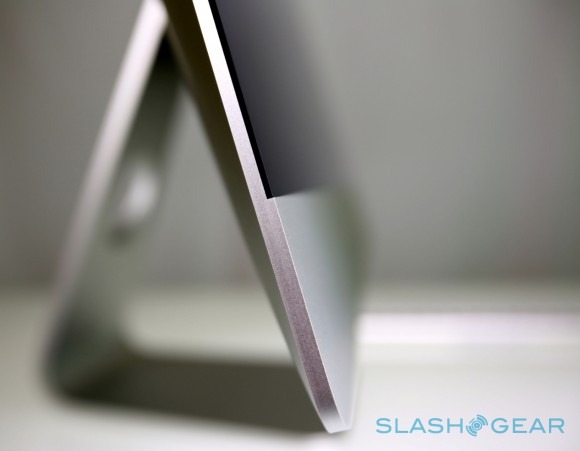 Despite the LCDs themselves being the same as before, the combination of full lamination and a new anti-reflection coating process makes a real difference when you're sat in front of the iMac. Colors are brighter and punchier, the screen is impressively bright with consistent backlighting, and viewing angles are broad, with no inversions or color mangling even when sat almost side-on to the display. Graphics appear as if they're swimming right at the surface of the glass, rather than being slightly inset from the black bezel.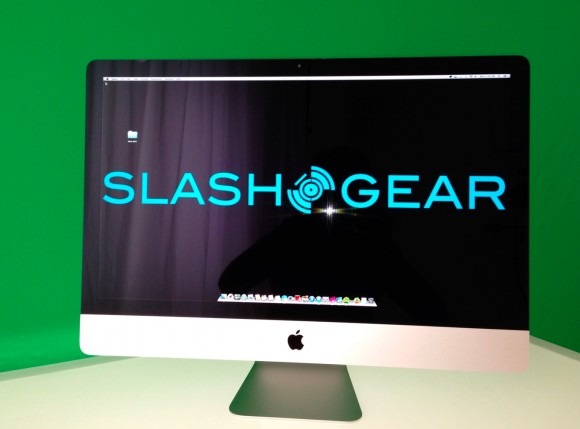 Apple quotes a 75-percent reduction in reflection, helped by the so-called plasma deposition system which coats the glass layers with more precise coatings of the same materials used to cut glare on camera lenses and fighter pilots' helmets. It's a tough thing to measure exactly in a real-world setting, though there's an obvious cut in reflections (see image above where a flash from camera is minimized) when you set old and new next to each other. We spent far less time tweaking the degree of tilt of the new iMac versus the old to find a position where artificial lighting and the sun didn't prove frustrating, and even once we'd set up both to our liking, text and graphics simply look better on the 2012 model.
Fusion Drive
Until now, the iMac has been offered with a choice of up to two different storage options: traditional hard-drives, for those who want the most capacity, and SSDs, for those who want the most speed. The 2012 iMac keeps both those options, with a 1TB HDD the default (5,400rpm on the 21.5-inch; 7,200 rpm on the 27-inch) upgradable to 3TB HDD on the 27-inch, along with a 768GB flash storage option on the 27-inch.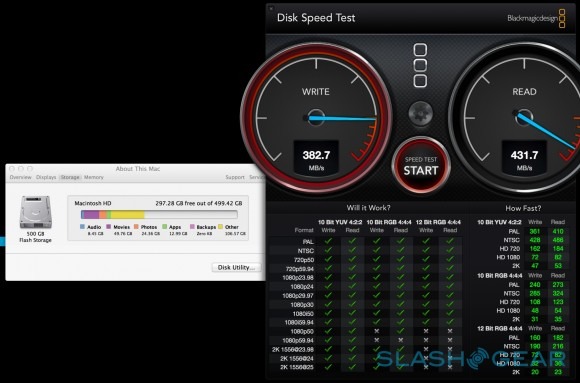 For 2012, however, Apple adds a third option: Fusion Drive. A hybrid of HDD and flash storage, Fusion Drive pairs 128GB of speedy solid-state memory with either 1TB or 3TB of HDD capacity, promising the best of both worlds. On the one hand, the flash storage is far faster than the typical spinning-platter drive, but Fusion Drive is also a fifth of the price of the SSD option.
[aquote]For everyday use, the cost of FusionDrive is unbeatable![/aquote]
We've seen hybrid HDD/SSD drives before, of course, but Apple takes a slightly different approach. Rather than the relatively small amount of flash memory other companies have used for caching a few frequently-accessed files on their models, Apple's Fusion Drive has a full 128GB of flash which allows a far greater number of files to be kept in the faster part.
Chunks of the OS, the apps you use most frequently, and the media you commonly play are all prioritized automatically, while over time OS X learns which content is infrequently required and shunts that to the more capacious, but slower, HDD. A true SSD will inevitably be faster across the board, but for everyday use Fusion Drive is hard to argue with, as the benchmarks in the next section demonstrate.
Specifications
All new iMac models use Intel's Core i5 quadcore Ivy Bridge chips by default, with the quadcore Core i7 processors available as options on the more expensive versions of each core configuration. The cheapest 21.5-inch iMac uses the 2.7GHz Core i5, supporting up to 3.2GHz Turbo Boost, while its more expensive configuration gets the 2.9GHz Core i5, with up to 3.6GHz Turbo Boost. The latter can be built-to-order with a 3.1GHz Core i7, with up to 3.9GHz Turbo Boost.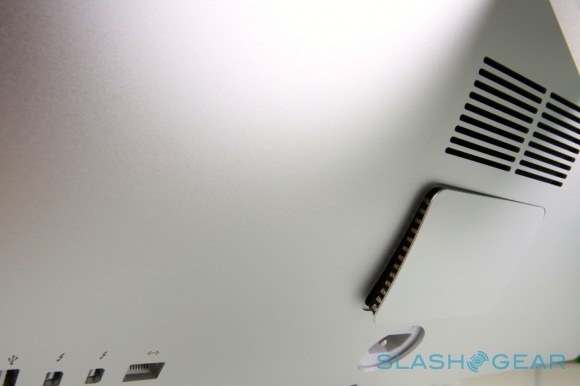 As for the 27-inch iMac, that starts out with the 2.9GHz Core i5, with the more expensive pre-build getting the 3.2GHz Core i5. The build-to-order on the latter is Intel's 3.4GHz Core i7, with 3.9GHz Turbo Boost. All of the chips come with 6MB of L3 cache.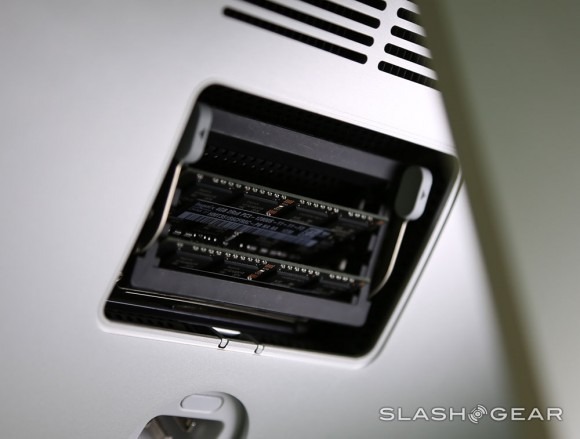 Memory is 8GB as standard across the range, comprising two 4GB 1600MHz DDR3 chips. The 21.5-inch iMac can be specified with up to 16GB, while the 27-inch iMac can go up to 32GB. However, only the 27-inch iMac has user-accessible memory slots: the four bays are accessed via a panel behind the stand, whereas the smaller iMac isn't intended to be user-upgraded. In short, if you think you'll ever want more than 8GB of memory on the 21.5-inch iMac, you should bite the bullet and upgrade at the point of purchase.
Then there's the graphics. Space constraints mean that Apple opts for mobile GPUs rather than desktop chips, though they're the same Kepler-based NVIDIA GeForce examples that we've seen in the 15-inch MacBook Pro with Retina. On the 21.5-inch iMac, the entry-level model gets the GT 640M with 512MB of dedicated GDDR5 memory, with the more expensive model stepping up to the same GT 650M as in the Retina MBP, only with 512MB of memory (rather than 1GB).
On the 27-inch iMac, the entry-level GPU is the GeForce GTX 660M with 512MB, while the most expensive pre-configuration gets the GTX 675MX with 1GB of GDDR5. The latter is also the only 2012 iMac that supports a graphics upgrade, with the GeForce GTX 680MX with 2GB of GDDR5 memory a $150 addition.
Performance
Apple provided us with a 3.4GHz Core i7 iMac with 8GB of memory, the top-spec GTX 680M GPU, and the 1TB Fusion Drive; all together, it's a configuration priced at $2,599. We kicked off with Geekbench, a synthetic test of processor and memory performance, and the iMac scored a whopping 14,064, around 50-percent more than the 2011 model could manage. It's worth noting that Apple's portables have narrowed the gap between mobile and desktop, however; the 15-inch MacBook Pro with Retina display scored 12,970 in Geekbench.
[sgbenchmark id=189]
In the SunSpider test of browser performance, the new iMac completed in 133.3ms (faster is better); the 15-inch Retina MacBook Pro scored 179.5ms in the same test. Cinebench, a test of processor and graphics performance, saw the new iMac score 42.72fps in the OpenGL category, and 7.32 points in the CPU category. Again, in contrast, the 15-inch Retina MacBook Pro scored 34.40fps and 5.74 points in those categories respectively, with its 2.6GHz quadcore Core i7 and 8GB of memory.
FusionDrive certainly doesn't hurt. In the Blackmagic test of disk performance, the iMac managed read speeds of 409.6 MB/s and write speeds of 318.7 MB/s using the flash/HDD hybrid. Given the flash storage is prioritized until capacity becomes an issue, it comes as little surprise to see those rates up around where recent all-flash models from Apple have performed. The 13-inch MacBook Pro with Retina display, for instance, came in at 431.7 MB/s read and 382.7 MB/s write with its 500GB solid-state drive.
The difference is particularly clear when compared to a 2012 iMac without FusionDrive. We also tested a 21.5-inch entry-level iMac, with Intel's Core i5 quadcore 2.7GHz, 8GB of RAM, and the standard 1TB 5,400rpm hard-drive. In Geekbench, the iMac scored 9164, but the big change is in drive speeds: without the hybrid technology we saw 90.7 MB/s read rates and 107.2 MB/s write rates.
[sgbenchmark id=190]
All those numbers add up to a machine – when equipped with FusionDrive, at least – that simply flies in day-to-day use. Apps generally load in under 2-3 seconds, and while the iMac might use mobile versions of graphics chips, it's still eminently capable of photo and video editing, and conversion; iMovie and Aperture run with no lag. Gaming is also more than possible, though we wish that – as on some all-on-one computers we've seen – there was a video input to use the great display with an external console. However, it's possible to drive a second external display; up to a 2560 x 1600 panel, in fact, as well as the iMac's own screen.
Value
The new iMac range kicks off at $1,299 for the base-spec 21.5-inch model, while the 27-inch iMac starts at $1,799. It's worth noting that of the two 21.5-inch configurations, only the higher-spec can be outfitted with a FusionDrive, which means $1,499 plus $250 for the drive upgrade; there's also a good argument to be made for maxing out the memory on the smaller iMac, since it can't be upgraded later, which is another $200.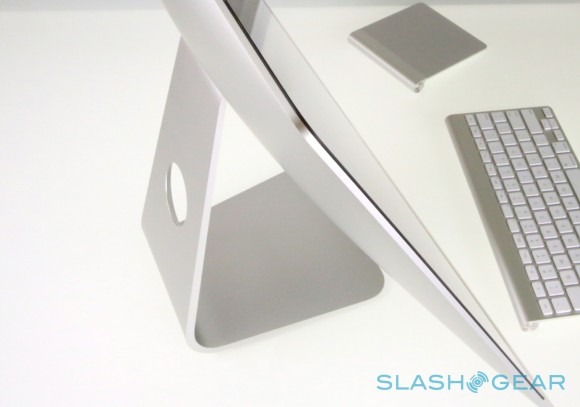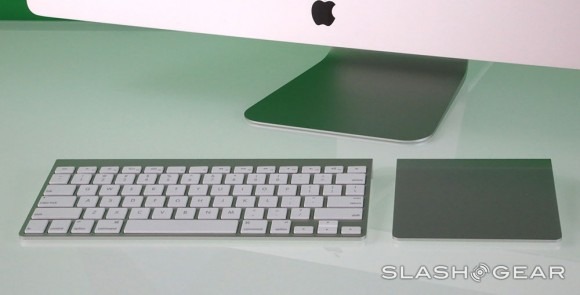 All versions come with an Apple Wireless Keyboard (a wired keyboard with numeric keypad is a no-cost option) and a choice of Apple's Magic Mouse, the Magic Trackpad, or the wired Apple Mouse; for $69 you can have both the Magic Mouse and the Magic Trackpad. Those who simply must have an optical drive can pay $79 for the USB SuperDrive, though any external DVD burner should work.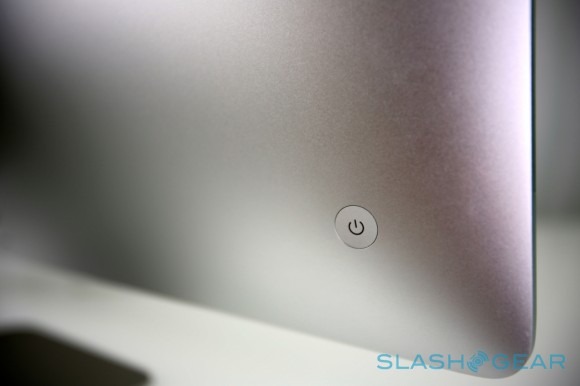 The all-in-one computing market is small, but it's not non-existent, and the new iMac does have a few rivals. Dell's XPS One 27 runs at the same 2560 x 1440 resolution as the 27-inch iMac, and starts at $1,400 for the non-touch variant. That, however, uses Intel HD integrated graphics; if you want a discrete GPU, you're looking at upwards of $2,100 and NVIDIA's GeForce GT 640M, a weaker graphics chip than Apple's entry-level 27-inch model. It does support multitouch, should that be a buying decision.
Vizio offers 24- and 27-inch All-in-One PCs, though they both run at 1920 x 1080 resolution, and the GPU – only discrete on the 27-inch – maxes out at the GeForce GT 640M LE. The range of processors is more humble too, with only the top-end 27-inch model getting a quadcore Core i5, though the maximum price of $1,539 makes them competitive for budget buyers.HP's Spectre ONE is a 23-inch, $1,300 option, meanwhile, kicking off with the same 2.9GHz quadcore Core i5 processor, but less RAM and a lesser GPU. Several of these all-in-ones offer a secondary flash caching drive, though typically around 32GB in capacity, and as such are less practical than FusionDrive.
Of course, the big difference between the iMac and these other all-in-ones is the OS: if you want Apple's OS X, then the only way to get it is to buy a Mac. All of the alternatives come with Windows 8, and while that's a capable platform, it's not Mountain Lion, and thus a deal-breaker for many users.
Wrap-Up
The new iMac is a beautiful piece of hardware, that's clear to see. Apple's clever construction techniques have enabled a stylish, distinctive all-in-one, but more importantly they've legitimately improved the user-experience, too. The full lamination process takes the same display pixels as from the previous generation iMac and makes them work harder and look better; you'll appreciate the many pounds dropped from the overall weight of each system from the moment you lift it out of the box.
[aquote]We'd recommend every buyer tick the FusionDrive option box[/aquote]
With style comes a handful of compromises. As with Apple's recent notebooks, there's less room for user-upgrades: adding memory is basically the only thing that you can do, and even then that's only an option on the 27-inch model. With both, then, it's a case of digging deep when first ordering, particularly since having experienced the speeds on offer from FusionDrive, we'd seriously recommend that every buyer tick that option box.
DIY enthusiasts may miss the upgrade possibilities, but everyone else will be enjoying an incredibly capable computer. With strong performance the 2012 iMac proves that beauty needn't be merely skin-deep, and that all-in-one needn't mean conceding speed. That, and Apple's creative use of components and design, makes it our pick of the all-in-ones.