Vizio All-in-One PC (24-inch, 2012) Review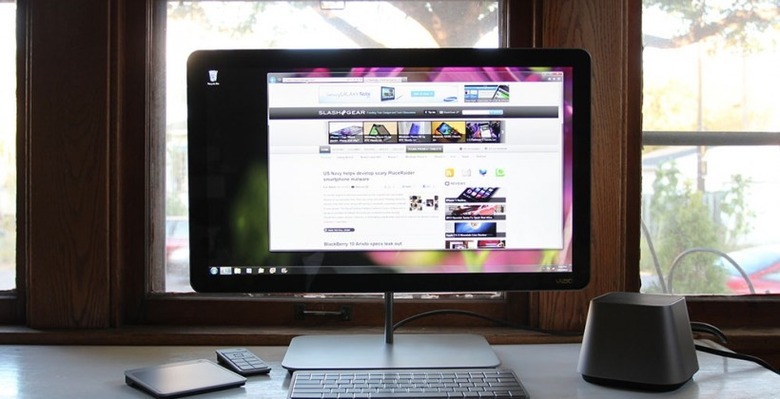 The folks at Vizio have brought forth their first serious effort in the Windows universe with a couple of notebooks and this device we're reviewing today: the Vizio All-in-One PC. This machine has a giant, massively impressive display, wireless keyboard, trackpad, remote control, and external subwoofer that compliments the whole entertainment-ready machine quite nicely. Could it be that Vizio hit a home run their first time out in the park?
Hardware
This device comes in two iterations – there's a 24-inch display model and a 27-inch display model, both of them with Full HD 1080p resolution under the hood. The display is, as Vizio should very well be expected to present, both extremely bright and readily sharp. The display has a 1.3 megapixel camera with microphone sitting right up top – this camera is ready to bring you basic video chat right out of the box.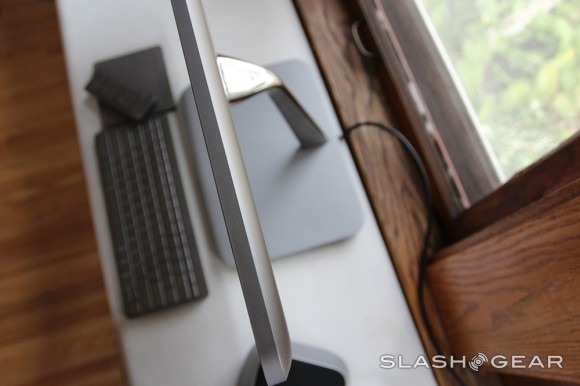 The base of the computer has two SRS Premium Sound HD speakers in it, hidden from view entirely in the black bit under the silver metal top. Along with the subwoofer that sits separate from the main unit, you've got 2.1 sound that does not disappoint – you'll not only have the sound you need to play games and watch videos on your own, you'll be able to use this computer for a home entertainment system if you wish as well – it'll definitely fill your apartment, that's for certain.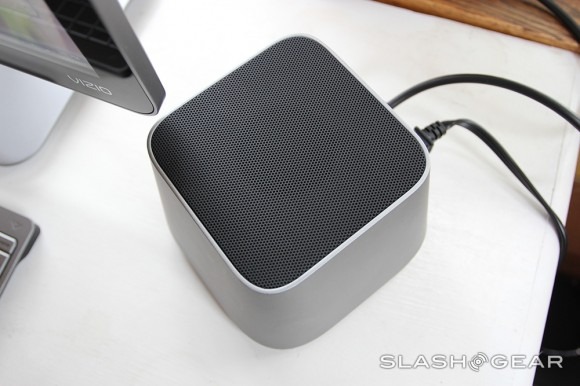 On the back of the base of the main unit you've got three USB 3.0 ports, eSATA port for your external harddrives galore, and an ethernet port for wired internet. You also get two HDMI inputs so you can connect your gaming console and your cable box – or whatever other HDMI-capable devices you've got on hand – smartphones, tablets, anything your heart desires! The side of the base also has an SD card port, headset port (headphones and mic compatible), another USB 3.0 port, and a power button. Note the location of the power button, because if you don't know it's there, you'll never be able to find it.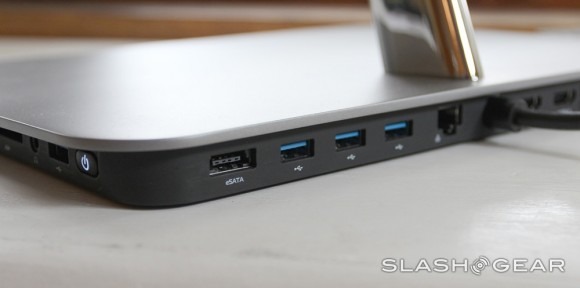 On that note, have a peek here at how minimalistic the design of this unit is. The only buttons you're able to see are on the wireless keyboard and remote control – everything else is hidden. The Vizio design team took the desire of the modern market to gravitate towards Apple's minimal silver designs and made a real effort to make it really Vizio-specific.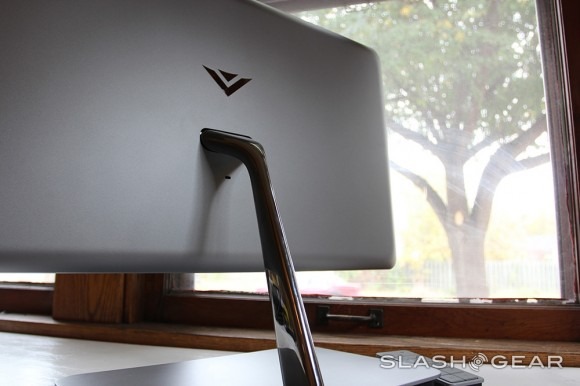 The keyboard presents a new look at what's been hashed and re-hashed a thousand times over the past several years. Vizio flattened everything out, made the keys rather gigantic, and let the slight bezels between the keys be the only tactile notification that your fingers are on one key or another. The back of the keyboard – and the back of the rest of the accessories – are a soft-touch plastic so you'll have a comfortable experience when you're picking them up or using them on your lap.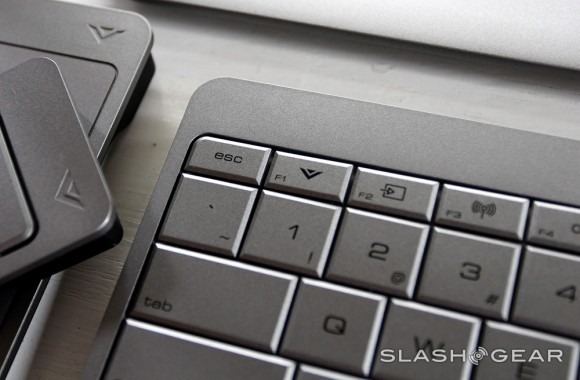 The Wireless touchpad has a collection of multi-touch abilities that, while they're certainly not perfectly tuned at the moment, present a high note for the future with Windows 8. With the next generation of Microsoft operating systems, this Vizio computer will be prepared with this lovely touchpad and the ability to update the software that makes it work whenever changes are needed. For those of you used to using a mouse with a desktop computer, you'll need some getting used to with this accessory to be sure – its important to note that there's no basic mouse included in the package – so get prepped!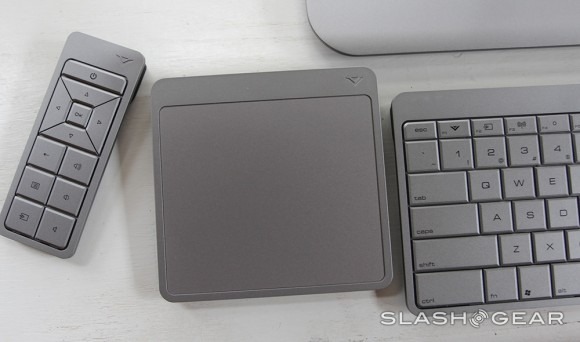 The remote control or "Wireless Remote" that comes with this device is perfectly simplistic and comforting to hold and use. In combination with the other accessories and the keyboard's ability to access online support at a single press, you'll be good to go for whatever activities you're hoping to do with the unit. That's the Vizio V-Key up in the left hand corner, a single press bringing you in to Vizio's ever-changing support webpage and guide.
The display, again, brings on 1920 x 1080 pixel resolution and under the hood you've got a 3rd generation Intel Core processor – have a peek at the readout below this paragraph for the build information on the unit we've got here. You've also got NVIDIA GeForce dedicated graphics, NVIDIA Optimus technology included for automatic switchable graphics abilities, and a choice of build if you're not wanting to pick up just the most basic model. You can upgrade to quad-core, decide between i3, i5, or i7 Intel Core architecture, and update your memory and hard drive as well!
Software
You've got Windows 7 onboard right out of the box, and you'll be ready to go for Windows 8 whenever you're ready to make that jump. Vizio created this device – and the rest of their first-wave party of PCs and notebooks – to be prepared for the Windows 8 wave. This is a Microsoft Signature machine – that means, and I quote, "a clean system; no bloatware, no junk, no compromises."
If you want the software that normally comes on a PC, you've only to download it – you can find the vast majority of your favorites by hitting the V-key in the upper left-hand corner of your keyboard – simple! Also of course you still need a few extra bits to keep you safe from evil, so Microsoft Security Essentials comes with the system, inside to keep you safe from viruses and spyware. You've got 90 days of Microsoft Corp. technical support right out of the box as well.
[sgbenchmark id=179 show=system]
What's interesting about the entertainment aspect of this machine is that because Vizio wanted to not only come correct with a high quality display, but a unique experience as well, they made it possible for you to use the display even when the PC isn't turned on. You do not need to turn the whole machine on just to use the display for your 3rd party machines – game consoles, satellite boxes, and HD devices of many kinds can make use of this ability.
Performance
Have a peek at our standard benchmark results here, coming straight from your best buddy Geekbench. Note that this computer has run exceedingly well for us during the whole review process, no complaints outside the obvious odd amount of time it took to get used to the touchpad in place of a mouse. The keyboard, mouse, and wireless controller all synced up with the computer in an instant and we had no connectivity problems at all. The wireless internet connection was also a bonus, with your ability to connect via ethernet appearing just for you hardcore wire-lovers it seems.
[sgbenchmark id=179 show=score]
Wrap-up
This machine is surprisingly great. It's only surprising that it's great because Vizio is relatively new to the PC business – it's not as if they've not been in the hardware business before, because they definitely have – but what a surprise it is to find them succeeding in their first effort in the Windows-toting universe. This machine is a perfectly legitimate all-in-one for your everyday Windows user, and as always, you'll want to head to the store to give it a whirl before you purchase.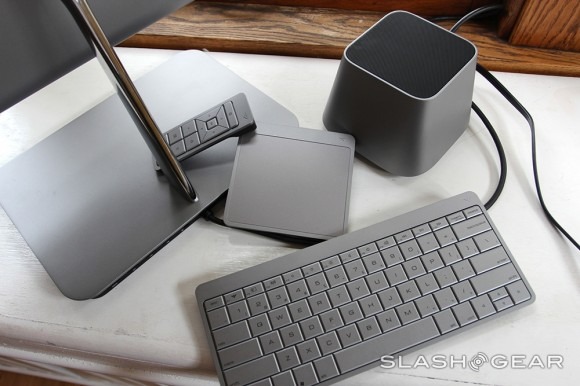 When you do test this machine out for yourself, pay close attention to how the monitor sits on the base, how you're able to adjust it, and how well you like the wireless accessories. You'll have absolutely nothing bad to say about the speaker system or the display, that's for certain. This machine is available now in a variety of configurations, starting at around $800 – check it out!