MacBook Pro with Retina Display review (mid-2012)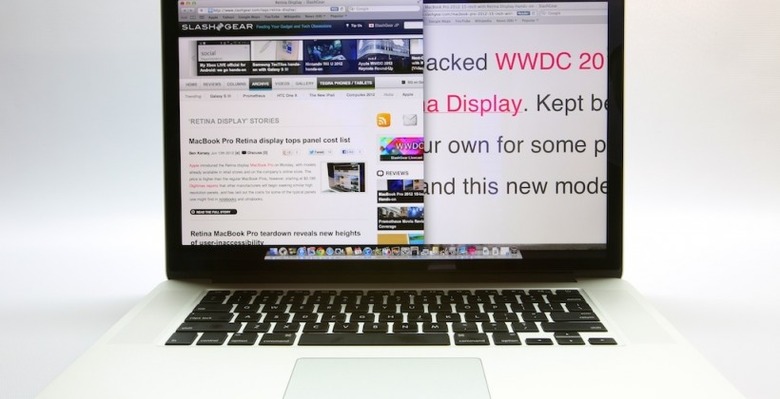 Faced with one of the most news-packed WWDC keynotes so far, it takes a very special product to stand out but the MacBook Pro with Retina Display managed it. Apple's collective interpretation of what a "next generation" pro-level notebook should be, the new model introduces the first design change in several iterations and marks the debut of Retina screen technology on a Mac. There's no questioning the specifications, but with prices starting from $2,199 – a $400 premium over the regular MacBook Pro, which stays on sale alongside – is the MacBook Pro with Retina Display too rich for the market? Read on for the full SlashGear review.
Design
A little evolution, a little revolution. Apple has a track record of making significant design decisions, particularly when it comes to dropping "old" technology from its products or adopting new, and the reworked MacBook Pro with Retina Display is no different.
At first glance, then, it's familiar from the persistent design of the previous model (which stays on sale, of course, with updated Ivy Bridge processors and NVIDIA graphics). None of the Air's wedge-like taper, with new Pro instead resembling a flattened version of before. Both base section and lid have been trimmed to get the thickness down to 0.71-inches, with some casualties along the way.
Most obvious of those is the optical drive. Just as Apple led the way in ditching the floppy drive from its desktops years ago, now the DVD burning SuperDrive has been relegated to external (and optional) peripheral. Priced at $79, it connects via USB and works with not only the new MacBook Pro with Retina Display but the MacBook Air and Mac mini. As design decisions go, it's one not only do we think most will approve of, but that fits in perfectly with Apple's growing emphasis on digital content delivery.
The other sacrifice is an ethernet port, now dropped in favor of a second Thunderbolt port. This leaves the new MacBook Pro reliant on wireless connectivity, unless you think ahead and bring the new $29.99 Thunderbolt to gigabit ethernet adapter. Expecting that to be included in the box is, perhaps, over-ambitious, even with a new flagship notebook, but it's something we imagine most users Pro may find themselves needing at some point, and is a little tougher to stomach than the absent optical drive.

While it may look like a flatter Pro of old, Apple has in fact done some significant reworking to achieve the 4.46 pound notebook. Half of the ports – the two Thunderbolt, a USB 3.0 and the 3.5mm headphone socket, along with the redesigned MagSafe 2 connector – are on the left, while a second USB 3.0 along with HDMI and an SDXC card slot are on the right. Long-time Apple watchers will have noticed some unusual additions there, and indeed the MacBook Pro with Retina Display breaks some conventions.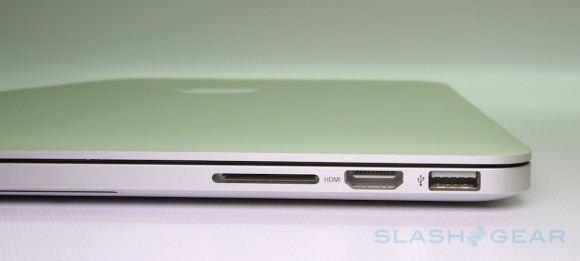 HDMI is a welcome inclusion, as is the much-requested upgrade from USB 2.0 to USB 3.0 (Apple bucks convention and keeps its USB ports white, rather than the blue we've seen on PCs). Thunderbolt's huge throughput and a growing number of adapter cables – not to mention native peripherals – means the two ports can turn their hand to many things, not least Mini DisplayPort, DVI, dual-link DVI and VGA, with a FireWire adapter due in July. It's worth noting that, although there are potentially three display connections, the new MacBook Pro can only support two external monitors (at up to 2560 x 1600) plus its own Retina Display panel.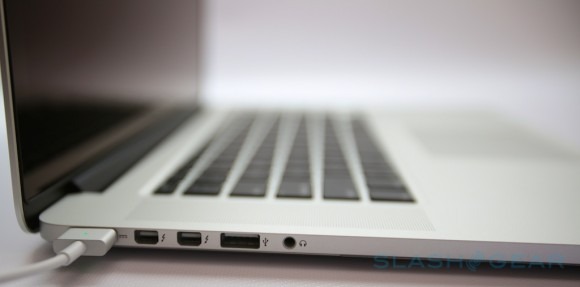 The MagSafe 2 connection – which, as in MacBooks from before, uses magnets to hold the power plug in place and thus shouldn't drag your notebook off the desk if you stumble over the cord – has grown wider and flatter. It's the only way Apple could accommodate it in the new design – the last-gen MacBook Air has the old style, but can fit it because of the blunter-edged wedge profile – which means if you want to use an existing power supply you'll have to throw in a $10 adapter. Apple has also returned to its older cable style, with the cord sticking straight out of the plug.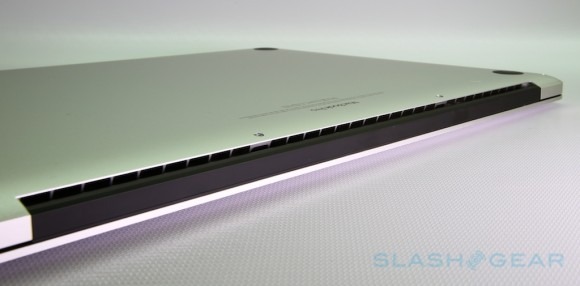 It's inside that the biggest changes have taken place. The new MacBook Pro with Retina Display is resolutely not intended to be opened up by the end-user, and Apple has used that disclaimer to squeeze in components with a focus on space-saving rather than subsequent accessibility. Much of what heft is left is battery, with the 95-watt-hour li-poly pack considerably larger than the 77.5 Wh of the previous-gen model. As in the MacBook Air, neither RAM nor SSD are user-upgradable, with the former soldered to the mainboard.
Cooling has become something of an obsession among Apple's engineers, and the new MacBook Pro is evidence of a new strategy for both quiet and effective heat dissipation. Air is sucked in through the hinge section and then funneled through to gills on the sides of the notebook, driven by a newly-designed asymmetric fan with unevenly-spaced impeller blades. That unusual blade design, Apple says, helps to reduce the tonal impact when the fans are spinning.
In practice, it's a different type of noise to before: not necessarily quieter, but less intrusive. You still hear the fan spool up when doing heavy-duty processing, such as video exports, and the base can become warm – though not hot – to the touch at those times, but it cools again quickly.
The large glass trackpad and black, backlit keyboard are as on the previous model, and just as easy to use: the former is silky-smooth and responsive, and the latter provides a good amount of travel and spring.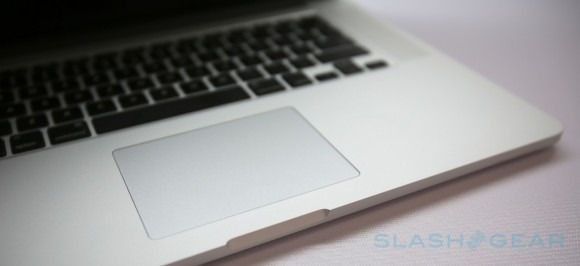 Specifications
Just as with the old-style MacBook Pro, the new MacBook Pro with Retina Display has Intel's 3rd-gen Core i7 Ivy Bridge processors inside. There are two spec models, the entry level at $2,199 with a 2.3GHz quadcore (supporting up to 3.3GHz Turbo Boost and paired with 6MB of L3 cache) and a $2,799 version with a 2.6GHz quadcore (supporting up to 3.6GHz Turbo Boost and with 6MB of L3 cache). The latter can optionally be upgraded to a 2.7GHz quadcore (with 3.7GHz Turbo Boost and 8MB of L3 cache) for an extra $250.
Standard memory is 8GB of 1600MHz DDR3L, with $200 doubling that to 16GB. It's a decision you'll have to make at point of purchase, too as Apple solders the RAM to the mainboard. The entry-level machine has 256GB of flash storage, and cannot be upgraded, while the more expensive model comes with 512GB by default and can be bumped to 768GB for an extra $500. Again, the nature of Apple's hardware design means it's an option that needs to be picked from the start. All in all, a fully-spec'd out new MacBook Pro with Retina Display – with the fastest chip, most memory and biggest SSD – comes to $3,749.
Apple has changed its graphics allegiances again, moving back to NVIDIA and outfitting all versions of the new MacBook Pro with the GeForce GT 650M with 1GB of GDDR5 memory. There's also Intel HD Graphics 4000 with automatic switching between the two GPUs depending on graphical load.
Above the screen there's a 720p-capable FaceTime HD webcam, while Apple has a new pair of custom speakers under the machined grills. Despite the space constraints, they sound surprisingly good; no subwoofer, but no bass weakness either, and they're room-filling at maximum volume.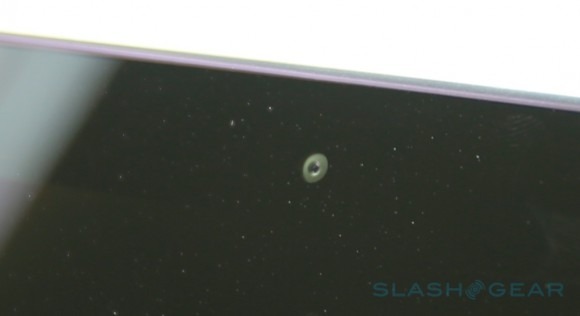 Meanwhile the dual microphone array uses beam forming to focus on the user speaking rather than ambient noise, and we could tell the difference on Skype calls in noisy environments. the system should also be a boon when dictation arrives with Mountain Lion next month. Finally, there's both WiFi a/b/g/n with dual-band 2.4/5GHz, and Bluetooth 4.0.
Retina Display
Make no mistake, the Retina Display of the new MacBook Pro is the notebook's pièce de résistance. Running at 2880 x 1800, it delivers four times the standard resolution of the previous Pro, and is finally capable of showing iOS developers a full-size preview of apps for the new iPad. Apple's "Retina" branding refers to whether the human eye is capable of individually-distinguishable pixels at a typical user-distance, hence this 221ppi panel getting the label while not matching the 264ppi of the new iPad or 326ppi of the iPhone 4S, each of which are expected to be held closer to your face.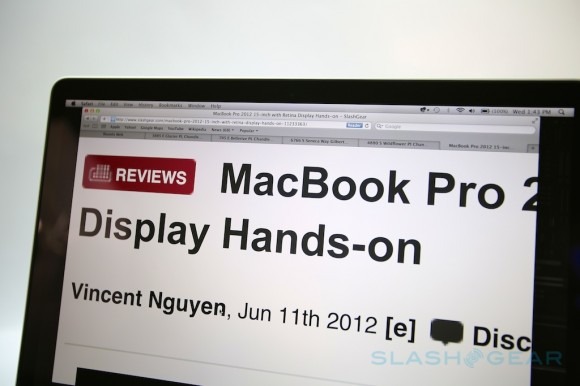 It's not just core resolution that makes the screen special, though. Apple has used an IPS LCD panel with LED backlighting, which means broader than usual viewing angles – the quote is 178-degrees, and in practice we could sit off to the side of the new MacBook Pro and see graphics and text with no odd colors or other glitches – and some particularly inky blacks.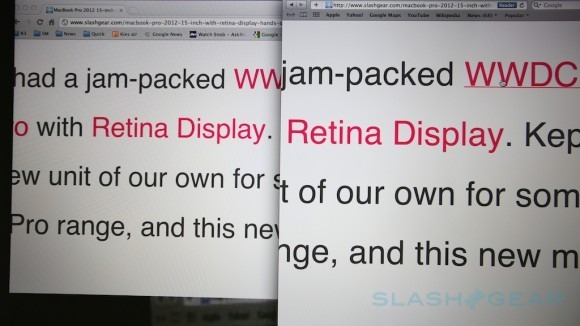 The redesigned lid section does away with the cover glass as well, which Apple says not only reduces thickness but helps cut out glare. It's the same approach as we've seen on the MacBook Air, and according to Apple it's good for a 75-percent reduction on the sort of reflections that can make using a previous-design Pro frustrating. In practice, while not entirely glare-free, there's nonetheless a noticeable improvement.
Combined, then, it's the finest display on a notebook we've seen. Icons are so clean and crisp as to look printed; photos and video are beautifully engaging. Switch between the MacBook Pro with Retina Display and its regular predecessor and the difference is night and day: if the pixelated "crunchiness" of the iPad 2 screen became a frustration after you used a new iPad, then expect much the same response with the new MacBook Pro.
There is one issue, though it's not necessarily one that Apple can directly address. Applications must support the Retina Display with suitably high-resolution graphics, and if they don't it's a recipe for visual disaster. Apple's own Mail, Calendar, Address Book, Safari, iTunes, iPhoto, iMovie, Aperture and Final Cut Pro are all Retina-optimized, but most third-party apps aren't, and the difference between them is brutally obvious.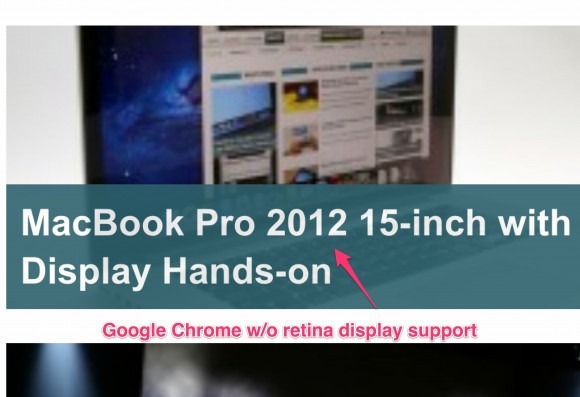 Apple uses a similar scaling-up system for non-Retina apps as on iOS, which means you get software that's usable in terms of on-screen size (rather than tiny) but blurred and pixelated. It's not only native software that suffers, but webpages in browsers other than Safari: FireFox and Chrome are distinctly underwhelming in how they render sites, with text and images each looking like they've had a run-in with a dot matrix printer.
Photoshop and AutoCAD were among the third-party titles name-checked as working on Retina updates during the WWDC keynote this week, and no doubt there are hundreds of others bringing their apps up to speed, but for the moment it's a reminder that life on the cutting-edge comes with some usability compromises.
Performance and Software
Thin the new MacBook Pro may be, but that doesn't mean Apple has compromised on performance. The new processor and graphics options present the biggest advantages over the MacBook Air, if you're trying to balance raw power with portability, with no question that this is a capable desktop-replacement.
Our review unit, the 2.6GHz quadcore Core i7-3720QM with 8GB of RAM, scored 12,970 in Geekbench, a synthetic test of processor and memory performance. That's more than 2,000 points more than the 2011 MacBook Pro running Intel's 2.2GHz Core i7-2720QM Sandy Bridge chip.
MacBook Pro with Retina Display (mid-2012)
[sgbenchmark id=160 show=score]
MacBook Pro 15-inch (early 2011)
[sgbenchmark id=133 show=score]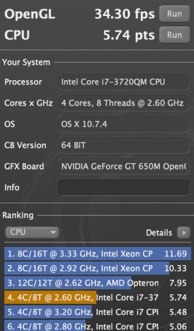 We then turned to Cinebench, which benchmarks both processor and graphics performance with a mixture of 3D rendering and OpenGL tests. It provides a solid overview of how a system will handle intensive tasks such as video processing and gaming.
The new MacBook Pro scored 5.74 CPU points, putting it ahead of a last-gen 3.2GHz Core i7, and only really bested by eight- and twelve-core alternatives such as Intel's workstation-focused Xeon (as you'd find in the Mac Pro). It managed 34.30fps in OpenGL testing.
In a disk speed test of the new flash storage, the Pro managed 306.6 MB/s write speeds and 448.0 MB/s read speeds. Finally, in Xbench the new notebook scored 490.43 points.
In practice, there proved little we could do to trip the new MacBook Pro up. Apps load with alacrity, on-screen and ready for action even before the icon has finished its bouncing, and playing back Full HD video – something you can do in a window at full resolution, given the pixels on offer – while simultaneously browsing and rendering video in iMovie didn't see the notebook miss a beat.
Memory speed test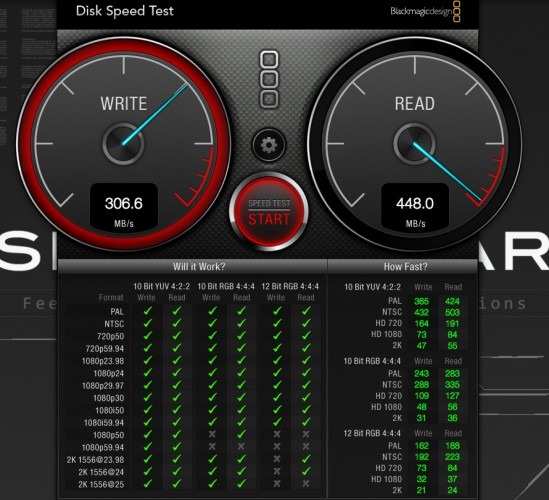 Xbench performance test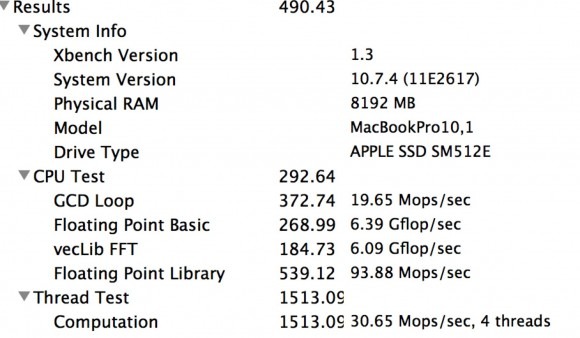 At launch – and for the next few weeks – the new MacBook Pro with Retina Display runs OS X Lion. However, buyers are guaranteed a free update to OS X Mountain Lion when it launches in July.
Battery
Despite a battery that's 23-percent larger than before, Apple is quoting the same seven hour runtime estimate for the new MacBook Pro. That's likely down to the extra power consumption of the Retina Display, but in our testing we still exceeded Apple's predictions.
With brightness set to 50-percent, we were able to browse in Safari over a WiFi connection for almost 8 hours and 10 minutes. Obviously if you take advantage of the processor or graphics potential for gaming, multimedia editing or other system-intensive tasks that number will shrink dramatically, but conversely those with more humble needs such as word processing should find they can extend it even further by turning off the wireless.
Wrap-Up
It's worth noting that Apple didn't describe the new MacBook Pro as its "Retina Display" upgrade to the previous Pro: instead, it referred to the notebook the company's best ideas for the next-generation of Pro. That's because there's more to it than all those extra pixels. Apple has polished, trimmed and pared away at its flagship to bring it resolutely up to date with the leading edge of the computer ecosystem.
While it may command a $400 premium over an entry level old-style MacBook Pro, that's not quite a fair comparison. Spec-up a regular 15-inch Pro with 8GB of memory, a 256GB SSD and the highest resolution display possible (1680 x 1050) and you're looking at $2,499: a full $300 more than the entry-level Retina Display version but still offering fewer pixels.

A more likely question is new MacBook Pro or MacBook Air. The Air is undoubtedly more portable again than the new Pro, but it loses out on the Retina Display, the discrete GPU and the second Thunderbolt port. The new MacBook Pro also has more memory as standard, and faster processors. In short, if your primary use is browsing and document editing and you're frequently carrying your notebook, the Air is a solid choice, but we'd still lean toward the Pro for its superlative screen.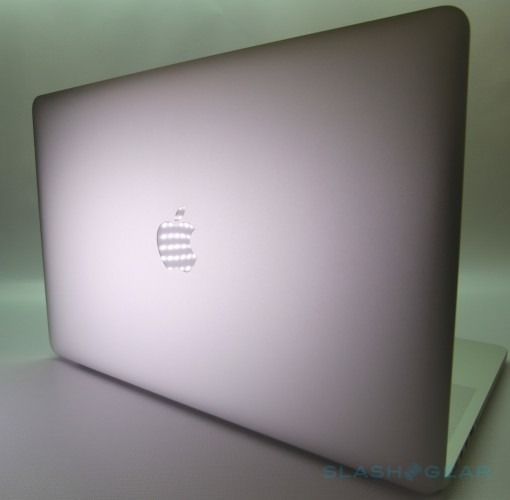 That's perhaps little surprise. In the end, though the new MacBook Pro with Retina Display is more than just the sum of its screen, the inescapable truth is that any other notebook feels dreary and last-gen in comparison. Just as switching from Retina on a new iPad to another tablet feels like stepping back in time, so the new MacBook Pro's  display feels like what computing really should be. Priced at the top end of the market it may be, but for multimedia professionals, developers and those that covet the cutting-edge, the new MacBook Pro with Retina Display is the new gold standard. [Visit Apple for details and videos]
MacBook Pro with retina display-Every Dimension-commercial
MacBook Pro with Retina Display Specs
[sgbenchmark id=160 show=system]