Acer & ASUS Delay Android Netbooks; Freeze Launches Until Pine Trail In Q1 2010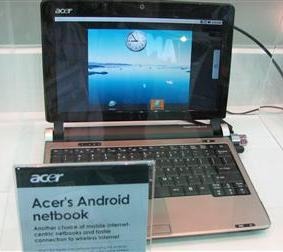 Acer and ASUS are tipped to have frozen new netbook launches in the second half of 2009, in response to Intel's decision to postpone the launch of the Pine Trail-M platform – of which the Atom N450 processor is a part – until Q1 2010.  As part of that, Acer's dual-booting Android/Windows XP netbook has been postponed with no known launch date; the netbook, first shown in prototype form at Computex in June, was most recently expected to arrive in August.
It's also suggested that Acer's research has indicated that market demand for the dual-OS netbook is not yet strong enough.  Meanwhile ASUS' Android netbook isn't predicted to launch before the end of October, while its T101 10-inch convertible touchscreen netbook is on hold until after Microsoft release Windows 7. 
Both companies, according to industry sources, are instead planning on focusing their attentions on the ultra-thin notebook segment, such as those using Intel's CULV range of processors.  ASUS are tipped to have 12-, 13.3- and 15-inch models ready, with 12- and 14-inch models following in August, while Acer already sells 13.3-, 14.1- and 15.6-inch models with further options – including integrated optical drives and discrete graphics – dependent on market demand.
Separately, Acer and ASUS are among several nettop manufacturers who are believed to be pushing to clear their existing inventories with further price cuts.  Along with MSI and Synnex Technology International, they're clearing the way for Intel's upcoming Pine Trail-D nettop processors, also expected to launch in Q1 2010.  ASUS will launch an NVIDIA Ion equipped nettop in October 2009, together with the Eee Box 1006.