Intel Pine Trail Atom N450 delayed to 1H10?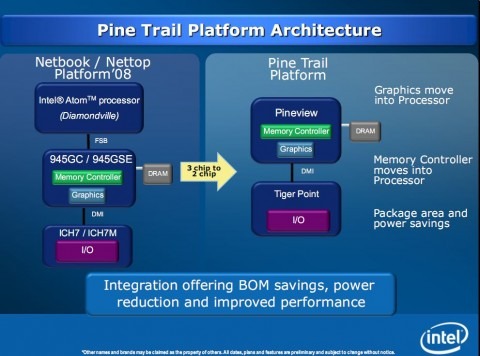 Intel's Pine Trail platform, set to replace the company's current Diamondville netbook/nettop architecture, could be delayed until the first half of 2010 so as to reassure vendors.  According to Digitimes Research senior analyst Joanne Chien, the Intel Atom N450 processor has been pushed back from its original Q4 2009 launch schedule so as to allow the existing netbook market to settle.
Chien's figures predict that worldwide netbook shipments will peak in Q3 this year, at 8.347m units, before dropping slightly in Q4 to 8,194m units.  However that's up from Q2 2009, at 7,296m units.  Major PC vendors are yet to announce systems running the new 45nm Pine Trail chipset, potentially to allow them to clear existing stock and squeeze out profitability of the cheaper N270/N280 processors before moving to the N450.
Pine Trail integrates the graphics core into the processor, together with the memory controller, and introduces a new Tiger Point chipset with I/O including SATA, USB 2.0, PCI Express and Intel HD Audio.  It also promises reduced power requirements, which will either mean longer runtimes with the same performance as existing Atom systems, or more performance with no loss in runtimes.