ASUS planning Ion B1006 Eee Box; Acer cutting AO751, readying Instant-On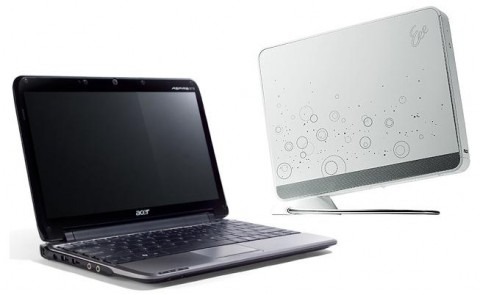 As you might expect, Computex brings with it not only official news but plenty of rumor, and the first netbook whispers suggest that the segment is growing increasingly competitive.  ASUS – when they're not slapping Qualcomm Snapdragon chipsets into Eee PCs – are tipped to be evaluating NVIDIA's Ion GPU for future products, according to industry sources, while they also suggest that the Eee Box B1006 nettop spotted on Friday will use Ion when it launches in Q3 2009.
Acer netbook rumors after the cut
As for Acer, it's reportedly cutting manufacturing orders for its Aspire One 751, faced with unsatisfactory sales of the 11.6-inch netbook.  Industry sources are blaming cheaper 10-inch netbooks and competitive standard notebooks for the shortfall in demand, though we'd also point to poor performance from the machine's Intel Atom Z520 processor.
The company is also tipped to announce its own Instant-On feature for Aspire One netbooks on June 2nd, collaborating with developer Insyde Software.  The system would presumably offer quick access to internet, media and messaging functionality, though both companies have declined to comment at present.