ASUS, Wistron & Inventec Qualcomm Smartbook Netbooks Revealed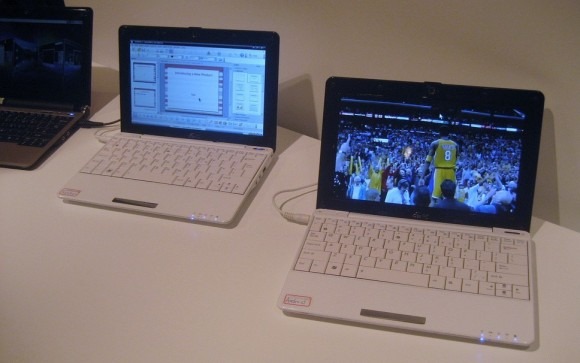 They may look like the ASUS Eee PC 1008HA, but these slender netbooks are actually the first demo units of Qualcomm's Snapdragon-based Eee PCs.  Based on Qualcomm's 1GHz super-chip, the ASUS models – actually thinner than the 1008HA – were joined by machines from Wistron and Inventec.
More Qualcomm Smartbooks after the cut
The Wistron machine is seemingly the same device as spotted back in initial ARM demo videos.  ARM's CEO Warren East described the company's stance that, far from being underpowered, current netbooks in fact exceed most user's requirements, and that the Snapdragon chip and other ARM processors are well suited for the Smartbook concept.
The expectation is that the first Smartbook devices will hit the market by the end of 2009, though there's no word on which manufacturers will deliver to that schedule.  More on the Smartbook segment – including its use of 3G WWAN, GPS and all-day battery life – here.