OnePlus 10T Review: It's Hard To Beat A Pixel
Adam Doud/SlashGear
OnePlus' T series of smartphones has always been in a weird place. Typically, the T series barely bumps up the spec game over its spring predecessor. This is further confused by the fact that until recently, OnePlus's spring lineup included a Pro and standard variant. Frankly, when it comes to price, it's hard to gauge where the OnePlus T series should end up.
This year, OnePlus only launched the Pro variant in the US, so it can be argued that the OnePlus 10T is here to be a more affordable option to the OnePlus 10 Pro. It cuts $150 off the price of its Pro predecessor (after a permanent $100 discount on the latter) but it takes some serious shortcuts to get there.
Notably, the iconic mute switch is gone, along with Hasselblad's camera magic that lives in the OnePlus 9 series and the OnePlus 10 Pro. There are a few other compromises, but what you're left with isn't really a deficient phone, or a "lesser" model. Rather, what you're getting is likely what you would have gotten back in the spring had OnePlus launched a OnePlus 10 Not-Pro edition, albeit with a little extra on the side. Yes, I told you this was confusing, so let's try to break it all down. I've been using a OnePlus 10T review sample provided by OnePlus on T-Mobile's network for three weeks, and this is our full review.
Design and hardware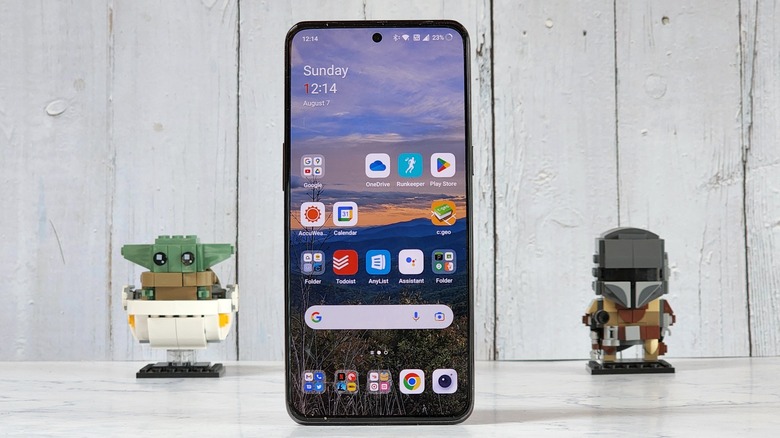 Adam Doud/SlashGear
At a glance, it's hard to tell the OnePlus 10 Pro and the OnePlus 10T apart. Both share the same camera bump on the back and general size and shape. The main differences you'll find are things that are not there on the OnePlus 10T. Notable, you won't find the Hasselblad branding on the camera island, the missing silence switch, the missing curved display on the front, and the missing wireless charging. Speaking of the front, the selfie camera on the front is in the center of the top of the display on the 10T, as opposed to the corner of the 10 Pro. 
Of the missing features, the one I missing the most is wireless charging. It has become the standard in flagships, and this phone likes to pretend it's a flagship, so its absence is noticeable. But let's stop talking about what isn't there; let's talk about what is there.
The back of the phone is Corning Gorilla Glass 5 that has a textured look. Despite that, it is somehow just as slippery as a typical 2022 smartphone. The back gracefully curves up into the camera bump making for a smoother transition than that on the OnePlus 10 Pro, and one I like a bit better. Around the sides of the phone, you have a power button on the right side and a volume rocker on the left.
What is missing is the alert slider, which has been a trademark on OnePlus phones for years. OnePlus knew this would cause a stir so before the phone was even announced, it released a statement to the press explaining its omission. The TL;DR version of it goes something like this: "We wanted to pack in insanely fast charging, a bigger battery, and a new antenna design, so we had to lose the switch. Don't panic, we'll bring it back." Personally, I don't mind its exclusion; I'm not much of a fan of mute switches. They actually annoy me far more often than I find them to be useful. But you may like the switch, and that's ok: you just won't find it on the OnePlus 10T.
Flattened display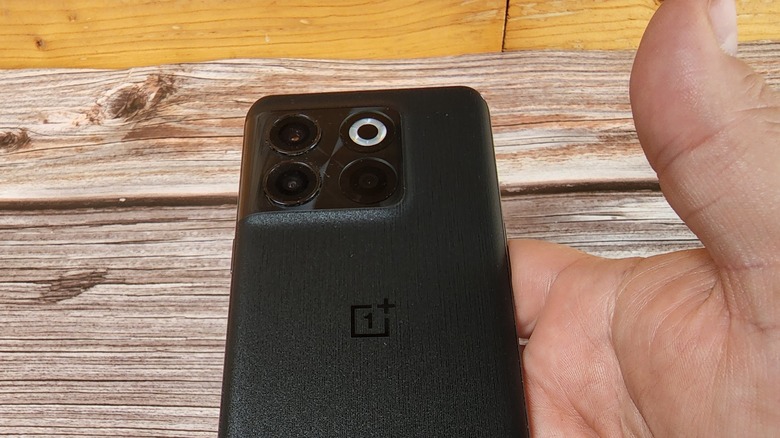 Adam Doud/SlashGear
On the front, you have a 6.7-inch AMOLED display capable of variable refresh rates of 60, 90, and 120 Hz. The resolution is 2412 x 1080 (394 pixels per inch) which is less pixel dense than the OnePlus 10 Pro. I didn't notice too much of a difference myself comparing them side-by-side, but I would like to reiterate that OnePlus is really the only company making 120Hz displays that I can really see delivering. I've used plenty of 120Hz displays and 60Hz displays and I just don't see the difference, except on OnePlus phones. I can't explain why, though were I a shill for the company I'd say that it follows along with OnePlus's "fast and smooth" mantra, but I'm not so I won't. Regardless, OnePlus nails it.
On the inside you get a Snapdragon 8+ Gen 1 processor, 8GB/128GB or 16GB/256GB RAM/ROM configurations (my review device was of the latter variety), and a 4,800 mAh battery that will have its own section below, because there's a lot of say about that. 
Also included is OnePlus's new 360-degree antenna design that contributed to the removal of the alert slider. The 10T uses 15 antennas around the periphery of the device to ensure strong cellular and Wi-Fi signals, regardless of the orientation of the phone. Personally, I didn't think we really needed that in 2022, or at least I didn't think OnePlus had to brag about it. I didn't notice any connectivity issues with the phone but neither did it seem particularly strong in that category either.
Crazy-fast charging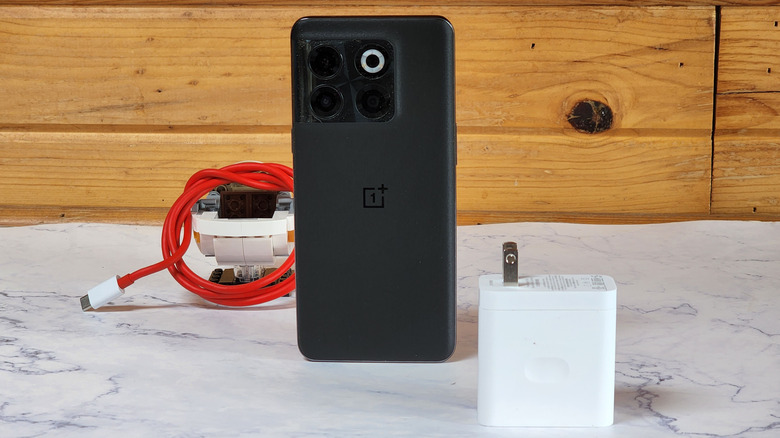 Adam Doud/SlashGear
Now, we move on to the battery and there's a lot to talk about here. In an age when Samsung and Apple are no longer shipping charging bricks in the box with their phones, OnePlus bundles its phone with a 125W charging brick in the box. Overseas, it's a 150W charging brick. The proprietary technology in the adapter and the cable combine to charge your phone from empty to full in 19 minutes. Put simply, it's wild how quickly this phone charges.
It's because of this that, whenever I use a OnePlus phone, I don't bother plugging it in overnight. I simply plug in my phone when it's empty and unplug it 20 minutes later. If I'm going out somewhere, I'll plug it in when I start to get ready to leave the house and unplug a full phone when I walk out the door. It takes a lot of getting used to this lifestyle, but it's amazing. That being said, there are a few caveats.
Charging caveats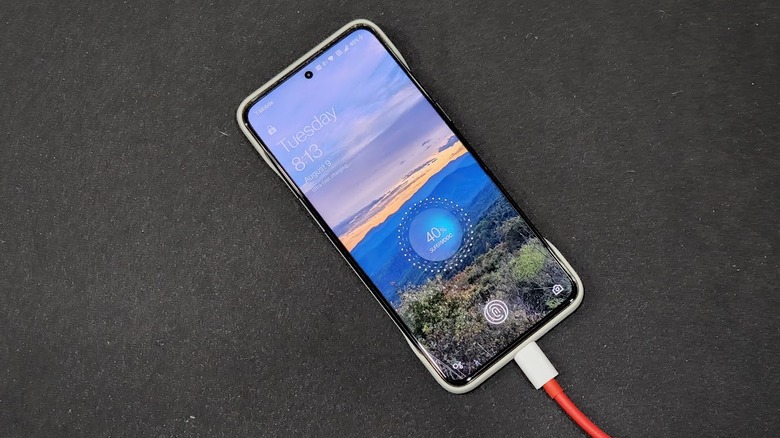 Adam Doud/SlashGear
First, it's absolutely necessary that you use the plug and cable that came in the box. I tried a new Anker GanPrime charger to charge up the phone, and it took an hour and 10 minutes which at the time seemed positively glacial. Plus, that charging brick in the box is not tiny in the slightest. It'll take up a good portion of your purse or shoulder pack, so taking it with you is not the easiest.
That's an important consideration, since battery life on the phone itself is somewhere between average to below average. My phones typically will last a day and a half off the charger before I need to plug in. The OnePlus 10T was lucky to survive a day. During one particularly hard weekend, I had to resort to a recharge three times between Friday night and Sunday night. I used the included charger, of course, so that process took almost no time at all, but if you're counting on this phone to last you to and from the office and a night out afterward, you'll want to charge up before you put on your dancing shoes.
So, I'd have to call the battery a mixed bag on the phone, which is not bad. I think the positives far outweigh the negatives here: it's ok to charge your phone once or even twice per day if it takes less than 20 minutes to do so.
OxygenOS is a breath of fresh air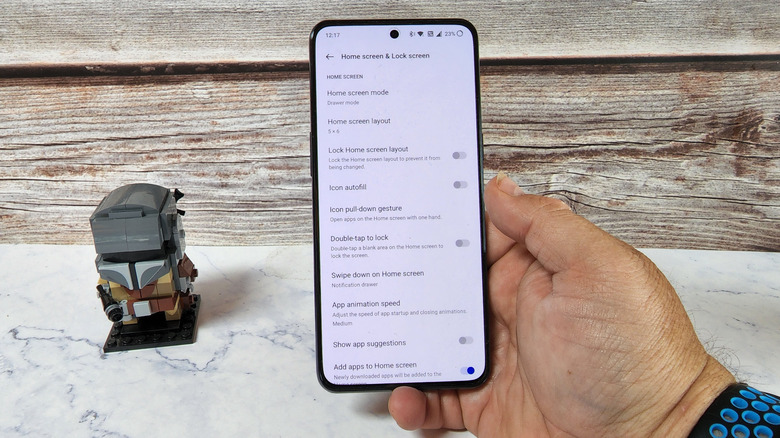 Adam Doud/SlashGear
The OnePlus 10 Pro runs on OxygenOS 12.1 which is based on Android 12. Unlike Google's version of the software, you'll find an old-school look here in the settings menu and notification shade in particular. The settings screen is particularly monochromatic and boring. While Google has transitioned to large rounded rectangles for its quick action toggles, OnePlus sticks with the familiar line of icons across the top. Personally, I have never been a fan of OxygenOS; it's fine, but it has never been particularly exceptional in my humble opinion. This phone may have changed my mind because OnePlus has some really nice software tricks that I quite enjoyed.
First and foremost, comes its handling of folders. Creating folders is really easy on the OnePlus 10T. You can select multiple apps from the app drawer and move them all to the home screen. You can select multiple apps on the home screen and create a folder. You can also drag two folders together to combine their contents into one folder. It's one of the easiest app/folder management schemes I've run across and, since my particular phone setup paradigm involves sorting all of my apps into one of five different folders, you can imagine I found this to be delightful.
OxygenOS vs. Google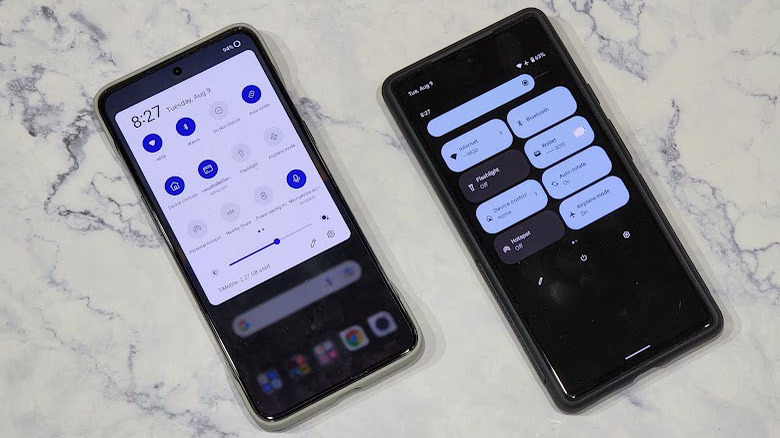 Adam Doud/SlashGear
OnePlus also allows you to play with your icons a little. You can choose their sizes and shapes, from rounded rectangles to circles to octagons. It's the little touches that allow you to give your phone a bit more personality that what's normally possible. Of course, OnePlus's excellent always-on display is here, which shows customizable messages, icon display, and contextual reminders.
Some look at the similarities between OxygenOS and Oppo's ColorOS with skepticism. There are definite parallels there, but I still like what OnePlus brings to the table. Sure, some of the menus are questionable, including the "Uninst..." button in the app screen that has been there since the OnePlus 10 Pro (and seriously, OnePlus, how hard is it for fix that?). But on the whole, OnePlus's software is fun and I like using it. It's not the best Android skin out there, but it has a lot going for it.
Performance and gaming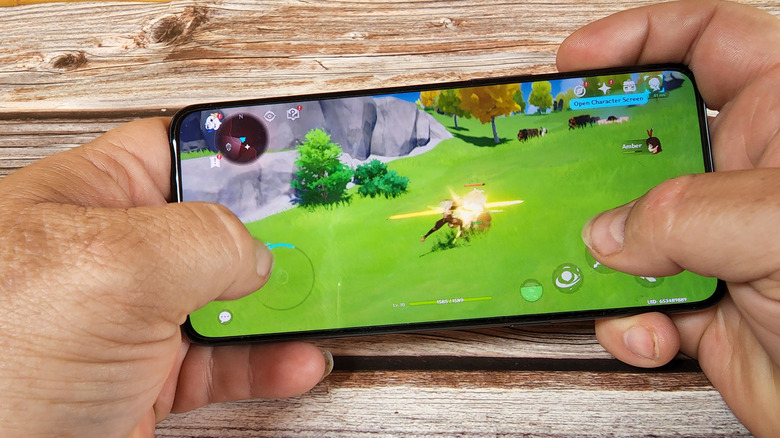 Adam Doud/Slashgear
On the performance side of things, OnePlus has Qualcomm's latest Snapdragon 8+ Gen 1 processor which provides a modest improvement over the already-awesome Snapdragon 8 Gen 1. Put simply, there is very little that you can do on a phone that will choke this processor. One of the most intensive tasks you can perform on a phone is gaming, so let's talk about that.
Call of Duty: Mobile, Diablo: Immortal, and Genshin Impact all fly on this phone. The only stutter I found was in the latter title, and even then only when the graphics were flicked to their highest setting. That said, while there were some stutters during action sequences, the game was still 100% playable. If I ratcheted it down to High (as opposed to Highest), it was all perfectly smooth.
I also ran the Geekbench Benchmark test and came back with 871/3164 single/multi-core results. Those are not top-of-the-line impressive numbers by themselves, which is why I went with anecdotal evidence first. Overall, I couldn't find a task that the phone could not handle with aplomb.
Breaking down the camera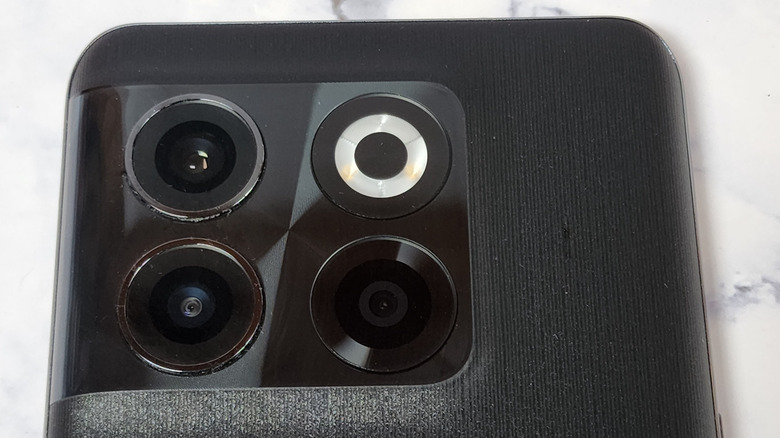 Adam Doud/SlashGear
I already talked about the camera at length in our review of the OnePlus 10 Pro vs OnePlus 10T camera systems, but there were a few areas I didn't cover. Most notably, I didn't cover video. Video capture on the OnePlus 10T falls into the "good, but not great" category. In ideal lighting conditions, things are perfectly fine. Even in low light the image captured is pretty decent. Where the OnePlus 10T falls short is in the stability department. When you are walking with this phone, your video is going to be all over the place. The same is true for the selfie camera.
Typically, phone manufacturers will include stability on one of the cameras — front facing or rear facing — but OnePlus appears to have left it out of both. If you're a vlogger and planning any walk-and-talks, you'll want to skip this phone.
One other thing we didn't talk about was zoom. The OnePlus 10T comes with a 2X "zoom" which is a digital crop. Zoom works great up to that level, but do not venture beyond. It's not pretty. Subjects get blocky and very much like a 6-year old's watercolor painting. Steer clear.
Nighttime photos are generally pretty good when you're working with subjects that aren't moving. Light sources tend to be streaky with lens flare, which can ruin an otherwise perfectly good photo. Regardless, you'll want to stick with the main camera across the board.
Turn it around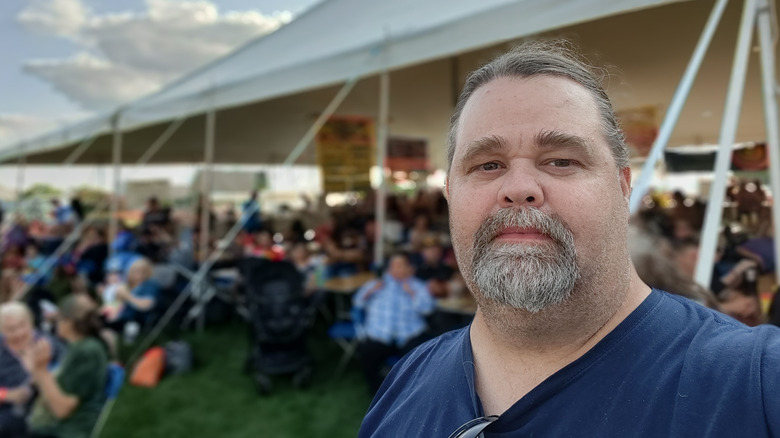 Adam Doud/SlashGear
Portrait mode on the selfie camera is quite good, capturing the right outline around my head, and even properly capturing whisps of hair. It's not perfect — some hair still gets lost in the blur — but it's probably the closest to accurate as I've seen thus far.
Color reproduction between the main camera and the ultrawide are close, but not perfect. The ultrawide camera tends to run a bit brighter than the main camera. That's odd because it's usually the other way around due to sensor size and aperture.
Finally, burst mode is capable of grabbing some clean images even from a fast-moving roller coaster. Unfortunately, burst mode is limited to just 20 captures, so you'll need to time your burst just right which is annoying.
The camera package you get on the OnePlus 10T is pretty good. It's a step short of flagship-class due mostly to its lack of optical zoom and stability. But overall, there's little to complain about
What is this phone?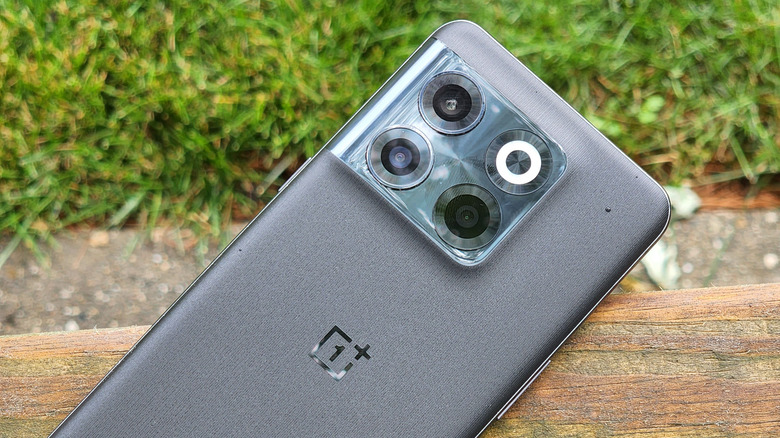 Adam Doud/SlashGear
While the OnePlus 10T is a solid flagship phone, there are two things that make it compelling. The first is the price. At $649, there's a lot to like here. It has lots of RAM. Great. Check out that fast processor. Cool. It has a 120Hz screen. Awesome. At this price point, that's a lot of horsepower. It's almost a callback to OnePlus's roots: the flagship killer. Let's not forget that "flagship" phones cost upwards of $1,000 these days. This costs 65% of that, which is really good. There's a lot of value there. But, what happens when you go overseas with this phone and there are a host of options offering the same specs at half the price?
Mostly, I love the charging tech on this phone. It's honestly its best feature, which is both a good thing and a bad thing. The good news is, it's amazing and genuinely useful in ways that most of us haven't even considered before. But the bad news is, if your halo feature is charging tech, what does that say about the rest of the device? Is charging tech really going to be what drives sales in droves? Probably not.
Not bad, but not really OnePlus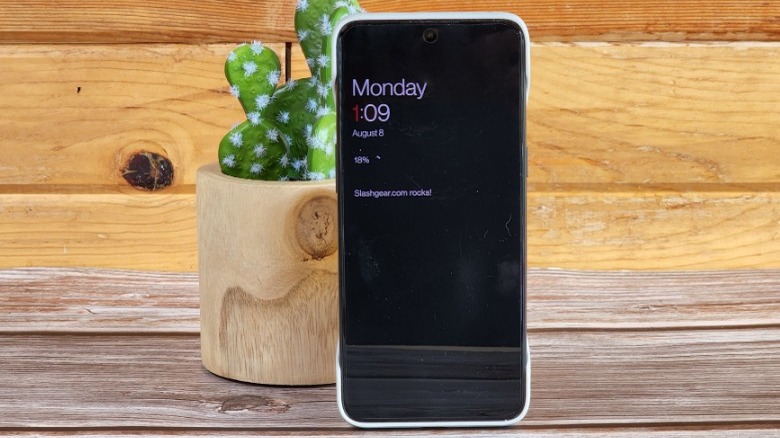 Adam Doud/SlashGear
The OnePlus 10T has a lot of compromises taken from its older sibling the OnePlus 10 Pro. It is, essentially, the OnePlus 10 Not-Pro. It's a phone for OnePlus fans who are also budget conscious. At the same time, the omission of the alert slider and Hasselblad branding might be a deal-breaker for those same fans.
But if you're willing to look past the branding and the "OnePlusness" of the phone (or lack thereof) this is a decent budget option with a lot of power behind it. That's not nothing. Is it a good phone? Of course. Is it a good OnePlus phone? That's a tougher question to answer, but it's also not a reason to not recommend it. So why aren't I recommending it?
This phone does not exist in a vacuum. The OnePlus 10T is a fine phone with a good price tag, but with the Pixel 6a out there at $450, it's really hard to recommend this model instead. When you can pick up a Pixel 6 $50 less, it's even harder. What will the story be when the Pixel 7 comes out in just a couple of months? In a Pixel-less world, this phone is a solid recommendation, but sadly for OnePlus we just don't live in that world.