Every Generation Of Honda Civic Ranked, Worst To Best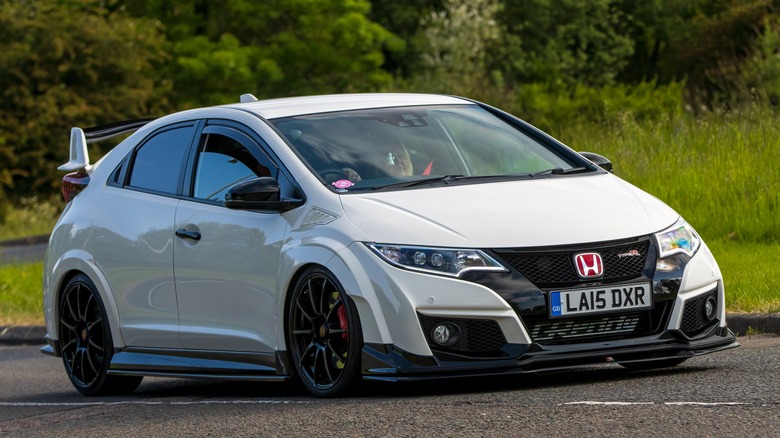 Sue Thatcher/Shutterstock
When the Honda Civic arrived in the early '70s, it didn't exactly set the world on fire. However, Honda's shrewd plans to continue making a small car that was affordable but of exceptionally high quality eventually paid off. Honda's entrance into the North American market began with a 50cc motorcycle backed up by a campaign proclaiming, "You meet the nicest people on a Honda." This proved to be a stroke of genius as it helped change the perception of who would ride a motorcycle at the time and began the work to demonstrate that Honda products were of superior quality.
With a foothold in the U.S. and elsewhere, Honda set out to conquer the automobile market, beginning with its diminutive Civic in 1972. Its formula of offering an affordable car with excellent reliability has worked for more than 50 years now. Furthermore, throughout much of that time, it has been among the best-selling vehicles in its segment, with more than 10 million units sold in the U.S. alone. 
Honda has kept a regular schedule of upgrading the Civic about every five years, giving us 11 generations of car with the newest one released in 2021. Now that we have such a rich history of one of the longest-running nameplates in the industry, we can rank all of them now, saving the best for last.
11. Seventh generation Honda Civic 2001 - 2005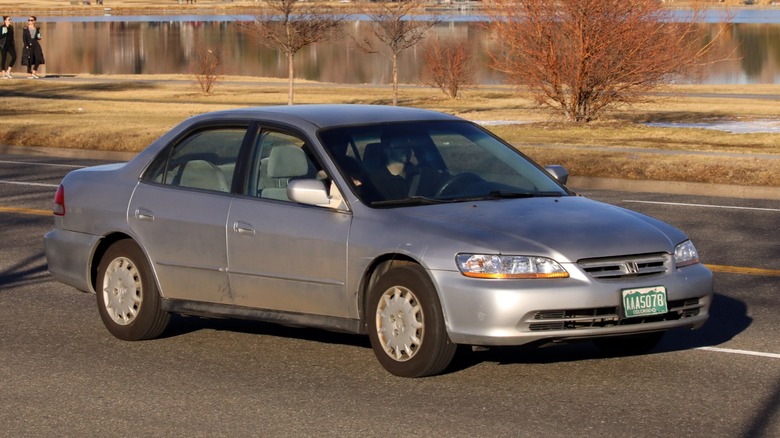 photo-denver/Shutterstock
For the 2000 model year, Honda once again updated its Civic, but styling changes were modest. The car looked essentially the same as the outgoing model but with some corners and edges tweaked here and there. The interiors remained about the same as well. Furthermore, engine choices remained mostly unchanged. 
While there were plenty of similarities to previous generations, a few designs had unique changes. Three-door models received distinct front fascia and headlights, and those with a 5-speed have the shifter mounted in the dashboard. The Si model retained the same output of 160 horsepower as the previous model, but peak power became available much earlier at 6,500 rpm instead of 8,000. It may not be the most popular Si based on looks, but driving it is still invigorating.
While this model retained the reliability and build quality the brand had become known for, its styling falls on the conservative end, and many enthusiasts tend to ignore this generation of Civic. It did undergo a styling refresh for the 2004 model year, but even those changes were minimal and likely could only be spotted by an eagle-eyed Civic fan. However, the big news for Civic during this time was the introduction of the first hybrid model. Honda had first tinkered with this technology with its Insight hybrid, finally expanding it to a more practical vehicle in the 2003 Civic.
10. Sixth generation Honda Civic 1996 - 2000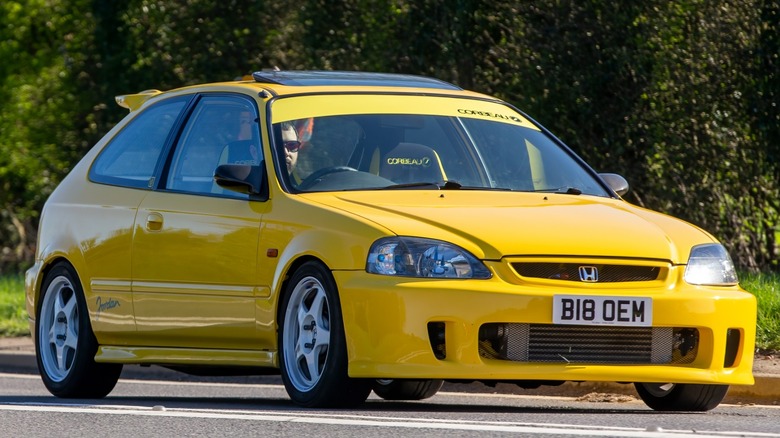 Sue Thatcher/Shutterstock
The 1995 Civic received dramatic styling changes from the outgoing model with an exposed grille, larger headlights, and distinct design elements in the sheet metal itself, such as an indented beltline. This Civic was clean and attractive, if not a bit conservative in its design. Engine options expanded and a four-speed automatic became optional for the first time.
Honda offered this Civic in seven trim levels in three body styles. Engine output ranged from 106 to 160 horsepower sent through a 5-speed manual or four-speed automatic. The HX trim, which was a specially tuned model for high fuel mileage, received a CVT and could attain up to 41 mpg on the highway. However, the most desirable of all was the Civic Si, which received an impressive DOHC 4-cylinder VTEC engine putting out 160 horsepower to the front wheels, making it a blast of a quick little car for enthusiasts.
9. Third generation Honda Civic 1984 - 1987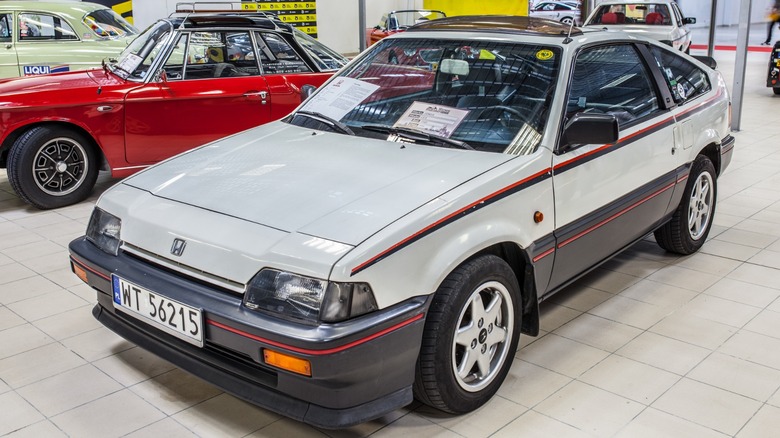 Grzegorz Czapski/Shutterstock
After a decade of offering the Civic as a true economy car as a low-price option, Honda reshaped the Civic into something with the style and panache buyers want from their vehicle. While continuing to offer the efficient and reliable drivetrains consumers had come to expect from Honda, the new model blended attractive looks with an upscale interior to make it a whole package.
Along with all the other updates, Honda also diversified its offerings in body style. The Civic could now be purchased in a four-door sedan, three-door hatchback, or the all-new CRX, a two-seater hatchback with a sloped rear end offering sporty and attractive looks geared toward younger buyers. 
This marked the transition of Honda from a carmaker trying to compete in a field among giants to one of the giants itself. That was further evidenced by the release of a 76-horsepower S model and, more importantly, a high-performance Si model beginning in 1985.
8. Second generation Honda Civic 1980 - 1983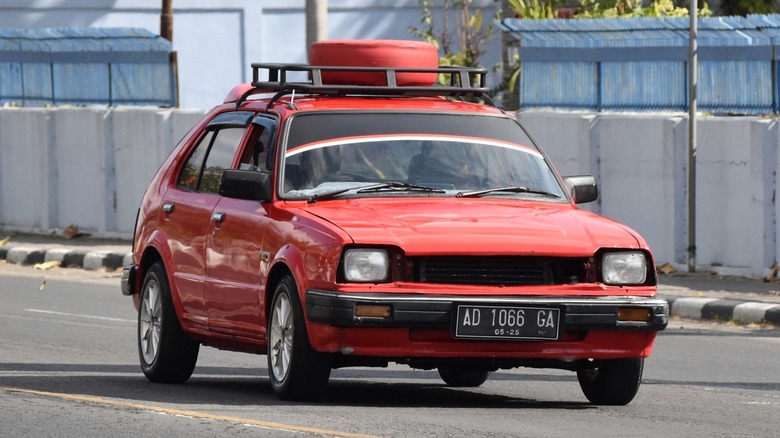 Cahyadi HP/Shutterstock
By the late '70s, consumer preferences had shifted toward fuel-efficient vehicles and the Civic had been on the market long enough to establish a reputation for Honda. Therefore, when it came time to redesign and update the car, Honda was able to increase the level of quality a bit and make the Civic something a bit better than simply basic transportation.
With the new car, the interiors became better appointed and more comfortable. The available engine size had been increased to 1.5 liters and the two-speed automatic transmission, the Hondamatic, gained an additional gear. Despite these improvements, it is still a small car with relatively little power. Knowing these potential drawbacks, Honda continued to sell it on price, noting the extraordinary value it represented compared to other small cars with a higher price, which included most of them. Although Honda continued to gain traction, this Civic experienced lackluster sales.
7. First Generation Honda Civic 1973 - 1979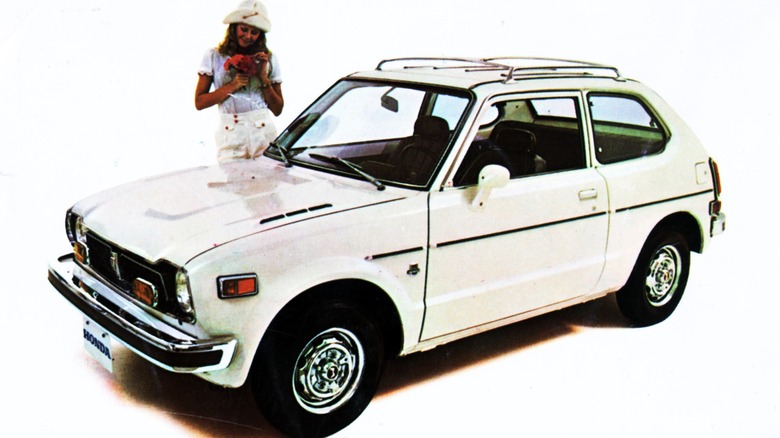 Transcendental Graphics/Getty
The Civic was not the first car Honda exported to the U.S. First offered to buyers were the 600 coupe and sedan and the S600 roadster. With just a tiny 598cc engine, these were going nowhere on American roads, almost literally. 
When the first Civic arrived in 1972, Honda finally had a car that could be practically used by the average American. Even though it was small, the 1.2-liter engine provided just enough power to keep up. Most importantly for Honda, the little engine was extremely efficient and the Civic was in just the right position as a fuel crisis erupted, sending gas prices soaring. This led many Americans eager to give up comfort for economy, and they saw reliability as a bonus.
EPA regulations on emissions of automobiles began in 1973, causing automakers to scramble to patch together various systems to meet new rules, including catalytic converters. However, in 1975, Honda introduced its clever CVCC engine, requiring no catalyst to pass, proving it had technology prowess even GM was lacking at the time. While the first-generation Civic is good for basic transportation at best, it got the ball rolling and allowed Honda to stick its foot in the door, leading to decades of success.
6. Ninth Generation Honda Civic 2012 - 2015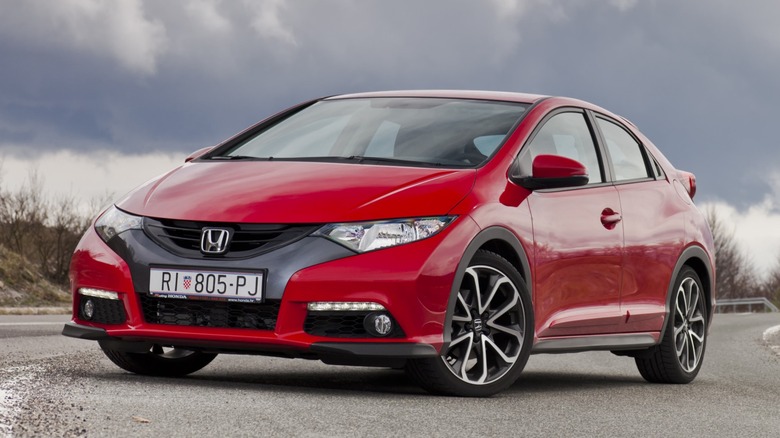 Supergenijalac/Getty
Design changes in 2012 were mild, continuing the bold look of the previous model, but the interior received a nice makeover and additional options. The upper instrument cluster was enlarged and included an information monitor and an upgraded infotainment screen above the climate controls. However, most of the changes going into the ninth-generation Civic were mechanical, as Honda introduced more advanced engine technology than ever.
Included in the engine options for ninth-generation Civics are a 1.8-liter i-VTEC tuned for the HF model with 140 horsepower and fuel economy of 41 mpg highway and a 1.5-liter i-VTEC hybrid setup with economy of up to 45 mpg. Both of these options utilize unique aerodynamic components to improve efficiency with the Honda ECO Assist system. Base models received the same 1.8-liter engine, although it could come equipped to run on natural gas. 
Once again, however, the model to have is the Si, which received an enlarged engine up to 2.4 liters that offered an output of 200 horsepower. This power rating is unchanged from the previous 2.0-liter Si, but torque is up from 139 to 170 lb-ft, which is something that can be felt when pulling away from the light. Furthermore, this extra performance is available while maintaining a good fuel economy.
5. Eighth generation Honda Civic 2006-2011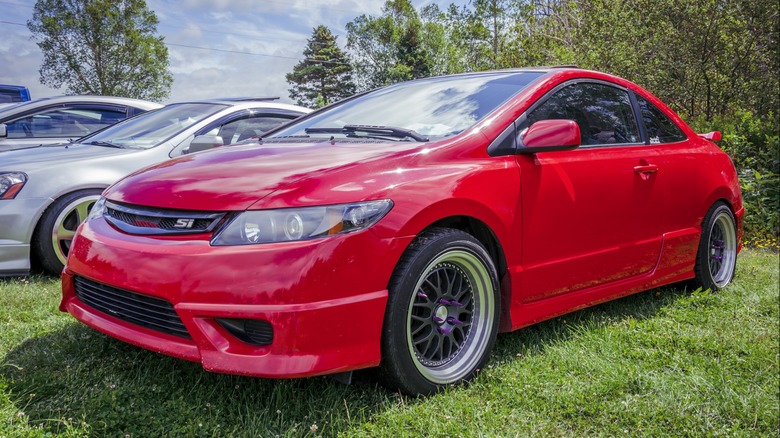 Kenmo/Getty
After several years of modest design updates keeping with conservative styling decisions, the 2005 eighth-generation Civic debuted with a bold new look to reinvigorate the brand. However, budget pricing had long since left the Honda brand, bumping the Civic into a price category few would describe as economy. It would still be affordable, but only affordable "for a Honda."
Regardless of price, this Civic was an attractive step forward in terms of design. Curiously, though, Honda eliminated a hatchback option for the American market, leaving only a coupe and sedan on the lots. Inside was perhaps the best part of the redesign, with the instrument panel now split into two levels, with a small digital speedometer readout up high and a large analog tachometer directly in front of the driver, feeling almost like something in a cockpit. Material quality had been improved with this release, and more options than ever became available. 
Meanwhile, the Civic Si now came as a coupe featuring a 197-horsepower 2.0-liter engine, making it a quick little car that has now become a highly sought-after Civic on the used market.
4. Fifth generation Honda Civic 1992 -1995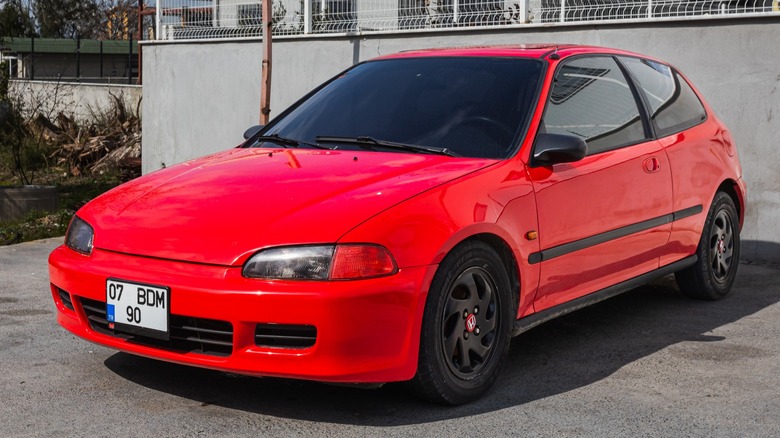 Vitalij Sova/Getty
By the opening of the '90s, Honda was moving more than 200,000 units per year. It had long since passed its days as simply an economy car and had become a premium small car by a well-established manufacturer with a stellar reputation for build quality. It was well known that Hondas rarely break down, fueling their popularity.
The 1992 model saw the familiar angles of previous Civic models become more rounded and curvy while a new acronym was added to the lexicon, VTEC. This was the system Honda pioneered to offer variable valve timing on its cars, which increased efficiency but also added power. VTEC worked by adding a second cam lobe for each intake valve and a solenoid would activate above a certain engine speed that caused the rocker arm to engage the second lobe. This provided more fuel only at higher rpm when it was needed. This system was a revolution in fuel delivery and only added to the Civic's popularity.
3. Eleventh generation Honda Civic 2022 - present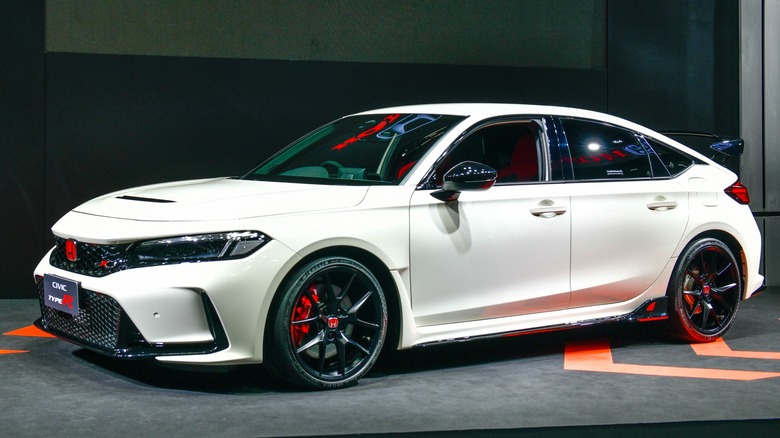 i viewfinder/Shutterstock
Now in its 50th year of production, the Civic is going strong. The most current iteration has taken many cues from the previous model but toned back a bit of the aggressive styling. The engine choices remain the same and the coupe body style has been dropped. Fortunately, the Type-R remains part of the lineup.
With only a couple of years in production, this Civic will likely be around for a little while longer. Like those before it, the interior is well made and it offers great handling with reasonable comfort. With its current offering of options and exceptional quality, it is also a long way from being a simple economy car with its current price starting at $23,950. Options will raise that price, and the Type-R will set you back more than $43,000. Honda has come a long way but has arrived as a maker of premium automobiles, and the Civic demonstrates that to be true.
2. Tenth generation Honda Civic 2016 - 2021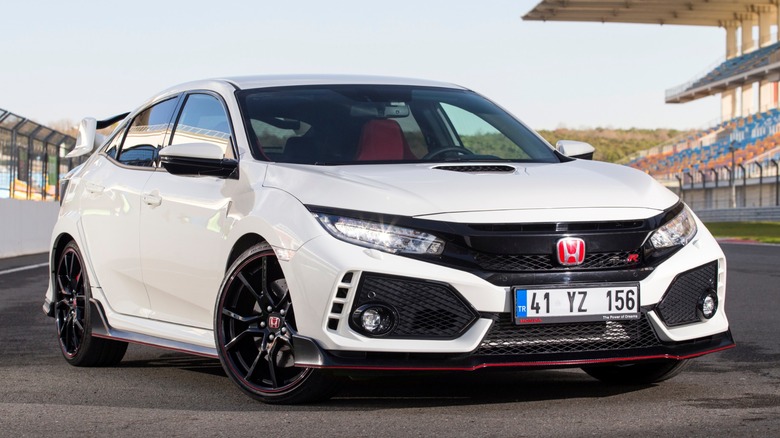 emirhankaramuk/Shutterstock
By the time Honda released its 2016 Civic, about the only thing it shared with the original 1973 car was the name. It has grown substantially over the years and the technology packed in it was as good as science fiction in the '70s. Its styling became much more aggressive compared to cars of 20 years earlier, and the interior is sharp, clean, and very driver-focused. The looks of this generation may be a bit much for some people, but for others, it is a thoroughly modern car.
This dramatically redesigned Civic benefits from a wealth of technology. Engine options changed for 2015, and, for the first time, Honda offered a turbocharger. Paired with a 1.5-liter engine, the turbo models get a punchy 174 horsepower, while a naturally aspirated 2.0-liter engine option offers 158. While color screens in the gauges and touchscreen in the dash are nice appointments appearing in the interior, the tenth generation offered even better news for Civic buyers. First, a hatchback has returned, alongside options for a coupe, four-door sedan, and five-door hatchback. 
Even better, for the first time in 2017, Americans received the ultra-high-performance Civic Type-R. This version is powered by a 2.0-liter turbocharged engine making 306 horsepower and receives aerodynamic body treatments, including an aggressive rear spoiler, offering a defining look of speed. Type-R Civics have long been available overseas, and this was a long-awaited development for Civic enthusiasts.
1. Fourth generation Honda Civic 1988 - 1991
The 1988 Civic could be viewed as a refresh of the previous model. It retained the same basic shape but smoothed out the lines, softening the corners and adding composite headlights that blend better with the car's silhouette. As a testament to Honda's growth in America, Civic models began to be built by Americans, starting in 1986.
Honda also paid attention to compact car buyers, especially since they are often ignored by other manufacturers. To win their business, Honda offered the only small car with a four-wheel independent suspension in 1987, and it offered an excellent ride with superb handling. Four-wheel disc brakes became available in 1990. The 1.5-liter engine received digital fuel injection and the interior materials were upgraded such that everything felt high-quality to the touch. 
Beyond that, it was with this generation of Civic that many young Americans began swapping Mustangs and Camaros to modify and race in favor of a front-wheel-drive import. Thus, the days of the tuner car commenced.