2023 BMW I7 Review: You May Not Want To Drive This EV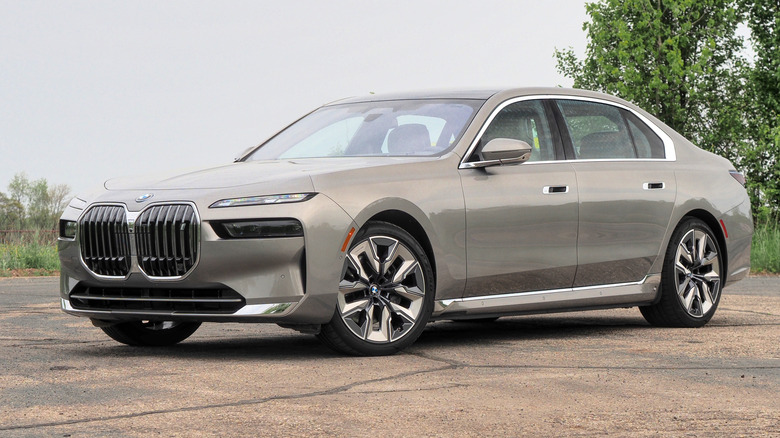 Chris Davies/SlashGear
I love electric cars, but the 2023 BMW i7 had me considering pulling over and abandoning the driver's seat. That's no slight on just how well the big luxury sedan performs when you're behind the wheel, mind. More that, as back seat experiences go, the i7 not only settles any concerns that green automatically means austere, but sets a new benchmark that gas cars will struggle to match.
It's quiet, but nobody will accuse the i7 of being subtle. At 212 inches long, 77 inches wide, and 61 inches tall, it's smaller than a lot of big SUVs, but the beefy sedan's high waistline and truncated glasshouse give it a purposeful, solid stance. The grille is big, but somehow doesn't look oversized; maybe the split front headlamps are providing sufficient distraction.
I'm not sure it's the most handsome electric sedan on the market, but I do prefer BMW's efforts to stick to a traditional three-box form, rather than, say, Mercedes' slippery soap silhouette of the EQS. You can — and, arguably should — go for a menacing satin black paint job and M Sport body kit, turning the i7 into one of the more intimidating electric options on the road right now.
A benchmark cabin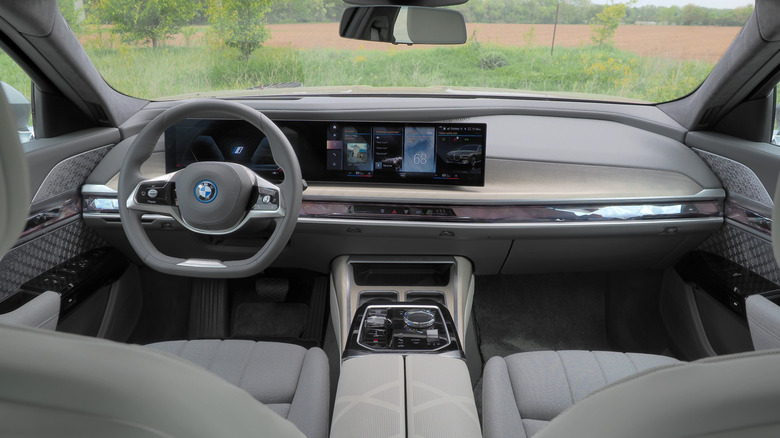 Chris Davies/SlashGear
Inside, I'm head-over-heals with BMW's Smoke White upholstery package, which combines Merino leather with cashmere wool. It pairs delightfully with the Silver Ash Root open-pore wood, itself sandwiched between slices of satin-finish metal and glass-like trim. Jewel faceting, laser-sliced grilles, and plentiful ambient lighting leave the i7 feeling modern and airy, like the futuristic city from "Logan's Run."
There's technology woven through all that, naturally — some more obvious than others. The 12.3-inch gauge cluster and 14.9-inch infotainment touchscreen (running iDrive 8) are vivid and unusually restrained, compared to Mercedes' possibly-just-too-large Hyperscreen. Air vents get touch-controlled airflow, but a welcome physical control to adjust their direction, rather than demanding you go digging into an HVAC menu and drag virtual sliders around.
Radiant heaters integrated into the armrests, center console, door trim, and underside of the dashboard provide surreptitious toastiness. Even getting into the i7 comes with melodrama: the optional powered doors sweep open and closed with motorized grace, and wisely include sensors to make sure they won't ding themselves (or pedestrians) in the process.
Good range, but not the best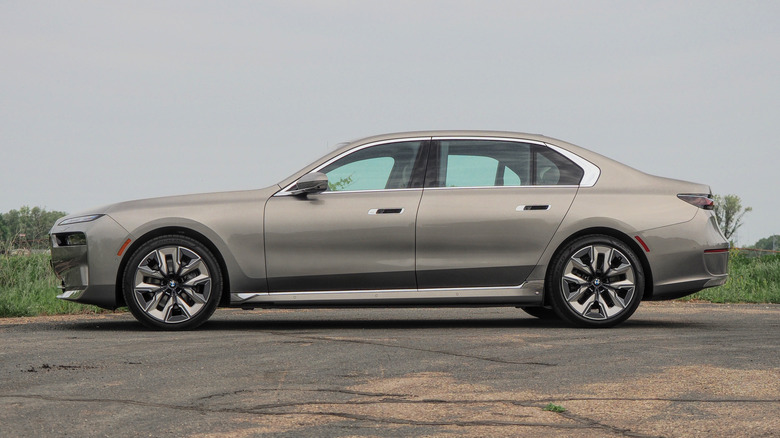 Chris Davies/SlashGear
BMW currently offers a single drivetrain for its most lavish EV in the U.S.: the 2023 i7 xDrive60. Priced from $119,300 (plus $995 destination) it has dual motors for all-wheel drive, with a total of 536 horsepower and 549 pound-feet of torque. That's almost identical to the power of the 760i xDrive with its 4.4-liter twin-turbo V8, which starts at $116,400.
The electric car is slightly slower than its gas counterpart, but only by a little. 0-60 mph arrives in 4.5 seconds, while the i7 is electronically limited to 130 mph. Its 101.7 kWh battery is rated for 308 miles on the EPA's test cycle when fitted with 21-inch wheels. Step down to 19-inch alloys and the estimated range nudges up by another 10 miles.
Many rival EVs do better: Mercedes' EQS 450 4MATIC is rated at 340 miles; the EPA says Tesla's Model S will do 405 miles, while the Lucid Air Grand Touring clocks in at a whopping 469 miles. In the rearview mirror, meanwhile, is the Porsche Taycan 4S, at 235 miles, and the Audi e-tron GT, at 238 miles.
Lavish in the front, back, or both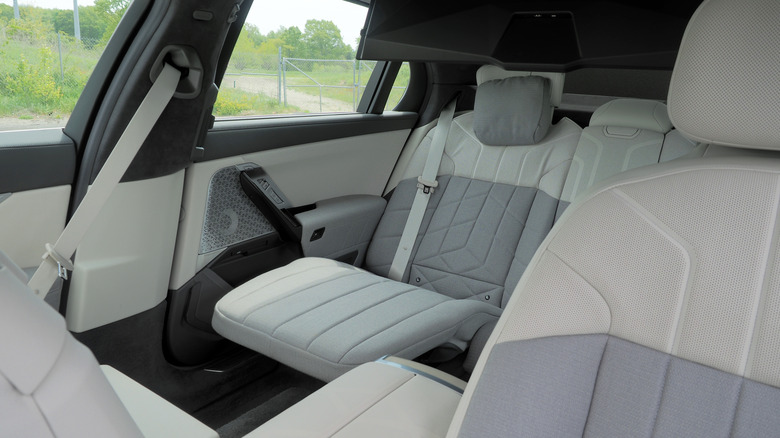 Chris Davies/SlashGear
Standard equipment includes extended Merino leather, a Bowers and Wilkins surround sound system, head-up display, soft-close doors, power front and rear seats, a panoramic "Sky Lounge" glass roof with LED illumination, heated steering wheel, and a sizable infotainment touchscreen with wireless Apple CarPlay and Android Auto support.
As with any BMW, the options sheet is fulsome and rapidly gets expensive. All-in, this particular i7 reaches $152K, with notable contributions from the Executive Package ($6,550), Rear Executive Lounge Seating ($7,250), BMW Individual Composition package ($5,450), Driving Assistance Pro Package ($2,100), and the Bowers & Wilkins sound system ($4,800). Also, the 21-inch aero wheels are $1,300.
There's an argument to be made for such a piecemeal approach. If you're generally going to be your own driver, for example, then spending on the Executive Package with its front massage seats, Active Comfort Drive, and Automatic Doors probably makes sense. If the i7 is doing limo duty, meanwhile, the Rear Executive Lounge Seating — with its reclining seat and footrest, and the vast BMW Theater Screen folding down from the roof — would seem an obvious addition.
Astonishingly poised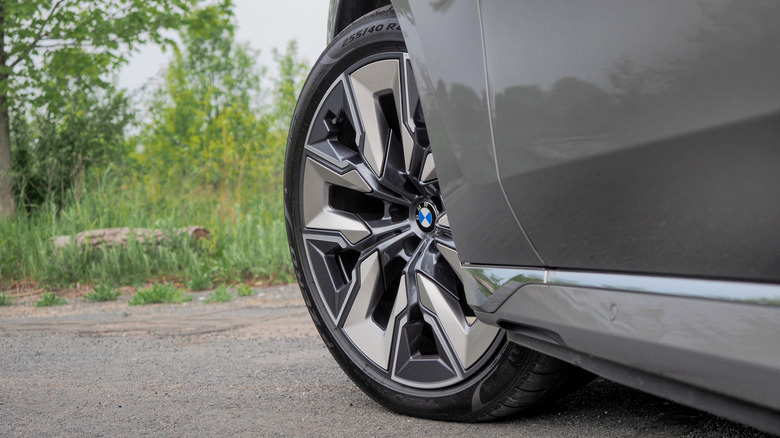 Chris Davies/SlashGear
Being effectively fully loaded, I was curious whether this i7's solid power specs would be stymied by the sedan's hefty curb weight. After all, going fast in a straight line — which the BMW does very well — is one thing, but corners in any luxury car can be another matter entirely.
The active roll stabilization that's part of the Executive Package is almost disconcertingly good. Rest assured, said-executive isn't going to feel the bends, even if you approach them with the sort of pace that would be more appropriate for an M5 than a roughly 6,000-pound behemoth like the i7.
Flat and poised, the car dispatches twisty roads with the sort of Bavarian zeal you'd assume only came with BMW's smaller, sportier models. Jab the throttle and its ability to put all that instantaneous torque down to the road is near-guaranteed to inspire joy.
Your co-pilot is famed composer Hans Zimmer, who has come up with the electronic whooshes, warbles, and theremin glissandos that the i7 generates depending on how you're driving. Honestly, I prefer silence, and the BMW's heavily-insulated cabin is a textbook example of exceedingly effective hush. That being said, at least the EV isn't trying to pretend to be gas-powered.
Complexity comes as standard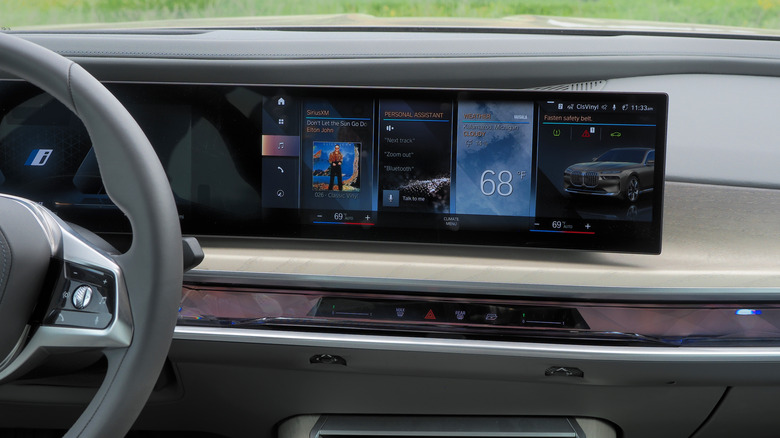 Chris Davies/SlashGear
It's an understatement to say that this is a complicated car. BMW has put as many of the options as it can within menus, rather than dedicated seat heating, cooling, and massage controls. There's a shortcut button that pulls up the relevant on-screen dialog, but even then, it's easy to get overwhelmed when navigating the menus. Even the "My Modes" driving modes are extensive, both in number and for the array of adjustments to not only drivetrain, but UI theme, soundtrack, and more.
That flexibility can lead to some surprises. From the individual door-mounted 5.5-inch touchscreens in the rear, for example, back seat passengers can not only tweak their own chairs and climate, but change the My Mode. Happily, you can deactivate those privileges, since it's disconcerting to suddenly find yourself driving in a completely different mode with regen, acceleration curve, and other settings switched up.
Elsewhere, there are often several different ways to achieve much the same thing. The control for automatically opening or closing the door is different to the electronic button for opening the door, which is also different from the manual door release. 
I'm usually loathe to rely on voice controls — they often struggle with my accent, or feel slower to use than just controlling a feature with my finger — but I found myself relying on "Hey BMW..." more in the i7 because it saved me from going button or menu hunting.
More gadgets than Best Buy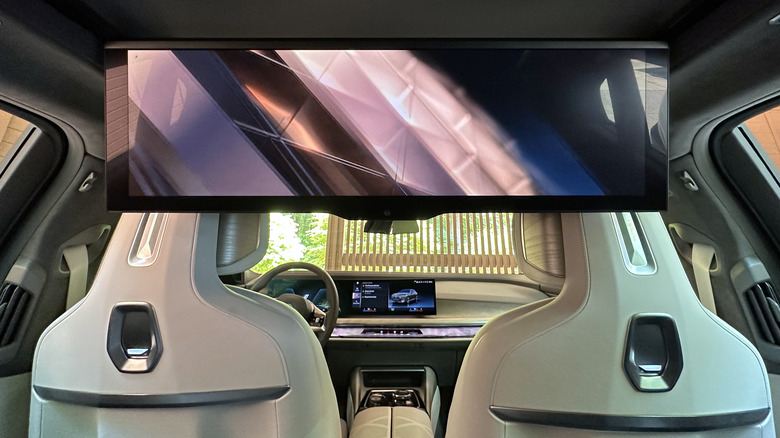 Chris Davies/SlashGear
Ironically, all those toys can numb you to just how gadget-filled the i7 actually is. An optional 31-inch 8K ultra-wide display that folds down from the roof should feel ridiculous, but somehow it just seems right in the BMW's lavish cabin. Native Amazon Fire TV functionality can stream via the i7's embedded 5G modem (assuming your eSIM is activated), with support for a pair of Bluetooth headphones in the rear, or HDMI input (oddly positioned on the back of the screen itself). I found myself wishing I could use the vast touchscreen for web browsing, though.
Then there's the i7's ability to memorize parking maneuvers and repeat them later. Tricky three-point turn to pull out of the garage? The big BMW can learn from your example and repeat that later on, for up to 10 routes (assuming there are no sharp steering angles, no driving further than 650 feet, speeds are below 12 mph — oh, and you've stumped up for the $1,250 Parking Assistant Package, of course).
When it comes to charging, there's DC fast charger support at up to 195 kW. That's fast, though not the fastest on the market: BMW says 10 minutes plugged in could add around 90 miles of range. New i7 drivers get three years of unlimited charging sessions at Electrify America locations. At home, the standard 11 kW onboard charger should take about 12 hours for a full charge.
2023 BMW i7 Verdict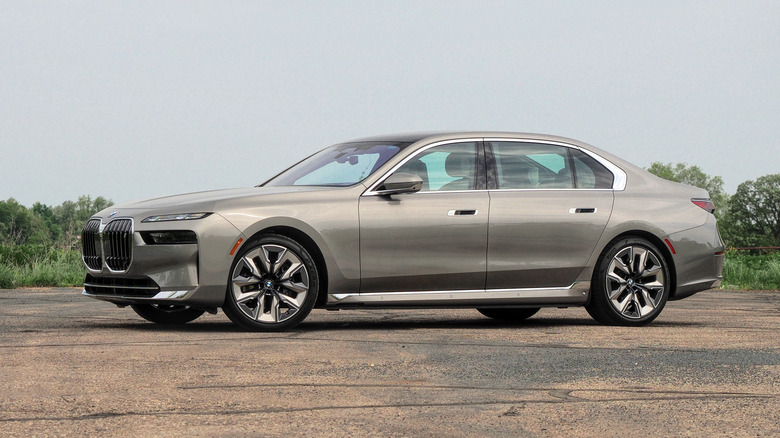 Chris Davies/SlashGear
Electrification and luxury go together so well that it's no longer a surprise. Nonetheless, the recipe for lavish EVs differs in flavor depending on automaker, and not all cars are created equal.
Until the first all-electric Rolls-Royce or Bentley lands, for rear-seat travel, my money's on the i7. Yes, the stretch-out lounge chair isn't unique — a Mercedes-Maybach EQS SUV is similarly spacious in the second row — but BMW's combination of that with technology help single out its big electric sedan. I'm a sucker for the i7's textiles, too, distinct from leather but feeling no less premium.
If you're likely to spend most of your time up front, I still suspect the Lucid Air will be more rewarding. The BMW certainly doesn't drive poorly, and has decent range, but Lucid's Grand Touring sedan is astonishingly good from behind the wheel. In contrast, its rear seats are spacious, but the latter half of the cabin lacks the gadgetry BMW installs to occupy you.
Indeed, none of the luxury cars do quite so much for passengers compared to what the i7 offers. That it achieves that without making a dreary car for whoever's driving is impressive, though the most eager chauffeur probably wants to wait for the upcoming 2024 BMW i7 M70 — and its borderline-ridiculous 811 pound-feet of torque. 
Regardless, one thing is abundantly clear: Going electric doesn't mean sacrificing creature comforts, but you might set aside a week to read the instructions first.