2024 Mercedes-Maybach EQS SUV First Look: Electric Luxury You Won't Forget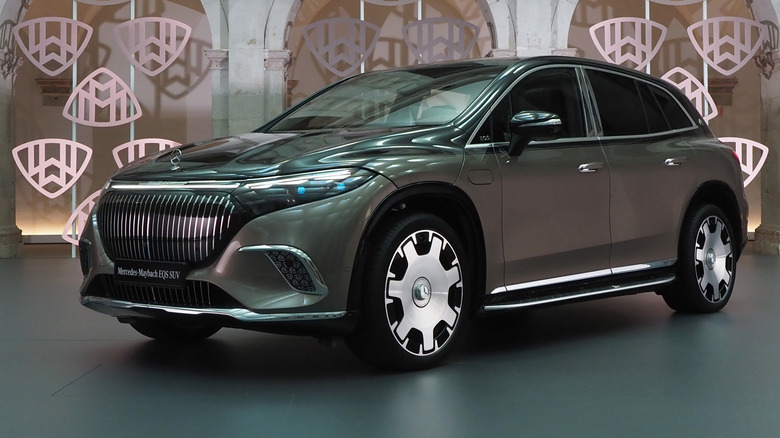 Chris Davies/SlashGear
Mercedes-Maybach is getting its first fully-electric vehicle, and given the tastes of the market and the automaker's current focus, it should come as little surprise that it's a big, luxury EV SUV. Specifically, it's the 2024 Mercedes-Maybach EQS SUV, a flagship iteration of the automaker's existing EQS SUV, with a host of aesthetic, engineering, and comfort changes. Oh, and a whole lot of Maybach badges, inside and out.
In fact — as SlashGear observed during a pre-launch preview of the newest Maybach model, at the invitation of Mercedes — there's barely an angle of the car where you can't see the distinctive arched-M logo. Teased by 2021's Concept Mercedes-Maybach EQS, the production version builds on the standard EQS SUV with a bolder grille, dramatic monobloc-style wheels, and other custom bodywork.
The result may be the same size as the standard SUV, but the style will probably be even more divisive. The gloss-black grille panel now has vertical, chrome-plated trim strips embedded into it, while a Mercedes star has been added to the hood. The hood is 3mm higher to add even further presence, while repeating Maybach logos have been added in smaller grilles at the lower bumper.
Logos, logos, and more logos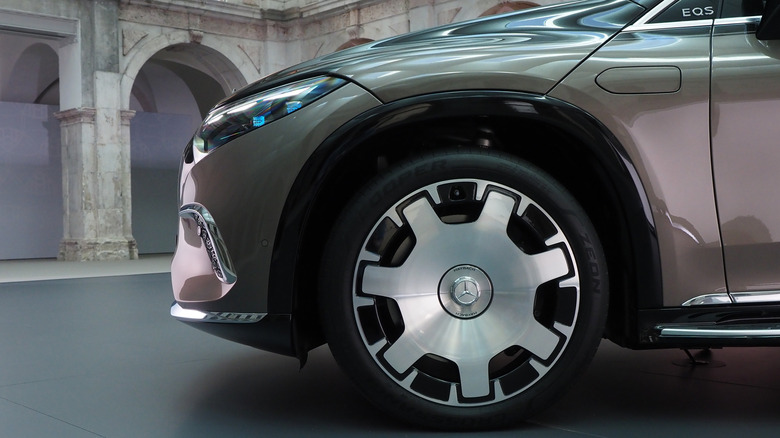 Chris Davies/SlashGear
In fact, at times, it feels like the Maybach designers have set themselves a challenge to see just how many badges they can squeeze in. Open the doors, and rather than just a single logo projected onto the ground, there's an animated carpet of rippling Maybach patterns.
There's more chrome piping than on a regular EQS SUV, while the wheel arches swell with gloss black cladding. Inside are 21- or 22-inch forged alloy wheels; 23-inch versions would sadly be too large, Maybach tells us. Running boards — with anodized aluminum treads and, yes, more logos — are standard to make sliding into the cabin a little easier. The automaker hasn't decided whether to add power-closing doors yet, though, we're told.
At the rear, there's a continuous light strip spanning the newly-reworked lamp clusters; the effect looks like a ripple of ribbon and picks up on the two-tone paintwork on this particular Maybach EQS 680 SUV nicely. There'll be five color combinations of the two-tone finish: silver/obsidian black, silver/nautical blue, obsidian black/selenite grey, obsidian black/Kalahari gold, and velvet brown/onyx black.
A five star rear seat experience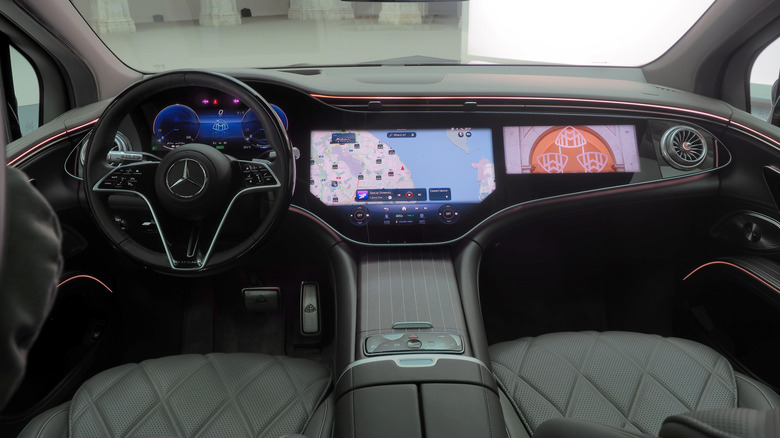 Chris Davies/SlashGear
Inside feels even more special. Exclusive Nappa two-tone leather is standard, with optional Manufaktur crystal white/silver grey pearl hide paired with open-pore wood or piano black trim. Maybach uses vegetable-tanned leather, recycled aluminum, and secondary steel for environmental credibility.
Those in the front get Mercedes' MBUX Hyperscreen, with Maybach graphics in rose gold. Ambient lighting adjusts to complement the infotainment UI. A HEPA filter and the Air Balance Package with a custom fragrance, No. 12 Mood Ebony, are standard. A Burmester 4D surround system with 15 speakers — including two exciters in each seat — is also standard.
With the rear, things get more lavish. Executive seats with ventilation, massage, and neck/shoulder heating are standard; the Chauffeur Package adds an airline-style recline, which pushes the passenger seat forward and adds a fold-out footrest. The First-Class Rear package sees the center console extend to the rear, spanning a new parcel shelf — isolating cabin from trunk — and providing a mount for the control tablet from which multimedia and seat settings can be adjusted.
Rear-seat passengers also get 11.6-inch multimedia displays and a somewhat unwieldy wireless phone charger. Maybach includes in-cabin cameras to support gesture controls. Options include fold-out tables, a removable refrigerator, and silver-plated champagne goblets. Lamps in the reshaped C-pillars (to add privacy from the side) display more Maybach logos, and one is also projected under the center console.
One very potent drivetrain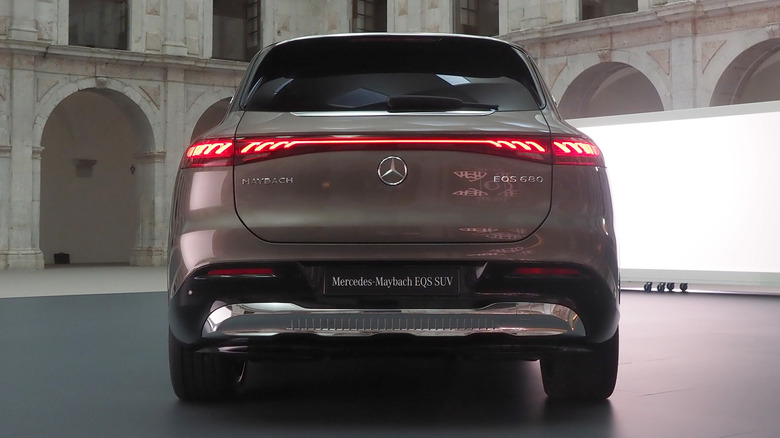 Chris Davies/SlashGear
There'll be a single Maybach EQS 680 SUV configuration for the U.S. market. It'll have 4MATIC all-wheel drive as standard, with a pair of motors — one for the front axle, one for the rear — combining to deliver 484 kW (649 horsepower) of power and 700 lb-ft of torque. 0-62 mph will arrive in 4.4 seconds, Mercedes says, not bad at all for an EV of this scale, while top speed will be electronically limited to 130 mph.
The rest of the specifications also read as a list of top-tier EQS SUV features. Air suspension is standard, with continuously adjustable damping, including the ability to raise the Maybach EQS SUV up to 1.38 inches. Rear-axle steering is standard, too, with an angle of up to 4.5 degrees; as an option, that can be upgraded to 10 degrees, which Mercedes says trims the EV's turning circle from 39 feet to around 36 feet.
As for range, final figures from the EPA test cycle are yet to be confirmed. Mercedes is estimating up to 600 kilometers, or approximately 372 miles, though that's based on the WLTP cycle; the U.S. testing tends to be more conservative with its numbers. On the charging side, there's up to 200 kW DC fast charging support, and Maybach owners will get access to the upcoming charging network that Mercedes will build.
Expect this to be one expensive electric SUV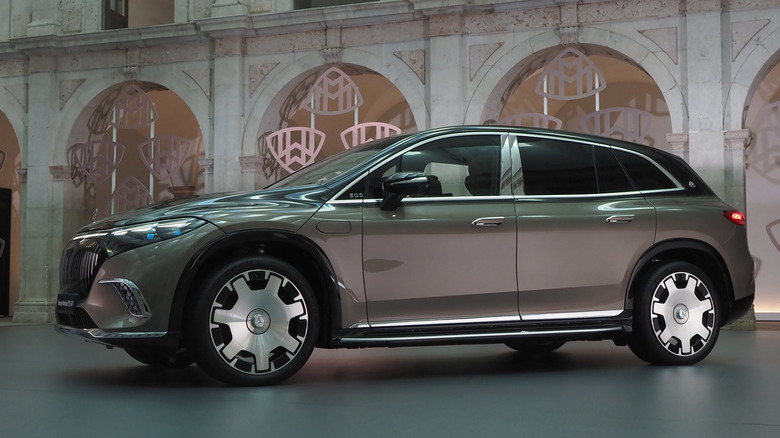 Chris Davies/SlashGear
While most of the standard EQS SUV drive modes will be available, this version of the EV also gets a unique Maybach program. Replacing the Comfort setting, it prioritizes rear seat comfort, including trimming body movement to a minimum.
What you don't see, though, is Mercedes' work on noise and vibration removal. That includes the sealed-in trunk, acoustically-laminated glass, new wind deflectors, seals, covers, and extra insulation material. Acoustic foam in the wheel arches minimize grit and gravel noise from the wheels, while the ability to disconnect the electric motor from the front axle also cuts noise (as well as boosting overall drivetrain efficiency).
Into that hush, Mercedes-Maybach plays a newly-created driving sound, dubbed "Aerial Grace," exclusive to the Maybach EQS SUV. Rather than a prerecorded loop, it's generated in real-time based on factors like speed and driving style. We'll have a chance to hear that in action when the 2024 Mercedes-Maybach EQS 680 SUV arrives in the U.S. in the fall of 2023. Pricing is yet to be confirmed, but expect a healthy uptick compared to the existing Mercedes-Benz EQS 580 4MATIC's $126k starting point.