2023 Ford Mustang Mach-E Review: Reasons To Like An Affordable Electric Pony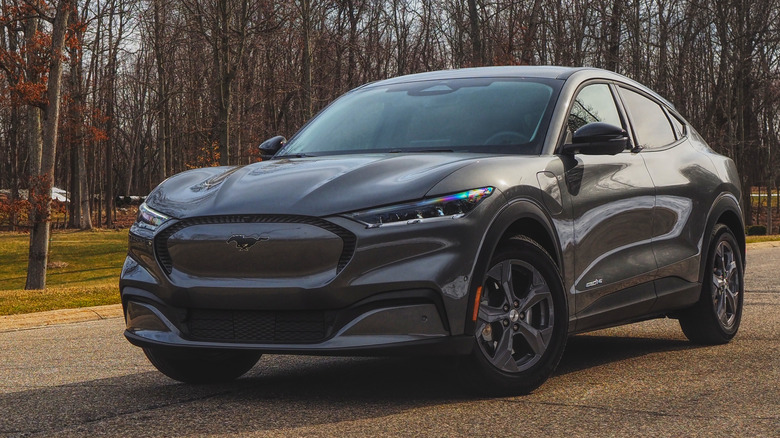 Chris Davies/SlashGear
Electric cars aren't uncommon at this point, but attainable ones still feel like a relative rarity. The Mustang Mach-E was always one of the more compelling EVs, but Ford's decision to chop the price of the electric crossover earlier this year helped raise its profile again, despite some newer competition from Kia, Hyundai, and others.
The cut brings the cost of 2023 Mustang Mach-E ownership down to $45,995, before tax credits and other incentives. That's a $900 trim off the old sticker, though the differences get more significant the more you're willing to spend. A Mustang Mach-E GT Extended Range, for example, tumbled almost $6,000 to $63,995.
Right now, the latter is easier to get hold of, too. Ford says it plans to build 130,000 Mach-Es this year, but right now it's focusing on the more expensive configurations. If you want a Select or Premium trim car, the most affordable versions, you'll need to find a dealer with existing stock, as Ford has frozen factory orders.
Solid range from a controversial nameplate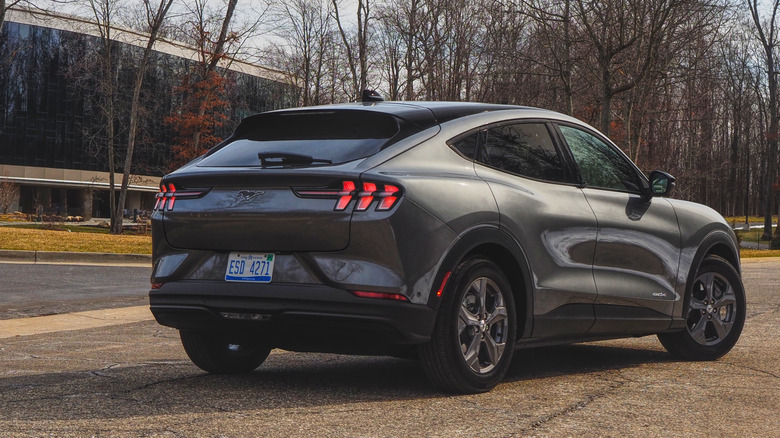 Chris Davies/SlashGear
Debate still rages over whether the Mach-E is worthy of the Mustang brand. Whether you see the EV as a cynical ploy by Ford to cash in on badge cachet, a compelling evolution of what driver engagement feels like, or — perhaps most likely — a little of both, there's no denying that the car still turns heads. The design is slick and sleek, and visual tricks like the floating two-tone roof help ensure rear seat headroom without sacrificing a curvy silhouette.
This Mustang Mach-E Select RWD is basically the cheapest flavor of the EV that Ford offers. It comes with the standard range battery — a 70 kW pack — and is rear-wheel drive. While Ford offers the eAWD (electric all-wheel drive) dual motor configuration as an option on the Select trim, if you want a bigger battery you'll have to step up to the Premium trim.
It means you get an EPA-rated 247 miles of range with the RWD car, or 224 miles with the eAWD version. That's midway between Volkswagen's ID.4 Standard RWD, rated for 209 miles with its 62 kWh battery, and the ID.4 Pro RWD, rated for 275 miles with an 82 kWh battery. The Polestar 2 single-motor is only offered with a 78 kWh battery and is rated for up to 270 miles of range.
While a Mustang Mach-E GT Performance Edition will do zero to 60 mph in a mere 3.8 seconds — faster, it's worth noting, than a Mustang Mach 1 with its old-school V8 gas engine — the Select RWD is more mainstream. 5.8 seconds to do the zero to 60 dash is still respectable, though, even if your internal organs won't feel rearrangement levels of force when you bury the accelerator.
Performance with a pony car flavor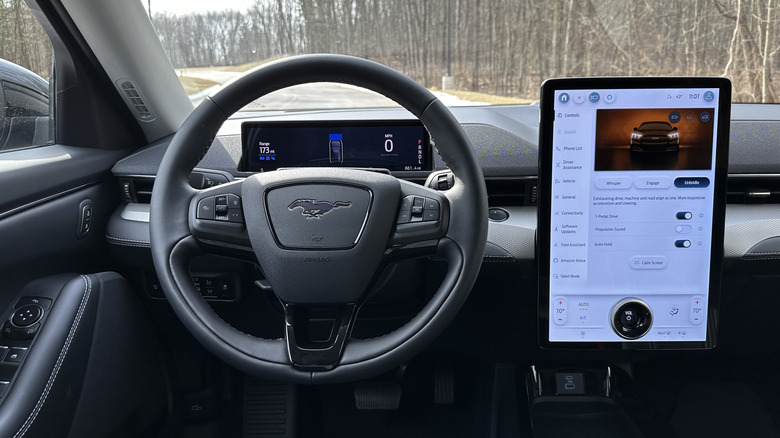 Chris Davies/SlashGear
Pulling away from the lights or dashing between highway lanes for a quick overtake, though, are excellent reminders of why electric cars are so addictive once you give them a try. 266 horsepower and 317 lb-ft of torque are plenty for a compact crossover, and the fact that all that power arrives from the get-go leaves the Mach-E feeling genuinely perky.
Ford's suspension errs on the firm side, but that's certainly in keeping with the Mustang nameplate. It also helps avoid wallow or too much body roll without getting unduly bouncy on poor-quality roads. A Mustang coupe is, of course, more composed, but the Mach-E never feels like an over-large crossover.
There are three drive modes — Whisper, Engage, and Unbridled — adjusting accelerator sensitivity, steering weight, and other factors. You can turn one-pedal driving and auto-hold on or off, too, and Ford also gets kudos for allowing you to disable the artificial "propulsion noise" which, though not as intrusive as some EVs suffer, still isn't my favorite.
Big touchscreen in a flexible cabin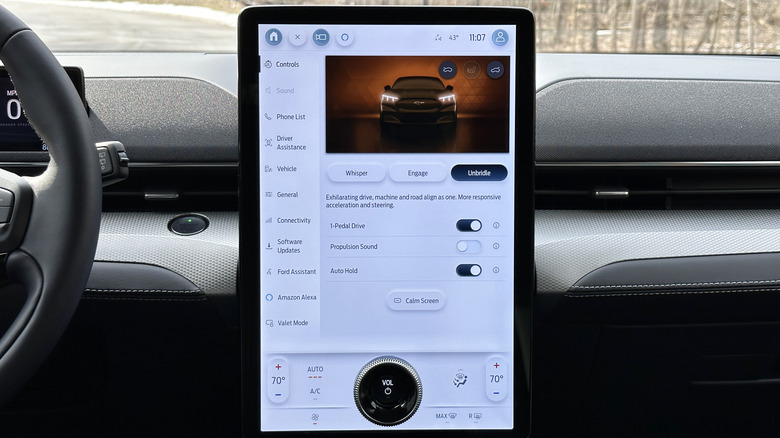 Chris Davies/SlashGear
All of the settings are accessed through Ford's oversized infotainment screen, a 15.5-inch portrait aspect touchscreen floating within easy reach of the driver. Ford has trimmed physical controls to a minimum, though there's a volume knob integrated into the touchscreen — and which can also adjust temperature and other settings, depending on mode — plus a drive mode selector knob, and steering wheel controls.
SYNC 4A, Ford's infotainment system, generally makes good use of that screen real estate, though it can take a little familiarizing as there are a lot of menus, slide-down trays, and different views. The core HVAC controls are persistent across the bottom, while buttons at the top jump into the settings, a wireless Apple CarPlay or Android Auto connection, pull up the cameras, or trigger Amazon Alexa.
It's all fast and reasonably slick — Ford has pushed out a number of updates to the UI since the EV first launched — and the rest of the Mustang Mach-E's cabin holds up, too. Select models do without some of the fancier trim and materials, but it still feels sturdy and spacious. Even this base model gets a wireless phone charger and multiple USB ports in both A and C flavors, and while the color scheme may not be exactly colorful, it feels like it could hold up to family use.
The same goes for the storage. Alongside plenty of cabin cubbies, there's a 29.7 cu-ft trunk, which expands to 59.7 cu-ft with the rear split seats folded. Under the hood is a further 4.7 cu-ft of space, both waterproof and with a useful drainage plug if you need to hose it down after storing muddy boots there.
Good range, but not the best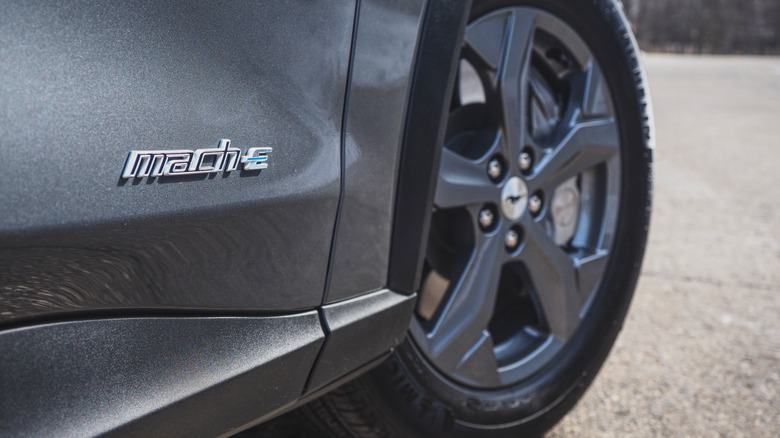 Chris Davies/SlashGear
Deciding whether 247 miles of range is sufficient is more about being rational about your own driving needs, especially since there's a value play being made here. While you can charge the Mustang Mach-E on a 110V outlet, it's an underwhelming experience (as is the case on all EVs, frankly). Those with a garage or driveway should be installing a Level 2 charger, where — assuming you leave the Ford plugged in overnight — you'll pretty much always return to a charged car.
For top-ups on the move, Ford's sizable infotainment screen can combine locations of multiple DC fast chargers in the Mach-E's navigation. The BlueOval Charge Network isn't, sadly, a dedicated system of Ford-maintained locations, but an umbrella under which third-party stations are included. That means familiar names like Electrify America, ChargePoint, and EVgo, with charging sessions activated via the FordPass app.
Ford is also bundling 250 kWh of free DC fast charging to new Mustang Mach-E owners, though only at Electrify America stations. I can't really fault the car's directions, as it attempted to integrate a stop-over charge within a larger route, but it's no secret that the experience once you actually get to a third-party charger can vary widely. When they work, a Mach-E with a standard battery should take less than 40 minutes to go from 10-80% charge.
Problem is, finding a charger that actually works — or delivers peak speeds — can be a matter of luck as much as location. Are broken or sluggish public chargers Ford's fault? No, but that isn't going to pacify a frustrated Mustang Mach-E owner who just wants to get enough juice to make it home. Like with all EVs bar Tesla, at this point, the public infrastructure issue remains the most criticism-worthy point of ownership.
Ford BlueCruise is a worthy upgrade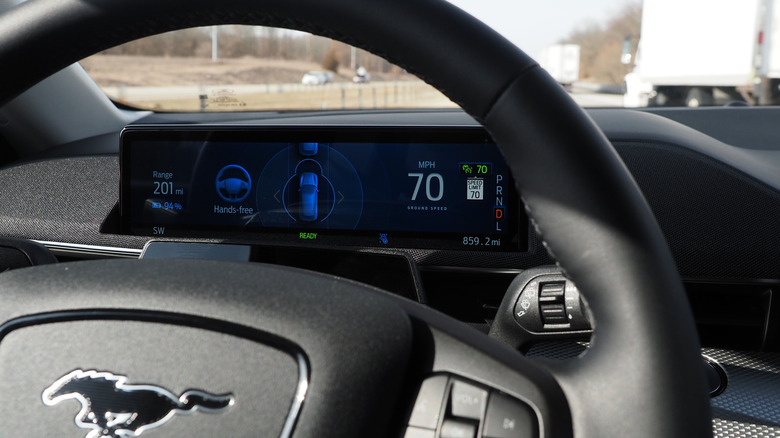 Chris Davies/SlashGear
Unusually — and welcome — Ford offers BlueCruise as an option on even the base trim Mustang Mach-E. Contrast that with GM's decision early on with Super Cruise to limit it to select Cadillac models, and even then only on the most expensive configurations. BlueCruise isn't standard on the Mustang Mach-E Select, or the Premium, but it's available as a cost-option; it's bundled by default with the California Route 1 and GT trims.
The 2023 Mustang Mach-E is the first to get BlueCruise v1.2, the latest iteration of the hands-free driver assistance. That adds Lane Change Assistance — which can move the EV to a gap adjacent, with the driver only having to tap the turn signal — as well as Lane Repositioning, to ensure more comfortable spacing if you're alongside a big truck or a semi.
It's a Level 2 system, so not to be confused with true "autonomous driving": whoever is behind the wheel is still always responsible, even if their hands aren't actually on it at the time. Still, it's a capable system and has definitely improved in stability and reliability since its initial release, improvements which Ford's OTA updates mean will keep rolling out to existing cars with the required hardware.
2023 Ford Mustang Mach-E Verdict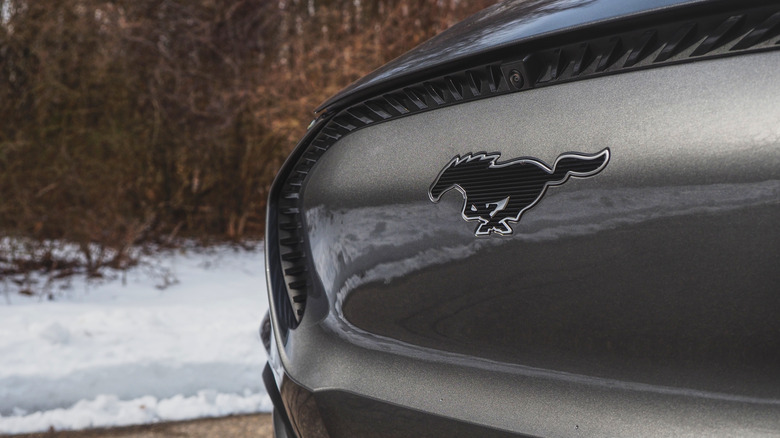 Chris Davies/SlashGear
Don't get me wrong, I love a speedy electric car as much as the next person. Get behind the wheel of a performance EV, and there's no denying that it feels like the future. For most people, though, it's cars like the Mustang Mach-E Select that will be their first proper taste of electrification, and that's something the Ford handles very well.
Solid — though not outstanding — range, along with compelling technology, slick design, and a rewarding driving experience even in the base trim car, all add to make the Mustang Mach-E feel engaging. It's practical and straightforward, and this Select trim doesn't leave you feeling like you're making too many feature compromises in order to hit a lower price.
In fact, the biggest issue, right now at least, is getting your hands on one. Ford's ambitions to bump up production are great and arguably long overdue, but for the moment the automaker is focusing on more expensive configurations of the Mach-E. I can understand why, but that doesn't stop it being galling for drivers finally ready to take that first step into EV ownership. Once the bottleneck lifts, though, the Mustang Mach-E has certainly cemented its place on the shortlist.