2024 Subaru Crosstrek First Drive: Success Through Evolution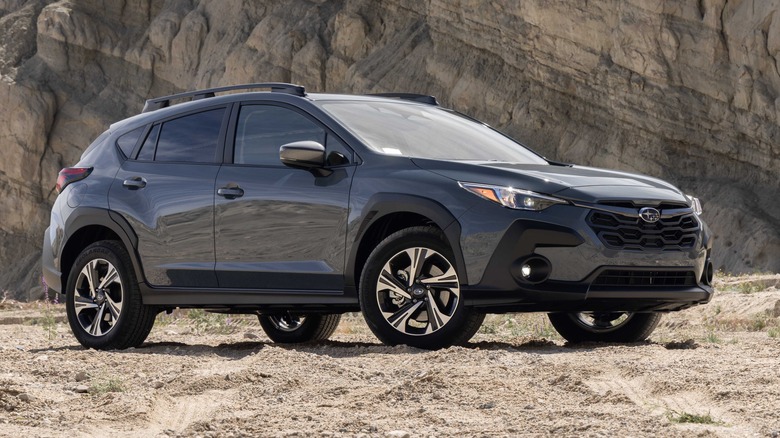 Michael Shaffer/Subaru
No company understands riding a wave like Subaru (that's not a surfing joke, I promise). Rather than giving its cars ground-up, clean-sheet redesigns with each new generation, Subaru instead focuses on incremental improvements, largely based on customer feedback. It's a smart move; Subaru owners absolutely love their cars. And it's a big reason why — on the heels of its best sales month ever — the new 2024 Crosstrek is all about evolution, not revolution.
Subaru will offer the latest Crosstrek in Base, Premium, Sport and Limited trims, but only the first two will be available when the SUV goes on sale this spring. Why? Production of the Base and Premium has already started at the company's facility in Japan, but the Sport and Limited will be built at Subaru's US plant in Lafayette, Indiana. Building the Crosstrek in two locations is necessary in order to keep up with strong global demand. Seriously, people can't get enough of these things.
Economical, not powerful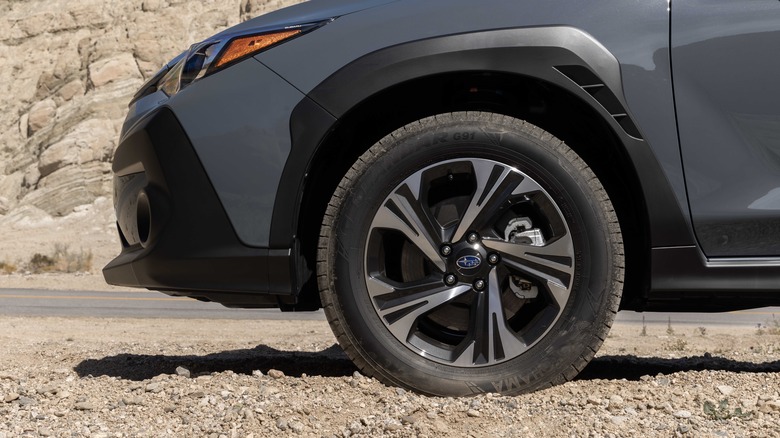 Michael Shaffer/Subaru
The main differentiator between the Base/Premium and Sport/Limited models is what's under the hood. The less-expensive versions use a 2.0-liter naturally aspirated flat-4 engine that produces a modest 152 horsepower and 145 pound-feet of torque. The Sport and Limited, meanwhile, will have a 2.5-liter flat-4 with 182 hp and 172 lb-ft of torque. Regardless of engine, every Crosstrek comes standard with a continuously variable transmission — no more manual, womp womp — and, of course, all-wheel drive.
Yes, the 2.0-liter engine's output is meager, and no, the Crosstrek is not what I'd call quick, but for most drivers in most situations, it'll be fine. Driving around Palm Springs, California, and meandering through Joshua Tree National Park (highly recommended!), the Crosstrek Premium is unexciting but totally competent. Rather than boost power, Subaru instead worked to reduce overall powertrain vibrations, making the 2.0-liter engine less of a bother. Increased sound insulation quells wind and road noise, too, though it can't quite shush the coarse sound of the CVT when you floor the throttle to get around a sluggish Prius.
Subaru estimates the 2.0-liter Crosstrek will return 27 miles per gallon in the city, 34 mpg on the highway and 29 mpg combined, which are solid numbers for a compact, all-wheel-drive crossover. There's no word if Subaru is planning any sort of electrified Crosstrek like it did in years past, but I won't hold my breath.
Competent road manners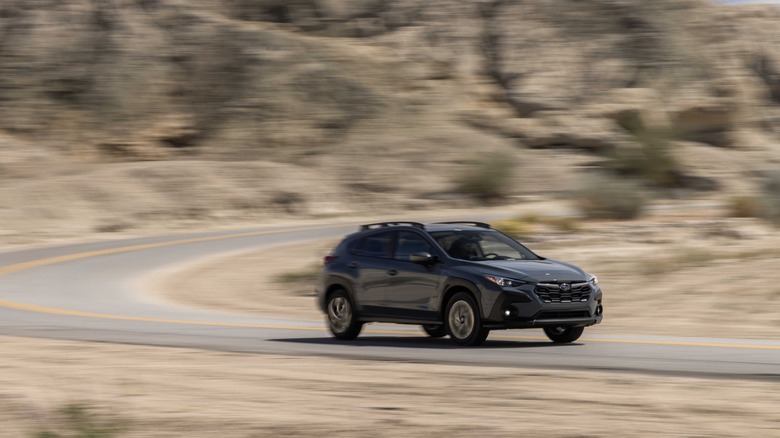 Michael Shaffer/Subaru
The Crosstrek continues to ride on the modular global platform that underpins every current Subaru -– aside from the Toyota-shared BRZ, natch. The main differences between the 2024 Crosstrek and its predecessor are slightly softer springs and dual-pinion electric power steering that improves turn-in response, but the overall on-road vibe is pretty much the same. Riding on 17-inch wheels wrapped in 225/60R17 Yokohama Geolandar all-season tires, the Crosstrek is comfortable and easy to drive. It doesn't bounce around over highway expansion joints, and while it's hardly sporty, it won't completely fall apart if you decide to hustle it through a switchback.
Are there more engaging compact crossovers out there? Sure. The Mazda CX-30 is the outright champ if you prioritize driver engagement, and the Hyundai Kona and Kia Seltos offer punchy turbocharged engines. But let's be honest: The needs of most small SUV shoppers are the ability to run errands and sit in traffic without any hassle. That the Crosstrek is more quiet and comfortable than before are its strongest virtues.
A Subaru's gotta off-road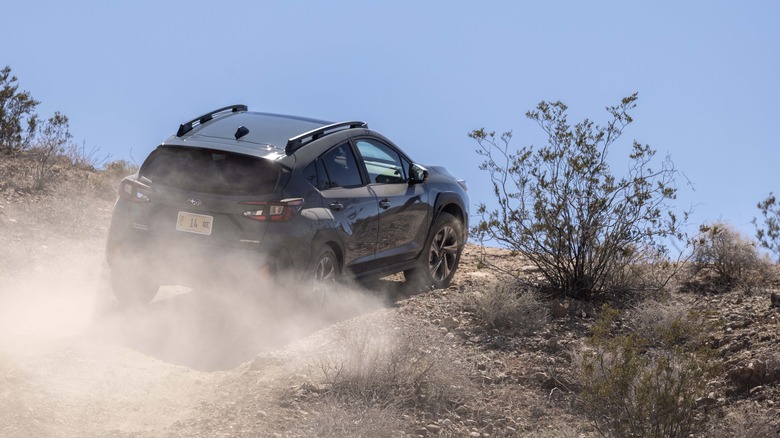 Michael Shaffer/Subaru
Being a Subaru, there's an intrinsic ruggedness to the Crosstrek, driven home by its wheel arch cladding and healthy 8.7 inches of ground clearance. But it's not just for show. The Crosstrek has some honest off-road chops, amplified by its standard X-Mode drive setting that retools the all-wheel-drive system's logic to better shuffle power between all four wheels, letting this little billy goat scurry up rocky hills without any drama.
Interestingly, according to Subaru's data, roughly one in four Crosstrek owners take their cars off-road. That might not sound like a lot, but it's actually the highest percentage in the compact SUV segment. Even Jeep Compass and Renegade buyers don't do as many outdoorsy things as Crosstrek folks. Think about it: How many times do you see modified Crosstreks with beefy wheels and roof racks?
If you think this makes the Crosstrek ripe for a Wilderness updo, well, you're not alone. Subaru has no official plans to make such a vehicle a reality, but if the Forester Wilderness and Outback Wilderness prove successful, the Crosstrek really ought to be next in line for such a treatment.
Updated tech is... fine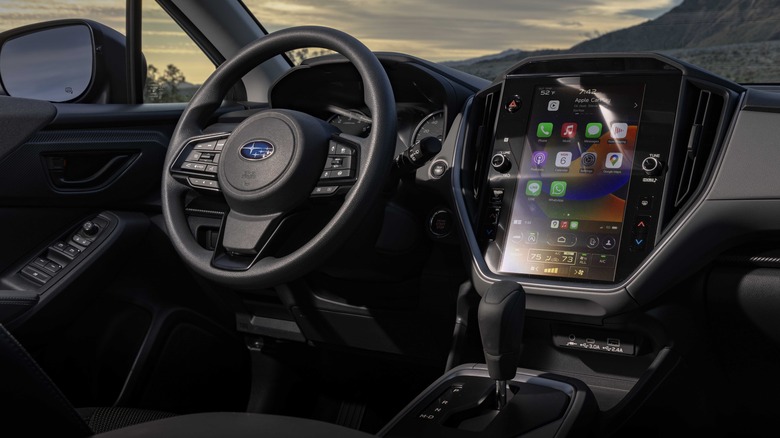 Michael Shaffer/Subaru
The Crosstrek's interior was clearly designed with purpose and functionality in mind. The Base and Premium trims come with cloth upholstery, which is really quite comfortable, and while none of the cabin's materials are particularly luxurious, the overall fit and finish is great.
Multimedia tech gets a big boost for 2024, with the addition of Subaru's 11.6-inch vertical infotainment display. The company's native Starlink infotainment system is a little rudimentary and the menu structure is somewhat convoluted, but Apple CarPlay and Android Auto connect wirelessly with this setup, and that's definitely the way I'd go day to day. If you want the 11.6-inch screen (you do), you need to step up to at least the Premium model. The Crosstrek's Base trim level makes do with a pair of 7-inch screens, and while, yes, that's technically more digital real estate, the lower display is a fixed climate control panel, and smartphone mirroring can't be done wirelessly.
Safety tech is one of Subaru's strong suits, and its EyeSight suite comes on every single Crosstrek. This includes things like forward-collision warning and adaptive cruise control, though lane-keeping assist and blind-spot monitoring are optional on the Premium and Sport and standard Limited. Additionally, Crosstreks equipped with blind-spot and lane-keep tech get a new Automatic Emergency Steering function, which works at speeds up to 50 mph and can steer the car around an obstacle if the blind spots are clear. I'll have to take Subaru's word for that last one, though I can say for sure that the lane-keeping tech in general is a little overprotective and quick to activate, especially on the highway.
Room for dogs, tents and more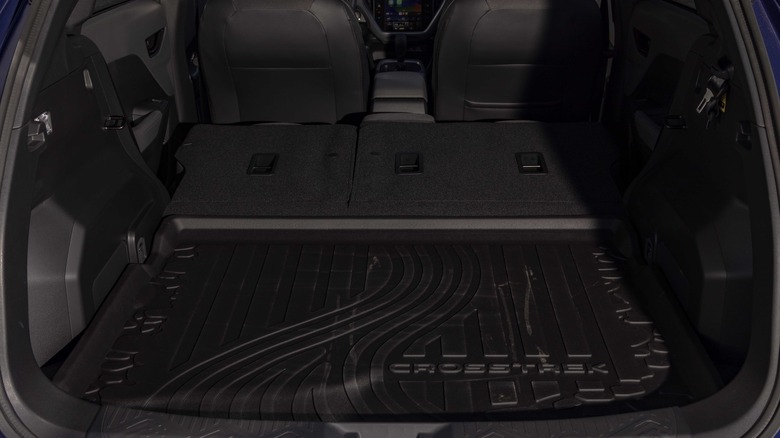 Michael Shaffer/Subaru
If there's one head-scratching omission in the 2024 Crosstrek, it's the lack of a power liftgate. I feel like this sort of thing is commonplace on most SUVs — even inexpensive ones — and could be especially useful for all those Instagram-posting active-lifestyle Subaru owners who have to carry things like camping gear and skis and kayaks and dogs. Still, the Crosstrek is at least super spacious, with a maximum of 54.7 cubic feet of cargo space with the rear seats folded flat.
Elsewhere in the cabin, Subaru has cup holders and door pockets of various shapes and sizes. This'll better allow you to bring all kinds of snacks and water bottles, even big ones. You've gotta stay hydrated out there, after all.
The success story continues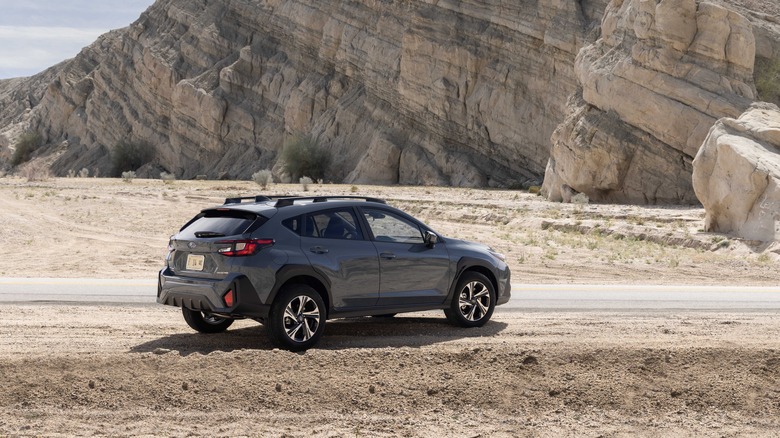 Michael Shaffer/Subaru
Including a $1,295 destination charge, the 2024 Subaru Crosstrek starts at a modest $26,290. That's only $70 more than the 2023 model, and the added charge is actually due to an increased delivery cost. Moving up to a Premium tester like mine will set you back $27,440 — or $29,685 if you add the power driver's seat, blind-spot monitoring and more — and the more expensive Sport and Limited trims cost $30,290 and $32,190, respectively.
It makes sense that the new Crosstrek isn't any more expensive than before, since it's largely the same product, just reheated and slightly restyled. That might not seem like much, but remember, Subaru definitely knows what it's doing. Customers love the Crosstrek because it's straightforward, rugged and neatly fits into their daily lives. Nothing about the new 2024 Crosstrek will cause it to fall out of those good graces.