The Reason GM Will Probably Never Build Another Chevrolet SSR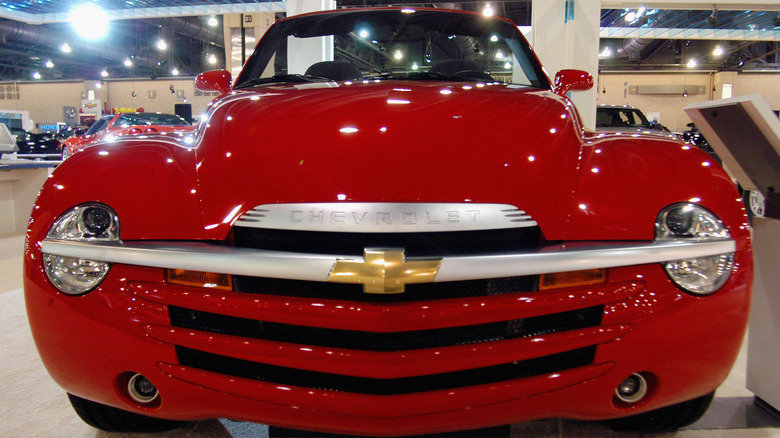 William Thomas Cain/Getty Images
Chevrolet and parent company General Motors debuted a prototype variant of the SSR convertible pickup with much aplomb at the 2000 Detroit Auto Show. It made its pre-production debut a few months after at the Woodward Avenue Dream Cruise and received stellar reviews from starstruck vintage car collectors and hotrod enthusiasts. But as the Chevy SSR arrived at showrooms in late-2003, its red-hot reception at auto shows didn't translate to outright sales on the dealership floor.
Less than 25,000 units of the Chevy SSR left the factory from 2003 to 2006, and GM closed down its Lansing Craft Centre manufacturing plant in 2006 to mark the SSR's end of production. Saying the SSR was a failed experiment could be an understatement, but it was a case of not seeing the writing on the wall. The SSR ended up becoming one of Chevy's biggest car flops.
On paper, the Chevrolet SSR offers a compelling mix of vintage style, V8 power, and an open-top driving experience. It's a two-door and two-passenger convertible hot rod with an adequate pickup bed. It was supposed to be the ultimate car, but there are reasons why GM will never build another SSR despite the comeback of retro trends.
Jack of all trades, master of none
The Chevy SSR ("Super Sport Roadster") is a mish-mash of convoluted styling cues that tried too hard to be a jack-of-all-trades vehicle. It has the underpinnings of a Chevy Trailblazer EXT, and a body style inspired by Chevy trucks from the 1940s and 1950s. It has a truck bed in the back like an El Camino, and a retractable folding hard-top roof. Under the hood is a standard 5.3-liter Vortec V8 engine with 300 horsepower, a four-speed automatic gearbox, and a rear-wheel drivetrain.
However, the SSR weighed a miserly 4,764 pounds, which meant outright performance had to take a backseat. According to Auto Influence, the SRR could push 0-60 mph in seven seconds, and finish the quarter mile in about 15.4 seconds — inadequate numbers for a V8-powered roadster. Alongside it weighing too much, the truck-like handling is like pouring cold water over a searing flame.
Chevrolet addressed this issue by giving the SSR an updated LS2 V8 engine derived from the Pontiac GTO and Chevy Corvette. Pumping out 390 to 400 horsepower and changing gears with an available six-speed Tremec manual gearbox, the new engine was supposed to make potential buyers flock to Chevy dealerships, but only if the price was right.
Too expensive (and too niche) to succeed
You see, the Chevy SSR's $42,000 base price was a lot of money in the early 2000s. For perspective: an Audi A6 Quattro with a 4.2-liter V8 starts at $47,800, and a range-topping Ford Expedition Eddie Bauer would cost $41,195 in the same year. It would have been nice if the Chevy SSR was as practical as a genuine pickup, but it wasn't. The two-door cabin was only good for two occupants, and could only tow 2,500 pounds of load. The truck bed offers up to 24 cubic feet of cargo space, but you must remove the bed cover to carry taller items.
In the end, people refused to pay big money for a car filled with compromises, so GM axed the SSR after a short three-year production run. As a result, we will most likely never see a modern iteration of the Chevrolet SSR, but never say never. If vintage names like Hummer, Gladiator, and Supra made successful comebacks, the SSR has the potential to be an all-electric lifestyle vehicle — given the proper packaging and quality-of-life updates.