The Reason The Chevy SSR Convertible Truck Was A Failure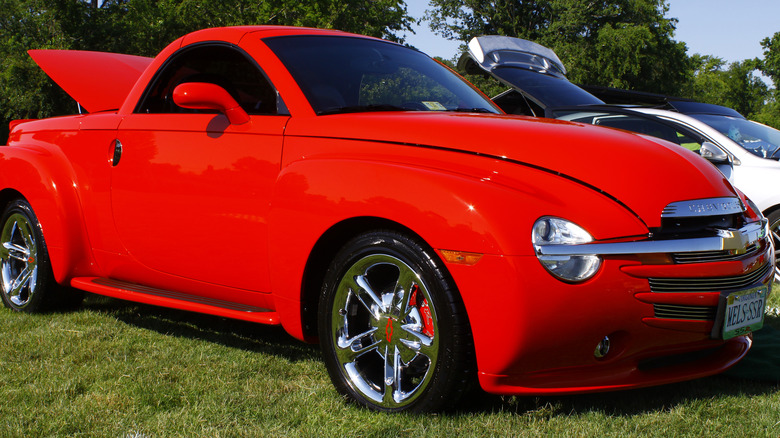 Barry Blackburn/Shutterstock
After the Plymouth Prowler failed miserably, Chevrolet went back to the drawing board and designed the Chevy SSR (Super Sport Roadster) to redeem itself. Unlike a typical pickup truck, the Chevy SSR is also a convertible with a retractable hardtop. Besides that, the Chevy SSR was initially fitted with a 5.3 L V8 engine with an output of 300 hp — enough to accelerate from 0 to 60 mph in less than 8 seconds (via Cars.com). Chevrolet later upgraded it with a bigger 6L V8 engine in the final year of its production to achieve 390 hp and make it possible to accelerate from 0 to 60 mph in about 5.3 seconds, according to Motortrend. We have to admit – on paper, that sounds like a pickup truck that was bound for greatness, right? 
Unfortunately, the Chevy SSR convertible truck was a failed experiment. It was so bad that General Motors discontinued it and closed down the factory that manufactured the Chevy SSR. In fact, only 24,112 units were sold in its production years from 2003 to 2006, and GM never sold more than 9,000 units in a single year. For a car that was well-received by the public (via Just Auto) when the prototype was unveiled, you probably can't help but wonder why it flopped spectacularly.
The Chevy SSR design was too radical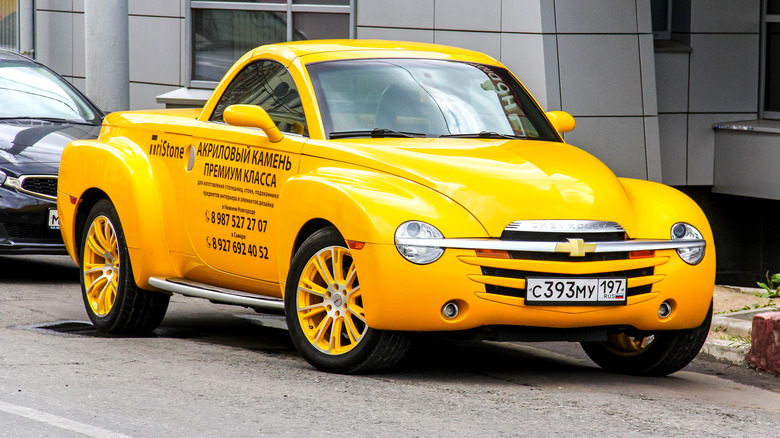 Art Konovalov/Shutterstock
If a retro-styled convertible, a V8 muscle car, and a Chevy pickup truck that was made in the early 1950s had a child, it would probably look like the Chevy SSR. Of course, some people didn't want to buy it for the sole reason that they thought it was ugly, but it's also not practical even if you don't mind the looks. For starters, it weighs 4,760 lbs, yet it can't tow more than 2,500 lbs; this is way less than the average pickup towing capacity.  
Sure, it came with a powerful V8 engine, but its enormous weight limited its full potential. Compared to most modern pick-ups and roadster cars, it's also not great at handling. Not to mention, the Chevy SSR was characterized by annoying vibrations at full speed (via Truth About Cars) — this was more frequent with the top down. Basically, it's not really convincing as a great pickup or a great convertible. 
The Chevy SSR was expensive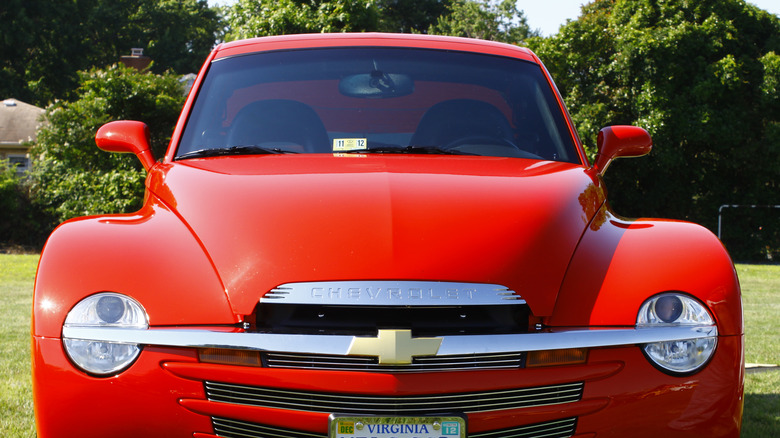 Barry Blackburn/Shutterstock
When it was first released, the Chevy SSR's starting price was around $42,000, and if you preferred higher trims, it went as high as $50,000. Because of the expensive price tag, most consumers were not willing to take the risk on an experimental car when they could get better-performing cars with proven track records from competitors at the same price or less. 
According to CarBuzz, some of the enthusiasts who could afford the Chevy SSR were not impressed because it was a factory-made hotrod truck. This is because most hotrod enthusiasts prefer to modify engines to fit their personal style after buying a truck, and a pre-made hotrod makes it complicated. 
However, despite its failure to capture the market, some people still love the Chevy SSR. If you want to buy a used Chevy SSR right now, it will typically cost you between $29,000 to $45,000, depending on the mileage and model year (via Hemmings).