10 Tesla Features That Will Change The Way You Use Your EV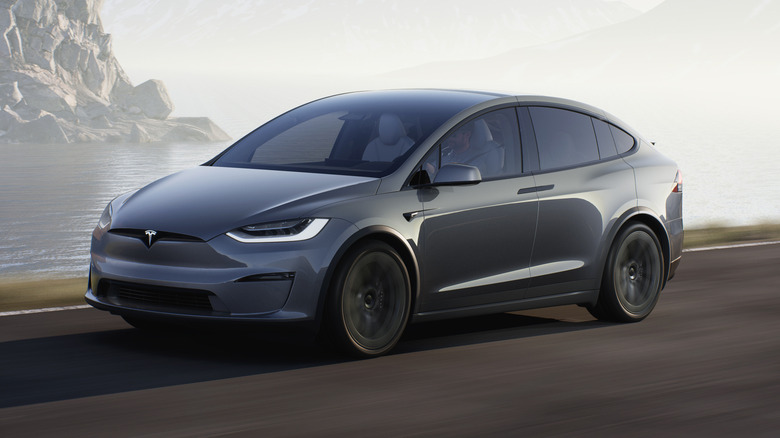 Tesla
One of the key factors driving Tesla's meteoric rise to EV dominance is the wide range of features that Elon Musk and his design team have created for their cars. Whether it's features aimed at entertaining the car's occupants while they're parked, keeping them safe from airborne pollutants, or even the highly-controversial Full Self-Driving mode, Tesla's suite of features is always expanding. That's had the effect of making Tesla ownership a very different experience from that of a traditional gas-powered car, and even many other EVs.
Buying a Model 3,S,X, or Y and then not making full use of these features is arguably missing the point of Tesla ownership entirely. Some of them are features that the vast majority of Tesla owners will already be aware of, but a few are easy enough to miss if you've never realized they're there. Whether you're an existing Tesla owner who's skipped over a few of the newer software additions to your car or a first-time Tesla buyer looking to get the best out of your new daily driver, these features should help you optimize your EV experience.
Dog Mode
Dogs can easily overheat when left in hot cars for even relatively short periods of time, but Tesla has provided a simple solution. With Dog Mode enabled, the car's air conditioning continues to operate even after you get out of the car, keeping it at a comfortable temperature for your pooch. To make sure passersby are aware that your dog is safe, the Tesla touchscreen displays a message saying that the owner will be back soon, alongside the current temperature in the cabin.
You can also keep an eye on your pet while you're away through the Tesla app, which can show a live camera feed of the interior of the car. This feature does rely on both your phone and your car having a constant cellular signal, and the company notes that Dog Mode should only be used for short periods of time and while you're still close to the car.
Autopilot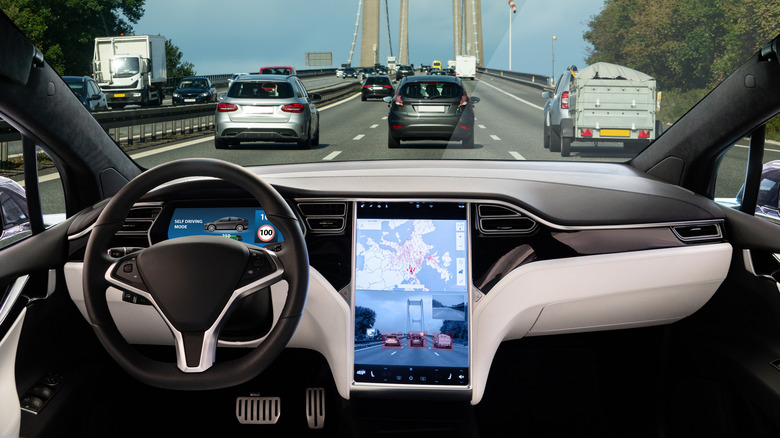 Scharfsinn/Shutterstock
Tesla's pioneering Autopilot system is not without its controversies, and it's important to understand exactly what the feature is and what it's capable of before trying it out. Essentially, Autopilot is a Level 3 autonomous driving system, which means the car is able to drive itself in most everyday scenarios, providing it's being monitored by the driver. The latter part of that is especially important — it does still require human oversight at all times, and if the driver isn't paying attention, there can be catastrophic consequences.
Autopilot is arguably the most advanced self-driving system on the road today, but it still makes mistakes. In one high-profile accident in late 2022, a self-driving Tesla caused a huge pileup in San Francisco, resulting in nine people being injured. It appeared that the car suddenly stopped in the middle of the highway, and the driver wasn't quick enough to react. That said, for every accident that makes the headlines, there are thousands more journeys that Autopilot completes without issue. It's really just a case of making sure you're aware of the pioneering tech's limitations before entrusting it to handle your daily commute.
Sentry Mode
One of the biggest nightmares for drivers is to leave their car somewhere, only to come back to find it's been damaged and they can't prove who did it. With Sentry Mode, Tesla owners no longer need to worry, as the car's Autopilot cameras can capture footage of vandals or would-be thieves and stream it straight to your phone through the Tesla app. The live footage is end-to-end encrypted so the feed can't be accessed by anyone but you, and you'll receive an immediate notification if your vehicle detects that it's been hit.
Not only is this useful for major incidents like hit-and-run collisions or deliberate vandalism, but it's also a great way to find out exactly whose shopping cart rolled into your car in the parking lot. Having what's essentially a 360-degree dash cam will not only help you identify what caused your car damage, but it'll also prove to insurers that the damage wasn't your fault in the event that you need to make a claim.
Key card entry
If you're the kind of person who doesn't like carrying around a bulky set of car keys, then Tesla offers two unique alternatives. The first is the option to simply have the car detect whether your phone is nearby and unlock the doors when you pull the handle, but if that seems too risky, then there's also a hotel-style key card you can use instead. The card is designed to fit in your wallet alongside your credit cards and such, and to open the door it just needs to be swiped against the card reader on the side of the car.
If you're more of a fan of traditional car keys, then there's also an option to purchase a regular key fob that's shaped to look like a Tesla. The fob has three buttons, one to open the front trunk (or "frunk" as it's often called), one to open the rear trunk, and another to unlock or lock the doors.
Bioweapon Defense Mode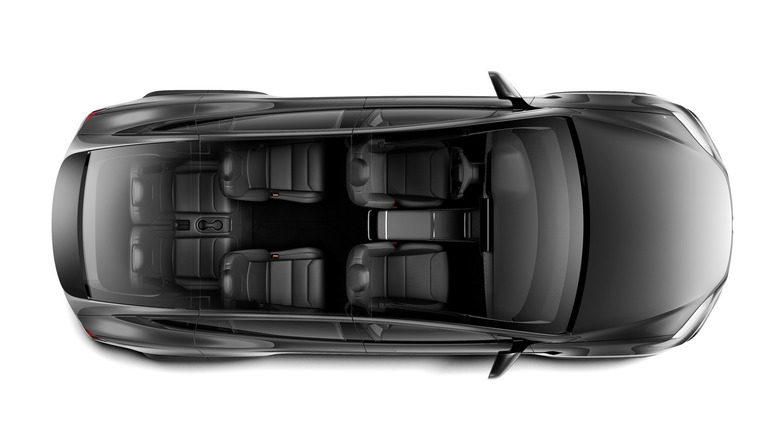 Tesla
While its over-the-top name might make it seem more like a novelty than a useful feature, Bioweapon Defense Mode actually has plenty of real-world uses. Tesla's specially-designed HEPA filtration system eliminates pollutant particles from the air before it reaches the cabin, as well as filters the air that's already inside the car. That helps to drastically reduce the amount of gasoline and diesel fumes you breathe in while you're sitting on a congested highway, or in more rural areas, eliminate the smell from nearby cow pastures or landfills.
Tesla does also claim that the system is effective enough to protect you in the case of an actual bioweapon attack, but it's safe to say that the vast majority of Tesla owners will never be unlucky enough to have to put that claim to the test. More likely, they'll just appreciate the extra layer of protection from hayfever-inducing pollen when driving past farmers' fields in the summer.
Caraoke
If you've got a few minutes to kill before heading into an appointment or picking someone up, Tesla's Caraoke feature lets you belt out your favorite hits while you wait. The feature is accessible through the in-car media player, by selecting the drop-down menu and then changing the source to Caraoke. Each song's main vocals can then be enabled or disabled, leaving you and your passengers the option to either sing along with the original or go at it solo.
The feature has become especially popular in China, where Tesla released a $188 "TeslaMic" which sold out within an hour of launch. In some regions, Caraoke also works when the car is in motion, but not everywhere, so check your user manual first. Tesla also stresses in the manual that any lyrics displayed on the screen should be used by the passengers only, and drivers should always keep their eyes off the road, even if the car is in self-driving mode. This is especially important since large touchscreens like Tesla's have been accused by researchers of increasing driver distraction in the past.
Netflix and video streaming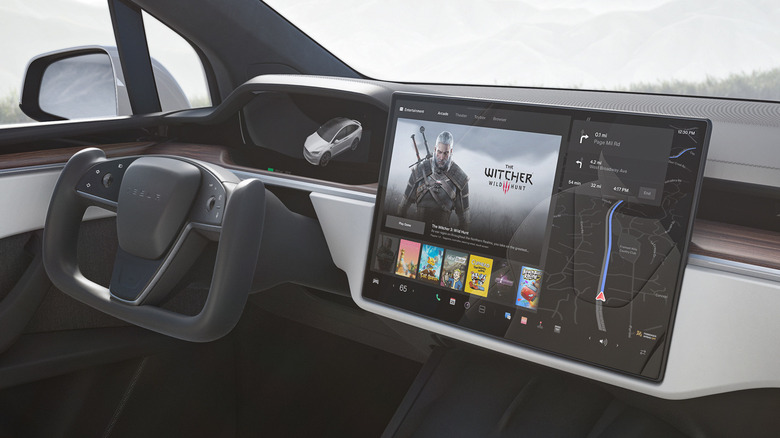 Tesla
If you're not in the mood for a Caraoke session, then Tesla also offers Netflix, Hulu, and plenty more streaming services that can be accessed and watched through the touchscreen. It's as simple as navigating to the Entertainment section of the dashboard, selecting your streaming service of choice, and then logging in with your details. For safety reasons, streaming can only be accessed while the car is parked, and you'll need to either be connected to a Wi-Fi network or have Tesla's premium connectivity subscription and a cellular signal.
A selection of games is also available through Tesla Arcade, giving you more ways than ever to amuse yourself while parked. There's even a web browser that can be accessed through the touchscreen, although it seems a little redundant given the ubiquity of smartphones. Tesla has updated its entertainment selection with additional features over time, so expect the choice of streaming services and games to expand even further in the future.
Plaid Track Mode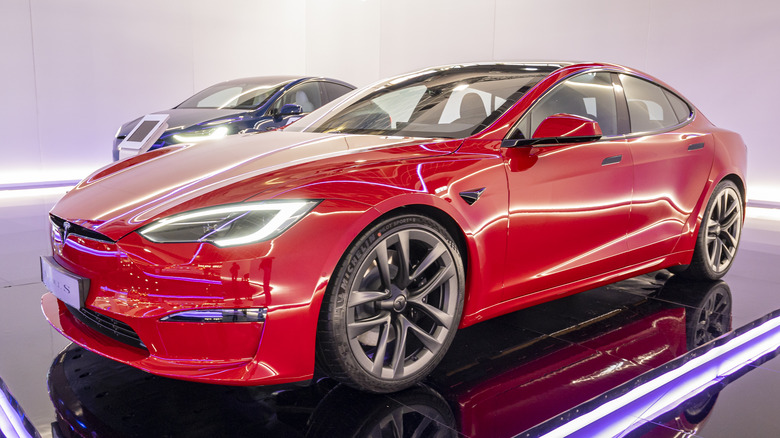 Sjoerd Van Der Wal/Getty Images
Owners of the Model S Plaid will likely already be aware of how fast it is in a straight line, but Tesla designed the car to do more than just leave supercars in the rearview at stop lights. Enabling Plaid Track Mode automatically changes the car's setup for optimal performance at the track, and it was developed on the famous Nürburgring. Those changes include lowering the battery and motor temperature to enable the powertrain to stay cooler for longer under high loads, and increasing regenerative braking power to both re-capture more energy and help keep the brakes cooler.
The car also adjusts the torque vectoring and relaxes the stability control systems to allow for more tire slippage. The systems are adjustable depending on the driver's level of skill, so track novices can keep more of the assists on if they want to. There are also some tweaks made to the suspension damping and a new, performance-focused UI for the dash and touchscreen, completing the car's transformation from a luxury commuter vehicle into a fiercely capable track day toy. Even though Plaid Track Mode is only available on the top-spec Model S Plaid, all Performance variants in Tesla's range have access to a less extreme version that's simply called Track Mode.
Over-the-air updates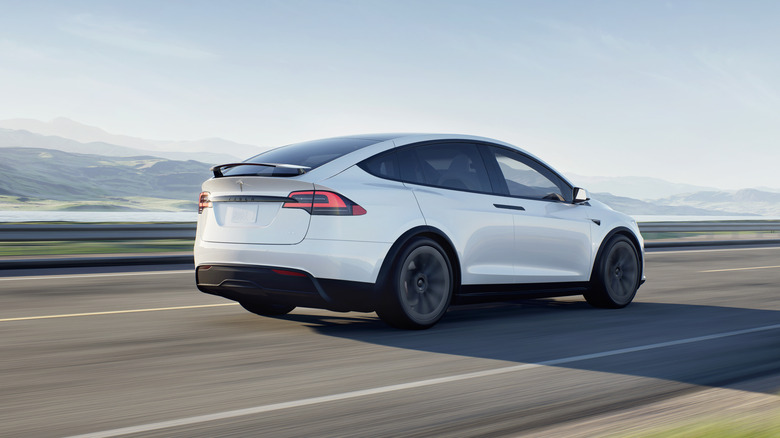 Tesla
Tesla was the first automaker to embrace over-the-air (OTA) updates to provide patches to its cars in real-time, and it's proven to be a very handy feature both for the company and for owners. After an NHTSA recall was issued in response to safety concerns about Tesla's Full Self-Driving feature, the company simply issued an OTA update that disabled the feature in all cars. This meant that the fix could reach cars much quicker than a traditional recall, and it saved drivers a trip to the service center.
It's also useful for adding new features and updating existing ones on the go, and it means that Tesla's cars have the ability to stay cutting-edge in terms of software for longer than its more traditional rivals do. The system is so successful, in fact, that many other automakers have copied Tesla's idea and begun to offer similar updates themselves.
Supercharger network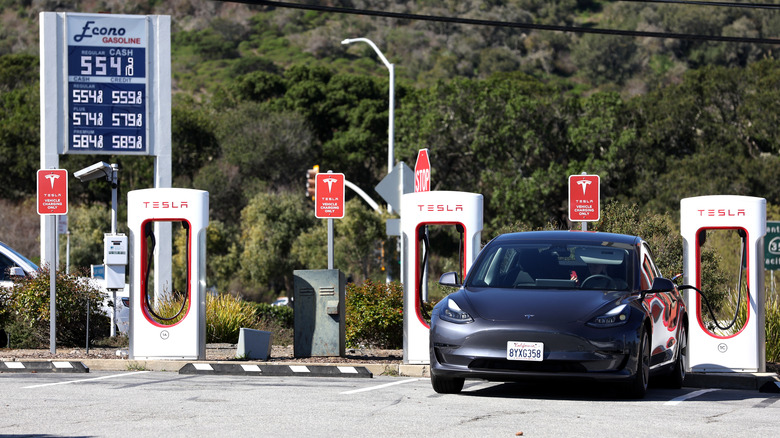 Justin Sullivan/Getty Images
Perhaps the biggest single advantage that Tesla drivers have over fellow EV owners is their access to the brand's extensive Supercharger fast-charging network. Company CEO Elon Musk has floated the possibility of sharing the network with other EVs for a few years now, and in 2022, launched a pilot scheme in certain areas. For now though, only Tesla drivers have access to the full network and maximum charging speeds, and to preserve the brand's appeal as the most road-trip-friendly EV brand, it's likely to stay that way for some time.
Having full access to Supercharging undoubtedly makes Tesla ownership less of a hassle than for owners of other EVs, as there's a much wider range of charging points available across the country. Combine that with Tesla's market-leading range capabilities, and the brand's cars are still the obvious choice for drivers who need to cover longer distances on a regular basis.