15 Best Single-Player Games On PS5, Ranked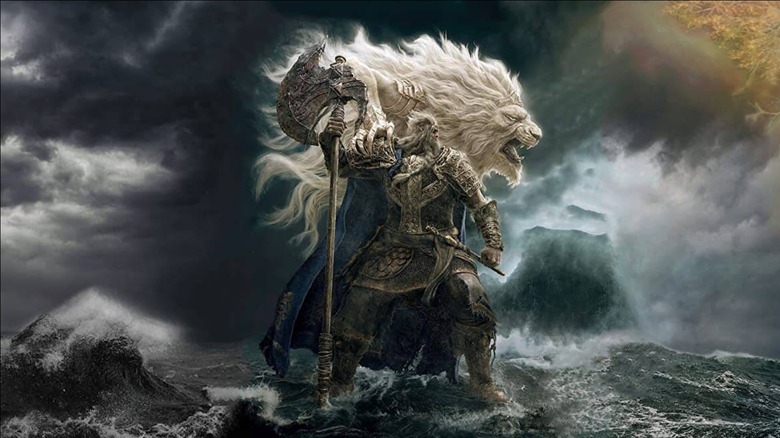 Bandai Namco Entertainment
Multiplayer games are hugely popular, with series such as "Call of Duty" and "Madden NFL" ruling the roost. While many of the most successful games have a single-player element, there has been a trend of traditional single-player-only releases going through something of a slump with the advent of online gaming. But that has begun to shift again in recent years as games that lack a multiplayer mode succeed again.
A perfect example of this is "Star Wars Jedi: Fallen Order." EA, a company famous for its multiplayer and microtransaction-heavy games, released a single-player game with a deep story and great gameplay in 2019. It did so well that EA greenlit other high-quality single-player games like 2023's "Dead Space" remake. A sequel, "Star Wars Jedi: Survivor," releases in May 2023.
Nowhere is this shift more evident than on the PlayStation 5. Sony has developed a reputation for supporting single-player games from its first-party studios, giving players access to some of the best campaign-based games available across all platforms. There's also a variety of solid third-party, multiplatform offerings. The console has a brilliant selection of single-player games that any gamer will want to check out and won't regret buying.
15. Devil May Cry 5: Special Edition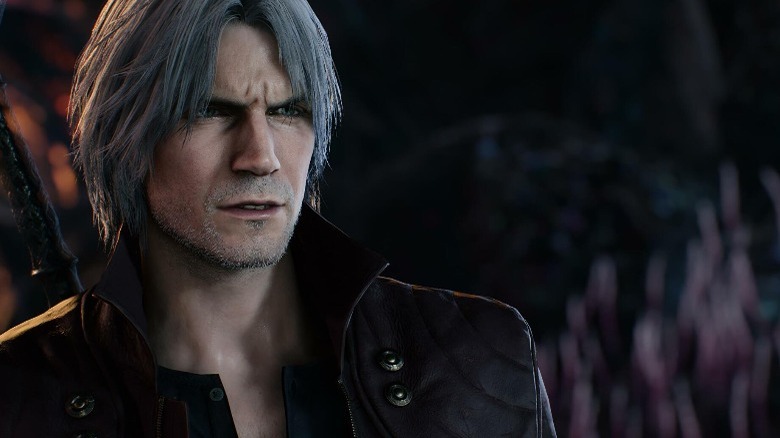 Capcom
"Devil May Cry 5: Special Edition" is an enhanced version of the 2019 action-adventure game developed by Capcom. Originally released for PC, PS4, and Xbox One, the game is a continuation of the series set a few years after the events of "Devil May Cry 4," where Dante and his allies once again fight to prevent the destruction of the world. This time around, they battle against the Demon King Urizen, who is determined to wipe out humanity.
When porting the game to PS5 and Xbox Series X|S, Capcom included the standard visual and performance upgrades, plus interesting new features. These included a new playable character, Vergil, and a new difficulty mode called Legendary Dark Knight to provide a more intense challenge to experienced players. 
There's also ray-tracing support and a Turbo Mode that significantly increases the game's speed to make the action more frantic. All that makes this the most complete and stylish hack-and-slash single-player game on the console.
14. Astro's Playroom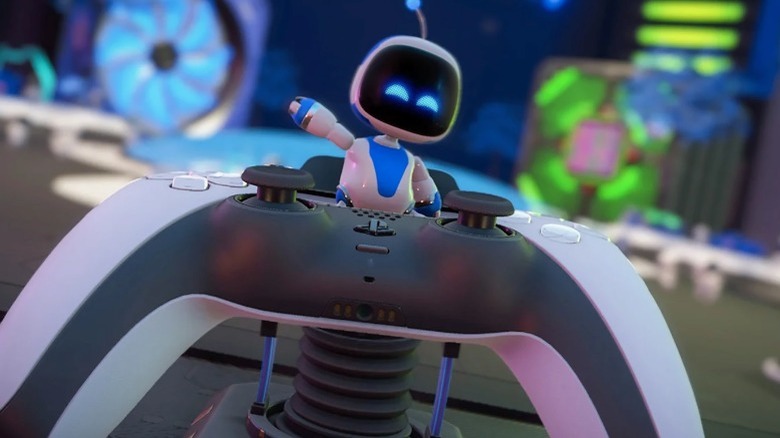 Sony
When the PS5 first launched in 2021, "Astro's Playroom" was one of the few titles available on the console. Developed by Japan Studio before it was merged to form Team Asobi, it is a sequel to "Astro Bot Rescue Mission." Like that earlier game, which was designed to show off all of the features of the DualShock 4 controller, "Astro's Playroom" serves as an elaborate tech demo for the DualSense. Yet the game is far more than a mere tool to showcase the new features of the controller and is an entertaining game in its own right.
The platformer sees players assume control of Astro Bot, a tiny robot that travels across different regions by jumping over obstacles and attacking enemies. 
Along the way, a variety of collectibles can be found, in addition to various Easter eggs and references to classic PlayStation franchises such as "Metal Gear," "Resident Evil," and "God of War." Best of all, though, is that the game comes pre-installed on the PS5, meaning everyone who owns the console can try out the game for free.
13. Sifu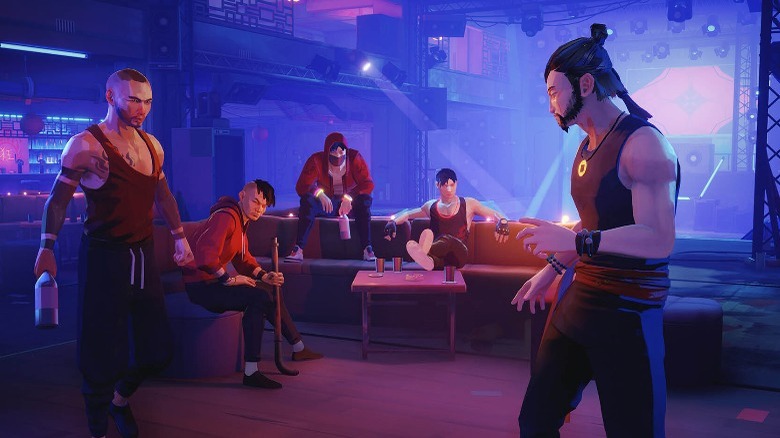 Sloclap
"Sifu" is a 2022 beat 'em up game from the relatively small development team Sloclap. The game follows a young martial arts expert who ventures into modern-day China on a revenge mission. Determined to bring justice to those who killed his father, the protagonist isolates himself and trains alone for years before confronting the four figures responsible for his father's death — each possessing a unique supernatural power.
Where "Sifu" stands out is with its unique resurrection mechanic. Every time the character is killed in battle, he resurrects thanks to a special talisman he holds. However, this process also ages him, reducing his health but improving his power and speed, forcing players to constantly adapt their style to suit the character's current status. 
Add in the extensive combat system, which includes over 150 different attacks, and "Sifu" is a game that will keep most gamers on their toes and is very rewarding.
12. Final Fantasy VII Remake Intergrade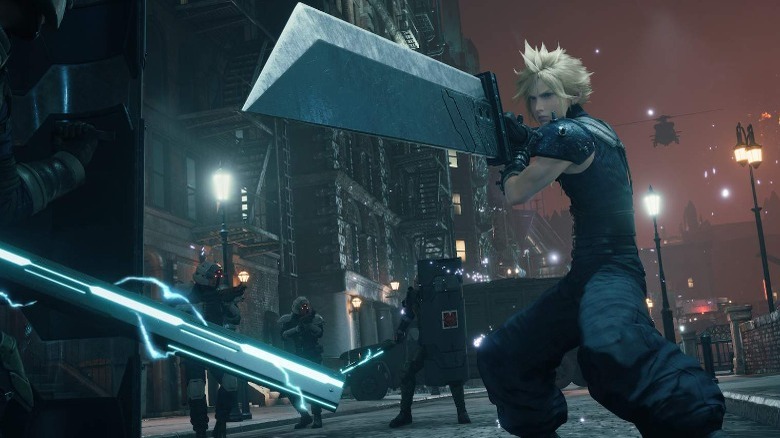 Square Enix
It's hard to argue against the "Final Fantasy" series being one of the most important in gaming history. Among the many titles released as part of the franchise, "Final Fantasy VII" is perhaps the one that stands out the most. This 1997 game hit store shelves for the original PlayStation console and set a new standard for the RPG genre. In 2020, Square Enix released a remake of the game for PS4, retelling the events of Cloud Strife's adventures in Midgar.
This remade version for the PS5 came the following year and included several enhancements compared to the original edition for the PS4. These include various visual and performance upgrades, allowing players to play the game at larger resolutions with higher frame rates. 
"Final Fantasy VII Remake Intergrade" also allowed players to switch to the original turn-based combat rather than the real-time battle system the remake introduced. As a bonus, anyone who purchased this version of the game also got an exclusive expansion in the form of "Episode Intermission."
11. Lost Judgment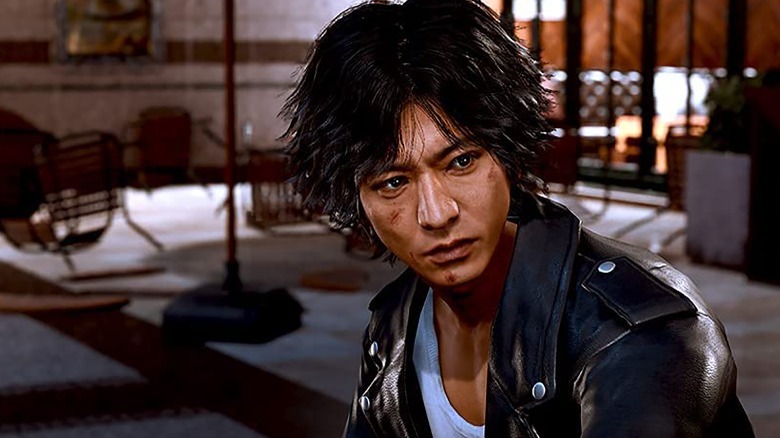 Sega
Ryu Ga Gotoku Studio, probably best known for the "Yakuza" series, began work on "Lost Judgment" not long after the release of its predecessor. The original game was a spin-off of the "Yakuza" franchise and followed private detective Takayuki Yagami as he investigated gruesome murders where the victims were left with mutilated corpses. In the sequel, the lawyer-turned-investigator is pursuing a suspect accused of multiple murders.
Although the action will be familiar to anyone who has played "Judgment," the more recent title features two new fighting styles to give Yagami more options when it comes to combat. The engaging gameplay is a mixture of stealth and platforming, with objectives such as tailing a suspect or chasing someone through the streets of several Japanese cities. "Lost Judgment" also showcases a mature and compelling plot that deals with some dark themes in a way that isn't too sensationalist but keeps players utterly gripped at all times.
"Lost Judgment" is among the few awesome single-player games on the PS5 available across other consoles. It is possible to play the Sega game on the PS4, Xbox One, Xbox Series X|S, and PC, but none of that takes away from the fact that PS5 owners should try it out if they are fans of other action-adventure games.
10. Ratchet and Clank: Rift Apart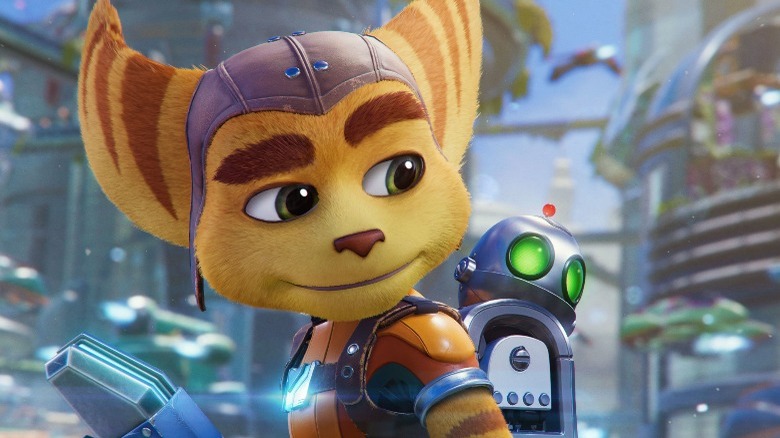 Sony
With more than a dozen games between 2002 and 2013, the "Ratchet & Clank" series became cemented in the minds of PlayStation players as one of the brand's significant exclusive properties. Yet the series has largely remained dormant since that time, other than a reimagining of the original title in 2016. Insomniac Games returned to the action platformer franchise in 2021 with "Ratchet & Clank: Rift Apart," a direct sequel to the 2013 release "Ratchet & Clank: Into the Nexus."
Keeping much of the gameplay from its predecessors, "Ratchet & Clank: Rift Apart" features the series' signature gunplay and platforming. However, it also introduced a new portal travel mechanic, allowing the player to transport to different areas through other dimensions instantly. Using the Rift Tether, Ratchet can venture into alternate versions of environments, including locations from previous "Ratchet and Clank" games.
Gaining perfect scores from many outlets and sitting with an impressive Metacritic rating of 88 out of 100, "Ratchet & Clank: Rift Apart" was, without a doubt, another grand entry in this long-running series. Perhaps most impressive was the vast improvement made to the visuals, especially in the richly detailed characters that look more authentic and alive than ever before.
9. Marvel's Spider-Man: Remastered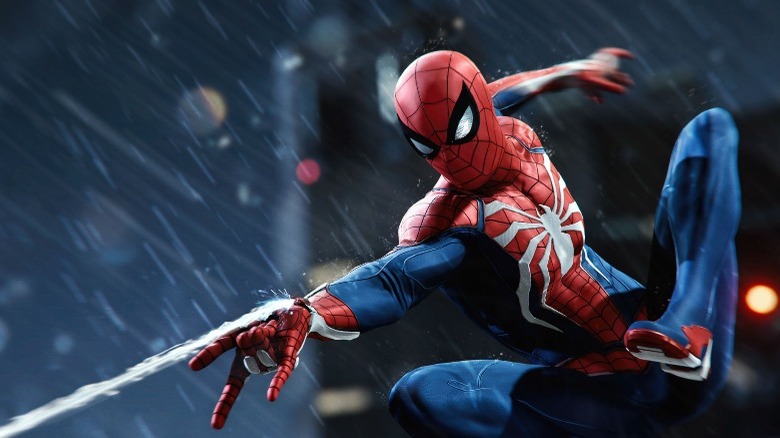 Sony
If one thing is guaranteed to coincide with the release of a new console, it's remasters of already successful games. Developers and publishers like to take advantage of the fact that an updated system makes it possible to re-release a game to a whole new audience. Remasters also appeal to players who have already tried out the game and might be tempted to go back to it thanks to upgrades and enhancements.
"Marvel's Spider-Man: Remastered" is essentially the same action-adventure game that swung onto the PS4 to high praise in 2018. Following Peter Parker's attempts to stop Mister Negative from releasing a deadly virus, this new game version includes all previously released downloadable content, graphical improvements, extra costumes for Spider-Man, and support for the PS5's DualSense controller and 3D audio.
There's no better way to play "Marvel's Spider-Man." The PS5 version has the added benefit of near-instant loading times. Players can jump straight into the sequel, "Marvel's Spider-Man: Miles Morales," after completing the original.
8. Uncharted: Legacy of Thieves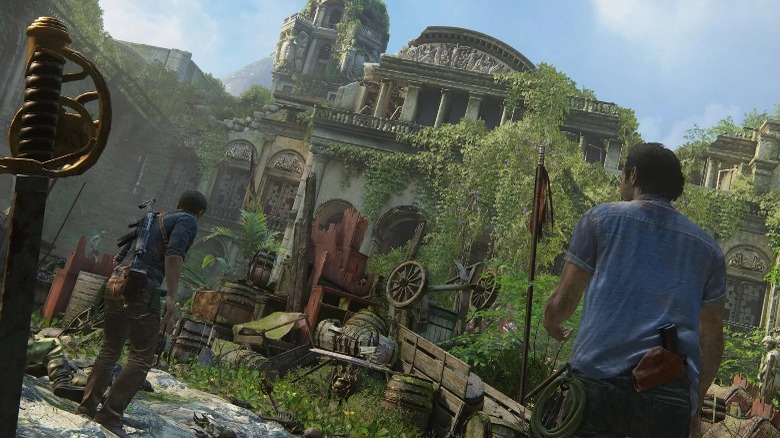 Sony
The "Uncharted" series has always been a single-player gaming franchise strongly associated with the PlayStation brand. The first game launched in 2007 for the PS3, and the latest mainline release was the 2016 title "Uncharted 4: A Thief's End." Taking advantage of the extra horsepower and features of the PS5, Naughty Dog and Sony Interactive Entertainment remastered this game — and its standalone expansion "Uncharted: The Lost Legacy" — in 2022, bringing the game to a whole new audience of gamers.
Considering just how great a release that "Uncharted 4: A Thief's End" was, this remastered edition is undoubtedly worthy of anyone's attention. It includes the same gameplay that earned universal praise in 2016, which hasn't aged poorly, with a significant visual upgrade and new performance settings. 
Although it may have been nice to have all of the games from the series remastered in a single collection, the low price of this package and the quality on offer still makes it one of the better single-player experiences on the PS5.
7. Horizon: Forbidden West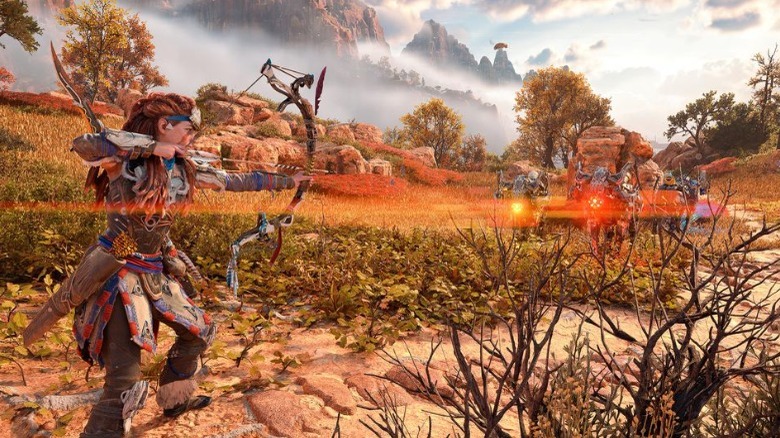 Sony
Developer Guerilla Games has seemingly never been afraid of a challenge. It released the first game in the "Horizon" series at almost the same time as Nintendo's critically acclaimed "The Legend of Zelda: Breath of the Wild" and followed that up by launching "Horizon: Forbidden West" alongside "Elden Ring." While this may have limited its appeal to wider audiences, critics and players still found plenty to like about this sequel.
In many ways, "Horizon: Forbidden West" takes everything that worked well in "Horizon: Zero Dawn" but pushes it all up to 11. There's a bigger open world to explore, new weapons and enemies, additional mounts to travel around the different environments, and better-looking visuals. Our review found that there were also impressive improvements to the core experience as Aloy battles against various animal-like machines.
What ultimately makes "Horizon: Forbidden West" so good is that it has a world that is a pleasure to explore. It's easy to lose several hours discovering everything the game offers. With an expansion due in April, now is a great time to jump into the post-apocalyptic world for the first time.
6. Demon's Souls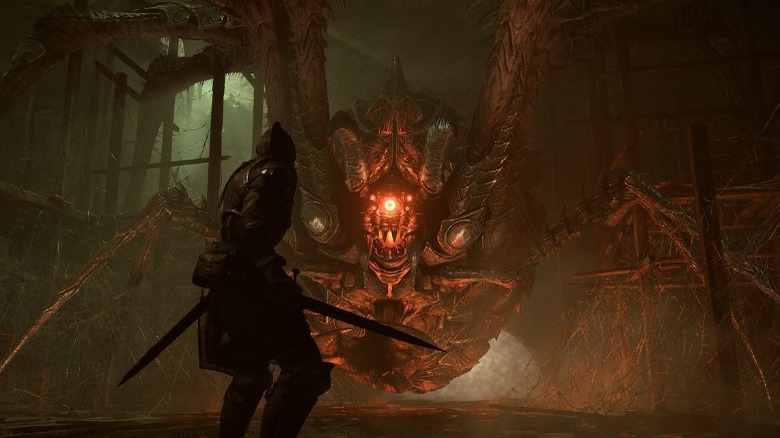 Sony
FromSoftware has established itself as one of the premier video game developers in the world. The Japanese studio was best known for its "Armored Core" series before the release of "Dark Souls" but has now been credited with inventing a brand new genre in the form of Souls-likes. These action RPGs are known for their dark fantasy settings and fiendishly brutal combat that will see players die hundreds of times. While "Dark Souls" popularized this formula, the groundwork for the developer's most popular games was first demonstrated in "Demon's Souls."
It made sense for this original game to be remade for modern hardware, allowing fans to experience a game they might have missed when it launched on the PS3. Helmed by Bluepoint Games, "Demon's Souls" was a 2020 launch title for the PS5 that has an extensive graphical overhaul and has seen many of its gameplay mechanics tweaked and improved.
This included new customization options, a Photo Mode, and balance changes to how the encumbrance system works. These enhancements make what is already a great game even better, and any fans of FromSoftware's more recent library would do well to check out "Demon's Souls."
5. Ghost of Tsushima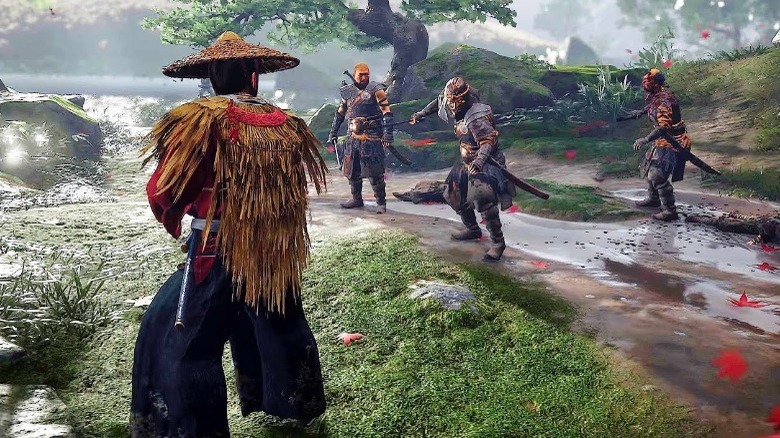 Sony
Sucker Punch Productions is another first-party PlayStation developer that has made a name for itself recently with its single-player games, including "Infamous" and its sequel, "Infamous: Second Son." The American developer switched the setting to 13th-century Japan during the first Mongol invasion for its most recent game. Fans of the studio's other work will notice that "Ghost of Tsushima" emphasizes melee combat rather than the electricity-based superpowers of the "Infamous" franchise.
In "Ghost of Tsushima," players take on the role of a samurai called Jin Sakai as he attempts to repel the Mongol invaders. Having almost been killed during an initial assault by the attackers, he is forced to adopt new guerilla tactics to strike back at the Mongols with his limited resources and allies. Much of the gameplay revolves around the player's choice to either stick to honorable samurai methods or utilize the less confrontational strategies Jin learns.
With a unique combat system focused on parrying opponents and striking with quick counterattacks, "Ghost of Tsushima" is a game that requires precision and patience but is more than worth the challenge. A special edition for the PS5 also includes some performance enhancements and an expansion, making it the ideal way to experience the release.
4. Returnal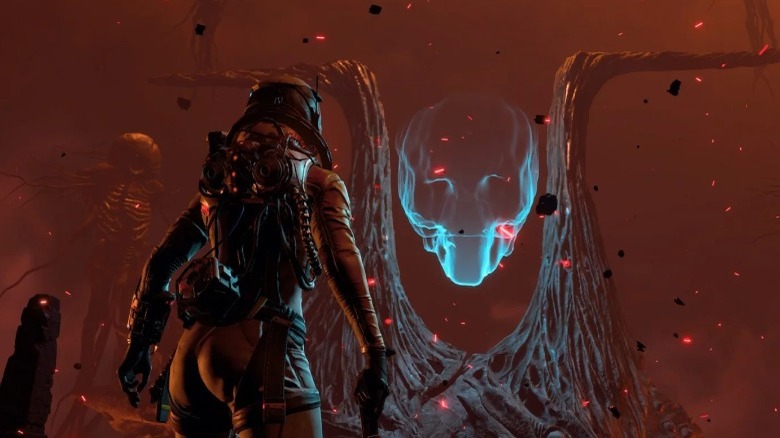 Sony
"Returnal" is a 2021 roguelike from Housemarque, a Finnish game developer that has previously worked on titles such as "Nex Machina" and "Matterfall." Played from the third-person perspective, the game follows an astronaut who lands on a strange planet. While investigating the illusive White Shadow, Selene Vassos discovers she is trapped in a time-loop that replays events after she is killed, effectively resurrecting her. This allows Selene and the player to slowly learn more about the planet Atropos and uncover secret weapons or abilities as they journey further.
Widely praised for how it successfully blended its overarching narrative with its gameplay, "Returnal" has an interesting core mechanic and looks and sounds great. "Returnal" also received multiple award nominations and even went on to win the BAFTA Games Award for Best Game, beating out the likes of "Deathloop" and "Ratchet & Clank: Rift Apart." 
Although it was formerly exclusive to the PS5, "Returnal" has since launched on PC, so those without the Sony console can try it out — as long as their PC has the specs to handle the game.
3. Marvel's Spider-Man: Miles Morales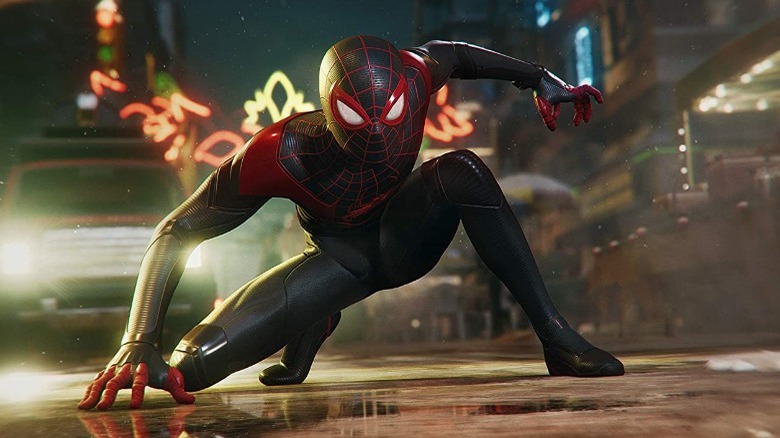 Sony
Following Insomniac Games' "Marvel's Spider-Man" on the PS4, the Sony-owned studio immediately started work on a sequel. The result of that was "Marvel's Spider-Man: Miles Morales," a 2020 game currently available on PS4, PS5, and PC. 
Like its predecessor, the game focuses on the titular hero's journey in New York, but this time focuses on another version of the Web-Slinger in the form of Miles Morales. Much of the story deals with his attempt to find a balance between his personal life and his heroic duties, further complicated because he is not the only Spider-Man operating in the city.
Having trained under Peter Parker for a year, Morales finds himself caught in a conflict igniting between a criminal gang known as the Underground and an industrial company called Roxxon Energy Corporation. Anticipation was undoubtedly high for "Marvel's Spider-Man: Miles Morales" and didn't disappoint fans when it launched. Racking up high scores from critics across all platforms, it carried over the winning formula from the first game while introducing some new gameplay abilities, including Morales' Venom Blast and Camouflage skills, to expand the player's arsenal and keep things feeling fresh.
2. God of War Ragnarök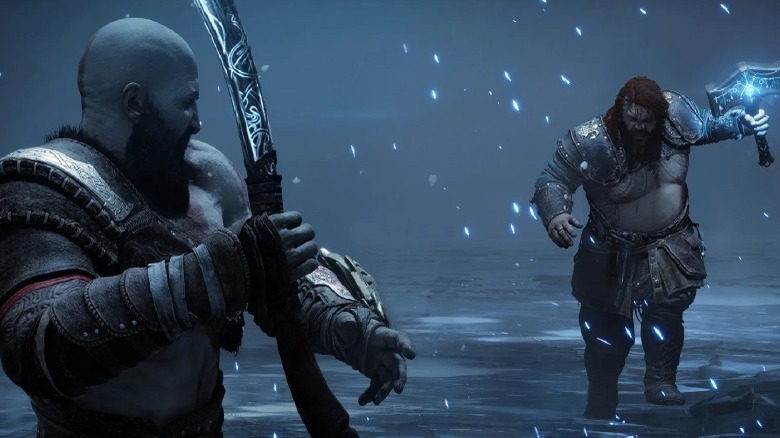 Sony
The "God of War" series has always been one of the most celebrated PlayStation-exclusive franchises. Santa Monica Studio rebooted the property in 2018 with the PlayStation 4 title "God of War." The series' roots go back much further than that, with its initial title released in 2005.
Like its predecessor, "God of War Ragnarök" focuses on the continuing adventures of Kratos and his son Atreus as they encounter a variety of figures from Norse mythology. Following his battle with Baldur in the previous game, Kratos is now forced to confront Odin and his powerful son Thor. While the gameplay is essentially the same, combat is notably improved, and players finally get the chance to take direct control of Atreus in some sections. It also has a far larger world to explore and a more expansive story.
Having sold more than 11 million copies and setting new records as one of Sony's fastest-selling first-party games, "God of War Ragnarök" was a critical and commercial success. Nominated for dozens of awards, few would deny the action-adventure game a spot here as an awesome single-player game on the PS5.
1. Elden Ring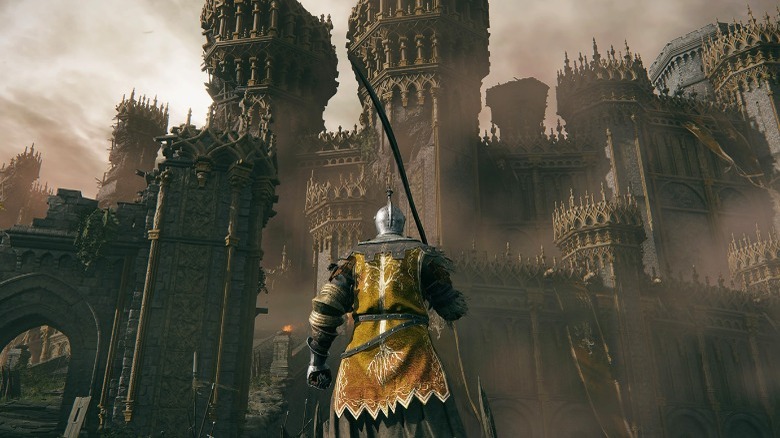 Bandai Namco Entertainment
No list of great single-player experiences would be complete without mentioning "Elden Ring." The game is one of the best available on the PlayStation 5 and arguably among the greatest games of all time, setting a new standard for open-world RPGs. First released in 2022, the game is the latest title by FromSoftware, the celebrated developer behind games such as "Dark Souls" and "Bloodborne." "A Song of Ice and Fire" writer George R. R. Martin also contributed to world-building, establishing the lore of the fictional Lands Between.
"Elden Ring" follows the protagonist, part of a group known as the Tarnished, tasked with becoming the Elden Lord by restoring the Elden Ring of ancient times. Players must travel across the immense world on a mystical steed known as Torrent while battling various bosses to gather the materials necessary for their quest. Featuring the same signature brutal combat and challenging boss battles, the game pushed the Soulslike genre forward with its innovative take on an open-world environment.
Receiving widespread critical acclaim and becoming the second best-selling game of the year, "Elden Ring" is a release everyone should try, especially now that brand new DLC has been confirmed in the form of the upcoming expansion "Shadow of the Erdtree."