Affordable Gaming Desktops Worth Buying In 2022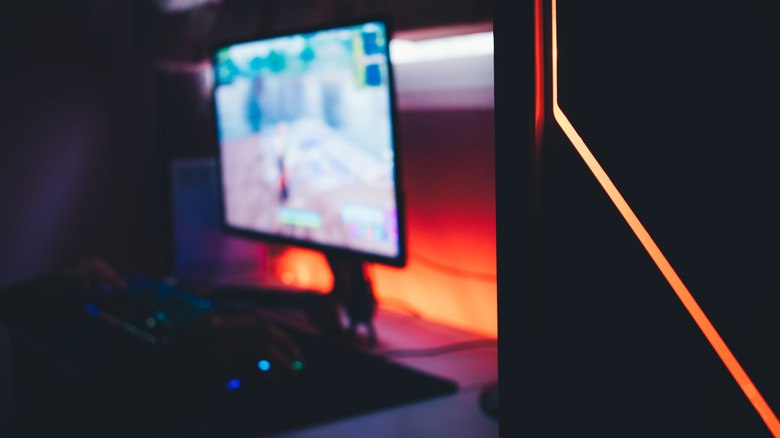 Antonio Laso/Shutterstock
The gaming industry is evolving at an incredible pace. With the introduction of new controllers, monitors, and accessories, the industry is constantly changing to better suit gamers' desktops. While many of the advances in technology are pretty exciting, some advancements in the gaming industry carry with them significant risks for consumers and the gaming community as a whole. When looking for a gaming PC on a tight budget, sorting through all of the towering claims and bewildering specifications can be difficult. It's critical to understand what's most important so that you can cut through the distractions and locate a PC that delivers on its promises. 
It is not necessary for someone to go for an ultra-premium setup with maxed-out specs to have an ideal gaming experience. Thankfully, gaming and tech companies such as Intel, Nvidea and AMD have all launched pockt-friendly gaming components that are capable enough to handle all the leading video games that demand advanced graphics and processing. Nevertheless, not everyone out there needs to play at the highest possible settings. 
Things to ponder when purchasing a low-cost gaming computer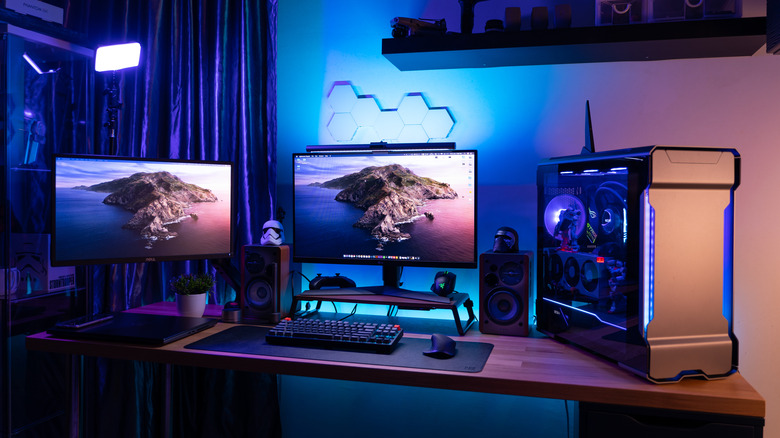 Syafiq Adnan/Shutterstock
When buying a gaming rig, it's critical to understand what's most important. Core components are only one element of the equation when purchasing a prebuilt gaming PC. While looking for an affordable setup, the design and layout can be a great distraction. 
Even though gaming setups might be among the most aesthetically pleasing items in your house, are you buying them for that purpose? However, it's never a good idea to spend a lot of money on the PC's appearance. Although, a good hunt is key. There are various options available for desktops that are both attractive and functional. Even if your budget is modest, you should hunt for products that offer more features.
Desktops come in various sizes, including the full tower, mid-tower, and mini-tower. However, the actual question is whether or not the desktop's size is significant. The answer is yes, of course. It affects your gaming experience, but it also necessitates changing your living area. As a result, you'll be able to make an informed decision based on factors like the size of the room and your budget. For example, full tower devices are more expensive, and going for a mid-tower setup can save you some additional money to spend on your rig.
Performance, upgradabilty and ports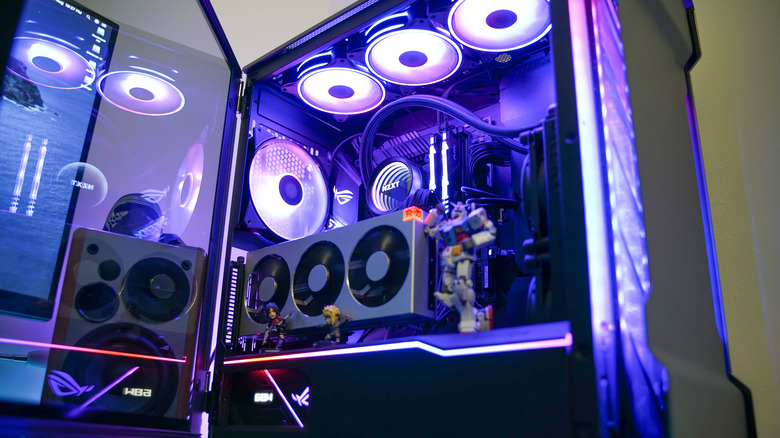 Syafiq Adnan/Shutterstock
While the previous point dealt with "showbiz,"  performance and specs are one of the areas where paying a little more than your budget would yield a better ROI. Whatever game you're playing, buttery smooth performance is what you are after. If you want a better experience, consider upgrading your devices and purchasing the latest models. This doesn't mean that you won't find good options on a tight budget. This multi-billion-dollar industry offers various options accessible at multiple price points. You should, however, never settle for anything less than 8GB of RAM.
Furthermore, the best (and worst) thing about technology is that it keeps improving. The gaming industry is ever-changing, and you should stay up with it by replacing critical components like motherboards, graphics cards, storage, and RAM. If you're buying a gaming computer, you'll want to check that the motherboard, RAM, GPU, drive bays, and fans can all be easily accessed.
When it comes to a gaming rig, there is no such thing as too many ports. While more is always better, a minimum of six USB 3.0 ports should be ample for connecting multiple displays, accessories, and VR headsets. Sound quality is excellent when paired with the six display ports and an HDMI port.
Skytech Chronos
 Price: $1,300
CPU: AMD Ryzen 5 5600X
GPU: NVIDIA RTX 3060
Memory: 16GB DDR4
Storage: 1 TB M.2 SSD
If you want to play games at 1080p or even 1440p, the Skytech Chronos is an excellent choice. If you're a gamer, you'll like the AMD Ryzen 5 5600X processor's six powerful cores, which can keep up with your gaming demands while allowing you to run other programs in the background.
The NVIDIA RTX 3060 GPU powers the Skytech Chronos. When it comes to playing AAA and eSports titles, this is where you'll get the power. The RTX 3060 should be able to run all of your favorite games at reasonable frame rates, whether you like to play at 1080p or 1440p.
This GPU also provides the smooth graphics required for a truly immersive virtual reality (VR) experience. This system's responsiveness and storage capacity are enhanced by combining 16 GB of RAM and a 1TB hard drive. Even the most demanding games run smoothly on this low-cost PC. Plus, if you need more power in the future, you can always upgrade it.
Omen 25L
Price: $979 
CPU: AMD Ryzen 5600X
GPU: NVIDIA RTX 3070 
Memory: Hyper X 16 GB DDR4-3200
Storage: 512 GB SSD
The Omen 25L is a great option if you have a smaller desk. It's only 6.5 inches wide, 17.05 inches tall, and 15.53 inches long! If you're looking to stay under $1000, we recommend the $979 all-AMD configuration. After that, you get a solid AMD Ryzen 5 5600X processor and a 4GB Radeon RX 5500 graphics card. The Ryzen 9 5900X and 8 GB of NVIDIA RTX 3070 Ti can be upgraded if you want to go all out (or prefer NVIDIA GPUs). Additionally, there are models with Intel i5 processors from the 10th and 11th generations (beginning at $799 and $1350, respectively) if you prefer those (or budget).
That being said, the minimum specifications are plenty if you don't mind playing newer games at lower settings at 1080p. However, we recommend investing a little extra to go beyond the usual 8GB RAM or 256GB SSD. For about $14 more, you can add a wired mouse and keyboard to any model, as well as more RAM and SSD space.
Lenovo Legion Tower 5i
Price: $949
CPU: Intel Core i5-11400H
GPU: NVIDIA GeForce GTX 1660 SUPER
Memory: 8GB
Storage: 256GB SSD, 1TB HDD
Lenovo's Legion Tower 5i is the best budget gaming PC for budding video creators who want to start streaming on a budget. There are enough cores in the processor to simultaneously perform both gaming and streaming.
As long as you're using the GTX 1660 SUPER, your viewers will get a smooth broadcast even on current most demanding games. This gaming rig is equipped with a 256GB SSD (ideal for installing your favorite games) and a 1TB hard drive for storing all of your video footage.
Memory is the only area where this PC feels sluggish, as it only has 8GB of system RAM. A second window for your chat would be better, but it's still not enough to ensure smooth streaming. The remainder of the system is ideal for aspiring streamers, so we give it a thumbs up, but we recommend saving up for an updated memory kit or acquiring the 16GB model as soon as feasible.
Minisforum Elitemini HM90
Price: $629
CPU: AMD Ryzen 9
GPU: AMD Radeon
Memory: 16GB, 32GB
Storage: 512 GB
By gaming PC standards, the Minisforum Elitemini HM90 is a tiny device. When it comes to size, it's small enough to fit behind your TV or even mount on a larger display. With a Ryzen 9 CPU, this little PC is surprisingly powerful despite its diminutive size. Additionally, we chose 16GB of RAM and 512GB of NVMe storage.
It is a disadvantage to have the best small, inexpensive gaming PC because it lacks a dedicated video card. Because the Elitemini HM80 has an integrated Radeon graphics card in its processor, it can play games. Even so, you'll have to make some big sacrifices in terms of visual settings, but you can run a lot of recent games at playable frame rates with this. For certain esports players, this is a very attractive choice.
There are more powerful gaming PCs on the market, but the Elitemini is the only one that can be mounted to your screen so you can play PC games from the comfort of your couch, rather than having to use an unattractive tower.
CyberPowerPC Gamer Xtreme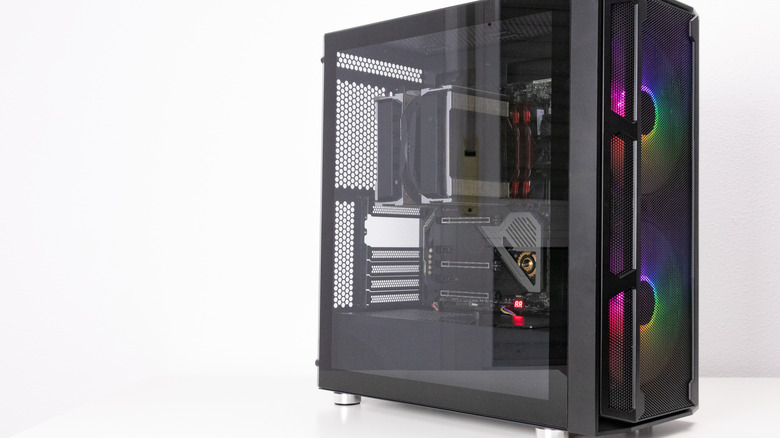 Alberto Garcia Guillen/Shutterstock
Price: $1,244
CPU: Intel Core i5-11400F
GPU: AMD Radeon RX 6700 XT
Memory: 16GB DDR4
Storage: 512GB
Size: 6.5" x 16.6" x 17" 
It's simple to enjoy high-definition gaming in 1080p. It's enough to have a fast processor and a decent graphics card. Just like the CyberPowerPC Gamer Xtreme we've chosen, this one provides that kind of performance. Although it isn't exactly powerful, the Intel Core i5-11400F will be more than adequate to get the work done and keep your costs in check.
It's partnered with an AMD Radeon RX 6700 XT graphics processor that may not be a champ at ray-tracing or 4K, but it can handle 1080p extremely well. The OS and your most-played games run on a 512GB SSD, but you also get a 1TB hard drive to store your data and your extensive gaming library. The system comes with four pre-installed RGB fans as an additional perk.
SkyTech Shadow 3.0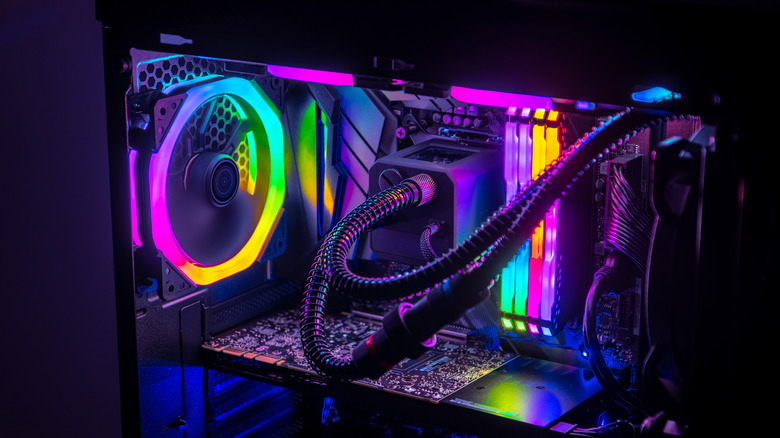 Alberto Garcia Guillen/Shutterstock
Price: $1,399
CPU: AMD Ryzen 5 3600
GPU: NVIDIA GeForce RTX 3060
Memory: 16GB DDR4 (3,000MHz)
Storage: 1TB PCIe SSD
NVIDIA's RTX 3060 is a terrific choice for 1440p gaming, but it's difficult to obtain straight from shops. While gaming at 1440p can be a terrific experience, it's hard to beat the SkyTech Shadow 3.0 as a desktop replacement.
The AMD Ryzen 5 3600 is paired with 16GB of DDR4 memory clocked at 3,000MHz in this PC, which is well-equipped for its price point. You can rest assured that your system will run without hiccups with that much power. With the addition of the RTX 3060, you'll be able to compete with the finest in the industry.
Even though the CPU and GPU may not be able to hit 300fps at 1080p and 4K, they'll be able to achieve a wonderful blend of quality images and smooth frames at 1440p, which will give you a great gaming experience.
NZXT BLD Starter Pro
Price: $1,399
CPU: Intel Core i5-10400F
GPU: NVIDIA RTX 3060
Memory: 16GB DDR4 (3,000MHz)
Storage: 1TB M.2 PCIe NVMe SSD
Size: 7.91" x 16.85" x 18.11" (W x D x H)
BLD Starter Pro from NZXT makes it easier than ever to buy a computer with the performance you require while still providing an impressive machine. Frame rates for a pre-built system depending on its hardware combination can be seen using NZXT's BLD range of monitors.
When you're playing Fortnite at 1080p, you won't have any doubts about whether or not you'll be able to maintain a steady 144 frames per second with one CPU and one GPU.
In terms of performance, the NZXT BLD Starter Pro is powered by an Intel Core i5-11400F and an NVIDIA RTX 3060 graphics card. That should be able to handle all but the most demanding games and should be able to handle 1080p and 1440p resolutions with ease. There's also 1TB of PCIe NVMe SSD storage for a fast-access game library. NZXT's BLD systems also benefit from clearly listing the brand-name components utilized, so you know exactly what's in the build before you start.
Acer Predator Orion 3000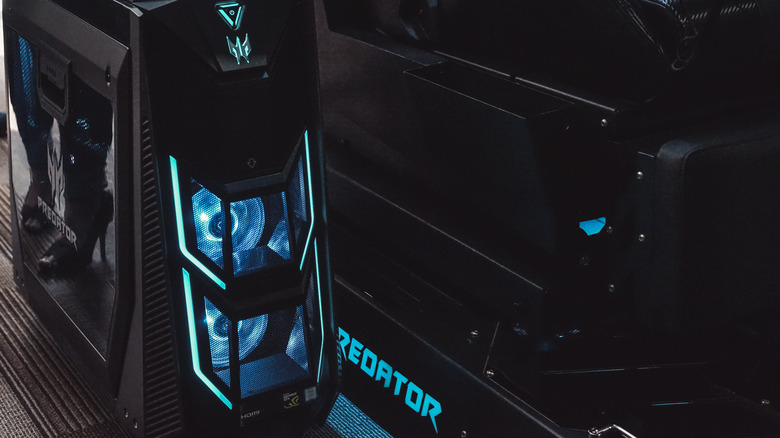 Lukmanazis/Shutterstock
Price: $1,199
CPU: Intel Core i5-11400F
GPU: GeForce GTX 1660 SUPER
Memory: 8GB
Storage: 512GB
New PC gamers looking for the best cheap gaming PC for beginners might consider Acer's Predator Orion 3000 bundle package. The desktop is an excellent starting point for PC gamers in terms of budget, performance, and aesthetics. Modern PC games can be played on it, and streaming can be done. Besides a monitor, the Predator Orion 3000 combo also includes a mouse and keyboard.
This system's understated elegance is one of its most appealing features. With its blue front fan and LED strips, it's evident that this is a PC made for gaming, but it doesn't go overboard. It's an excellent place to start if you're shopping for someone who doesn't know exactly what they want.
For starters, the 8GB of RAM and the lackluster quality of its bundled accessories are the main downsides of this computer. Unfortunately, low-end gaming PCs come with a lack of RAM, but you may always add extra yourself. When you're ready for an upgrade, there are fantastic gaming mouse and gaming keyboards to choose from.
HP Pavilion Gaming Desktop
Price: $778.70
CPU: Intel Core i5-10400F
GPU: NVIDIA GeForce GTX 1650
Memory: 8 GB DDR4
Storage: 256 GB PCIe NVMe SSD
If you're looking to get the best value for your money and have a tighter budget, the HP Pavilion gaming desktop might be the machine you're looking for. Of course, the luxury of 1440p gaming with high frame rates might be too far from its grasp, but if you're looking for an ideal full HD PC that can give you that sweet 60+ on high settings in a modern title, this beast will be the perfect companion. 
Armed with the very popular GTX 1650 4 GB, 8 gigs of 2666MHz RAM and the 10th Gen core i5, it can dish out some serious performance that competes amazingly well with other PCs in this range. The 256 GB of NVMe SSD is its Achilles' heel, since storing heavy games will become a bit of a challenge. However, an HDD slot gives you the option to load in a Hard drive and sacrifice some loading times for more storage.
Intel NUC 9 Extreme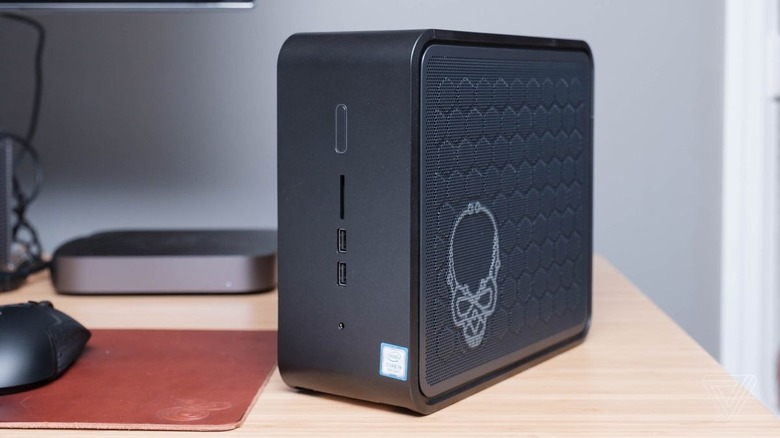 Alberto Garcia Guillen/Shutterstock
Price – $1,150
CPU – 9th Gen core i5 9300H
GPU – Intel UHD Graphics
Memory – 8GB DDR4 2666Mhz
Max supported storage – 64GB
Small but deadly, the Intel NUC 9 Extreme boasts a pocket-friendly price, unmatched portability and some hefty performance. While Intel loves to boast how it can support 3 4K displays at once, the machine is not built for extreme situations such as this. Having an older generation CPU impacts its performance slightly, but works well for most E-sports titles. 
The Intel UHD graphics are lesser valued than your traditional NVIDIA or AMD GPUs, but are not to be underestimated. This 'would-be' star of your next LAN party can pump out some good frames in a clutch, so you don't have to worry about missing the shot. However, modern titles with intense graphical requirements may not be the best option for the PC. Consider an upgrade to the RAM and storage to get some smoother frame rates and faster loading times. Low-higher medium is the ideal range for this PC in a graphic intensive title. 
All in all, the PC is fit for people who want some entry-level gaming performance in a compact, stylish and affordable package. While the machine also comes in i7 and i9 versions, we wouldn't recommend those because of how expensive they can tend to get. Your money is better spent on a PC that has a newer-gen CPU and a dedicated GPU from team green or red.