Dead Space Remake Launches Without Steam Deck Support
It feels like just yesterday that we were sinking our teeth into "The Callisto Protocol" to pass the time until the "Dead Space" remake launched. While the former was a decent appetizer to fans of EA's spooky space horror, many felt it fell short of the standard the original game set way back in 2008.
"Dead Space" and all its sequels have held up quite well even two generations later, and the remake has aged it finer than wine, according to early reviews. Some have stated it sets the standard for what a remake should be in 2023 — likening it to the successful reimagining of the original "Resident Evil" games and the "Final Fantasy VII" remake.
The "Dead Space" remake is available on PC, PlayStation 5, Xbox Series X|S. That notably leaves Nintendo Switch players out of the handheld fun, but if you were hoping for a different handheld to pick up the slack with regards to portable availability, we have some bad news for you.
Steam Deck gets snubbed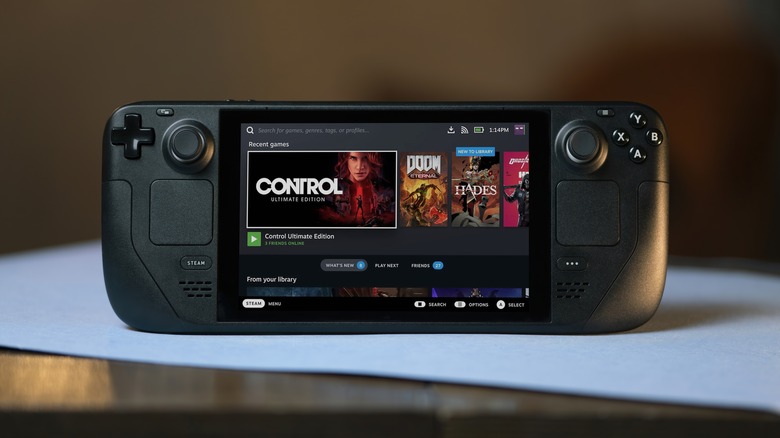 Mr.Mikla/Shutterstock
For all the good praise the game is earning, many are saddened to learn that the 2023 "Dead Space" remake doesn't support the Steam Deck. It's something publisher Electronic Arts confirmed to The Verge, and subsequent tests affirm that to be the case. There's no particular controversy here, considering EA never promised as much to begin with.
It's too early to speculate on why EA made the decision not to support the PC gaming handheld. The game's desktop hardware requirements are modest, and while the Steam Deck has been able to support graphically rich games that you'd think it'd have no business being able to run, you'd be forgiven for assuming this title would join along. For any owner of the handheld, it's fair to worry about the original Steam Deck's longevity — if, in fact, it can't run "Dead Space" well enough for EA's liking.
For what it's worth, Valve itself isn't in a rush to supplant the Steam Deck with a sequel, so you don't have to worry about your hardware going obsolete anytime soon. But if more current generation titles miss the cut, it could cause many to reconsider investing in the platform until it matures. One saving grace is that the Steam Deck is pretty flexible if you're willing to get your hands dirty, so hopefully a workaround is developed.