Samsung Galaxy S23 Review: Affordable Never Felt So Compelling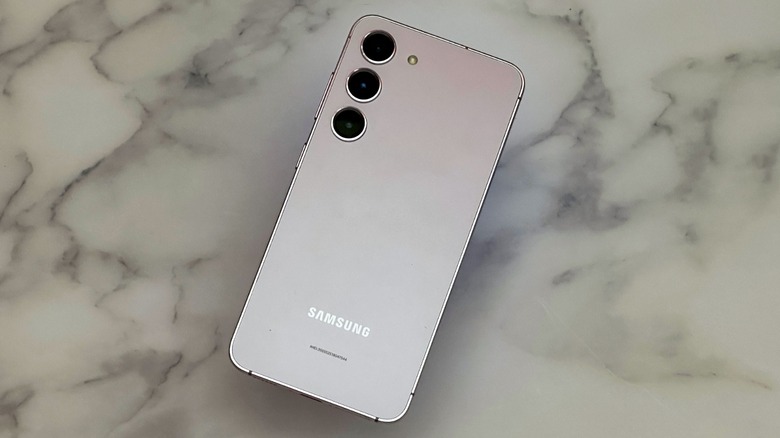 Adam Doud/SlashGear
Every year, Samsung launches three new flagship phones, and every year the Ultra version gets all the press. Up until now, that attention (or lack thereof for the non-Ultra versions) has been deserved. The Samsung Galaxy S23 Ultra is everything a power user could possibly want in a smartphone, while the other two have been more for the "normals." Unfortunately, in years past, the vanilla version of the flagship has been found lacking in photography chops, and certainly in the battery department. I'm happy to say at least one of those problems has been solved.
For a time, while using the S23, I can honestly say I worried that I had bought the wrong phone. I worried that the S23 might have been a better pick for me, and I had just flushed an extra $400 down the drain. As it turns out, I had not, though but I am one of the aforementioned "power users" that enjoys the extra that the S23 Ultra brings.
But what about you? There are very specific use cases where the S23 Ultra is necessary, but for most of the tasks I tested, the S23 more than holds its own. So, which one should you get? I'll help you explore that question. I've been using the Samsung Galaxy S23 (and S23 Plus) for two weeks on AT&T's network, and this is my full review.
A Samsung Galaxy S23 review unit was provided for the purpose of this review by AT&T.
The Samsung Galaxy S23 vs. Samsung Galaxy S23 Plus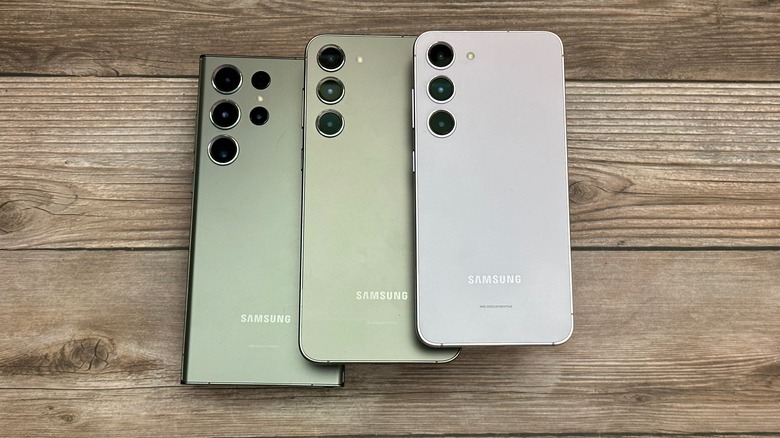 Adam Doud/SlashGear
I mentioned that I've been using both phones during my review period and that's largely because both phones are carbon copies of each other, except for a few of the obvious "plus" features. I wanted to take a moment and talk about those differences, even though beyond the obvious one, there's really only one other reason you might consider the bigger phone.
The first reason and the reason that most people will probably gravitate toward is the size difference. The Galaxy S23 Plus has a larger body, which results in a larger screen (6.6 inches vs 6.1 inches), battery (4700 mAh vs 3900 mAh), and weight (196g vs 168g). People will like bigger screens and bigger batteries, and more power to them — pun only a little intended.
There are two other differences. The other main difference that might attract some users is the fact that the Samsung Galaxy S23 Plus supports up to 45W of wired charging, while the S23 only supports 25W charging. That's not a huge difference, and it's nothing approaching what the OnePlus 11 can do, but it's still a difference.
The last difference is that the 128GB version of the Galaxy S23 only supports UFS 3.1 storage while larger variants of the S23 and all variants of the S23 Plus (and S23 Ultra) support 4.0. This is not a big deal today; it may make a difference in the years to come, but I highly doubt it.
The last difference is the price — the Samsung Galaxy S23 Plus costs $200 more than the S23.
The Goldilocks zone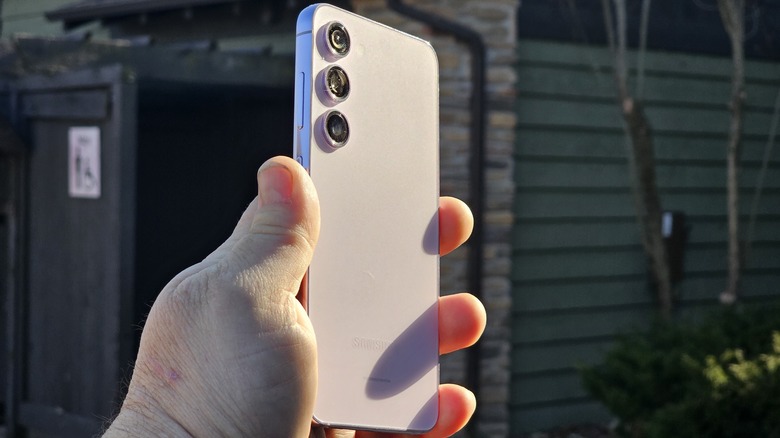 Adam Doud/SlashGear
One of the major factors that deked me into thinking I'd made a mistake by buying the Ultra is the size of the Galaxy S23. I have used phones of all shapes and sizes and the 6.1-inch, 19.5:9 aspect ratio is about as perfect as it gets. I have smaller hands for an adult, but as a result, I think this form factor is absolutely perfect for me. Don't get me wrong, it's not that I can't use larger phones, but I just prefer this size. It's delicious.
This year's S23 series all share the same back plate design (covered in Gorilla Glass Victus 2 with round camera protrusions. I'd say I prefer previous generations of the Galaxy S21 and S22 that had the camera bump molded into the side of the phone that looked a little like a pirate with an eye patch. Speaking of those side rails, they are aluminum with all the buttons on the right side of the phone.
This year's design is a bit more spartan or basic than those previous years. As always, it's a matter of taste as to which you'll prefer. I'm more in the eye patch camp, but if you're more utilitarian, this design has a lot going for it.
Samsung's finest display
Adam Doud/SlashGear
One of the hallmarks of a Samsung phone is the gorgeous display it carries, and the S23 is no exception. Like previous generations, the non-Ultra phones are relegated to a 1080p panel, and personally, I have never minded the resolution. I know a lot of folks will say "2K or get out" but I'm not one of them.
Put simply, the display is phenomenal, with gorgeous colors and deep blacks that feel like they could pull you in. The screen gets plenty bright, maxing out with a peak brightness of 1750 nits. Viewing angles are also spectacular.
As in the past, the screen has a 120Hz refresh rate or you can crank it down to 60Hz if you want longer battery life. Believe me when I tell you that will not be necessary, but we'll talk about the battery in just a little bit. For now, go ahead and crank up that refresh rate, and don't look back.
There can be only OneUI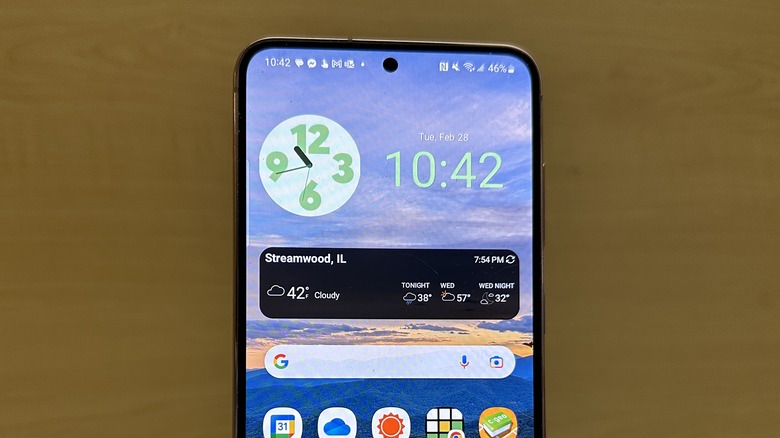 Adam Doud/SlashGear
On the software side, the phone runs Samsung's latest OneUI 5.1 based on Android 13. If you've used a Samsung phone in the past year, you probably already know what that entails. Arguably my biggest gripe about the software is the app launcher. Samsung continues to use the side-scrolling app launcher that maddeningly doesn't wrap from Z to A and vice versa. It makes finding apps annoying. Beyond that, the software on the phone is just fine.
The most fun feature on the Galaxy S23 is the Samsung Labs feature which of course comes with a disclaimer that it may not work with all apps, as always. Right now, there are four features in there and I love all of them.
First, you can force all windows to work with a pop-up view of split screen which is something every Android phone should have. Sure, apps may not work right, but that's a risk I'm willing to take. You can also add swipe gestures for popup view and split screen view, which is handy. I particularly liked this when I needed to keep an app open for a pickup, but I also wanted to read.
The last item is a small touch, but really smart — when you go into split screen view, the top bar with notifications, time, etc disappears which gives you an extra 10 or so pixels to play with. It's not a ton of extra room, but it's Samsung recognizing that every little bit helps.
Working with Windows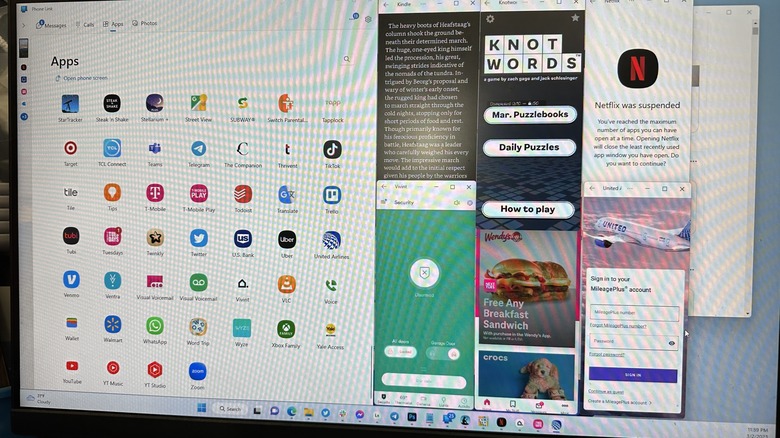 Adam Doud/SlashGear
What is new to Samsung phones is the connectivity with Windows, which is something I really enjoy. All Android phones can link to your Windows PCs and share messaging, notifications, and photos. Samsung phones can also share apps, which means you can open and interact with apps from your Samsung phone on your computer screen. Additionally, just last month Microsoft added the ability to connect to your phone's hotspot with a single click, similar to how MacBook and iPhones work together.
I'll be honest, that's the most impressive software aspect of the Samsung phones — the integration with Windows. Samsung and Microsoft have a very strong partnership, and it's good to see that bearing fruit. I just wish we'd see more of that cooperation with Android as a whole As it stands right now, this is about as close as you can get to Apple-level integration without using any Apple products. That's pretty awesome, and I love it.
Two-day phone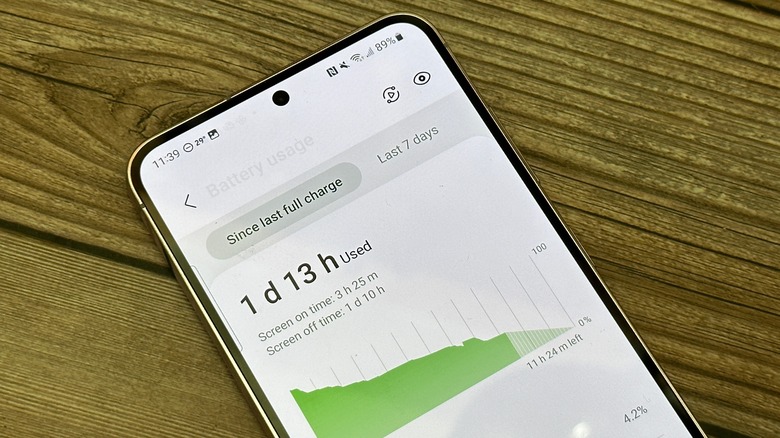 Adam Doud/SlashGear
Now we get to the meat of why I love this phone. In previous generations, the battery life on the vanilla S23 has been...less than optimal. That has definitely changed with the S23. Granted, my use case is a work-from-home on Wi-Fi all-the-time scenario, which doesn't give you a great feel on battery life. But even on days when I was out and about, and using the camera a lot, this phone barely blinked, and I easily got two days out of the phone without trying super hard.
Some of those two-day sessions included navigation which can be hard on a battery due to GPS usage and the screen being on constantly. Some of those days included light game-playing sessions, which are brutal on a battery. All the same, you would have to try to not get a full day out of this phone, which is really impressive considering it comes with less than a 4,000 mAh power pack.
The phone only charges at 25W maximum which is really unfortunate, but given Samsung's history with batteries and heat, it's fair to see them hedge a little bit. If this phone had fast charging, I would love it even more, but as it stands right now, this phone is a battery champion.
Souped-up Snapdragon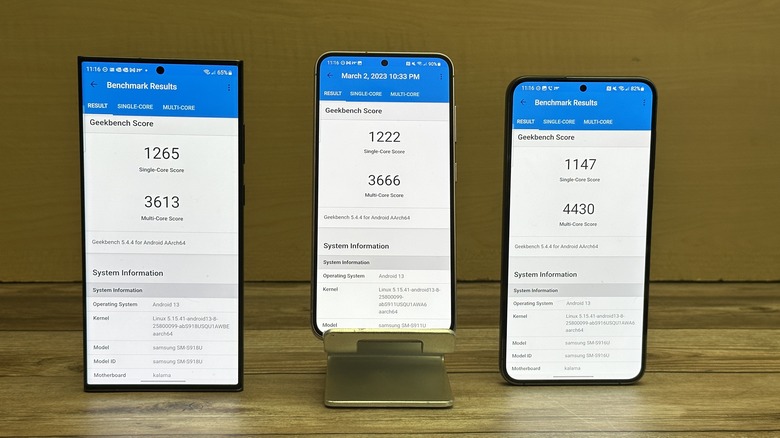 Adam Doud/SlashGear
Under the hood, all Samsung Galaxy S23 phones run the "Snapdragon 8 Gen 2 for Galaxy," which means that it's a processor specially designed for Samsung. Basically, what that means is it's a slightly overclocked version of the processor. On Geekbench that translates to single and multi-core scores of 1,222/3,666 on the S23, 1,147/4430 on the S23 Plus, and 1,265/3,613 on the S23 Ultra. They're all within the neighborhood of each other.
What that means for you is that this phone flies. I could not find a task that would bog it down, including gaming with "Call of Duty: Mobile," "Asphalt 9," and "Genshin Impact." That also includes editing and exporting videos with CapCut for TikTok. Both of those tasks have the ability to make a lesser phone's processing abilities drag, but that is no longer the case here. Modern flagships have caught up to the point where even the most demanding tasks barely put a dent into processing power, which is part of the reason they're all so expensive. Needless to say, there's a lot to love here.
Solid cameras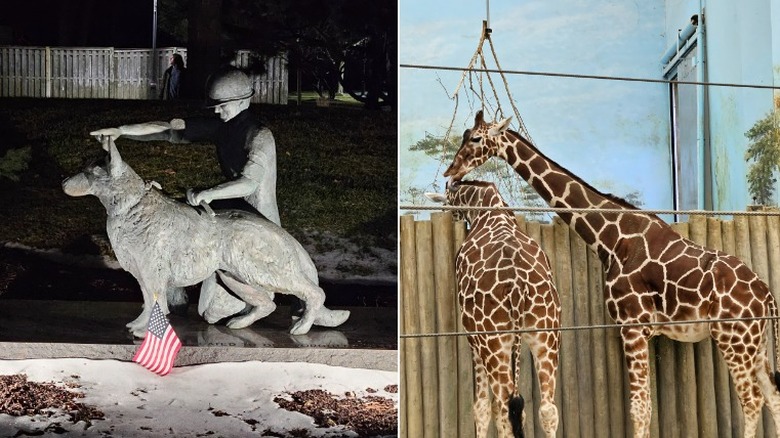 Adam Doud/SlashGear
The Samsung Galaxy S23 carries a triple camera setup on the back including a 50-megapixel main camera with f/1.8 aperture, a 10-megapixel telephoto sensor with 3x optical zoom and f/2.4 aperture, and a 12-megapixel ultrawide camera with 120-degree field of view and f/2.2 aperture. On the front is another 12-megapixel camera with f/2.2 aperture. During the day these cameras are all great, on both the photography and video side. Portrait mode is solid, just missing the occasional stray hair and that is also on both the front and back cameras.
At night, things get more basic. Night shots are usable from the main sensor, but not really from the ultrawide sensor. Telephoto is a pretty mixed bag with some shots doing pretty well and others falling short. Video is not terrible as long as you're stationary and only your subjects are moving. If you start to move as well, your footsteps will cause judder. I noticed in a few shots, if the subject you were tracking happened to be pretty bright (e.g. walking past a light source) once the camera found enough data to focus on, electronic stabilization took over and cleaned things up. I wouldn't count on that though.
Night performance on this phone is about as good as you'll get on a phone (that isn't the Ultra), which isn't to say it's great, but it's definitely not bad.
Galaxy S23 Camera vs. Galaxy S23 Ultra Camera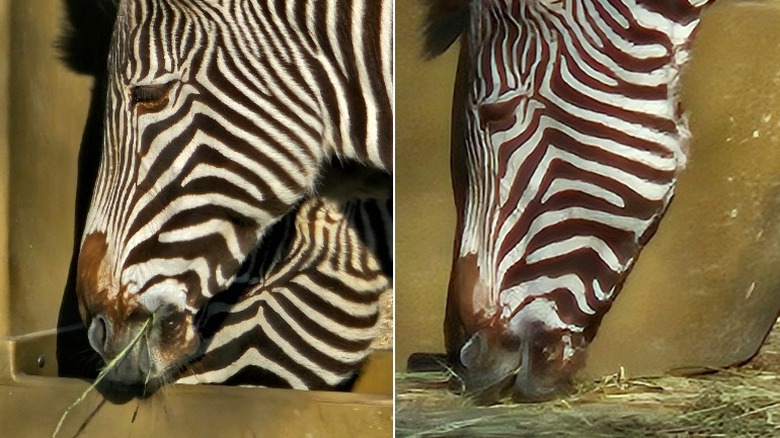 Adam Doud/SlashGear
Zoom on the Galaxy S23 is capable of capturing up to 30x hybrid zoom, so I wanted to see how well it could perform against the S23 Ultra which historically has been pretty good, right up until 30x before things fall apart. I'll be honest, looking at the photos on the phone screen, I was getting nervous that maybe I had bought the S23 Ultra for nothing and the S23 could keep up.
I was mistaken. Photos in this section have the Galaxy S23 on the left and the S23 Ultra on the right. The results are clear. Clearer than they were comparing the Galaxy S23 Ultra to the Google Pixel 7 Pro, anyway.
For the most part, the cameras on the S23 are very good up until 3x zoom — but go beyond that at your own peril. For a lot of situations, 3x is plenty, but when you go somewhere like the zoo, more zoom is even better, and after 3x, the S23 falls flat.
The S23 Ultra also beats out the S23 at night where that 200-megapixel sensor really gets a chance to shine — no pun intended. While the night shots coming from the S23 are good, and even very good at times, the night shots from the Ultra are pretty great. This is especially true in nighttime videography, where the Ultra pantses the S23 and takes its lunch money.
If you never intend to do more than post photos on social media, you can get away with the S23 or S23 Plus. If not, 3x zoom is your ceiling, while the S23 Ultra can often manage 30x zoom which is a pretty big difference.
Wrapping it all up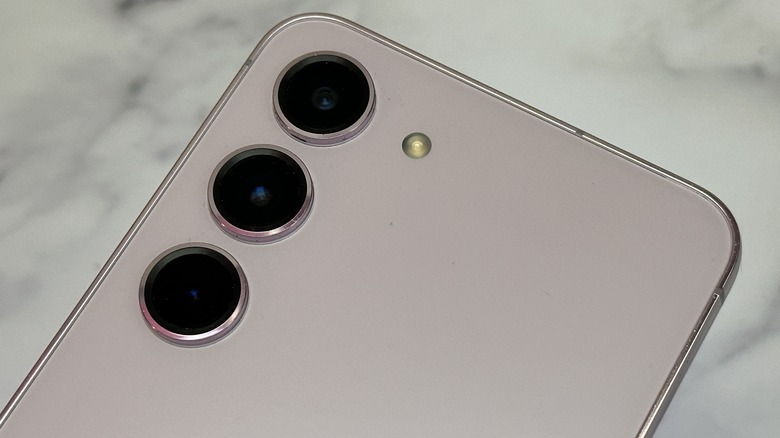 Adam Doud/SlashGear
So where does that leave us? Bottom line, the Samsung Galaxy S23 is a solid buy, almost a steal at $799. At $999 the Samsung Galaxy S23 Plus is a little bit on shaky ground. Yes, you get a bigger screen and a bigger battery. If you're into that, go for it. Personally, a 6.1-inch screen is my happy place. I'll still carry the Ultra because the cameras are objectively better in most scenarios and frankly it's the one I bought.
But if you're in a situation where you want to buy a phone and you can't manage the $1,200 needed for the Ultra (and no one will blame you) then the S23 is a very viable alternative for two-thirds of the price. That's not nothing. The only place where you'll be found wanting is night-time photography, which is universally hard to do, and a lack of S Pen which is another great feature of the Ultra.
There's very little reason to not like this phone, especially if you don't have an Ultra to compare it against. This phone easily stands toe to toe with its chief rival the iPhone 14, especially if you have a Windows PC, and let's face it, statistically speaking, you probably do. I would even go so far as to say that the iPhone 14 Pro might be the closer rival here because of its 3x optical zoom camera. When you compare those two, I'm not sure the Dynamic Island is worth an extra $200.
My only real complaint is with OneUI's app launcher, and I'd like to see Samsung do better at nighttime photography without the 200-megapixel sensor. Things are good, but not quite great, and in a 2023 flagship, great is expected across the board. Even so, this phone is very impressive and a very solid buy, even at its retail price.