12 Awesome Tuner Cars That Won't Break The Bank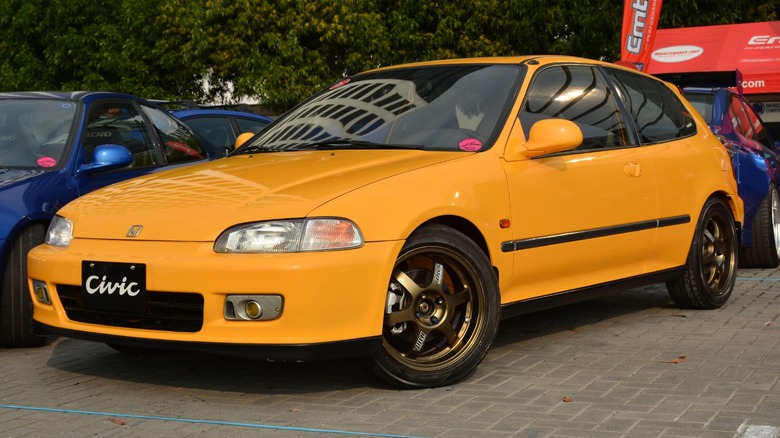 Walter Eric Sy/Shutterstock
Automobiles represent one of the most popular hobbies in the world and the market for customization is worth billions. Custom cars also have a long history stretching back as far as the origin of the automobile, with innovations developing from the bootlegging era during prohibition and the hot rod scene in California in the '50s. This trend continued through the muscle car era and still didn't wane even through the days of emissions controls that killed power in the cars coming out of Detroit in the '70s. By the end of the 20th century, the popularity of Japanese and European imports changed the character of the custom car, with front-wheel-drive and computer-controlled engines altering tuning methods dramatically.
Today, the market for aftermarket upgrades and custom accessories is as big and healthy as ever. With the advanced technology involved in the manufacture of new cars, the methods of increasing performance have also become more sophisticated. Additionally, while just about any car can be modified, some are better suited than others. Most folks don't have any desire to create a minivan that can run a fast quarter-mile, and other cars just don't have any parts available for them, forcing a lot of difficult fabrication and adaptation of components. These just are not worth the time, expense, or effort. But a lot of cars are worth modifying, and these 12 tuners won't break the bank.
Mazda MX-5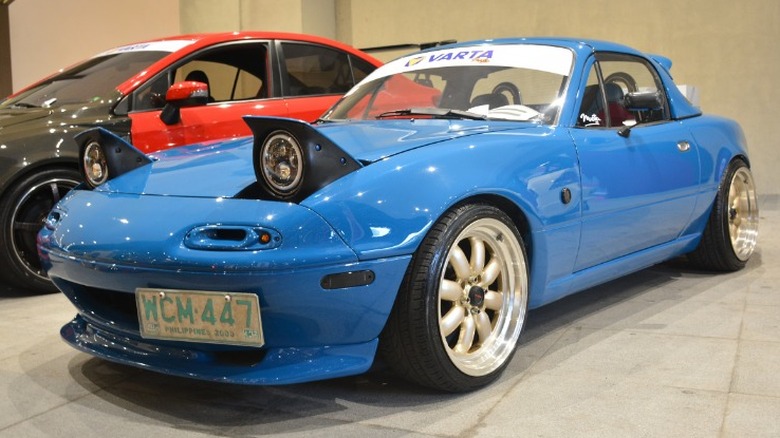 Walter Eric Sy/Shutterstock
Mazda introduced the MX-5 in 1989, reviving the concept of the small convertible roadster made popular by British cars imported in the decades after WWII. Marketed as the Miata in the U.S., it was inexpensive and lightweight, and Mazda's overhead-cam 4-cylinder engine proved to be robust and reliable. Now in its fourth generation, the MX-5 is a part of the fabric of American highways, and Mazda is quick to boast that it is the most raced model on any given weekend in the country, modified and set on the track by more amateur racers than any other car.
With such a long history of sales and the popularity of using it for a racing platform, aftermarket parts are abundant, with many specialist fabricators and retailers dedicating all of their time to this single model of car. Flyin' Miata is a well-established website selling parts for all generations of Miata bumper-to-bumper and most other automotive performance-oriented retailers offer an array of upgrades as well. Installing new air intake, exhaust, brakes, and struts are all relatively affordable upgrades that can be done in a weekend, making the car ready for an autocross or track day.
Non-running but restorable examples can be found for as little as $1,000 while running used models in excellent condition can be found for under $10,000, making both options a good place to start for a quick and good-handling fun car.
Honda S2000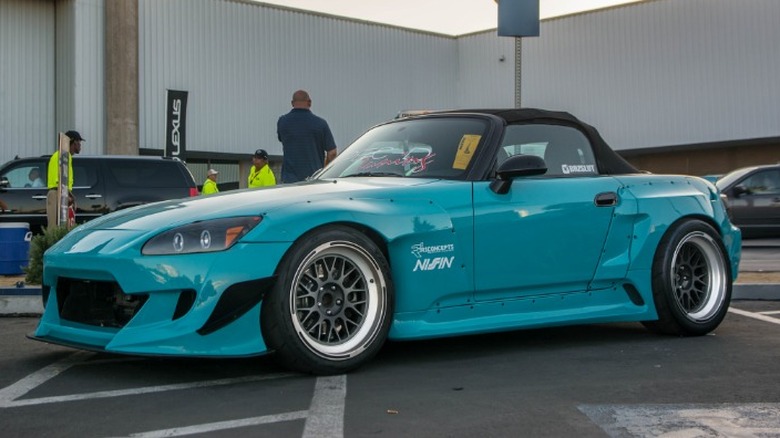 Johnnie Rik/Shutterstock
While Mazda had a lock on two-seater convertibles throughout the '90s, Honda entered the fray with its S2000, a front-engine coupe with a tough 2.0-liter 4-cylinder engine that tuners love. While it only lasted a handful of years in production, it proved a potent challenger. From the factory, the S2000 was equipped with a 2.0-liter 4-cylinder with VTEC dual overhead cams that made 240 horsepower, a respectable figure. This made the car relatively powerful and its low weight and small size gave it go-kart-like handling.
Honda produced this car from 2000 to 2008 and values have remained strong. Unfortunately, the most expensive part of tuning an S2000 will be acquiring the car itself. Listings on Edmunds show a range starting at $17,000 that goes all the way up to $35,000 for cars well over a decade old. But once you have the car, the upgrades can be completed easily for reasonable prices. Some of the most cost-effective upgrades include a higher-flow intake and exhaust, each of which can cost a few hundred dollars. However, the engine in the S2000 is tough and can handle a lot of abuse, which leads many owners to use a turbo or custom supercharger conversion kit to boost the power close to 500 horsepower. Cost of these can range from $3,000 to $5,000 and can be worth the money for those wanting that much grunt under the hood. While the Honda S2000 is not the cheapest tuner around, it can be a really fun car for far less than comparable models currently sitting in showrooms.
Nissan 350Z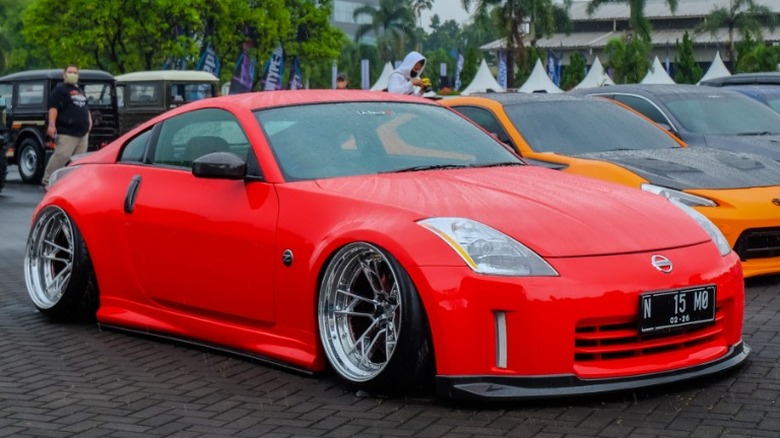 Rakhmat Darmawan/Shutterstock
Nissan Z cars have been the pinnacle of affordable Japanese sports car building for more than half a century at this point. Over every generation, these cars have proven to be fun, fast, and reliable cars that can keep up with the best of them around a corner and through the straights. Best of all, they are endlessly tunable and a wealth of experience and information has been gathered over the years to help make yours the best possible.
The 350Z is a great place to start for a tuner because excellent low-mileage examples can be found for between $10,000 to $15,000 and others with more wear and tear can be picked up for under $5,000. Then, the world of Z parts is huge, especially since these cars have a fanbase that stretches back to the '70s. For the 350Z, produced from 2003 to 2009, upgrades can be bought for just about every part of the car from wheels and tires to internal engine parts. Some popular upgrades are cool air intakes, exhaust, and coilover shocks. Drifted offers a complete tuning guide with options for nearly every performance upgrade. Also, for an in-depth look at the range of parts that can potentially turn your Z car into a beast, Donut Media on YouTube has a series in which both cheap and expensive parts are compared for performance on a pair of 350Z cars with endlessly entertaining results.
Ford Mustang Fox Body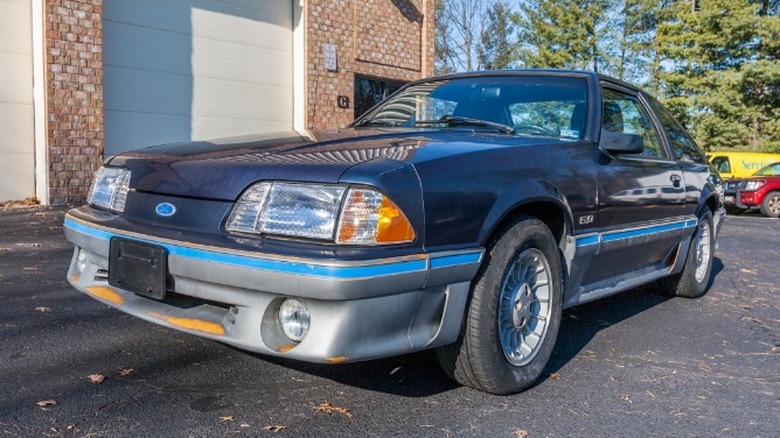 Kevin Bruce Photos/Shutterstock
The Ford Mustang introduced in 1979 quickly became a breakout model that helped the company move past the "malaise era" of automaking with uninspiring and low-power automobiles. The new Mustang was fresh and exciting and it evolved into a fast and affordable street racer that everyone loved to tune. It was a top seller and, since it was a Ford, parts were plentiful and cheap and that remains true today some three or more decades later.
While Mustangs from the '80s and '90s are fast becoming extinct, there are still some to choose from that are not yet rusted into a pile of ore. The pricing of such cars runs the gamut from a few hundred dollars for one that essentially needs a total rebuild to tens of thousands of dollars for perfectly preserved special editions, such as the SVO. Whether you pick up a 1980 model with the 5.0-liter V8 with a carburetor or a 1990 model with the H.O. multiport fuel-injected 5.0-liter, parts and upgrades can be found anywhere from dozens of sites online to most auto parts stores in your neighborhood. For example, American Muscle explains that the Ford EEC-IV ECU used from 1983 to 1993 can be tuned for added power by swapping the processing chip and upgrading a few sensors, and adjusting the tune. The chips run about $300 and a few hundred dollars more can get you the rest of the gear needed to shave time off of your quarter-mile.
Nissan 240SX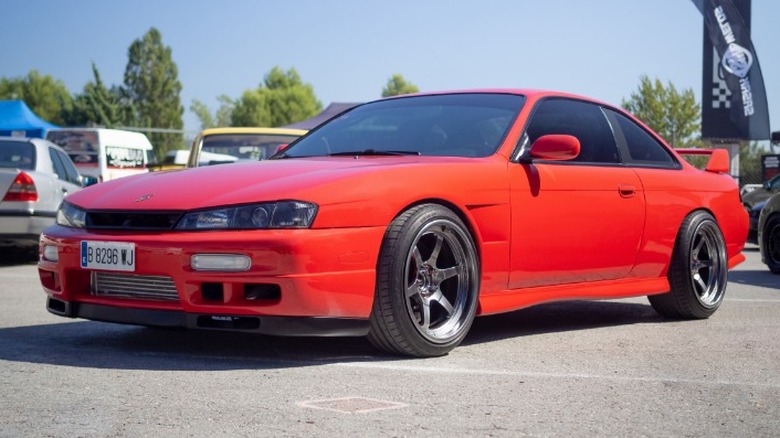 Roman Belogorodov/Shutterstock
The 240sx was a somewhat unassuming car when it was new in the showrooms, but it turned out to be an excellent drift car and that sent its popularity through the roof. It takes the popular form of a front-engine, rear-drive coupe — also offered as a hatchback — that offers a moderate amount of room with excellent handling. The 1989 to 1994 240SX originally came with a 2.4-liter 4-cylinder engine that produced a modest but adequate 140 horsepower. While the Japanese market version was offered with turbo models cracking the 200 horsepower mark, the 2.4-liter engine remained the same throughout the North American run. This decision by Nissan has led the 240SX to be one of the most modified cars from this period on the market. Hagerty Insurance claims in its quotes for insurance for this car, 52% of them are marked as modified.
Today it is hard to find a 240SX in its original form. Low mileage examples can fetch upwards of $10,000, but, with a little effort, you can find them in good condition for less than that. Once you have one, the best parts and guides to modifications are geared toward drifting, as this car is one of the best cars ever made for drifting. Common upgrades include getting more air into and out of the engine, with inexpensive turbos being a popular option. However, suspension upgrades should be in order for everyone as this will be the best way to help get the tail kicked out around the corners and push this car the way it likes to be pushed.
Mazda3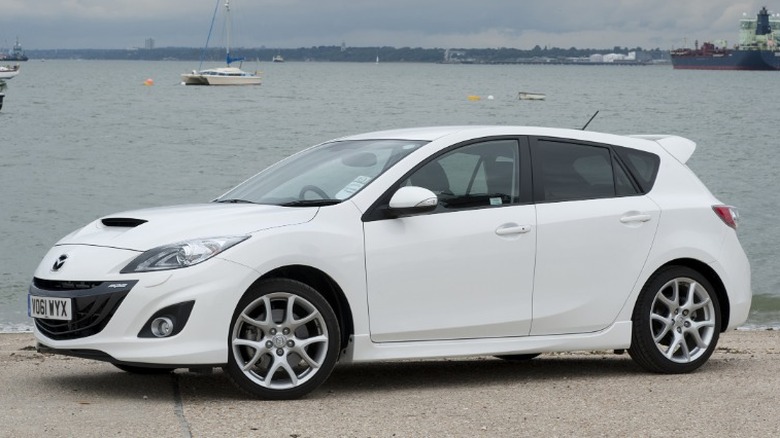 Heritage Images/Getty
The first Mazda3 went on sale in 2004, receiving accolades from the motoring press for its abundance of standard features, excellent handling, and sophisticated technology compared to its rivals. Furthermore, the cars were attractive and sporty, especially when compared to the competition. Mazda followed up that success with the turbocharged MAZDASPEED3 in 2007, stuffing a direct-injected turbo 2.3-liter engine and 6-speed transmission in the 5-door hatchback version, which kicked out 263 horsepower and 280 pound-feet of torque. It was affordable, attractive, and most of all, fast.
Mazda sold millions of the turbo and non-turbo versions and they both have become favorites of fans of the hot hatch. Values are modest and either version of the car can be picked up for a reasonable price, with few of the nicest examples exceeding $10,000, making it an excellent place to start for tuning. Additionally, Mazda's commitment to racing and the legion of Mazda racing fans around the world have contributed to a robust aftermarket with options to modify almost anything you want from mild to wild. Cork Sport, for example, offers a broad selection of performance upgrades for a range of Mazda vehicles only. Boosting stock power to 300 horsepower is relatively cheap while squeezing 400 horsepower out of the Mazda 2.3 is not out of the question with a little bit of a larger budget and more time.
Subaru WRX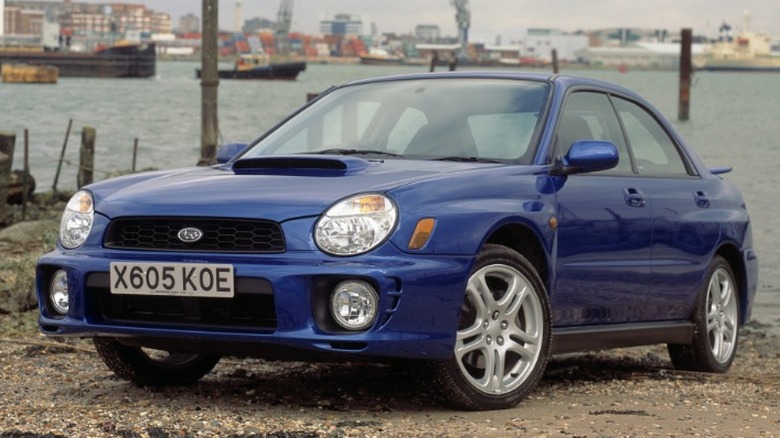 Heritage Images/Getty
Although Subaru came to the high-performance game a bit later than everyone else, it did not fail to show up prepared. The WRX line is Subaru's high-performance version of the Impreza and its roots go back to the early '90s. The earliest models were limited to the Japanese market only but were impressive machines with 0-60 mph times of less than five seconds and horsepower ratings nearing 300. The first ones in the U.S. came in 2002, and their distinctive headlights earned them a "Bugeye" nickname.
All of the WRX models from 2002 are equipped with turbocharged 4-cylinder boxer engines that offer a low center of gravity and myriad tuning opportunities. The hallmark Subaru AWD system also gives these cars excellent grip in all conditions, and that also makes Subarus popular models for rally racing. Some of the most common upgrades available to a WRX include an improved blowoff valve, cool air intake, front-mounted intercooler, and free-flowing catback exhaust. These mods can run a few hundred to a few thousand dollars. When done in the right combination, they can prove to be worth the money for a significant boost in overall power.
The biggest expense of using a WRX can be the initial purchase price as they do hold value well. CarGurus lists the average price of a used WRX from around $10,000 to $19,000 for 2004 through 2015 models.
Toyota FR-S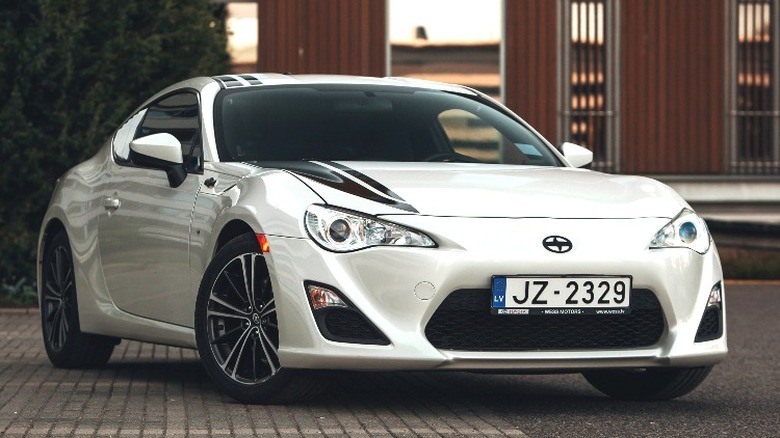 BoJack/Shutterstock
When the Toyota/Subaru FR-S/BR-Z joint project sports car was originally released, the power rating was not anything particularly spectacular. Both Toyota and Subaru models feature a 4-cylinder boxer engine from Subaru, but with significant development contributed by Toyota, and a chassis jointly developed by both companies. This car is not about being the most powerful tire-burning monster on the track, but a balanced model with good handling and enough power to make the most of the platform. Huge power is not necessary to fully appreciate this vehicle, but it can be extracted from it, and this car is built in a way that suggests owners are meant to tune it straight out of the showroom.
With such a great platform for modifying and tuning for higher performance, it should be no surprise a large selection of parts are available at various price points. Some of the common upgrades include a high-flow intake and performance headers. Other changes include flashing the ECU to increase performance, but that will require some expertise to do it properly. Tuning Pro lists a series of upgrades that can increase horsepower by 50 for about $2,000, which is a reasonable price for that sort of increase.
Toyota originally marketed the FR-S under its Scion sub-brand in the U.S. and now calls it the Toyota GR86. A new GR86 runs about $30,000 with pricing on the Subaru being roughly equivalent. Used values remain steady for these cars, so expect to pay $12,000 to $15,000 for some of the earliest ones and more than $20,000 for newer copies with low miles when looking through local listings on Facebook Marketplace.
BMW E36 3-Series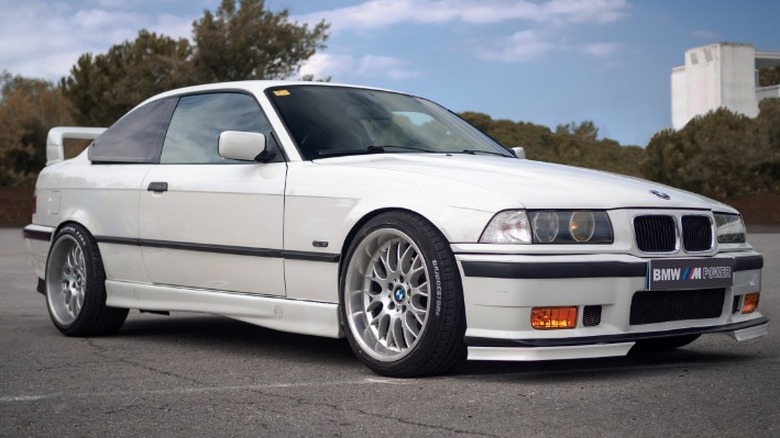 Roman Belogorodov/Shutterstock
BMW has long been known for building great driving cars with spirited driving and performance in mind. Its 3-Series, which includes cars such as the 318i, 325is, and the legendary M3, has long been the sporty entry-level coupe and sedan that still offers the upscale quality expected from the brand. The internal manufacturer designation for these models is E36 — commonly used by BMW enthusiasts referring to 3-Series cars built from 1990 to 2000 — and these cars are some of the best models made by BMW for tuners and amateur racers.
The most popular model for tuning is the 325 dues to its durable 2.5-liter inline-6 engine with VANOS variable valve timing. These cars came from the factory with just under 200 horsepower but the engines are strong enough to withstand a considerable increase. For tuners, the fanatical nature of BMW enthusiasts translates into availability of a wide variety of performance parts and a wealth of information from specialists online. These cars benefit from common upgrades such as cool air intakes and new exhaust systems, and A Better BMW recommends a factory intake manifold swap that increases airflow and, more importantly, a coolant system upgrade to avoid overheating and a common cooling system failure on these cars. With an E36, you can spend as much or as little as you want to squeeze a bit more out of it.
Perhaps the best part of tuning an E36 is buying one. There are still millions of them on the roads and looking through listings on CarGurus, you will find it is easy to pick one up for a few thousand dollars, even in running condition.
Honda Civic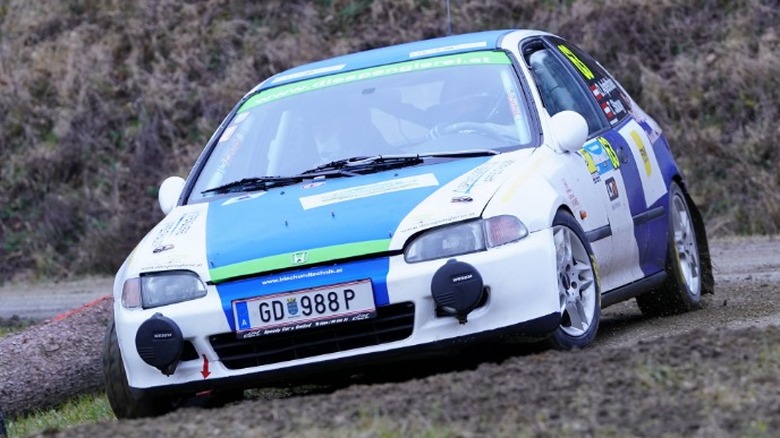 Markus Tobisch/Getty
When Honda first released the Civic, it was nothing more than a small and economical car that happened to be utterly reliable and well-built. Over the years, the Civic was improved and became a mainstream car found everywhere, and tuners soon started working to get an increasing amount of power out of them. This led to the Civic being one of the most popular imported tuner cars you can find. Furthermore, Honda has embraced the desire for hot Civics and released several high-performance models over the last couple of decades.
Since the Honda Civic is one of the best and longest-selling cars of all time, there are millions to choose from. Hatchbacks appear to be preferred by most tuners based on conversations on forums, but sedans work just as well. The Civic is also one of the cheapest cars to modify as parts and kits are plentiful. For example, turbo kits with everything needed start at around $1,000. Otherwise, a few hundred dollars can get intake and exhaust, and just a few hundred more can get a new suspension all around. The Civic is one of the most versatile tuner platforms available.
The Honda Civic is also likely the cheapest car to purchase. If you want to start from the ground up, a non-running example with a straight body should be easy to find for less than a grand, and a running car a little rough around the edges will be more than about $3,000.
Mazda RX-8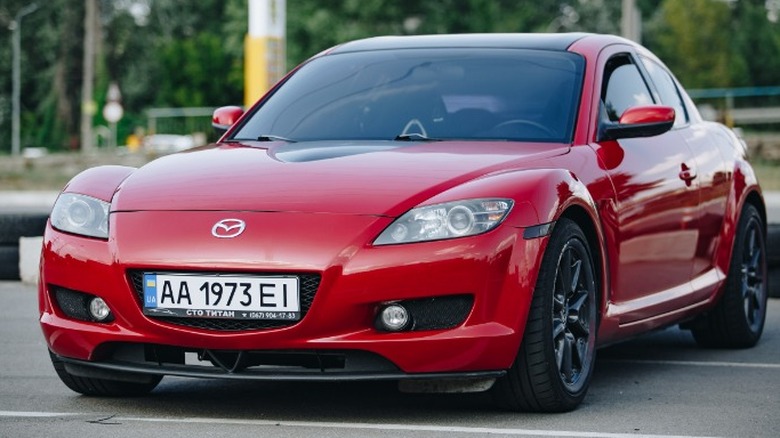 hurricanehank/Shutterstock
As the only modern company to build and market the Wankel rotary engine, Mazda has always been a bit of an outlier. Yet, the RX-8 and its predecessor, the RX-7, are beloved by niche tuners who can work magic with triangles. It takes dedication and fanaticism to want to undertake a rotary engine as a project. But when you have it right, there is nothing like it. The RX-8 is the successor to the popular RX-7 and is today the only rotary sports car that is easily and affordably obtained. But once you have it in possession, aftermarket support remains strong.
With a lack of valves and camshafts, the focus on tuning a rotary is squeezing as much air and fuel into the engine as possible. The best upgrades for an RX-8 include upgraded intake, exhaust, and ignition system in conjunction with an ECU flash. An easy and affordable way to improve handling is to install a set of coilovers, as the RX-8 shines when pushed through the corners. Additionally, online retailers such as Mazdatrix and Racing Beat specialize in rotary performance and include many guides for upgrades and installation.
The RX-8 is a car that could become a future classic with high auction values, but that has not yet happened and they can be picked up affordably. With the exception of extraordinarily well-preserved cars, used RX-8 models can be easily found for between $5,000 to $10,000.
Acura Integra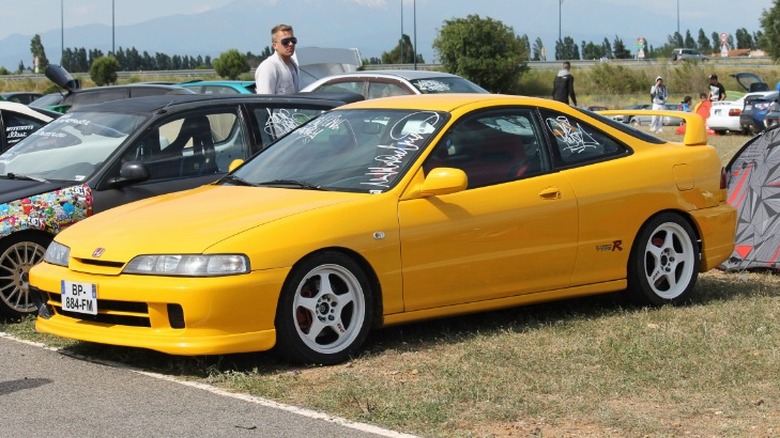 adolf martinez soler/Shutterstock
For Honda fans, the only thing better than a Civic is the upscale version of the civic from Acura, the Integra. First produced in 1986 and discontinued in 2001, the Acura proved to be a popular elegant small car that offered a highly refined ride with Honda reliability. While all of the Integras offered good performance from their relatively small 1.6 and 1.8-liter engines, it was the Integra that Honda used to introduce the American market to a Type-R Honda with the 195 horsepower Integra Type-R. This cemented Integra's place as a sporty and tunable car.
Acura has revived the Integra name for 2023, but the original run of Integras remains popular, especially among import tuners. Getting a Type-R is probably out of the question as recent auctions have seen them reaching absurdly high bids, with one selling on Bring a Trailer in 2022 for $112,112. Other more pedestrian models can be found for less than $10,000.
Tuning an Integra is not much different from other Hondas and parts may be a bit more costly but still reasonable. A couple thousand dollars can get you a turbo while a few hundred could handle an intake and exhaust. Just like anything, it is all relative to what you want to accomplish but it will still come in way under the price of a new performance car.