2023 Acura Integra First Drive: Rebooted Icon Makes Almost All The Right Compromises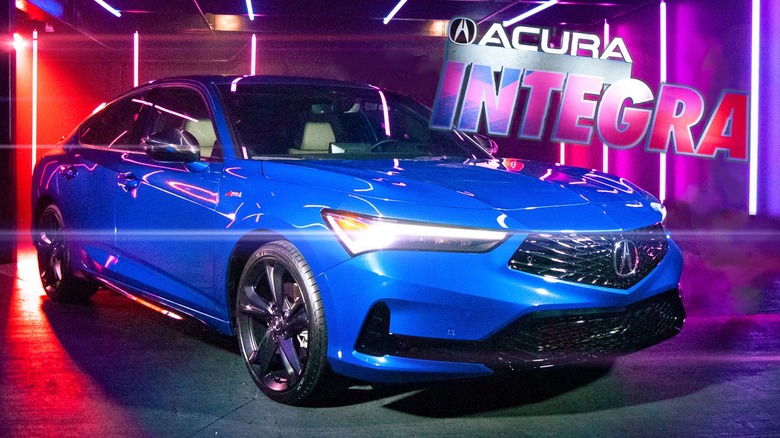 Talon Homer
Acura's long-anticipated Integra reboot is finally here. After the last generation — known as the RSX in North America — was discontinued in 2006, fans have been bemoaning its absence. A successor called the ILX came around 2012, and was met with a lukewarm reception. A decade later, the ILX is in desperate need of replacement, which also gives a perfect opportunity for the Integra nameplate to make its return. Question is, can the new car live up to 15-years-worth of built-up hype?
Since the name Integra has meant a lot of different things to different people through the 90's and 2000's, enthusiasts are probably wondering, "What exactly is this car?" Is it a sensible compact for young drivers? Is it a comfy luxury sedan, or is it a hard-edged high-revving hot hatch? Truthfully, the car as it's built isn't any of those things, but it manages to be an amalgamation of them: a pretty satisfying balance of performance, practicality, and luxury, at an enticing price. For this review, I tested two Integras, both equipped with A-Spec and technology packages. The primary difference being that one used a six-speed manual gearbox, while the other had the base CVT.
Acura is specifically targeting millennial buyers with the new Integra, and took a lot of input from that demographic during the development process. Their hope is to woo young professionals who might just be making their first big new car purchase, and want to get into "something sporty." To match this vibe, Acura invited us to Austin, Texas to check out the car, while playing hits from Mary J. Blige and Ludacris.
Exterior & Chassis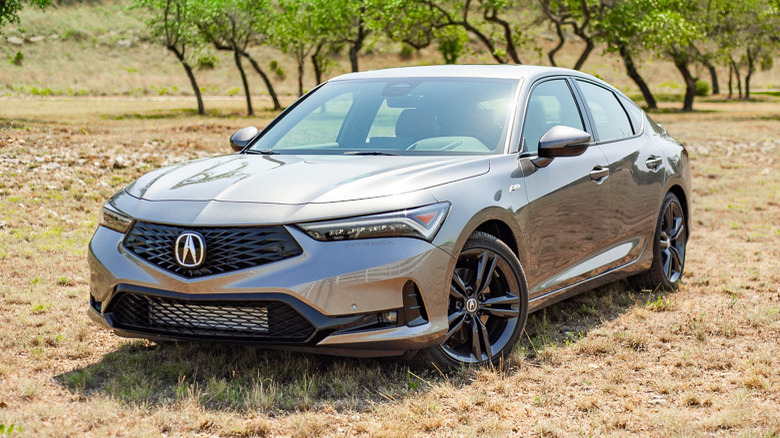 Talon Homer
Like the first model launched in the United States, the new Integra is available as a five-door liftback with sloped coupe styling. Also like its predecessors, the Integra rides on Honda Civic hardware, this time being the 11th generation Si sedan. Most of the floorpan is shared with the Honda, but the roof and body structure are newly-designed, giving the Integra its own look. Chassis rigidity and road noise reduction are also improved over the Civic, which lends to a more premium driving feel.
On the exterior, the Integra's styling mostly follows Acura's corporate design language, which doesn't feel like it's changed all that much since the last model went out of production. The new car does inherit a few classic Integra styling cues, like the sloping roof shape and embossed lettering on the front and rear of the body.
I'm not fully in love with the exterior look of this car, but I don't have anything to complain about, either. In the driver's seat is where the Integra really makes its impression. Paint selection is also lacking to my taste. A navy-ish blue and crimson red are the flashiest color options on deck, with a limited edition yellow available only to the first run of cars. All the examples on our press drive were in various shades of gray.
The Integra is 185.8 inches long by 72 inches wide: only a couple inches larger than the Civic SI in either direction. Wheelbase is the same on both cars, at 107.7 inches. It packs on about 150 pounds over the Honda, weighing in at 3,073 pounds with the 6MT, maxing out to 3,150 with the tech package and CVT. Still impressively light considering the amount of airbags, noise dampening, safety sensors, and stereo equipment they're shoving into this small chassis.
The Engine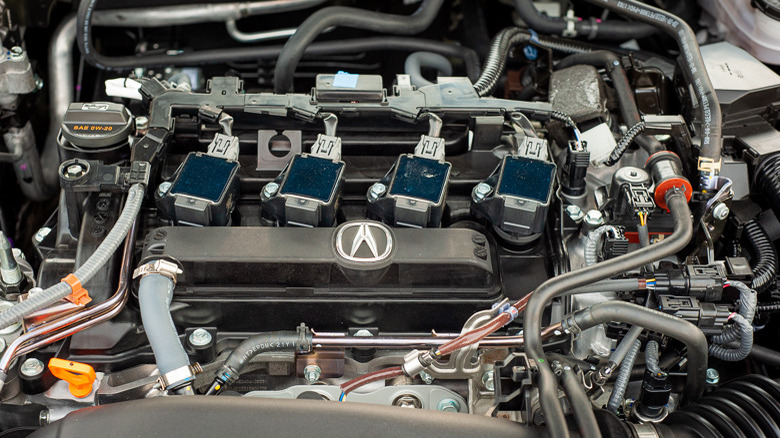 Talon Homer
Every model of Integra will be powered by the same 1.5 liter turbocharged four-cylinder found in the current Civic Si, with dual overhead camshafts, 16 valves, and VTEC variable timing on the exhaust side. Acura rates it at the same 200 horsepower and 192 lb-ft of torque as the Civic, but they do mention that the software tuning is new to the Integra. I've driven plenty of engines with similar figures, but none of them 'felt' as powerful as this one. Probably due to the 1.5T's distinct torque curve.
Looking at the graph, the engine reaches its peak torque at a low 1,800 RPM, and holds that steady all the way up to 5,000. As a result, power delivery is steep and linear, building and building up until it flattens out just before redline. The four-cylinder is always eager to accelerate, feeling much more like a large-displacement naturally-aspirated than a typical turbo. It manages to be whisper-quiet at cruising speeds, then lets out a lovely VTEC growl at the top half of the rev range. Turbo spooling and blowoff noises are basically inaudible to my ears.
The redline arrives at about 6,500 RPM, and some Honda die-hards will no doubt be disappointed that the tachometer doesn't shoot past eight grand. The days of high-strung naturally aspirated engines are firmly in Acura's past, however, and I think that the extremely linear power delivery is a worthwhile tradeoff when it comes to everyday street driving. It also posts pretty economical mileage figures, rated at 30/37/33 MPG with the CVT, and 26/36/30 with the manual. 91 octane fuel is recommended.
Manual Driving Impressions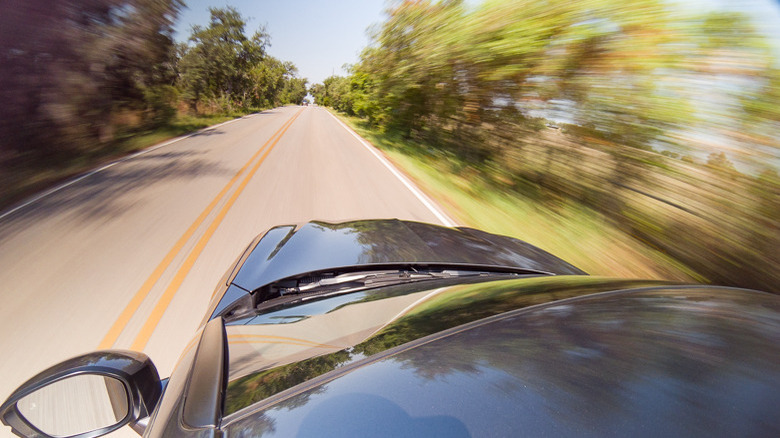 Talon Homer
Acura's really got a winner with this stick shift transaxle, also inherited from the Civic Si. The clutch is comfortably light and forgiving, even in Austin's stop and go traffic. The grab point is right at the center of pedal travel, and holding it there allows for slow creeping at stop lights. Hill starts were also relatively breezy compared to other manuals I've driven. The shifter is short and notchy, so gear selections have to be made with authority. The shift knob uses a leatherette material with an aluminum cap, which managed to stay comfortably cool in the Texas heat. Gear ratios are identical to the Civic, with a 4.35 final drive. The 6MT also gains a limited slip differential.
I would have no problem at all recommending the Integra as your first manual car. With a training buddy, a novice driver could probably get the hang of this transmission in a single day of practice. The lightweight flywheel and auto rev-matching take all the guesswork out of downshifting, and the car feels almost impossible to stall in first gear. Once you make it to sixth, adaptive cruise control turns the Integra into a very comfortable highway cruiser.
There are a couple gripes to make about this transmission, however. First gear almost feels too short to my taste, spinning high RPMs even while going through parking lots. The gap between the first and second ratios is also quite wide, making the one-two shift less smooth than other gear selections. Spacing on the brake and accelerator is also not totally conducive to heel-toe shifting. To hit both pedals, you'll have to pivot your ankle a lot, especially with smaller feet. Luckily, the auto rev match setting is perfectly usable on its own.
CVT Driving Impressions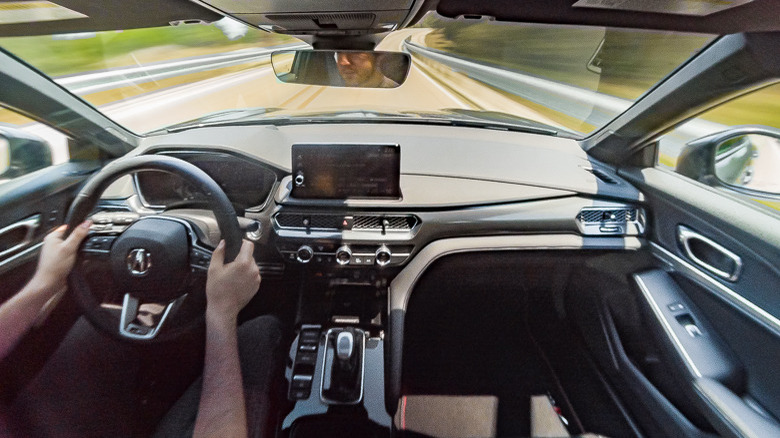 Talon Homer
Before I got a chance to drive the CVT Integra, the Acura reps made a lot of promises about how they massaged and tuned the pedestrian transmission to be properly sporty. In that respect, I was let down. The car was still fast. Nearly as fast as the manual, but its acceleration comes without any drama whatsoever. It's too smooth, with no mechanical sensation of gearshifts. The transmission also has to contend with an open differential. It's not bad, but it turns the Integra from something special, to just "a nice sedan." Perhaps I would've liked the auto more if I hadn't just hopped out of the manual car.
The CVT also gets paddle shifters, which ping the transmission to seven preset gear ratios. In manual mode, the artificial shifts are still completely numb. You feel like you're driving the Integra in a video game, with the digital tach jumping all over the place. The auto gear selector and paddle shifters also feel cheap and plasticky, which stuck out to me compared to the nice shifter on the 6MT.
When you use the paddle shifter, the CVT will drift back into auto after some time, which you can prevent from happening by moving the console shift down to sport mode. However, grazing that 6,500 RPM for even a split-second will always cause the system to take back control, as if to chastise you for childish behavior. I also noticed that the engine turned 2,500 RPM in '7th gear,' but around 2,000 in auto, so mileage will likely take a hit if you leave it in sport mode.
I'm curious about how different the Integra would feel if they had used a dual-clutch or traditional auto in place of the CVT. However, that transmission is what's currently available in the Honda parts bin, and it gives fuel economy advantages. If you're using the car for Uber or something of that nature, passengers will probably be thankful for the smooth engagement, but it becomes less of a driver's car.
The Cockpit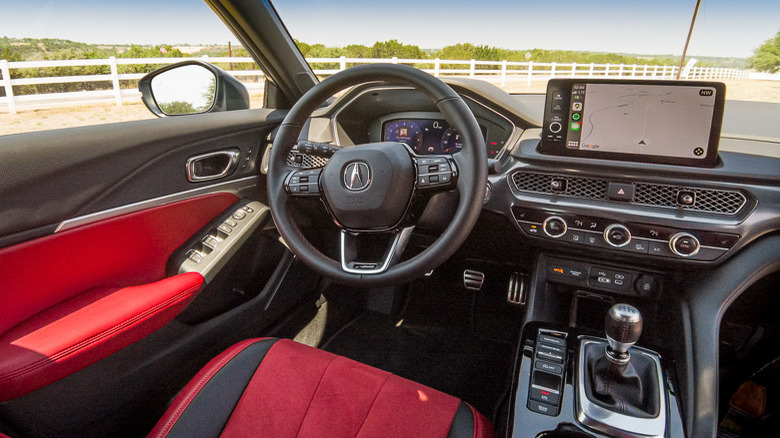 Talon Homer
The cockpit design is where Acura put a lot of care into the new Integra. The synthetic leather sport seats provide a good balance of comfort and bolstering, with the tech package gaining soft suede inserts at the front. Our car came with the red interior, providing a nice contrast to the silver body paint. All trims offer a seat heating function, but lack cooling. Lumbar support was substantial, with a great degree of electronic adjustment. Some extra upper back cushioning would've been a welcome addition, but the seats proved comfortable over hours of driving.
The steering wheel is round, without any flat bottom. It uses a similar leatherette to the seat and shifter, which is nice and grippy without leading to sweaty hands. Physical buttons for music and cruise control selection are located in accessible and intuitive spots, right at the front of the wheel. Vertical and telescopic adjustments are also handled manually on every trim.
All Integras use fully digital gauges, which I don't usually prefer, but this digital cluster is so legible and responsive that I almost immediately forgot I was looking at a screen. Gauge elements and colors can also be customized to driver preference. A HUD is projected onto the windshield, showing off info like vehicle speed, compass direction, and turn-by-turn navigation. The HUD image frequently got cut off when I tilted my head too far, but its alignment can at least be adjusted to better suit the driver's height.
In the center console you get physical buttons and knobs for climate control, and an additional knob up top for music volume. Stereo, navigation, settings, and other app controls are handled on the touch screen, which can mostly be disregarded during actual driving. The base Integra features a seven-inch screen, while the tech package gains a larger nine-inch one.
Apps & Settings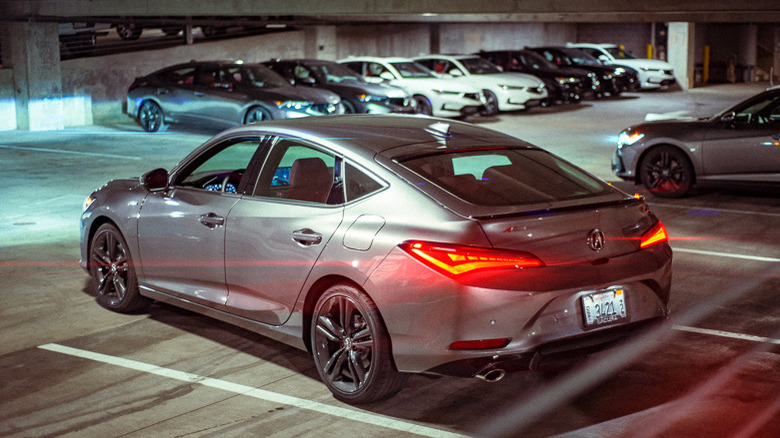 Talon Homer
Apps all need to run through your phone using Apple CarPlay or Android Auto. That includes navigation, which can be an annoyance if your phone discharges or malfunctions. The base model also requires a wired connection, with the tech pack able to cut the Apple CarPlay and Android Auto cord and also including a wireless charging pad. All Integra have one USB-A and one USB-C port up front.
With fully electric throttle and steering control, many facets of the driving experience can be individually adjusted to comfort, standard, and sport modes. Sport mode tightens up slack and quickens response of the car's systems. The variable electric power steering automatically tightens its ratio for low-speed cornering, and softens at highway speed. I felt the steering was a bit numb in comfort and standard, but very natural and intuitive in sport mode.
The engine set to sport mode is all-around louder and quicker to rev, which I tended to prefer. The tech package also comes with electronically adjustable suspension, which I mostly left in comfort mode, as the Integra had no issue tackling corners at the softest setting. Maybe on a racetrack the stiffer mode would be suitable, but this isn't really a track car anyway.
Interior Tech & Space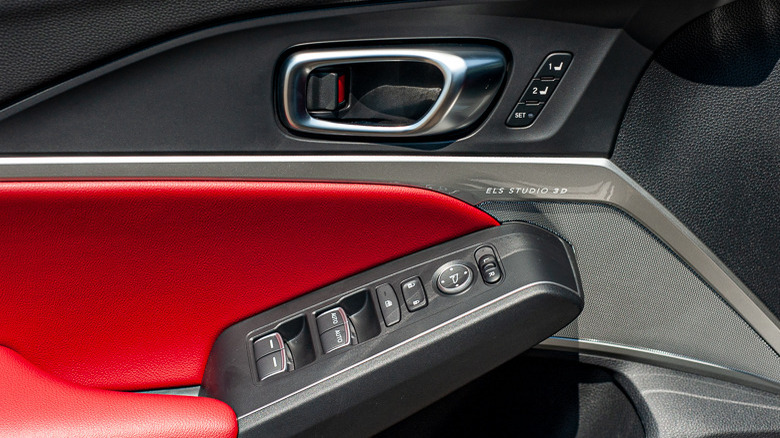 Talon Homer
Another huge selling point of the top trim is the 530 watt stereo system that spreads sixteen speakers across the car, including a subwoofer behind the rear seats. Acura calls it the ELS Studio 3D system, and audio quality is fantastic for the car's price point. At stock settings, I felt it was short on bass, but a little fiddling with the equalizer got it to where I liked. My ears met their limit of comfort playing punk music at about 60% volume. That point was enough to rattle the rear hatch as well. The base Integra uses a less powerful eight-speaker system, which I didn't personally get the chance to hear.
While the cockpit in the Integra is a nice place to be, some of the luxury feel starts to melt away when you look at other parts of the interior. The console storage is cheap, hard plastic, and the piano black finish around the cupholders leaves fingerprint smudges as soon as you touch it. The rear seats are also identical to what you get in a Civic, and I felt some additional suede inserts could go a long way to making them feel more premium.
Rear legroom is the same as the Honda, at 37.4 inches. At five foot ten, I can easily sit behind myself, but multiple occupants over six feet may begin to feel cramped. For extra charging, you get another two USB-A ports at the back of the console. With the rear seats folded down, there's plenty of cargo space available, capping out at 24.3 cubic feet. The sloping roofline of the Integra will however limit space for tall objects in the hatch.
Trims & Pricing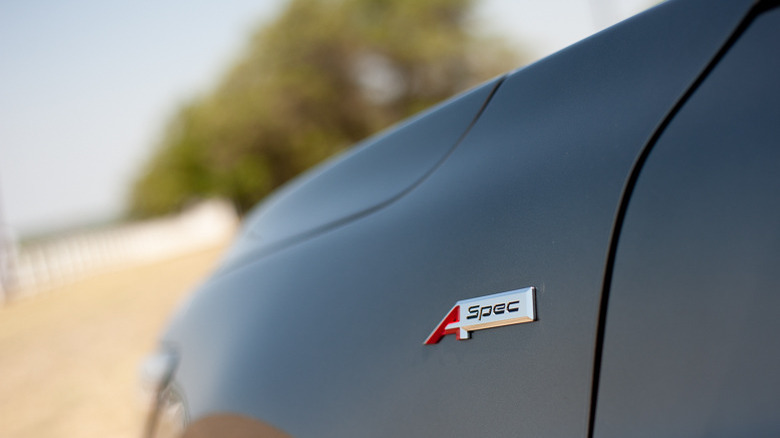 Talon Homer
The base Integra carries an MSRP of $30,800, and leaves you having to deal with a wired phone connection and manual passenger seat adjustments. A power moonroof comes standard, along with Acura's full suite of safety features, like adaptive cruise control, emergency braking, pedestrian warning, blindspot detection, and lane-keep assist. It also features 215 millimeter-wide tires on 17-inch rims. CVT is the only available transmission. All specs wear Goodyear Eagle Sport all-season tires, and come with two years or 24,000 miles of free scheduled maintenance.
Just over base is the A-Spec appearance package, for $32,800. It comes with upgraded wheels and tires, now 18 inches and 235-wide. The A-Spec also sees a revised fascia, with integrated LED fog lamps, and a low-profile rear spoiler.
For $35,800, the technology package throws in much more, with electric adjustments on both front seats, wireless Apple CarPlay and Android Auto, the suede interior, bigger touchscreen, premium audio, HUD, and wireless charging. It also gets LED cabin lighting, as well as remote start on CVT models. Most importantly, this package gains the 6MT as a no-cost option.
Additionally, Acura is offering an optional accessory catalog that includes up-sized 19-inch wheels, a larger carbon fiber spoiler, carbon mirror caps, roof racks, a heated steering wheel, and illuminated badging.
Final Thoughts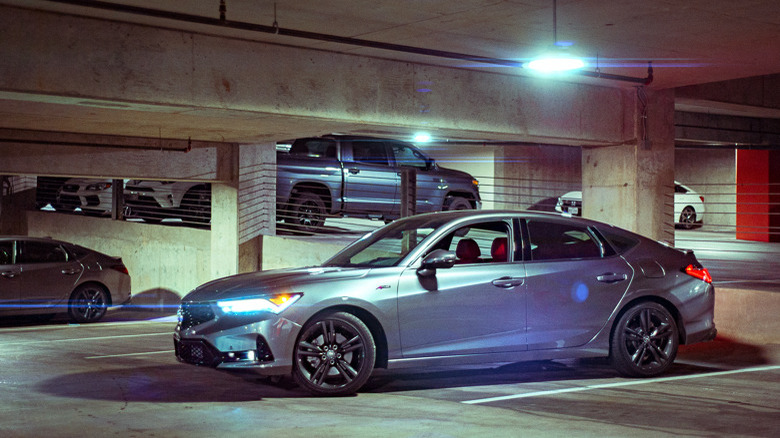 Talon Homer
Overall, Acura has managed to make a pretty compelling luxury sports sedan-hatch combo out of the Integra, while obviously sticking to an available parts bin and relatively low price point. It comes in under 40 grand fully loaded, with great cockpit design, a fantastic powertrain, and a killer sound system. Acura had to cheap out on some aspects to hit that price, so it would be nice to see some of those plastics and leatherettes get replaced on the Type S model, which is surely upcoming.
It is missing a couple features that I'd take for granted in 2022. The base-spec relies on wires for smartphone projection, and even the top-line model has no native app support. Apart from that, it does manage to pack in an impressive amount of technology. Paint selection is a letdown: a single green option at least would be nice. Customers also have to pay for the full tech package in order to access the 6MT, while the obviously comparable Civic Si starts at $27,000, and only comes in manual. That fact may steer some people away from the Integra, but the Honda won't really be able to match its cousin when it comes to comfort and road dampening.
The 2023 Integra officially launches on June 2nd, 2022, and there's no shortage of excitement for its return. Acura says they've already sold out the first two months of production, with half of the customers being new to the brand, and 65% of them opting for the manual. Clearly, there still exists a niche for a car like this, and the Integra just may tick a lot of boxes for a lot of people.