The well-whispered 12-inch MacBook Air, thinner and Retina resolution in comparison to the existing ultraportable, will begin shipping in Q2 2015 a new report suggests. Rumors of the new notebook have circulated for some time, the 12-inch form-factor a compromise in size between the current 11- and 13-inch MacBook Air. Several release dates have been attached to the project by earlier tipsters, but it's possible that the new Air could be announced at Apple's event next Monday, alongside the Apple Watch.
Mass production of the 12-inch Air began earlier in 2015, according to sources speaking to the Wall Street Journal. Although the insiders couldn't give a specific release date, they did claim that suppliers were preparing to ship large quantities in Q2 2015, the April to June period.
Exact specifications are in short supply, with the WSJ only commenting on a "higher resolution display" that presumably takes the Air into Retina territory like its larger, more expensive MacBook Pro sibling.
However, other pieces of the hardware puzzle have been gradually slotting together – albeit unofficially – over a long streak of leaks and speculation. For instance, Intel's latest Broadwell processors for notebooks could potentially open the door to a fanless MacBook Air with longer battery life than the current model. Another report suggested Apple would use the reversible USB-C connector, with a single USB port emphasizing the machine's focus on portability.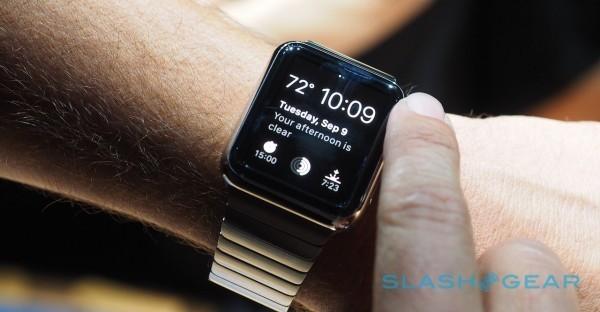 Meanwhile, a trackpad that doesn't physically "click" has also been predicted. Apple has already patented such a system, and in fact will launch it for the first time on the Apple Watch.
There dubbed Force Touch, it allows the touchscreen of the smartwatch to differentiate between taps and long-presses, triggering different functionality as a result.
It's unclear what might happen to the existing sizes of MacBook Air. One possibility is that Apple would retire both the 11- and 13-inch form-factors altogether, replacing them with a single, 12-inch Retina SKU, and rely on the iPad Air 2 – increasingly capable of desktop-style tasks like video processing in its current generation – to satisfy those who want an even more portable machine.
SlashGear will be at Apple's upcoming event on Monday, March 9th, bringing you all the news from the Cupertino company – Apple Watch and anything else. Keep an eye on our Apple Hub for all the announcements.
SOURCE WSJ