13 Reasons To Add A Smart Thermostat To Your Home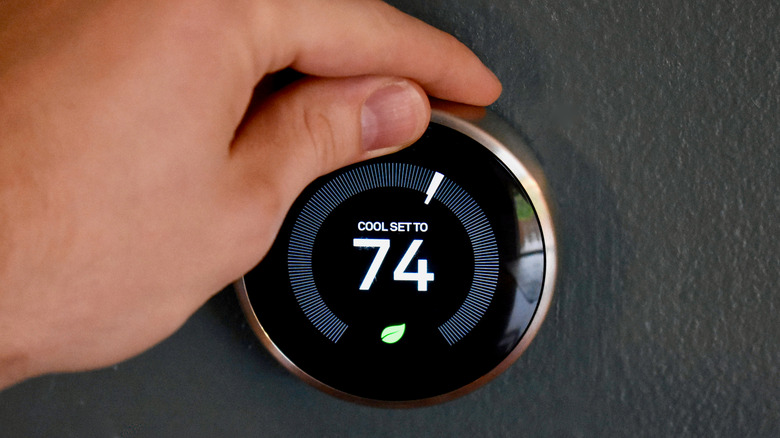 jmac23/Shutterstock
We may receive a commission on purchases made from links.
Households and homeowners are getting smarter. Nowadays, it's pretty rare to come across a residence that doesn't have some sort of smart technology attached to its walls. Even if it's as simple as a speaker, phone, or television set, a house is often made a home with the inclusion of a variety of different smart technologies. Beyond just being more common, according to Forbes, smart home technologies are one of the more popular trends driving innovation for homeowners/property managers.
There are plenty of smart home gadgets that can increase the value of a home with relative ease, like smart locks that allow keyless entry for rental properties, voice-activated automated systems for a home's lights or doors, and motion detectors to activate or deactivate products aplenty. But while these types of smart devices can help in many different ways, smart thermostats are perhaps among the most versatile and helpful when it comes to upgrading your home into the 21st century. But what are the actual benefits of installing a smart thermostat, and which one is the best for you?
Simple installation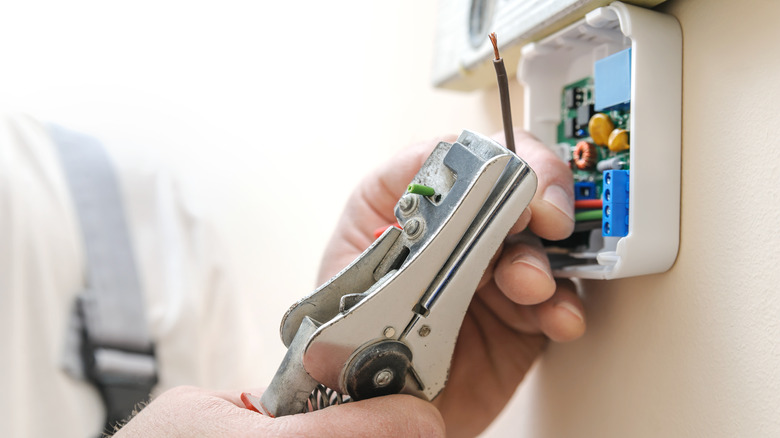 Yunava1/Getty Images
With technology, sometimes the first step is often the hardest: installation. And when it comes to something as integral to your home as a thermostat, it can be intimidating or time-consuming to make major adjustments without the proper know-how. It's safe to say that most homeowners probably don't fiddle all that much with their thermostats beyond the most basic settings, let alone dismantle them piece by piece in order to install a replacement.
However, though many people might assume that installing a brand-new smart thermostat system in your house might be difficult, most of the time it can actually take less than an hour. Most smart thermostat systems arrive at your home with everything you need already in the box and have guided tutorial videos and detailed instructions designed for self-installation. And in a worst-case scenario, many smart thermostat companies will also offer a professional installation service, assuring that everything is installed in an easy, timely manner.
Savings on your energy bill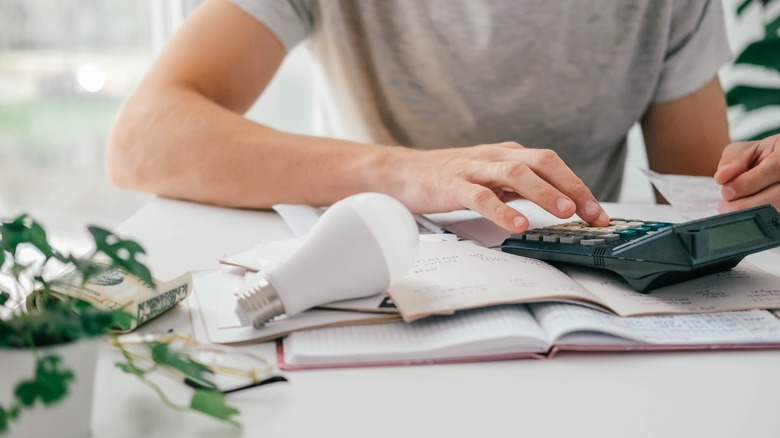 smile23/Shutterstock
It's no secret that energy and utility bills can be a huge source of stress. As the seasons come and go and give way to unbearable summer heat or uncomfortable cold snaps, it can be difficult to balance personal comfort with the demands of your wallet. However, one of the fantastic benefits of installing a smart thermostat in your home is saving significantly on both your heating and cooling bills, all the while being more conservative with your energy usage.
Because many smart thermostats have specific technology that adjusts for seasonal weather conditions like heat waves in the summer, personal usage, and more, having a smart thermostat installed can be a real plus when it comes to reducing some unneeded financial stress. The savings that can be accrued in this way can even make some smart thermostats pay for themselves in just a few years.
Empowering your existing smart home ecosystem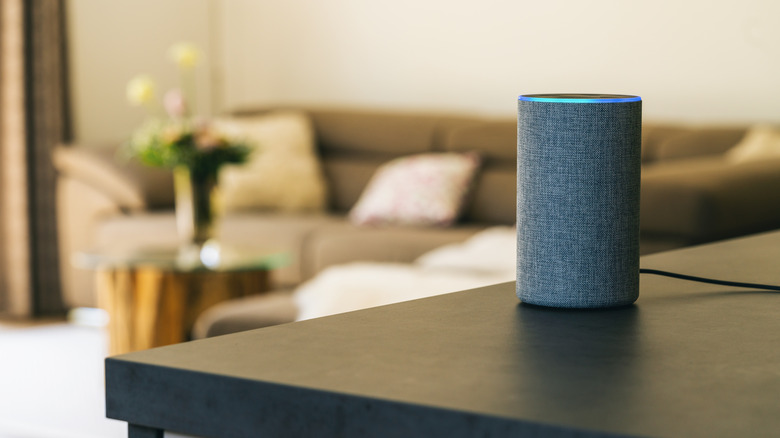 r.classen/Shutterstock
Syncing up different devices is probably one of the most dreaded tasks out there when it comes to smart technology. A lot of the time, different devices don't always sync up together or work harmoniously to keep your house running smoothly. This can obviously be a real pain, particularly when it comes to something as specific as maintaining your home's comfort and energy. Luckily, most companies that manufacture smart devices make compatible smart thermostats. 
Many smart thermostats are compatible with smart home devices like Apple HomeKit, Alexas, Siri, Google Assistant, and more. Some smart thermostats even come with built-in smart devices like Siri or Alexa. This can be a real benefit for a variety of reasons. Most importantly, it means most smart thermostats can be used just with your voice, meaning you never have to worry about fiddling too much with a complicated user interface or extensive menus and settings. Asking Alexa or Siri to adjust your home's temperature is all you'll ever have to do to get your home feeling comfortable.
More energy efficient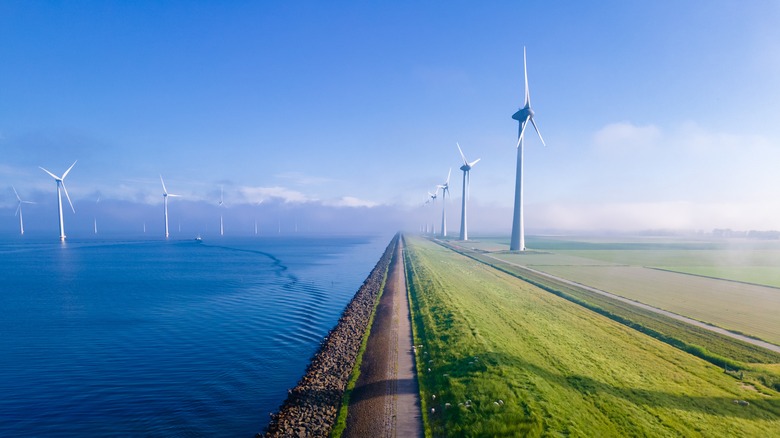 fokke baarssen/Shutterstock
A big concern on a lot of people's minds these days is reducing environmental waste, both tangible and intangible. Unfortunately, it can be all too easy to waste a substantial amount of energy heating and cooling your home, particularly in extreme weather conditions or in crowded cities. Not only that, but while wasting energy can be extremely detrimental environmentally, it can of course drive up your personal energy costs as well. However, this double-whammy of high energy costs and negative environmental output can be avoided. 
Some smart thermostats offer clean energy programs that provide a variety of different benefits to your home-energy usage, namely, your energy efficiency. Nest Smart Thermostats, for example, can automatically regulate when your local grid is clearer, making better use of the energy available to you. In this way, you can assure that the power you're using in your home is clear and clean, and you can make better decisions about when and where to conserve energy. Smart thermostats also sometimes have specific programs that encourage mindful energy usage and can track your conservation efforts via companion apps and programs.
Control on the go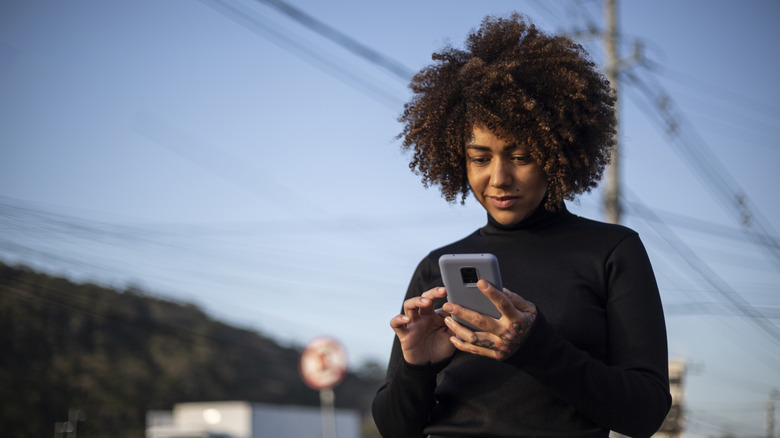 Anderson Coelho/Getty Images
There's nothing quite as horrifying or nightmare-inducing as realizing you might've left your thermostat on after leaving the house. Knowing not only how much energy you're about to waste, but how many extra costs are going to be added to your monthly energy bill can be stressful, frustrating, and above all irritating. However, in addition to being compatible with other smart home technologies, a lot of different smart thermostats have companion apps that can be used to avoid these costly mistakes. 
Many smart thermostats and their companion apps allow for a variety of safeguards and bonus functionality. Not only can you control your thermostat remotely via your phone, making adjustments to your home's temperature on the fly, but you can also track usage and drastic changes in weather and conditions. Even if you're not constantly checking your phone and monitoring your home's temperature, you can often find additional ways to automate your thermostat usage via the app itself. Some companion apps include 7-day advanced scheduling, weather triggers, and geofencing functions that can all help you monitor and maintain your home's energy usage entirely remotely. 
Automated control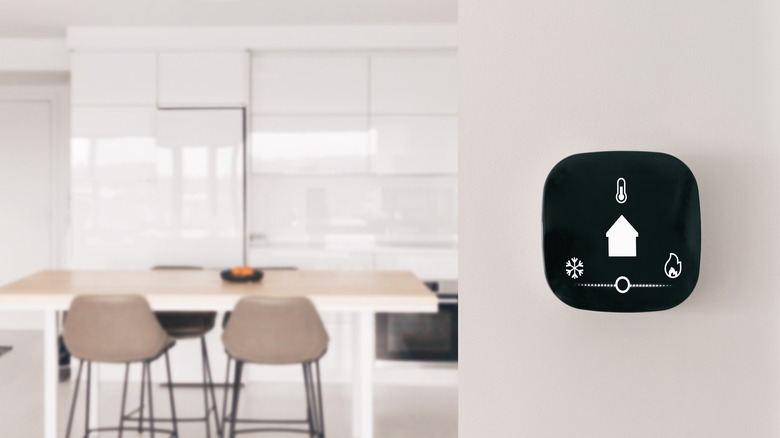 Maridav/Shutterstock
However, if you're not someone who wants to be constantly using an app or checking your thermostat at home, it's also worth noting that a lot of smart thermostats have a wide range of automated functions. When using a regular, non-smart thermostat, it can be easy to worry about using it correctly to maximize usage and savings. But thankfully, many smart thermostats automatically work to improve upon the baseline benefits that these devices offer like optimizing your energy savings, usage, and more. Plus, the more you make use of your thermostat, the better it all works in tandem with your lifestyle.
Many smart thermostats like the Honeywell T6 Pro Smart Thermostat also have automated control settings that adjust to the time of year, time of day, and your personal schedule. This is all done automatically and adaptively as you go about your day-to-day life. These automated settings also continue to learn and develop over the course of many years and can adjust to your personal temperature preferences.
Easy to track energy usage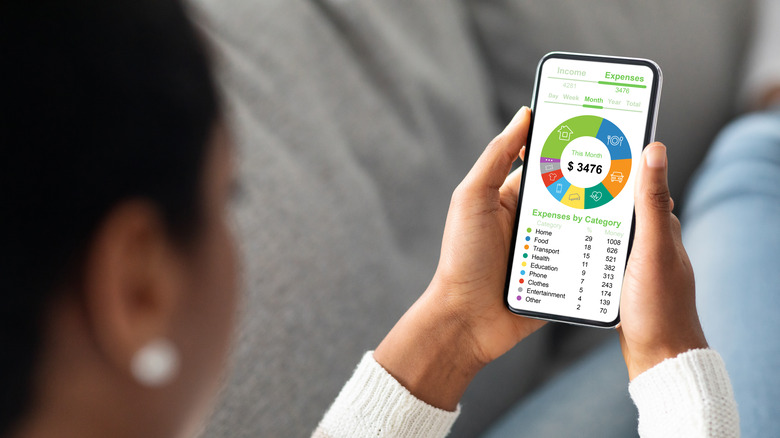 Prostock-studio/Getty Images
Most fights in a household come at the end of the month when a phone or electricity bill conspicuously arrives at the top of the mail pile. Beyond that, maintaining and tracking your own usage to avoid these arguments often comes with some precarious pitfalls, namely, making sense of complex terminology or charts. Luckily, most smart thermostats employ some sort of built-in energy-tracking tech that makes it easy to optimize your usage by yourself. 
As one example, Mysa Smart Thermostats will track your kw/h usage across one or multiple thermostats on a daily basis or even on a monthly basis. These thermostats generate helpful and clear visual information relaying your energy usage in comparison to the external temperature around your home. This information can even be broken down into the specific rooms of your house, meaning you can single out problem areas or places/times that are wasting the most energy and costing you the most on your bill. Using this information, you can then program your thermostat to be more energy efficient.
Movement sensors that improve functionality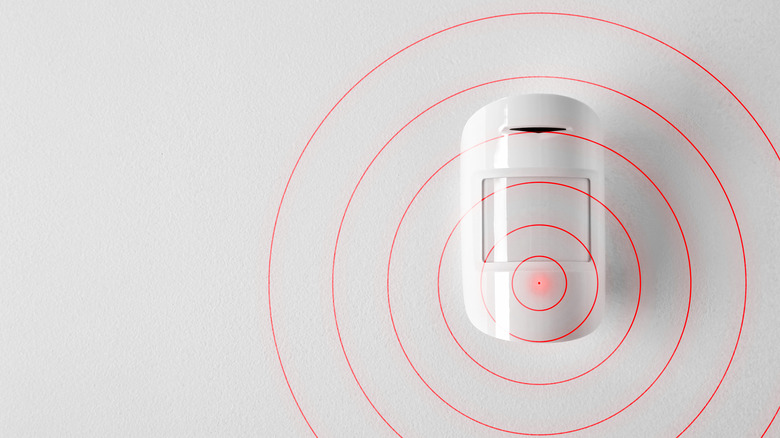 Pixel-Shot/Shutterstock
In households with central air, it can be frustrating to have to heat or cool your home wholesale when you really only need to adjust the temperature in one or two rooms. Outside of closing or opening vents, it's easy to waste money and energy heating or cooling an expansive home footprint. Some smart thermostats actually come with motion-detecting accessories, and most of these devices can also be paired with added sensors that improve the thermostat's overall functionality.
These sensors, when paired wirelessly with the smart thermostat, offer a variety of additional benefits that can make the automated and manual functions of a smart thermostat work even better. Motion sensors paired with your thermostat can manage specific hot or cold zones and channel energy specifically to these areas, optimizing your energy usage. Additionally, these sensors can be used to detect temperature changes (both extreme and mild) in specific, important rooms in your home. The movement sensors also learn which rooms your household spends more time in and learns your patterns as you go.
Can double as home security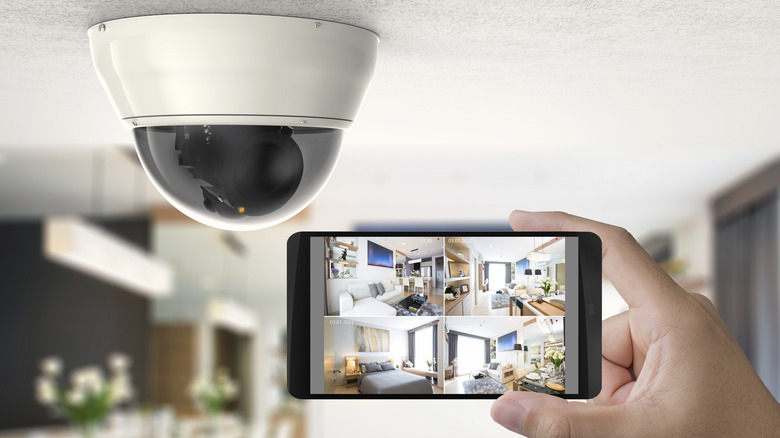 Phonlamaiphoto/Getty Images
With so many different types of smart devices being implemented in homes, it can be tricky for people to have to pick and choose which ones are worth investing in. While there are cheaper options on the market, sometimes smart thermostats can be among the most costly smart devices out there. However, there are some smart thermostats that essentially act as "two-for-ones," with the added benefit of functioning just as well as some of the best home security systems available.
In the same way that ecobee thermostats can improve their functionality with added motion sensors, these smart sensors can also help make sure your household is safe and behave like an alarm or security system. When combined with additional smart sensors, ecobee thermostats can sense triggered smoke alarms, movement in the house, opened doors or windows, and more while armed. Additionally, the smart thermostat can be paired with cameras that record and monitor your home's perimeter.
Controls more than just AC/heat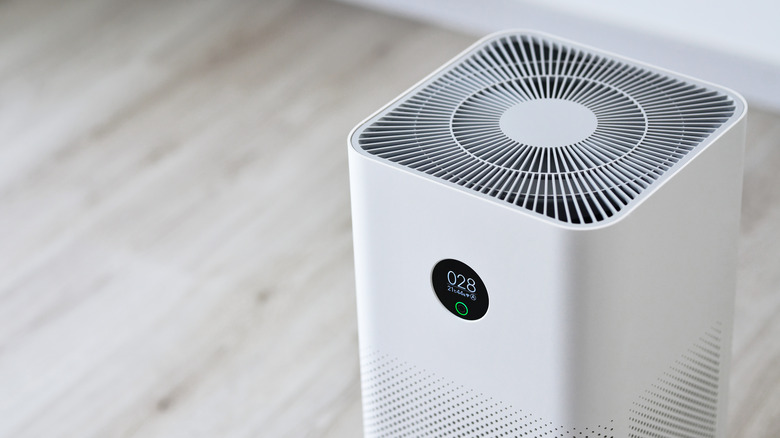 Dmytro Melnyk/Shutterstock
Beyond just the added bonus of home security, there're a lot of different smart thermostat brands that have unique functionality. After all, it's not always just the temperature or weather outside your home that can make the rooms of your household uncomfortable to be in. Smog, smoke, and other particles can really take a toll. However, some smart thermostats are specifically designed to help out with lots of household support beyond just cooling and heating.
Many Wi-Fi-enabled or smart thermostats like the Aprilaire 8620W Wifi Thermostat can also control compatible air purifiers or humidifying devices. These thermostats offer a ton of different benefits when it comes to maintaining the quality of the air inside your home, and have a variety of specific abilities. Between different modes and cycles that can be controlled remotely and even target seasonal allergies specifically, smart thermostats like the Aprilaire can also act like a ventilation system, not just a heating and cooling one.
Can earn energy rebates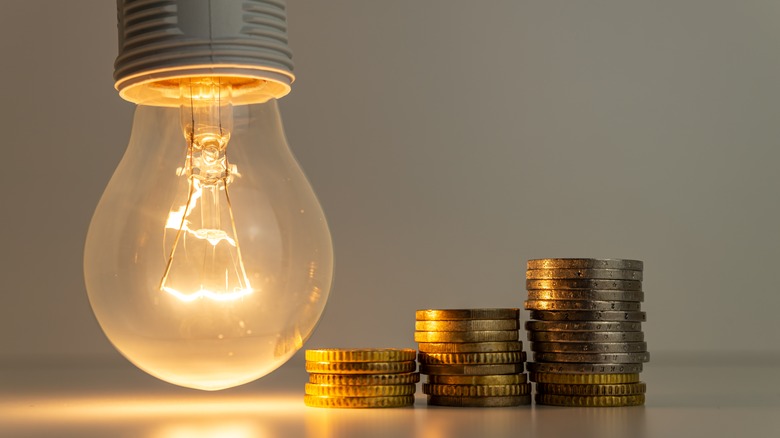 Daniele Mezzadri/Shutterstock
Even though smart thermostats can save you money down the road, the initial cost might turn some people off the idea. But there are some fast, instantly gratifying options out there! In the same way that you can get rebates or tax credits for installing solar panels or other green technology in your home, installing a smart thermostat can also yield a rebate. In fact, most smart thermostats have rebate programs that can offer pretty significant sums. This can sometimes depend on your zip code/place of residence, but it's relatively easy to check! Most brands of smart thermostats simply require you to enter your zip code, and you can easily check for rebate offers in your area.
Some users of smart thermostats can earn a rebate of up to $185. While that can sometimes mean earning just a one-time sum, there are other offers available in certain regions that can yield yearly rebates. Even if you already have a smart thermostat, you may be able to retroactively enroll in these programs depending on your region. Furthermore, recycling your old thermostat can be a great way to augment your initial, one-time rebate.
Real-time alerts and notifications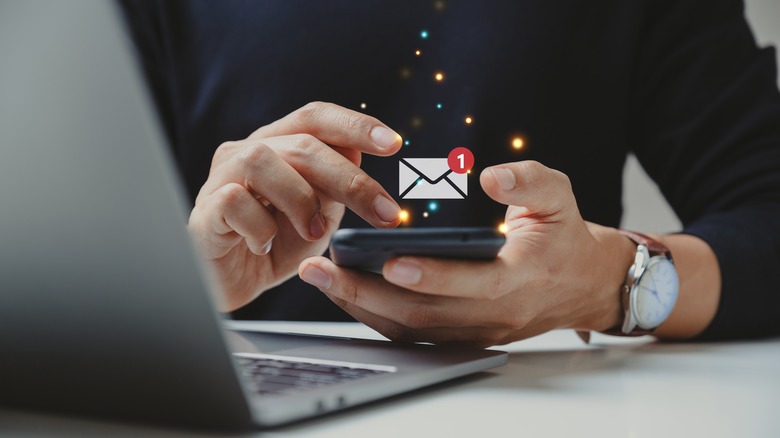 Thx4Stock/Shutterstock
We've all been in a place where it's easy to forget about home maintenance, and we've all probably let an air or water filter sit for a little too long. From replacing filters to steering clear of overworking your heating and cooling system, there's a lot to keep in mind. It's not always clear exactly when or where you're supposed to be keeping a closer eye on things, particularly when it comes to increasingly complex HVAC systems.
However, most smart thermostats, in addition to their automated functions, can produce real-time alerts and push notifications that can keep you abreast of what's going on in your home and with your HVAC system. This type of functionality can also be a real lifesaver when it comes to extreme weather conditions. Additionally, when it comes to making sure the temperature is normal in important rooms (like a nursery for example), real-time notifications that alert you of sudden changes can be extremely important. In the case of some smart thermostats, these types of notifications can inform you not just about sudden temperature changes, but also when it's time to replace a filter.
Better user interface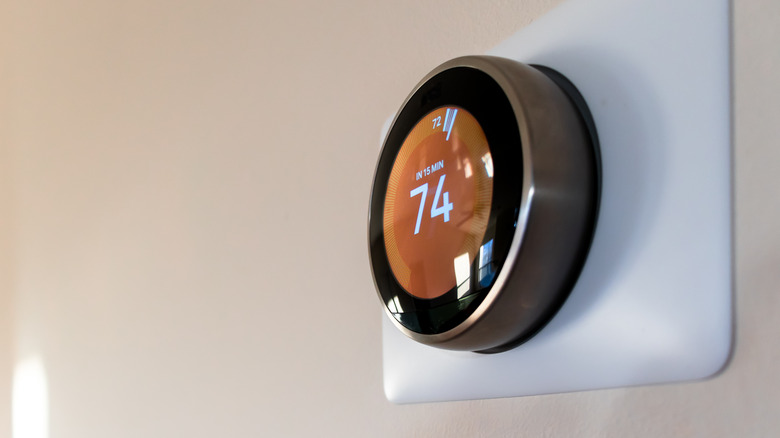 Silas Bubolu/Getty Images
One of the most enjoyable benefits of many smart home technologies is their combination of utility and style. Flashiness or flair might not always be top of mind for a lot of people, but some of us do take style into account even when it comes to home maintenance. Luckily, when compared to a lot of older thermostat models, many smart thermostats find great ways to blend function and form with really intelligently designed user interfaces that are sleek and slim.
These user interfaces are not only far bigger and bolder than their predecessors, but their sense of style can be really helpful when it comes to interpreting data and assuring that your system is functioning at full capacity. Some smart thermostats have large touchscreen panels, and most are equipped with a set of controls that are as user-friendly as your smartphone. 
In addition, while analog thermostats often rely on small print and physical dials designed decades ago, many new smart thermostats are designed with your home's more modern-day aesthetic in mind.
Which smart thermostat is best?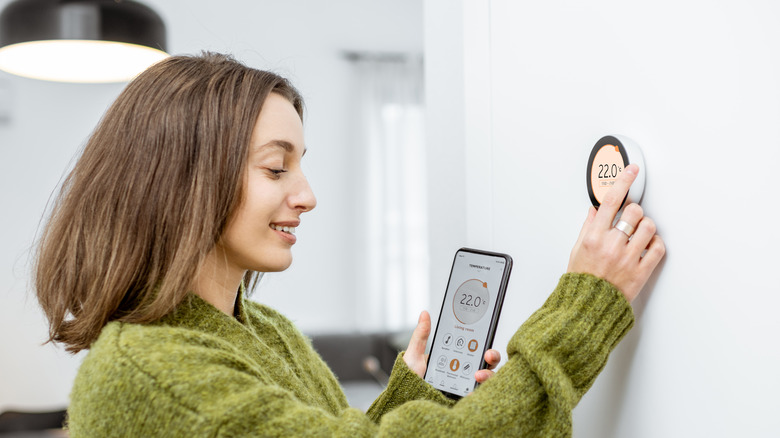 RossHelen/Shutterstock
A lot of the benefits that come with installing a smart thermostat in your home are the same across the board. Most smart thermostats can help you save on your energy costs, have automated functions, can track energy usage, and work remotely with companion apps. However, the most efficient thermostats like the Amazon Smart Thermostat, the Google Nest Learning Thermostat, the Honeywell Home T9 Thermostat, and the ecobee Smart Thermostat Premium have some additional pros and cons.
The Amazon Smart Thermostat is the most cost-effective. It shares many similarities with most smart thermostats but can cost over $100 less. However, it is only compatible with Amazon's Alexa. The Google Nest Learning Thermostat is very easy to install and can even pay for itself in under 2 years. However, it does have a higher price point and requires additional sensors that need to be purchased separately in order to gain full functionality.
The Honeywell Home T9 comes with an additional sensor device. Together, both the base unit and the sensor have excellent sensor range as well. However, the overall UI design and the physical product itself are a little bulkier. The ecobee Smart Thermostat Premium can be more costly but comes with top-tier savings on your energy bill. The ecobee device can also be installed with built-in Alexa or Siri capabilities. However, while it does have the added bonus of doubling as a security system, it can require extra sensors and fees to use.