The Coolest Features Of The Ferrari FF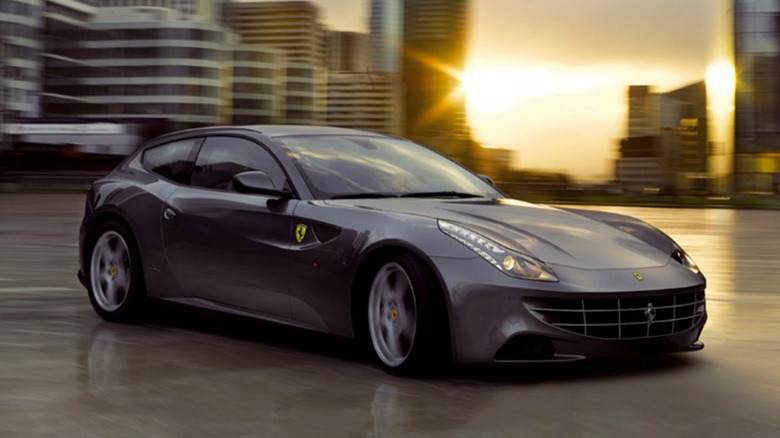 Ferrari
There are plenty of words that come to mind when describing Ferrari's cars, but "practical" is usually not one of them. Yet, the brand has made a range of more practical models for several decades now, in amongst its usual lineup of tire-melting supercars and ultra-limited specials. The Ferrari FF, produced between 2011 and 2016, was an important milestone in the "everyday Ferrari" lineage, both in terms of its groundbreaking drivetrain and because it was arguably more daily drivable than any other Prancing Horse before it.
The FF's focus on the everyday meant that it came and went with relatively little fanfare, and when it was new, its high asking price dampened some of the enthusiasm for the car. In today's market, however, depreciation means that the FF is starting to look like a relative bargain, at least by Ferrari standards. With the switch to electrification accelerating and Ferrari having little choice but to convert its lineup to run on renewable power in the near future, it's fair to say that cars like the FF are a dying breed. It's not all bad news though, as for now at least, the FF is cheaper to buy than ever, and it's packed full of features that arguably make it one of the more underrated Ferraris of recent years.
Four-wheel drive system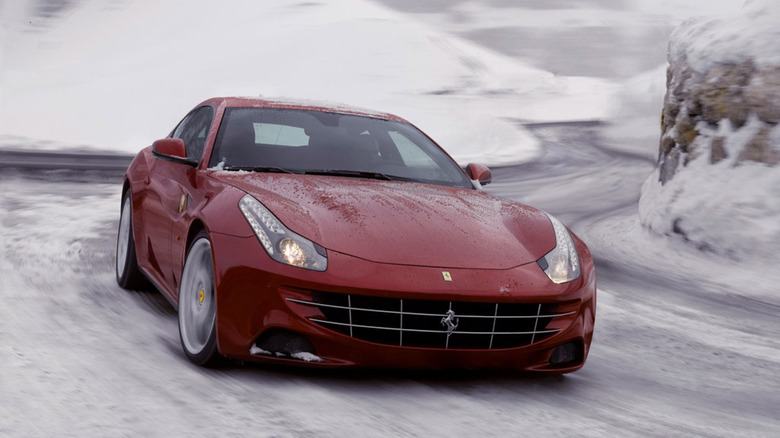 Ferrari
The most notable feature of the FF is its four-wheel drive system, a first on a production Ferrari. The brand had been experimenting with sending power to every wheel since the 408 4RM concept of the late '80s, but it took until 2011 with the launch of the FF for the system to reach a production car. Part of the reason for this was that Ferrari was unhappy with how much extra weight a four-wheel drive system added, so it developed an innovative new system (4RM) that was around half the weight of a conventional 4WD setup (via Car and Driver).
The FF has not one gearbox but two, with a primary seven-speed unit driving the rear wheels and a separate two-speed unit controlling the front. The front-wheel transmission can handle up to 20% of the car's total torque output at lower speeds, but it doesn't come into play until Ferrari's systems detect the rear wheels beginning to slip. Thus, the car acts as a rear-wheel drive vehicle most of the time, with the front wheels only siphoning off power when absolutely necessary. Despite the extra complexity of the 4RM system, its use came with some key benefits. Not only was it lightweight, but it allowed Ferrari to mount the engine lower down and further back than a regular 4WD system would require (via Ferrari). This, in turn, helped to keep the car's weight distribution and center of gravity closer to that of a rear-wheel drive Ferrari.
V12 engine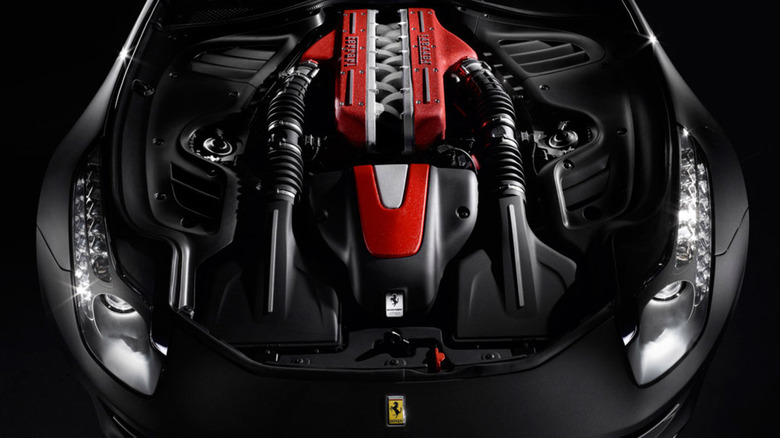 Ferrari
A Ferrari is not a Ferrari without a suitably raucous engine, and the FF's 6.3-liter V12 certainly ticks all the right boxes in that department. Ferrari claims it's good for a maximum output of around 650 horsepower at 8,000 revolutions per minute, and around 504 pound-feet of torque at 6,000 revolutions per minute. Standard Ferrari fare, in other words. The Maranello-based automaker's V12 engines have been a staple of its lineup since its earliest days, first debuting in 1947 and being incrementally improved ever since. Even the new Purosangue SUV, which in many ways breaks away from Ferrari tradition, packs a V12 as standard.
The FF's engine is, according to one reviewer, not quite as "ballistic" as the 599 GTB in the lower gears, but at higher speeds, it packs plenty of punch. Even so, it doesn't feel like it's straining at any point, but rather that the power delivery is effortless, remaining every bit as smooth as you'd expect from a top-end grand tourer. Ferrari says that the car will reach a top speed of 208 mph and takes just 3.7 seconds to get from 0-62 mph, so even if it's not quite as raw as the 599 GTB, the FF still boasts true supercar performance figures.
Excellent handling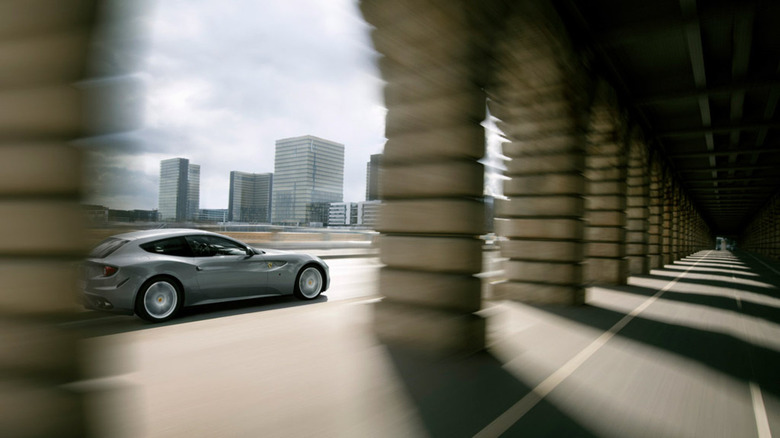 Ferrari
Just as the engine is key to any Ferrari's appeal, its handling must also match up to the rest of the brand's illustrious lineup. This could have been an issue for the FF, since four-wheel drive fundamentally changes the handling profile of any performance car compared to a rear-wheel drive setup. Except, with the clever 4RM system, only the rear wheels are sent power for the majority of the time. That meant the FF was the outlier to the rule, in that it handled very much like a regular RWD Ferrari.
Veteran auto journalist and serial controversy magnet Jeremy Clarkson reviewed the car in 2011 and claimed it handled "beautifully," noting that the steering was "disconcertingly light" and pinpoint accurate. He cast some doubt on the effectiveness of the four-wheel drive system, since most of the time the car felt indistinguishable from a rear-wheel drive Ferrari. Arguably though, that's a good thing, as the whole idea with the FF was to integrate a new system without fundamentally changing the driving dynamics. If even Clarkson couldn't spot much difference, Ferrari had clearly achieved its goal.
Pininfarina design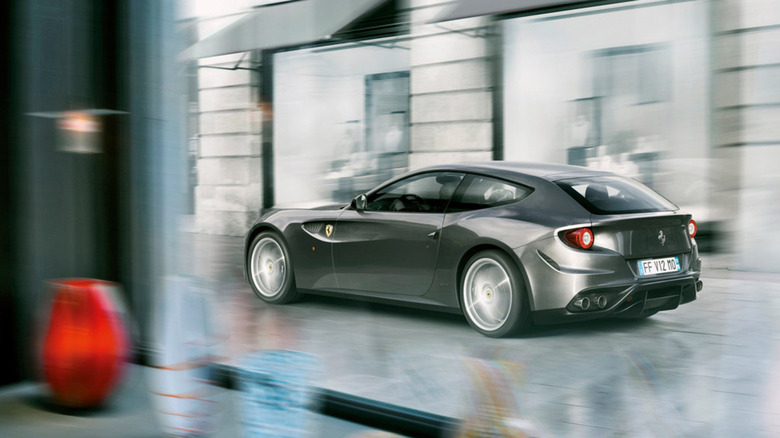 Ferrari
Keeping a car sleek, low, and stereotypically "Ferrari-like" is a challenge when you have to accommodate four full-size adults. Ferrari's long-term design partners Pininfarina had managed to achieve such a feat with the FF's predecessor, the 612 Scaglietti, and the studio was roped in again to design the newer car. The shooting brake design took the approach of simply extending the roofline at the rear, while leaving much of the rest of the car's silhouette similar to that of, say, the 599 GTB.
As a result, it's difficult to tell that this is a four-seater "family" Ferrari when viewing the car head-on from the front. Move around to the side, and the car's profile remains relatively sleek, with the sloped roof tailoring off neatly towards the end of the car. However, it's the rear of the FF where things start to look a little less pretty. The higher roofline necessitates a large rear window which looks very out of place on the otherwise well-proportioned car, making the whole thing look too tall to be a Ferrari. The design was refined for the replacement GTC4Lusso, which boasted a much smaller, more streamlined rear window, but with the FF it's an eyesore on what's otherwise a very cleverly designed car.
Comfortable, luxurious interior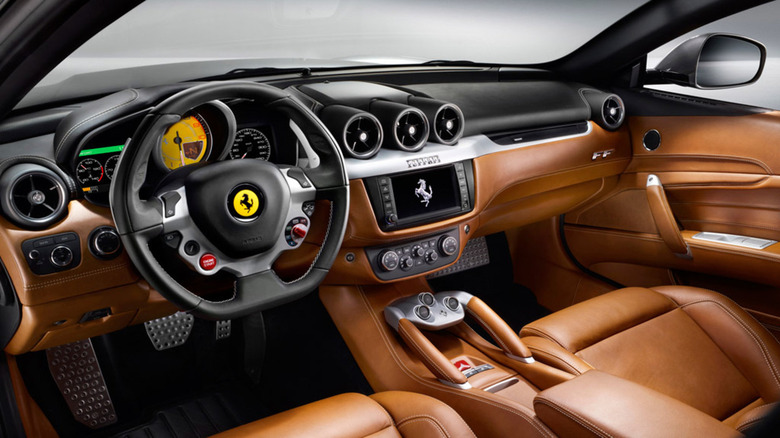 Ferrari
As any owner would expect from their Ferrari, the FF's interior is a luxurious place to be, with swathes of fine leather and carbon fiber accents peppered throughout the cabin. Ferrari's racing know-how dictates that for the fastest lap times, every control button needs to be on the steering wheel, so the driver doesn't have to move their hands to adjust anything. Even though the FF is designed for the open road rather than the race track, Ferrari decided to keep that design quirk going. That results in a rather awkwardly placed set of indicator buttons, headlight switches, and windshield wiper controls, all of which can be easily mixed up when absent-mindedly driving around town (via Sunday Times Driving).
Small gripes aside, the FF's interior is very familiar Ferrari territory, and should make any owner who's already in possession of a Prancing Horse or two feel right at home. This is another instance where "different" would not have equaled "better" – much like Ferrari's V12 engines, the brand's signature interior design is better left untouched, even if other aspects of the car represent a bold change of direction.
Room for four adults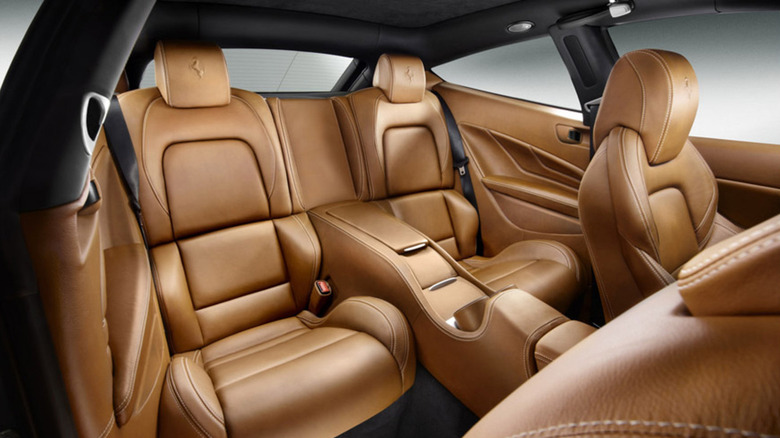 Ferrari
Although it wasn't always the case, driving a Ferrari has historically been associated with making a number of sacrifices. One of the biggest sacrifices has been room for passengers, but with the FF, the brand has proved that you can have your cake and eat it too. As far as interior space goes, the FF is a bit of a revelation, with room for average-sized four adults to sit in comfort. It's still not exactly palatial in the rear seats, but unless you're particularly tall or on the larger side, you won't have an issue with space, even on longer journeys.
In some ways, perhaps the idea is better in theory than in practice, as it's unlikely that anyone wealthy enough to own a Ferrari is seriously going to consider cramming themselves and three friends into their supercar to go on holiday. But, if you're the kind of person that feels like doing the school run in a Range Rover is a little too mundane, the FF might just be the answer.
450 liters of trunk space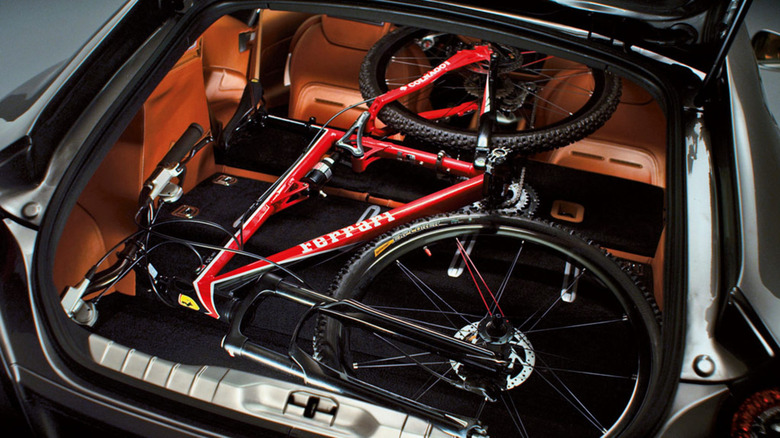 Ferrari
Whether you're doing the school run or taking some friends on a skiing holiday, the FF's generous trunk space will swallow a surprising amount of luggage without compromising on interior legroom. The trunk boasts 450 liters (15.9 cubic feet) of space, which is just shy of what's on offer in a BMW 3 Series. If that's still not enough, the rear seats of the FF also fold down to provide up to 800 liters (28.3 cubic feet) of space (via HotCars). It also allows owners to carry longer items, like skis, in their car should they want to.
Designing a supercar with a novel way to carry large items is by no means a unique idea — the Koenigsegg Agera R, for example, could be optioned with a roof box specifically designed to carry skis to a top speed north of 250 mph. As fun of an idea as that might be, it's not one that's actually useful in the real world, and that's where the FF sets itself apart from all other cars of its nature. You could feasibly take a family and their luggage on a road trip without needing a gimmicky roof box, yet also hit speeds that a 3 Series owner could only dream of. There simply wasn't anything else like it on the market at the time, and even today, it's still tricky to find anything quite as practical yet face-meltingly fast.
Affordable used prices (for a Ferrari)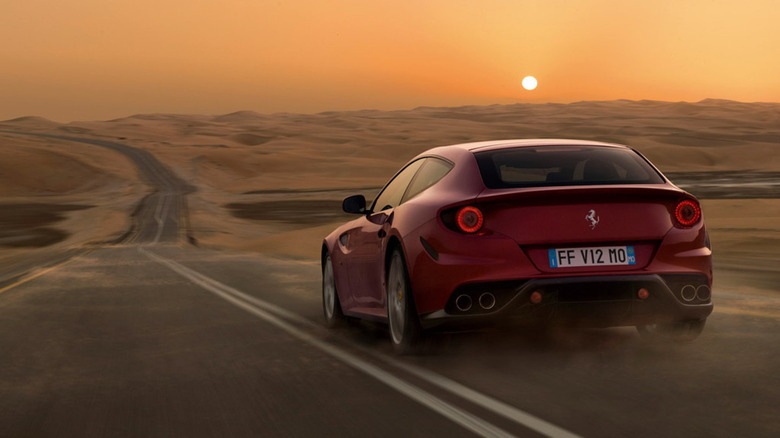 Ferrari
While the word "affordable" is a very relative term, especially when it comes to Italian supercars that cost as much as a house when new, the current used price of the FF is a bargain by Ferrari standards. Data from Classic shows the average resale price is around $124,000, with the lowest sale in the past year coming in at around $90,000. That might still seem like a lot, but it makes the FF one of the cheaper modern Ferraris on the market. The car has depreciated massively, since its original retail price sat at more than $300,000, with plenty of pricey extras available to drive that figure even higher (via Car and Driver).
Classic's data also seems to show a stabilization in price for the FF, with a marginal increase in average sale price since mid-2020. That suggests the car might be nearing the bottom of its depreciation cycle, although whether it will rise in value again as the car ages into classic status remains to be seen.
It's not an SUV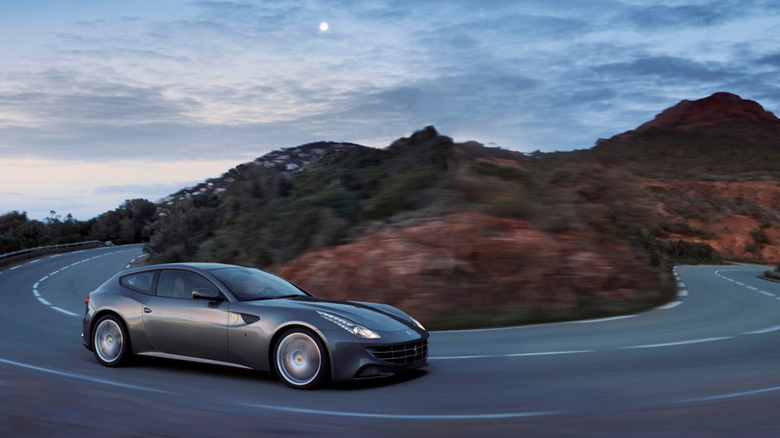 Ferrari
This might seem like an odd feature to highlight, but as the auto industry shifts to a world where SUVs and crossovers are slowly replacing all other body styles, there's value in having a car that looks different to everything else. At the reveal of the FF's successor, the GTC4Lusso, in 2016, Ferrari's CEO claimed the company would never make an SUV, saying "It's not in our DNA." Fast forward just two years, and that same CEO had confirmed that Ferrari had begun development work on its first SUV, which turned out to be the 2024 Purosangue.
Clearly, even Ferrari couldn't resist getting in on the SUV cash grab, despite its initial reservations. If the Purosangue prints as much money for Ferrari as it's expected to, then it's very likely that the days of the four-seater shooting brake will be gone forever. After all, the GTC4Lusso was axed without a direct successor, with the Purosangue essentially taking its place in the lineup. Combine that with the government-mandated ban on gas-powered cars, and it seems like even Ferrari's venerable V12 engine may soon be facing the chopping block. As a result, the FF may eventually become a very rare beast — a Ferrari with a proper V12 soundtrack, a traditional Pininfarina shooting brake design, yet enough interior space to carry the kids to school in. That alone should seal its legacy as a worthy collector's item in the future.