2024 Mercedes-Benz eSprinter First Look: An Electric Van To Deliver Sustainable Commerce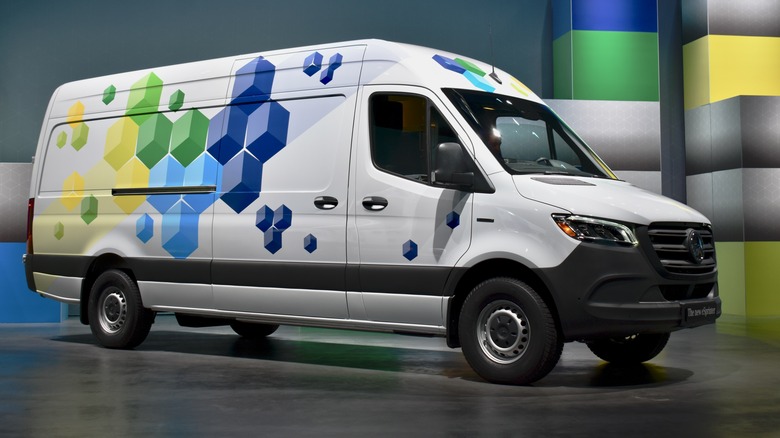 Stephen Edelstein/SlashGear
Reducing carbon emissions from transportation requires looking beyond electric cars. So while Mercedes-Benz is busy launching an array of EQ luxury EVs — like the AMG EQS and EQS SUV – it's also looking to electrify its lineup of commercial vehicles.
The 2024 Mercedes-Benz eSprinter isn't the firm's first electric van, but it will be the first available in the United States when production starts this summer. While it's aimed at commercial fleets rather than retail customers, the eSprinter is still an important vehicle. Indeed, your future online shopping haul might just turn up in one.
Why is it only coming to the U.S. now?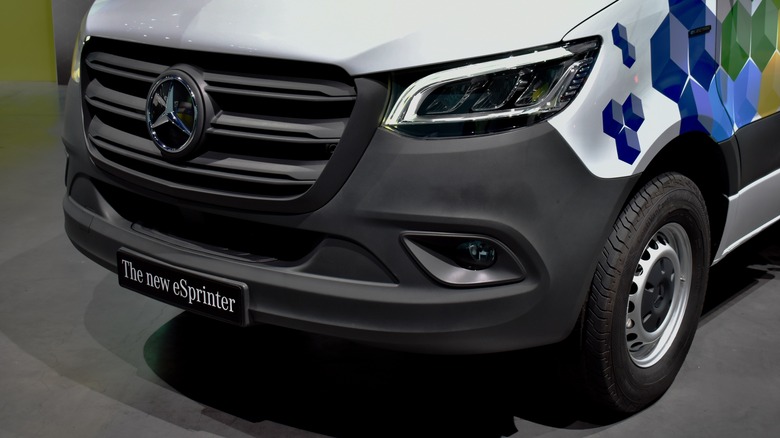 Stephen Edelstein/SlashGear
Mercedes has been selling electric vans for over a decade—just not in the U.S. It launched the Vito E-Cell in 2010, and followed it up with the first-generation eSprinter, to coincide with a 2019-model-year redesign of that larger van. Mercedes has been selling gasoline and diesel versions of this generation of Sprinter in the U.S. since its launch, and even builds them in South Carolina, but has limited sales of the eSprinter to other markets owing to what was deemed inadequate range.
"Range is the most important topic for our customers," Markus Reis of Mercedes-Benz Vans product management told SlashGear during a media preview of the new eSprinter. The outgoing model maxes out at 95 miles per charge (as measured on the European WLTP testing cycle) from its 55 kilowatt-hour battery pack.
Mercedes was more interested in getting the first eSprinter to market than it was in maximizing range, Reis explained. The outgoing model uses battery modules from Mercedes' plug-in hybrid passenger cars, and an electric motor from the EQC, an electric SUV sold in Europe. This time, the eSprinter gets a bespoke powertrain and battery pack that increase range to what Mercedes considers adequate for U.S.-market needs.
Bigger battery, new chemistry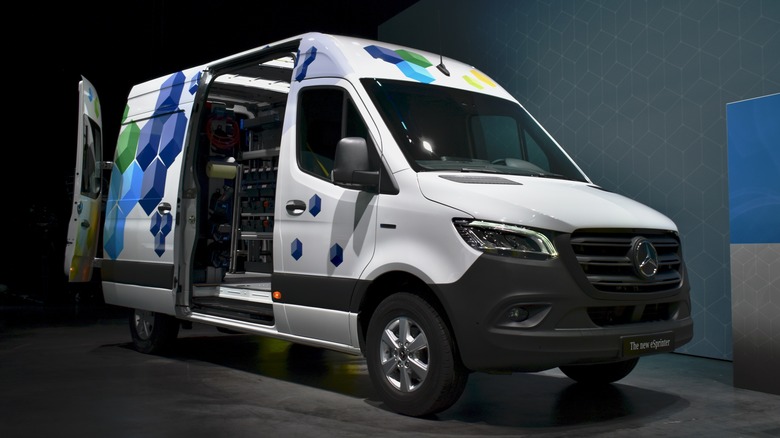 Stephen Edelstein/SlashGear
The new model may look the same as the outgoing eSprinter on the outside, but every mechanical component packed into the carryover chassis (shared with the internal-combustion Sprinter) is new.
The eSprinter launches in the U.S. with a 113-kWh pack, the largest of three that will be offered globally, all exceeding the capacity of the current eSprinter. Mercedes also switched to lithium iron phosphate (LFP) battery chemistry, a variant of lithium-ion chemistry, and one that's already used by other manufacturers — including Tesla, which uses it in some entry-level models.
Mercedes claims LFP chemistry will degrade less over many charging and discharging cycles than the alternatives. Company reps were also quick to emphasize that LFP batteries don't use cobalt or nickel, which have proven problematic because from both environmental and human rights perspectives.
A different approach to range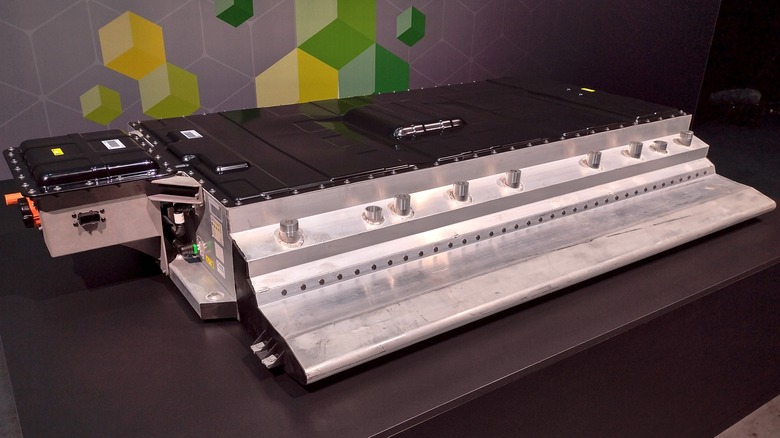 Stephen Edelstein/SlashGear
Mercedes isn't ready to quote an EPA range figure for U.S.-spec models, but a pre-production van completed a 295-mile roundtrip between Stuttgart and Munich, Germany, on a single charge in 2022. At the end of the trip, the instrument cluster showed a remaining range of 12 miles and a 3% charge. Granted, the van was only carrying 132 pounds of cargo (plus a driver and passenger), while averaging 46 mph, so this wasn't exactly representative of real-world use.
That van also likely had the largest, 113-kWh pack. Despite the conviction that range is the most important factor for customers, Mercedes reps indicated this pack might be overkill in certain cases. While only the largest pack will be available in the U.S. at launch, the company expects customers in other markets to choose smaller packs as a cost-saving measure. The smaller the pack, the fewer raw materials required, Mercedes noted, further reducing the van's environmental impact. It remains to be seen whether such rational arguments will work better with fleet customers than with range-anxious retail buyers of passenger cars, however.
Range-enhancing features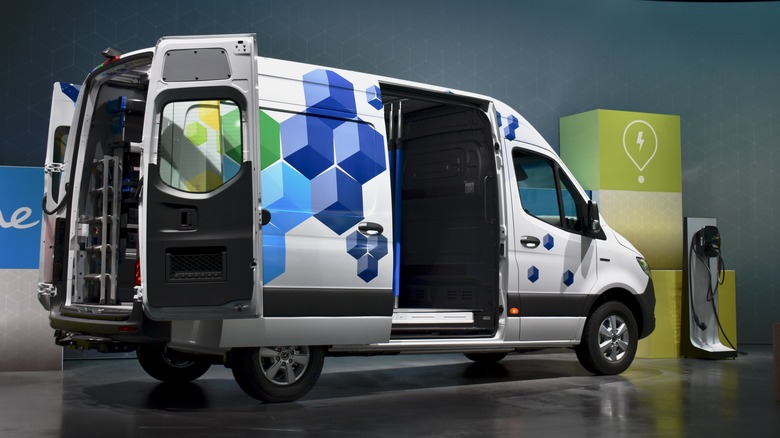 Stephen Edelstein/SlashGear
The eSprinter DC fast charges at a relatively low 50 kilowatts, which can take the 113-kWh pack from a 10% to 80% charge in 42 minutes, according to Mercedes. Using the 9.6-kW onboard charger means waiting 12.3 hours for a full charge from a 240-volt Level 2 AC source, but product manager Reis still expects most fleet customers to charge this way most of the time, allowing vans to replenish their batteries overnight while parked at a depot.
Like electric passenger cars, the eSprinter also gets a few features to help drivers maximize range. Drivers can select from a range of regeneration settings, as well as minimize regen to allow the van to coast. Or they can let the van figure things out, using the adaptive regeneration system from Mercedes' EQ passenger cars.
A standard pre-conditioning system automatically heats the battery pack and turns on the seat heaters at a designated time, so both driver and vehicle can stay toasty on cold days. Mercedes also included a range mode, although this limits output from the motor to preserve battery charge.
Commercial-grade components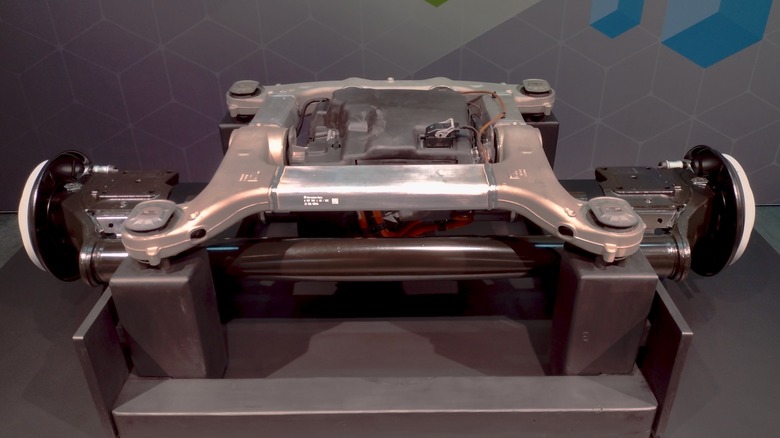 Stephen Edelstein/SlashGear
Speaking of the motor, it's no longer a repurposed EQC unit. The eSprinter debuts a van-specific motor and axle assembly, weighing in at a relatively light 286 pounds, that will soon be used in other models. Unlike the previous setup, this new assembly allows for multiple body styles, although the U.S. is only getting a traditional cargo van for now.
The U.S.-spec eSprinter launches with a single motor powering the rear wheels. It's available in 134 horsepower or 201 hp tunes, both with 295 pound-feet of torque. For comparison, the most powerful internal-combustion engine available in a Sprinter in the U.S. — a 2.0-liter turbodiesel inline-four — makes 211 hp and 322 lb-ft in its higher-output tune.
Mercedes quotes a maximum payload rating of 2,675 pounds for the launch cargo version. That's substantially less than a gasoline or diesel Sprinter cargo van, which can be configured for up to 6,812 pounds of payload.
These specs are in line with other electric vans, however. Rivian says its van platform can be configured for payloads ranging from 1,960 pounds to 2,750 pounds. The Ford E-Transit has a maximum payload rating of 3,880 pounds, but Mercedes may be able to beat Ford's 126-mile maximum range estimate.
Tech, too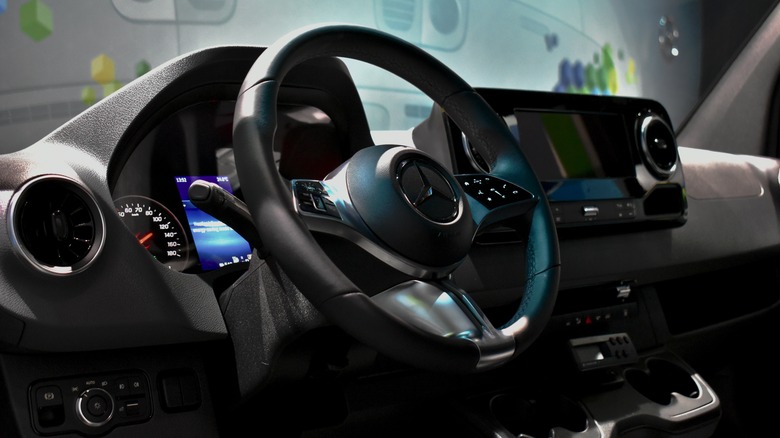 Stephen Edelstein/SlashGear
It may be a commercial vehicle, but the eSprinter isn't lacking in tech. It gets a version of the Mercedes-Benz User Experience (MBUX) infotainment system from Mercedes' passenger cars, specifically the second-generation system that debuted in the 2021 S-Class. That means the 10.25-inch touchscreen is backed by more computing power and the ability to store up to seven driver profiles that can also be transferred between vehicles. Mercedes says the voice control is improved as well.
The navigation system uses what3words, which assigns a three-word code to specific coordinates. It's handy for finding construction sites that don't have a set address, Peter Feneberg, Mercedes product manager for telematics, pointed out. The eSprinter version of MBUX also gets some fleet-specific features, such as geofencing and remote diagnostics, plus range mapping that shows how far the van can drive with its current charge level.
Driver aids like blind-spot monitoring, automatic emergency braking, and a driver-attention monitor are included as well, along with Crosswind Assist, which helps compensate for crosswinds—which sounds like a pretty helpful feature in a broad-sided van. A digital rearview mirror, similar to the devices available in numerous passenger cars, shows feed from a rear-mounted camera, allowing drivers to get a direct rearward view even in cargo vans with a solid rear bulkhead.
Manufacturing ease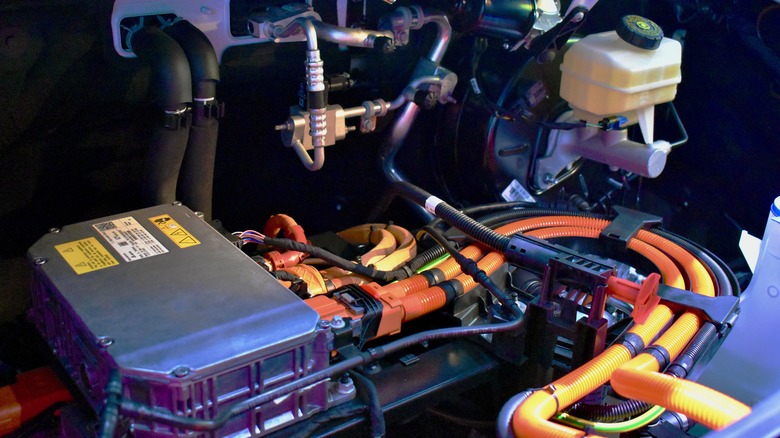 Stephen Edelstein/SlashGear
Even the best EV won't be relevant if it can't be built in meaningful numbers. Mercedes didn't discuss production targets, but noted that because the eSprinter shares its body shell with internal-combustion models, it doesn't require significant changes to existing assembly lines. Some components were even arranged under the hood in a shape similar to an engine to further streamline assembly, although we don't envy the workers that have to connect the many cables and hoses we saw under there.
In addition to the current eSprinter production site in Düsseldorf, Germany, Mercedes plans to expand production to Charleston, South Carolina, and Ludwigsfelde, Germany. The new eSprinter will launch in the U.S. and Canada first, beginning this summer, followed by a European launch later in the year.
A placeholder for dedicated electric vans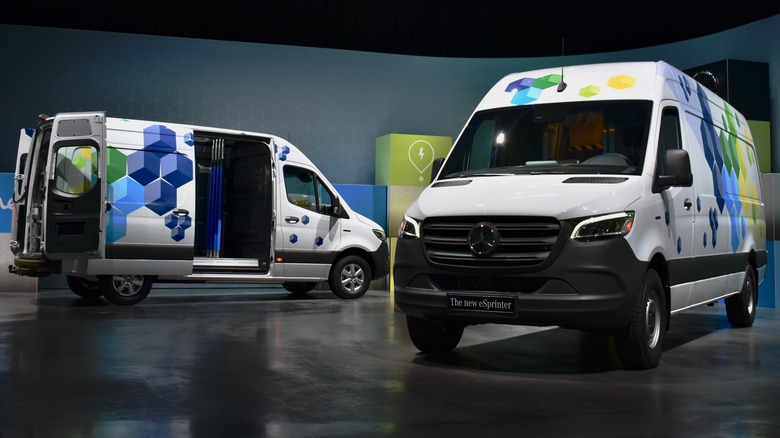 Stephen Edelstein/SlashGear
Among U.S.-market vans, the eSprinter most closely resembled the Ford E-Transit, as both are conventional vans converted to electric power. Ford is also making the E-Transit available to all customers, while Rivian hasn't detailed plans to sell electric vans to anyone other than Amazon, which so far has 100,000 customized vans based on Rivian's platform on order.
General Motors has launched an entire electric commercial-vehicle division called BrightDrop, with vans designed from the ground up as EVs. The first BrightDrop Zevo 600 (nee EV600) models rolled off a Canadian assembly line in late 2021, destined for FedEx, but the ramp up has been slow. Having delivered just 150 vehicles to FedEx in 2022, BrightDrop is just now fully ramping up production, with a goal of building 50,000 vans per year by 2025.
By that time, Mercedes hopes to be all-in on electric vans. It also plans to launch a dedicated electric-van platform called Van.EA that year. With that in place, all Mercedes vans launched after 2025 will be electric, the company has declared. That makes the eSprinter, with its legacy DNA, something of a placeholder, bridging the gap between the current internal-combustion Sprinter and those future EVs. But it will still play an important role, getting van buyers acclimated to EVs with a familiar package that largely carries over from the vehicles they're already using. Think of it as a first, spacious step toward an electric future.