2023 Mercedes-Benz Sprinter First Drive: A Van For All Seasons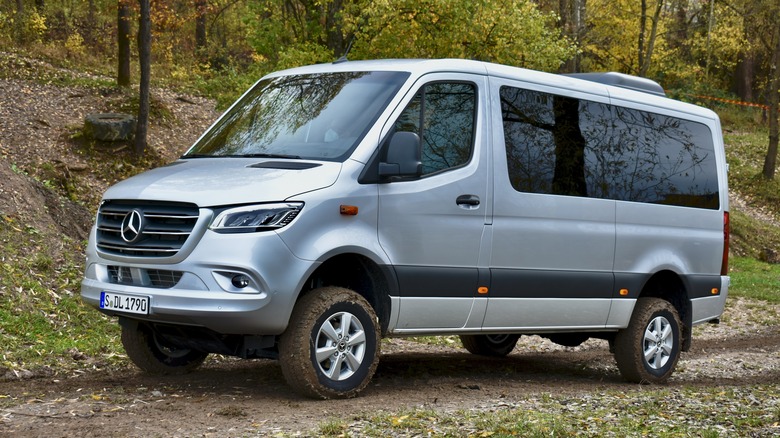 Stephen Edelstein/SlashGear
The Mercedes-Benz Sprinter is a rockstar in the van world, and not just because it wears the three-pointed star on its nose. The Sprinter helped popularize European-style vans in the United States; its influence can be seen in the current Ford Transit and Ram ProMaster—both adapted from European-market models.
So while it's not as luxurious as Mercedes' passenger cars, the Sprinter can claim to be just as much of a trendsetter. And if you're an outdoor enthusiast, plumber, or anyone else living #VanLife, you'll want to pay attention to the 2023 Sprinter, which gets a number of significant updates for the new model year.
While it's the same platform that debuted for the 2019 model year, the 2023 Sprinter has a revised engine and transmission lineup and a new all-wheel drive system that maintains some degree of off-road capability, Mercedes claims. Because these days, seemingly every new vehicle needs to have some degree of off-road capability to attract shoppers' attention.
More than just luxury cars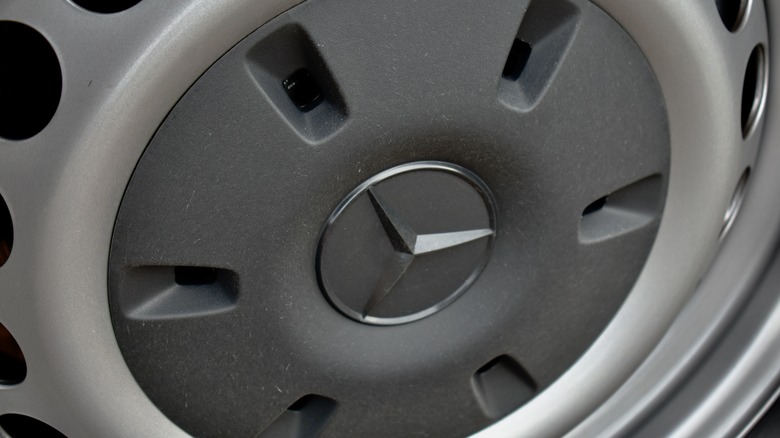 Stephen Edelstein/SlashGear
Mercedes is primarily known in the U.S. for luxury cars, and it may seem strange to see the automaker's logo on the front of a van. Yet the automaker is well established in the commercial-vehicle sector, building semi trucks, buses, and other vehicles for global markets. Step out of the airport in Berlin or Frankfurt and you'll be greeted by a line of Mercedes E-Class taxis, diesel engines contentedly clattering away.
That's because, while commercial users may not care about massaging leather seats, they do care about solid engineering and durability—qualities that transcend luxury snobbery.
Mercedes began importing the Sprinter to the U.S. in 2001, and now builds the vans at its factory near Charleston, South Carolina. Also sold as a Dodge and Freightliner over the years, the Sprinter has become a mainstay of U.S. delivery fleets and a popular choice for RV and camper-van conversions.
Greater flexibility through more gears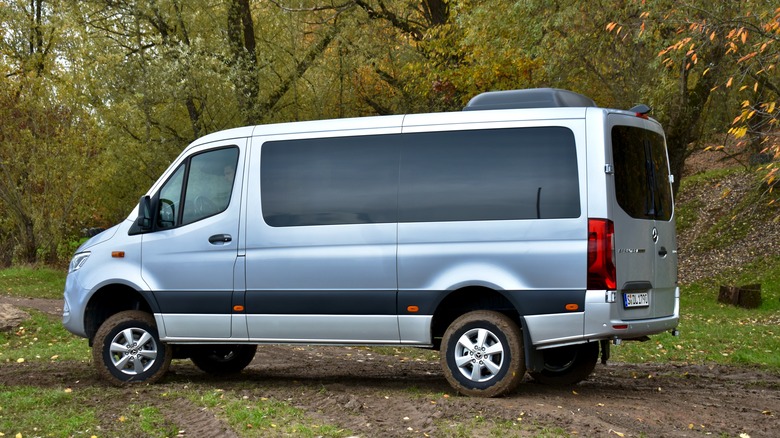 Stephen Edelstein/SlashGear
The big changes for 2023 are under the skin, and they bring the Sprinter more in line with Mercedes' passenger cars. For example, a nine-speed automatic transmission similar to the one used in models like the C-Class sedan is now standard across the board.
Mercedes claims the nine-speed lowers fuel consumption, and by extension emissions, compared to the seven-speed automatic that was previously standard on most Sprinter grades. That makes sense, as the addition of two extra gear ratios leaves more room for a higher, efficiency-focused top gear, but we don't have any hard numbers because the Sprinter isn't required to undergo EPA fuel-economy testing.
A greater ratio spread also improves performance, according to Mercedes, which again is a typical benefit of adding more gears. The automaker claims improved off-the-line acceleration thanks to a lower first gear, and our test van did indeed feel quite responsive when pulling away from stops.
More power from fewer cylinders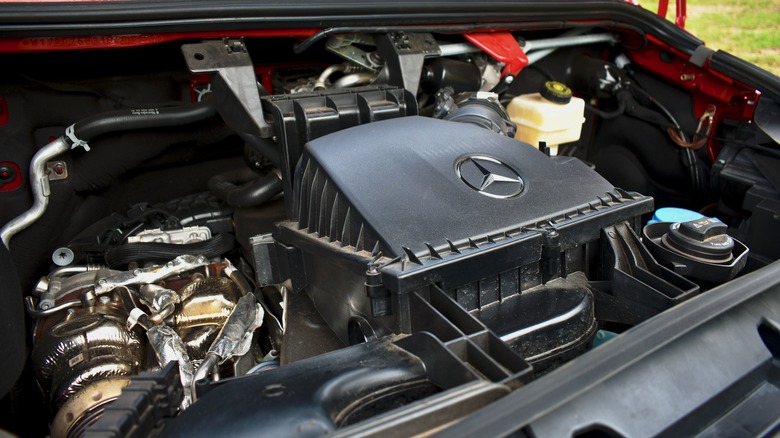 Stephen Edelstein/SlashGear
While the number of available gear ratios increases, the number of available cylinders decreases. Much like we've seen in passenger cars generally, Mercedes is dropping the 3.0-liter turbodiesel V6 engine and going for an all-four-cylinder lineup.
That leaves a 2.0-liter turbodiesel four-cylinder engine with outputs of 170 horsepower and 295 pound-feet of torque or 211 hp and 332 lb-ft, compared to the 161 hp and 325 lb-ft of last year's diesel-four and 188 hp and (again) 325 lb-ft for the discontinued V6. The gasoline 2.0-liter four-cylinder engine returns as well, with output unchanged at 188 hp and 258 lb-ft of torque.
As those figures might suggest, the name Sprinter is awfully optimistic. That became immediately apparent when we were easily overtaken by a Mitsubishi Eclipse Cross while flooring the accelerator of an all-wheel drive diesel Sprinter cargo van on a stretch of German Autobahn (the kind with speed limits, thankfully).
Slow but steady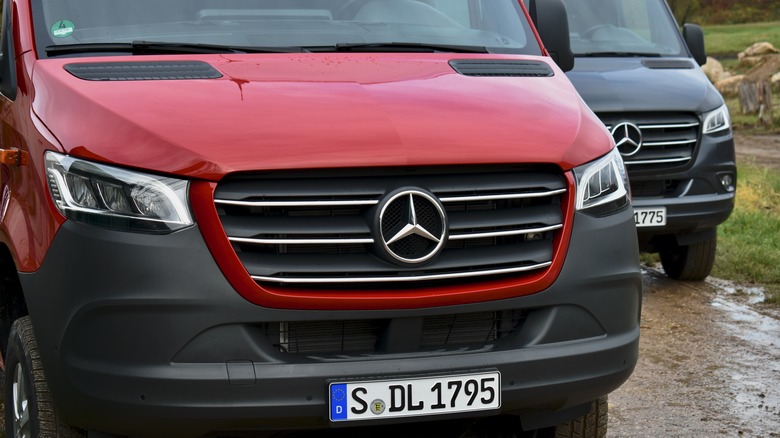 Stephen Edelstein/SlashGear
The nine-speed automatic ensured that acceleration was consistent, at least, with smooth shifts and no discernible lag in what little thrust there was. Based on the engine note, the diesel four-cylinder seemed to be working a bit harder than the old V6, which could erode some of the claimed efficiency benefits in real-world driving. But it was still remarkable that this big van was being propelled by an engine the size of an economy car's.
For a metal box on wheels, the Sprinter also felt relatively refined. The engine produced stereotypical diesel clatter, but without much vibration. With a 600-kilogram (1,322-pound) load in the back—enough to simulate driving with cargo without blunting acceleration—the ride was fairly comfortable. And while the driving position is decidedly van-like—you effectively sit over the steering wheel rather than behind it—the steering was precise enough to inspire confidence while maneuvering through the narrow confines of German towns.
All-wheel drive replaces four-wheel drive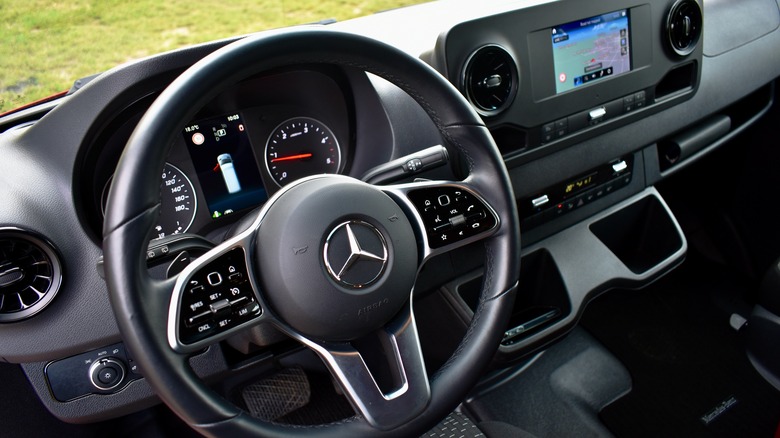 Stephen Edelstein/SlashGear
Rear-wheel drive remains the default, but for camper-van coveters, the Sprinter can still be configured with four driven wheels. For 2023, the Sprinter gets a more car-like all-wheel drive system in place of the previous part-time four-wheel drive setup.
The new system is automatic like the 4MATIC systems used in Mercedes' passenger cars, so it doesn't need to be manually shifted into 4x4 mode like the old system. And where the previous system had a 35/65 percent front/rear torque split, the new system provides an even 50/50 split between the axles, with the ability to shift power between them as needed, or side to side via brake-based torque vectoring. That will make it harder to drift the new Sprinter, but should provide more traction off-road. And because first gear is lower now, you won't miss the old system's low range, Mercedes claims.
Mercedes also noted that ground clearance, approach angle, departure angle, and breakover angle are unchanged with the new all-wheel drive system, so you're in no more danger of beaching this van on an obstacle than you would have been with the previous version.
An all-weather van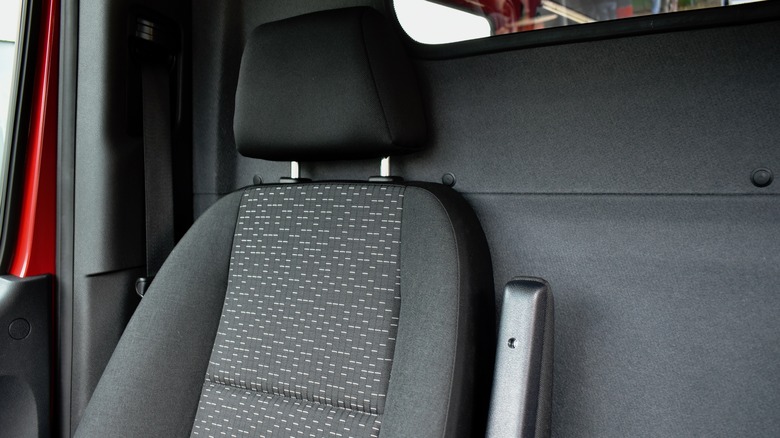 Stephen Edelstein/SlashGear
Weather nixed any real off-roading, but the all-wheel drive Sprinter handled a bit of mud with aplomb—even on ordinary winter road tires. It should have no problem with dirt roads or unpaved campsites, although we can't speak to its capabilities in true off-roading situations.
The biggest benefit of the new all-wheel drive system will likely be in on-road driving anyway. As with all-wheel drive cars and SUVs, this kind of system takes the guesswork out of driving in slippery conditions. The old system required manually shifting into four-wheel drive, leaving the possibility of having inadequate traction if the driver misjudged conditions. That's not a problem here.
Same Mercedes tech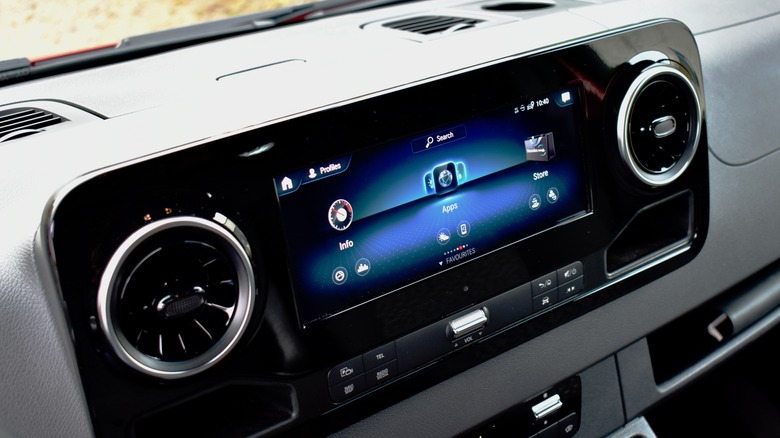 Stephen Edelstein/SlashGear
The interior gets some design features to tie it to other Mercedes products, but this is by no means a luxury cabin. The steering wheel—with its gloss black touch controls—and round air vents are recognizable from Mercedes' cars, but instead of leather upholstery and wood trim, everything is rendered in different forms of plastic. It's exactly what you'd expect in a van, but the juxtaposition between Mercedes design elements and commercial-vehicle materials is amusing nonetheless.
The Sprinter gets the same Mercedes-Benz User Experience (MBUX) infotainment system as other Mercedes models (it was one of the first vehicles to get it, in fact), complete with "Hey Mercedes" voice assistant. But a tiny 7.0-inch touchscreen is standard, and even the larger optional 10.25-inch touchscreen seems undersized because of how far the screen is from the driver's line of sight.
The driver aids one would expect on a Mercedes (or a Toyota, for that matter) are available, but most are not standard equipment. Automatic emergency braking is standard, but blind spot monitoring, lane keep assist, adaptive cruise control, traffic sign recognition, and a driver attention monitor are restricted to the options list. A 360-degree camera system is available as well, and a digital rearview mirror is new for 2023.
Competitive cargo capacity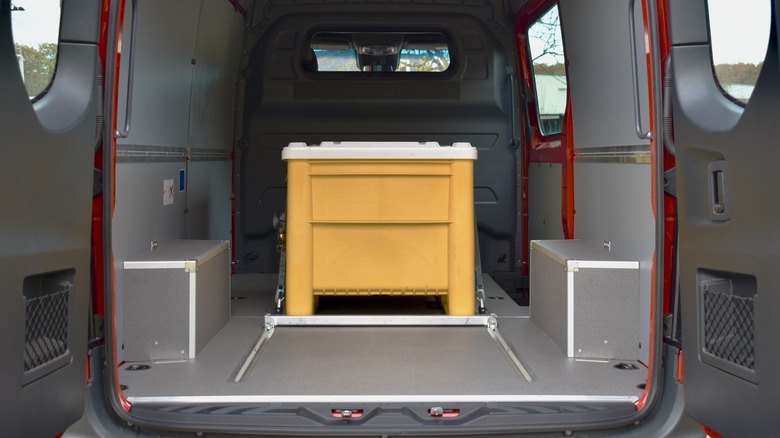 Stephen Edelstein/SlashGear
Mercedes continues to offer cargo and passenger versions, as well as a crew van that provides a bit of space for both passengers and cargo, and a chassis cab that's primed for RV conversions. Typical for a van, Mercedes also offers multiple wheelbase and roof height options as well.
Like the array of configurations, the exterior styling hasn't changed for 2023. And while it got a bit rounder with its last redesign, the Sprinter retains its familiar tall-and-narrow proportions. All-wheel drive models sit a big higher than their rear-wheel drive counterparts, and positively tower over ordinary pickup trucks and SUVs.
The Sprinter boasts up to 533 cubic feet of cargo volume in its most spacious diesel cargo van form, with a payload capacity of 6,812 pounds. Both figures beat the best manufacturer-supplied numbers for the rival Ford Transit. Cargo vans and crew vans with the high-output version of the diesel engine also have a maximum towing capacity of 7,500 pounds, while other versions can tow 5,000 pounds.
2023 Sprinter pricing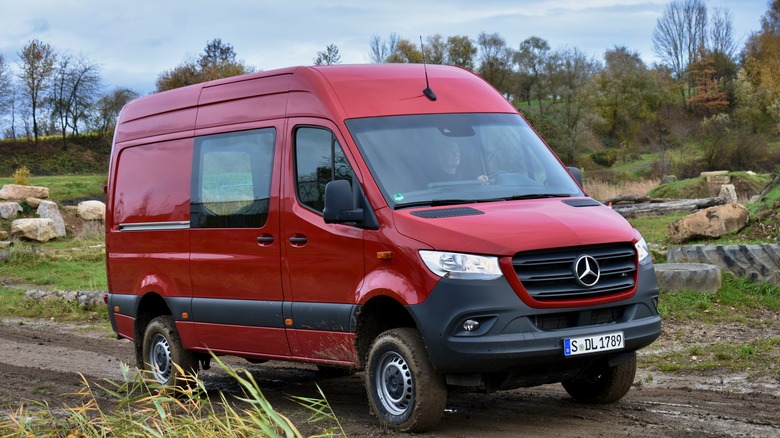 Stephen Edelstein/SlashGear
Pricing starts at $45,795 for a base gasoline cargo van, $48,995 for the crew van, and $50,995 for the passenger van. The diesel engine is $3,500 extra on the cargo van, $2,500 more on the crew van, and a $3,910 option on the passenger van. At the time of publication, Mercedes was only letting customers order all-wheel drive with the high-output version of the diesel engine, where it's a $6,400 option.
It may be a Mercedes, but the Sprinter is fairly price-competitive with similar large vans. The passenger version slightly undercuts the $51,070 base price of a 2023 Ford Transit passenger van (Ford hasn't published pricing information for other versions), although a base Ram ProMaster cargo van is a bit cheaper than the equivalent Sprinter, at $43,085.
Most of these vans will likely go to commercial fleets, where managers think more in terms of total cost of ownership than just purchase price, however. That also creates a ready market of used vans for overlanding enthusiasts to convert into four-wheeled homes. Those with more money and less time and carpentry skills can also get pre-built conversions from specialist firms that get vans straight from the dealership, much as Ford will do with its new 2023 Transit Trail.
Better, but not a game-changer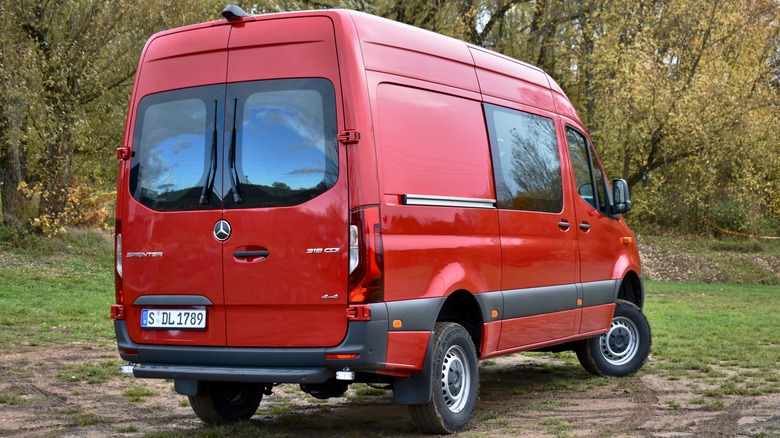 Stephen Edelstein/SlashGear
Despite the number of mechanical changes, customers likely won't need to rush out to buy a 2023 Sprinter.
The nine-speed automatic transmission gets the most out of the powertrain, and the new all-wheel drive system is a more convenient way to get extra traction. This would be significant in a passenger car, but fleet buyers and overlanding enthusiasts looking at their vans as assets and mobile homes, respectively, probably won't be as focused on the subtle differences in the driving experience that these changes bring. Most will probably just be happy to get an allocation in these supply-constrained times.
The real game changer will likely be the all-electric eSprinter, which Mercedes is finally bringing to the United States (in updated form) after several years on sale in Europe. If nothing else, it heralds the future of Mercedes' van lineup, which is slated to go all-electric in at least some markets by 2030. For now though, the internal-combustion Sprinter seems like a nice van to live with. Or in.