2022 Mercedes-Benz C-Class First Drive: S Appeal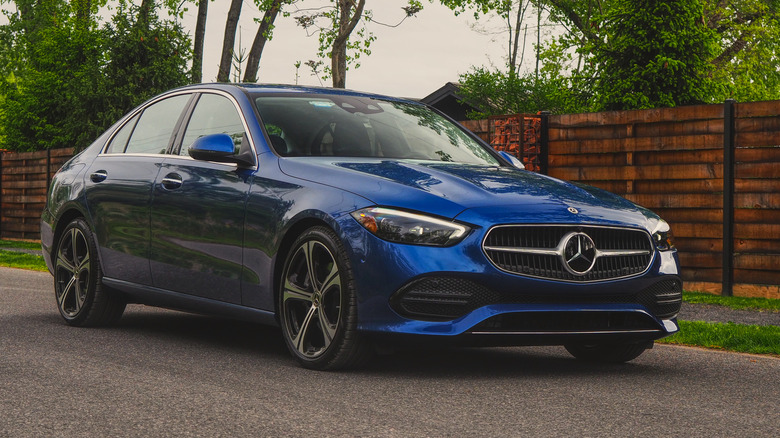 Chris Davies/SlashGear
The 2022 Mercedes-Benz C-Class sedan has never been more like a miniature S-Class. Then again, when you're facing competition from both familiar foes like Audi and BMW, and relative upstarts like Genesis, a little extra razzle-dazzle seems wise. For this fifth-generation sedan, then, there's more tech, more luxury, and more presence, though aping the company flagship does bring some other considerations, too.
Compared to the old C-Class, the 2022 model year is 2.6 inches longer, half an inch wider, and generally more aggressive by design. The long hood and smooth curves of the roofline and wheel arches are classically handsome, while the tapering hips give the sedan a planted look.
Mercedes' standard grille is glitteringly chrome-edged, but the AMG Line trim ($3,050) swaps that for a more aggressive A-shaped version filled with metallic stars. It's a very different visual feel, as is the switch to black trim around the side glass. Either way, LED lighting front and rear are standard, with the Digital Light system that features adaptive curve illumination an option.
One engine that's hybrid by default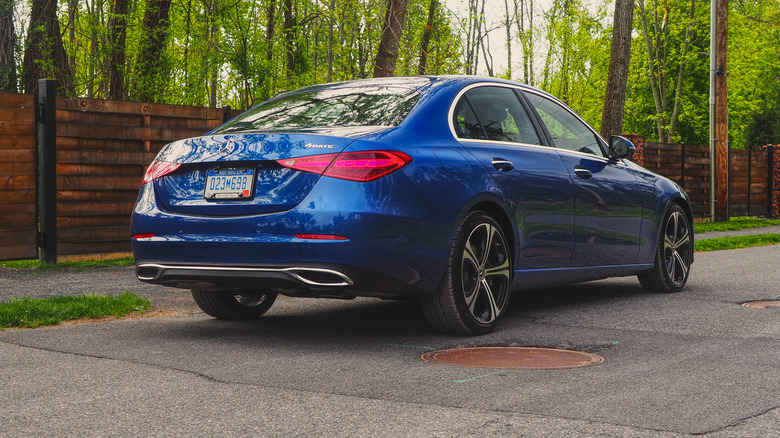 Chris Davies/SlashGear
The US market will get two versions of the new C-Class to begin with, the 2022 C300 (from $43,550 plus $1,050 destination) and the 2022 C300 4MATIC (from $45,550 plus destination); each will come in a simplified three-tier trim structure. A 2.0-liter inline-4 turbo engine with 255 horsepower and 295 lb-ft of torque is standard, and in fact the only engine option for now; the regular C300 is rear-wheel drive, while the C300 4MATIC is all-wheel drive. A 9G-TRONIC 9-speed automatic transmission is the default gearbox.
So, too, is a mild-hybrid system. You can't plug the C300 into a wall charger, but its 48-volt architecture combines a small battery with an Integrated Starter Generator (ISG). Effectively an electric motor bolted to the gas engine, it can add a further 20 horsepower and 148 lb-ft of torque for short periods.
As we've seen in other Mercedes EQ Boost hybrids, that pays dividends when it comes to bursts of acceleration. The C300 isn't a sports sedan, but 0-60 mph in an estimated 6.0 seconds isn't embarrassing. Top speed is electronically-limited to 130 mph.
Smoother and more frugal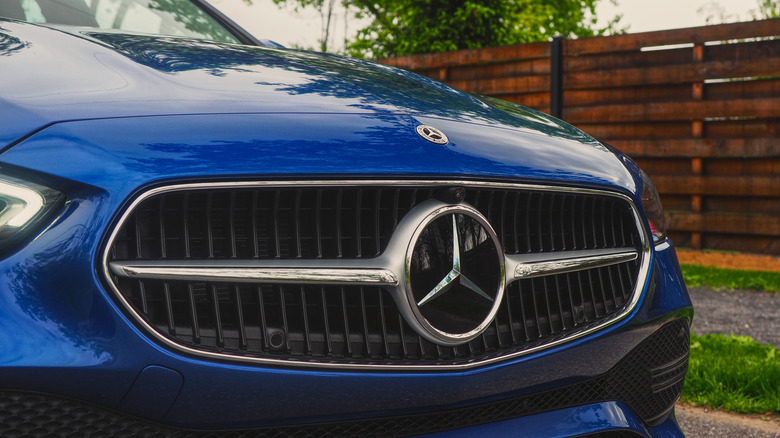 Chris Davies/SlashGear
There's no manual control over the hybrid system, and no electric-only driving, though in periods of steady speed — or as you're slowing to a halt — it means the gas engine can shut off and allow the C300 to "sail" serenely. It quickly and smoothly brings the inline-4 back into action, too, with barely a murmur. This is one of the cleanest auto stop/start systems I've tried, and I generally have a low tolerance for jerky restarts.
The other big advantage of the 48V tech is economy. According to the EPA, the C300 will do 25 mpg in the city, 35 mpg on the highway, and 29 mpg combined; the all-wheel drive version sees those numbers dip to 23 mpg in the city, 33 mpg on the highway, and 27 mpg combined. In 130 miles of my own driving — with a mixture of highway, suburban, and backroads — I saw just shy of 29 mpg in the C300 4MATIC.
It doesn't feel like a super-frugal experience from behind the wheel, though. Power is ample for the C300's size, and the suspension is set just on the firm side. There's no air suspension as Mercedes' larger sedans offer, but continually adjustable damping is standard; the AMG Line spec gets sport suspension, a fraction of an inch lower.
A comfortable long-distance cruiser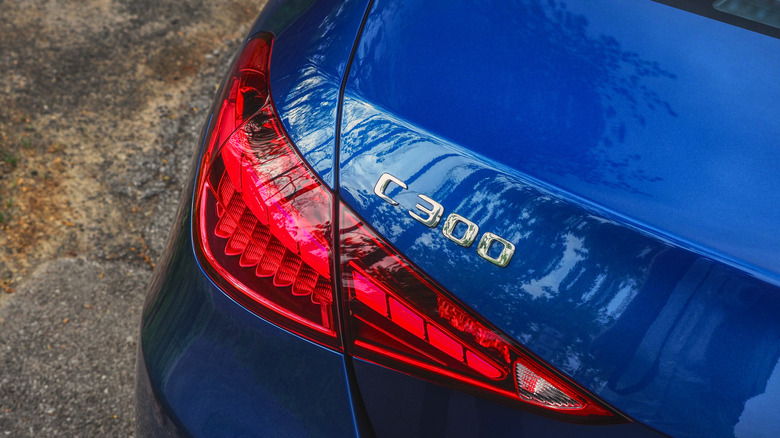 Chris Davies/SlashGear
Barring some more ramshackle expansion strips on subpar highways, the C300's play for out-of-the-box balance worked well. Body roll is low, but it's still comfortable, while the refinement of the engine belies its actual size. It makes for a great long-distance cruiser, chewing through the miles with the sort of casual ease which reminds you why there's still a place for effortless sedans in a world that seems unduly obsessed by SUVs and crossovers.
Sport and Sport+ modes dial up the transmission aggressiveness and tweak throttle mapping, though the 9-speed still benefits from some manual coaxing with the paddle shifters. Otherwise you can find yourself just that one ratio too high when you want to be right in the center of the power band. The other oddity is the brake pedal: the C-Class has perfectly capable brakes, but there's a fair amount of soft travel before you actually find that biting point.
A cabin like its bigger brother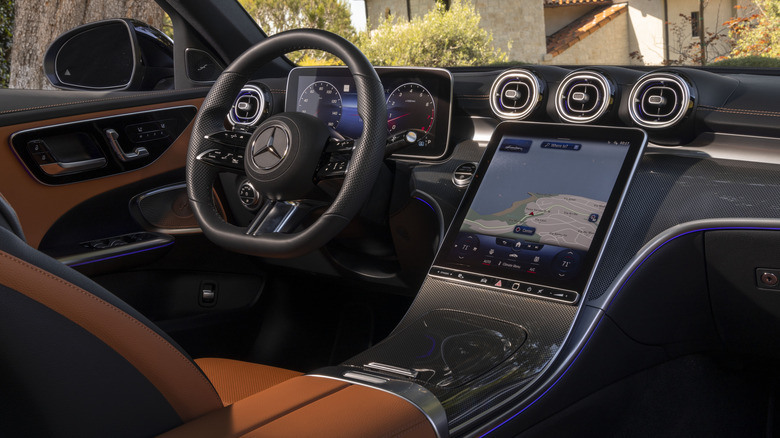 Mercedes-Benz
The cabin is arguably the biggest improvement over the old sedan. It's where the S-Class' donations are the most obvious, with a portrait touchscreen taking pride of place in the sweeping expanse of center console. Mercedes' textured plastics fall short of the metal and wood in the big luxury sedan, but they're a whole lot nicer than the piano black plastic in some of its other, more affordable cars. Both the middle 11.9-inch display, and the 12.3-inch driver display, are standard, and running the latest iteration of the MBUX infotainment system.
It's a handsome redesign, though it can take a little getting used to just how much Mercedes puts on-screen at any one time. Floating widgets hover features like multimedia and phone atop the sizable mapping display; you can reach out and tap, or use the surprisingly adept "Hey Mercedes" voice control to set the navigation, adjust the climate control, or change the media, among other things. Wireless Apple CarPlay and Android Auto are standard, too, while more USB ports — including extra-potent 100W ports that can recharge laptops — are optional.
No shortage of tech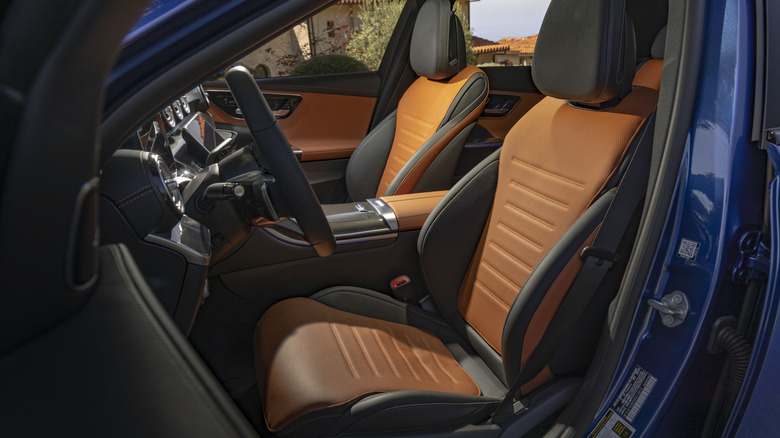 Mercedes-Benz
I like MBUX, though a handful of routing glitches left me a little wary of Mercedes' directions. There's no denying that the redesigned C-Class cabin feels a lot more upscale than in the old car. In the front, indeed, it's decidedly S-Class-esque, though space in the rear is obviously a lot more compact. Adult-accommodating, still, but even with the wheelbase stretched an inch it's clear you want to be riding up front.
Heated front seats, keyless start, blind spot assistance, a sunroof, parking sensors, and 18-inch wheels are standard on the entry Premium trim. So, too, is a fingerprint sensor, which can summon your own MBUX profile. I like that more than I like the capacitive controls on Mercedes' latest steering wheels, which are fussy to react to swipes. Options include leather seats with ventilation, a heated steering wheel, panoramic roof, ambient lighting, Burmester 3D Surround Sound audio system, a sizable head-up display, and augmented reality navigation.
Augmented reality and hands-on driver assistance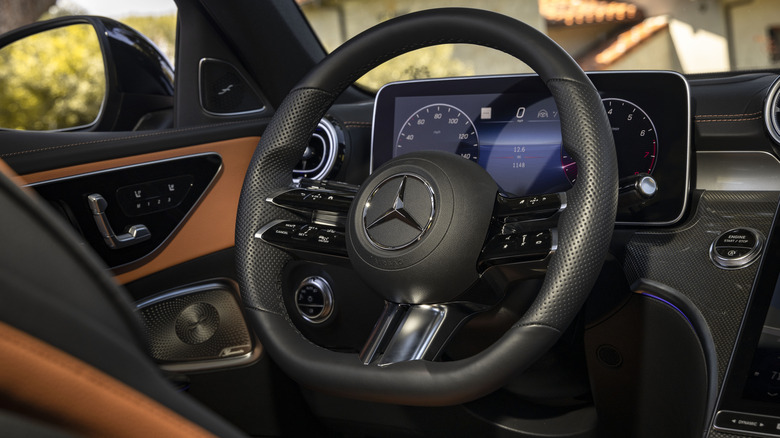 Mercedes-Benz
Though it was of questionable use when first launched, that AR system has definitely matured in the intervening years. Unfortunately the C-Class doesn't project animated arrows for upcoming lanes and turns onto the windshield, as in some of Mercedes' more expensive cars, but seeing them highlighted on the big center display is almost as useful.
The same goes for Active Distance Assist DISTRONIC with Active Lane Change Assist. Included in the $1,950 Driver Assistance Package, it's adaptive cruise control with lane-keeping, and it can switch lanes for you if you tap the indicator. Though it's still a hands-on system — leaving your hands off the wheel will get you electronically scolded and, eventually, it'll all turn off and put you back into manual mode — it's smooth and predictable. It can also automatically adjust the cruising speed according to the terrain ahead, including curves, exit roads, and even things like toll booths.
2022 Mercedes-Benz C300 Verdict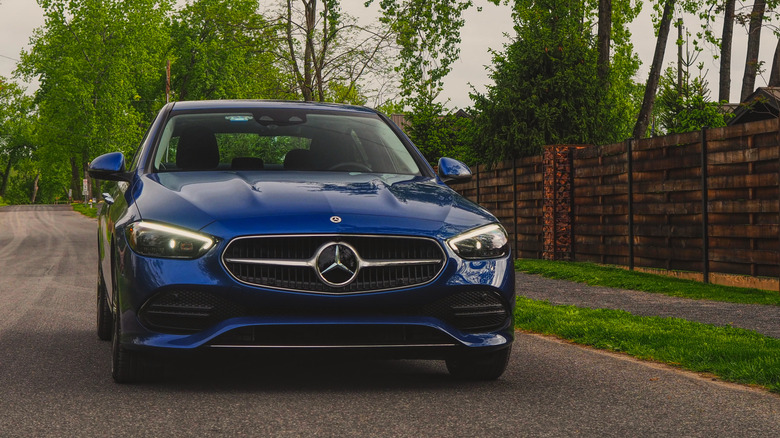 Chris Davies/SlashGear
Nobody ever accused the S-Class of being a sports car; in echoing the big luxury sedan's mindset, the new C-Class does pitch its priorities a little more on the cosseting end of the scale than some rivals. A Genesis G70 feels more eager on the back roads, for instance, though isn't as refined at cruising. We'll have to wait for an actual AMG-spec car to truly see what the new C-Class is capable of, dynamics-wise, but right now the C300 definitely falls in line with Mercedes' pitch of balancing comfort and performance.
More eager drivers might want to take a spin in that G70, though the cabin experience doesn't come close to the C300; Audi's A4 is cheaper than the C-Class, but doesn't feel anywhere near as memorable. The Mercedes isn't cheap — by the time you get to the 2022 C300 4MATIC Pinnacle trim I spent the most time in, complete with the Driver Assistance Package and AMG Line spec, you're at $58,700 including destination — but you're getting plenty for your money.
There's a lot about the new C-Class which feels "just right" in this iteration. The right amount of power, the right amount of tech and cabin comfort, and the right amount of style: straddling a line between sporty and subtle. It's elegant and classic on the outside, while the gadgetry inside genuinely feels like it belongs in a segment above, and though some of the toys cost extra it's altogether a convincing play in what has long been a competitive segment.