The Most Expensive Car In Lil Wayne's Collection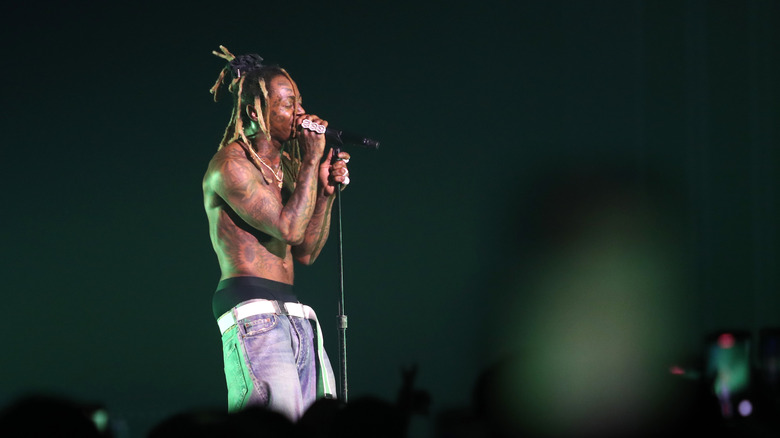 Jerritt Clark/Getty Images
Dwayne Michael Carter Jr. is a rap prodigy who began his music career when other boys his age were preoccupied with puberty. More popularly known as Lil Wayne, he signed to rapper Birdman's Cash Money Records in 1995 at age 12 to become the label's youngest artist. Lil Wayne was the first recording artist to get six number-one songs on the Billboard charts in a year (per Uproxx). The Guinness Book of World Records has listed Weezy as the record holder for having the most U.S. Hot 100 hits (64) by a rap artist from 1999 to 2010 (per Houston Press).
Wealthy Gorilla ranks Lil Wayne among the 10 richest rappers in the world, with a $150 million net worth. With that kind of moolah, it's not unusual to see Weezy rolling around in expensive cars. However, which among his impressive armada of exotic vehicles will raise the most eyebrows with its hair-raising price tag?
What is Lil Wayne's most expensive car?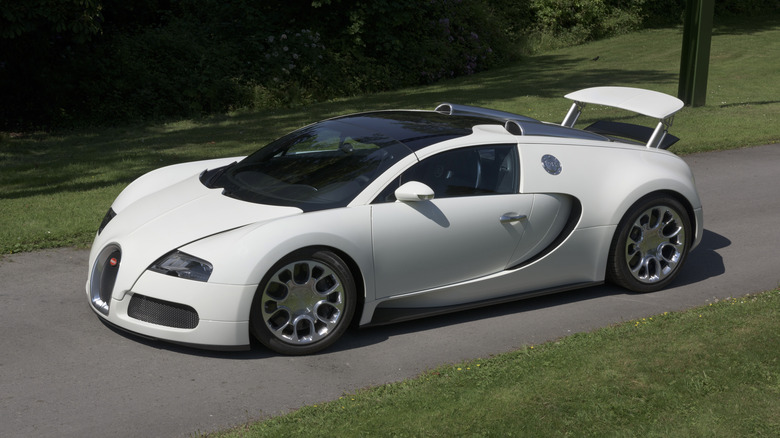 Heritage Images/Getty Images
Hands down, the Bugatti Veyron is Lil Wayne's most expensive ride. It's also the costliest car in other celebrity garages like Manny Khoshbin, 50 Cent, John Cena, and Drake, to mention a few. With prices ranging from $1.2 million to around $2 million for a limited edition variant, the Veyron is fit for an uber-wealthy rapper like Lil Wayne. Despite being the Chiron's predecessor, you won't typically find a Veyron on the street like a Camry or Corolla. Bugatti only made 450 Veyrons (in multiple configurations) from 2005 to 2015 (per Motor Trend), making it a rarer sight than a blue whale in the wild.
The Veyron is a supercar of superlatives, and it all has to do with its mighty 8.0-liter quad-turbocharged W16 powerplant. Churning out 1,000 horsepower and 922 lb-ft of torque to all four wheels, the Veyron was formerly the world's fastest production car, zipping from zero to 60 mph in under 2.5 seconds and topping out at an incredible 267+ mph.
Posh and pricey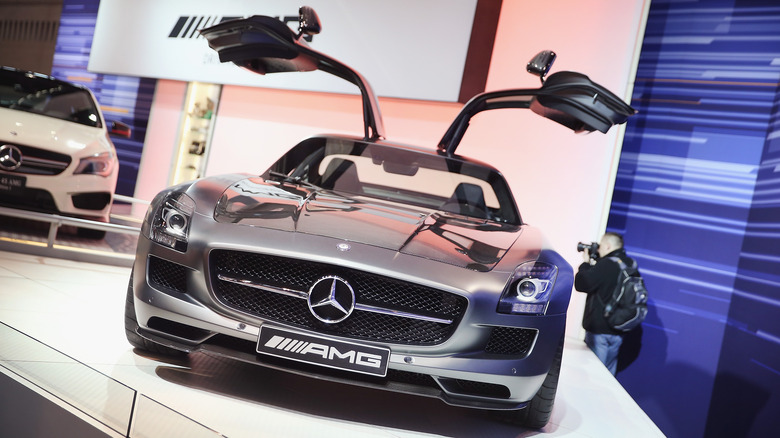 Scott Olson/Getty Images
The Bugatti Veyron is a rare supercar, but Lil Wayne has something rarer, albeit less expensive. According to The Richest, Lil Wayne is a proud owner of a lovely Mercedes-Maybach 62 Landaulet. In a report by Maybach Haus, Mercedes only built 18 pre-facelift 62 S Landaulet units and four facelifted variants before ending production in October 2012. What's unique about the Maybach 62 Landaulet is its convertible rear top that reminds us of vintage luxury cars from the 1930s.
It's not only an ultra-posh ride, but it scoots like a proper Autobahn stormer. It has a 6.0-liter twin-turbocharged V12 engine with 630 horsepower and 738 lb-ft of torque, helping it rush from zero to 60 mph in 5.5 seconds. Moreover, the Maybach 62 Landaulet has a 155 mph top speed and a sub-$2 million base price (per DuPont Registry).
Lil Wayne has more expensive cars in his garage, like a $228,000 Mercedes SLS AMG, a $280,000 Bentley Mulsanne, a $400,000 McLaren 720 S, a $90,000 Cadillac CTS, and a $550,000 Rolls-Royce Phantom Drophead Coupe.