Amazon Fire TV Omni QLED Series Review: Great If You Don't Mind Menus
Chris Burns/SlashGear
We may receive a commission on purchases made from links.
If I were able to review this television without its software, it'd get significantly higher marks than I've ended up giving it. Amazon's Fire TV platform makes navigating this TV a bit like navigating Amazon's online store. If you know exactly what you want, and you know how to find the content you want inside of your favorite streaming app, you should be fine. But if you enter this environment expecting simple servings of content that you've already paid for and thus can access for free, you'll find yourself disappointed.
If you're an Amazon Prime subscriber and you subscribe to multiple streaming platforms at the same time, this TV delivers a decent experience, worth the cash you'll pay to own it. If you're the sort of person who buys a television just so you can connect it to another device like a cable box, a gaming console, or a smart TV device like Apple TV or Google Chromecast with Google TV, this TV's value has the potential to go above and beyond it's asking price.
If you're looking for a simple, well-designed software experience in Fire TV, you're in for some disappointment. This software is not as simple to navigate as Android TV, Google TV, tvOS (Apple TV), or Tizen OS for TV (most modern Samsung smart TVs). This television runs Amazon's Fire TV operating system, and much like what was demonstrated in SlashGear's Amazon Fire TV Cube review, it's a bit of a jumble.
Jumbled software, starting with search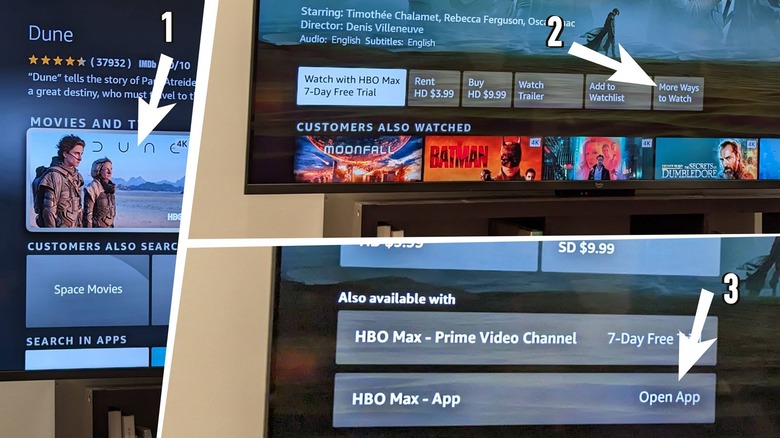 Chris Burns/SlashGear
The main issue I have with Amazon's Fire TV software can be demonstrated by the platform's search bar. If I search for "Dune," I'm shown a brief description of the latest iteration of the story — the 2021 movie — followed by a row of search results. The first entry on the list is "Dune," the 2021 movie — as it should be.
When I select this first entry on the list, I'm taken to a screen that offers me the ability to "Watch with HBO Max 7-Day Free Trial," "Rent" or "Buy" from Amazon, "Watch Trailer," "Add to Watchlist," or I can select "More Ways to Watch." Once I select the last option, I'm again offered the movie for sale from Amazon, again offered an HBO Max trial, and finally: I'm given the option I should have seen from the beginning:  "HBO Max – App, Open App." 
I have an HBO Max subscription, and I signed in to the app before I started the search. It seems as though Amazon is so laser-focused on the upsell that the software (or at least the software's search UI) doesn't bother to account for users that already have access to the media. Or so it would seem.
Preferential treatment for Prime Video, Netflix, Disney+, and Hulu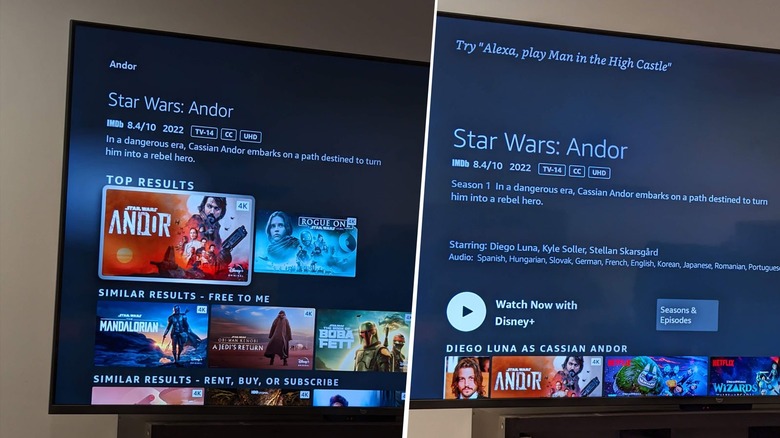 Chris Burns/SlashGear
Meanwhile, if I search for "Andor" and select the first option on the search results screen, as I did with "Dune," I'm taken to a description page for "Andor" in a similar format to the one I saw with "Dune," with one significant difference. There's a big "Watch Now with Disney+" button that sends me right to the content I want.
If you search for content that's hosted by any service other than Prime Video, Netflix, Disney+, or Hulu, you'll find a "Watch Now" button buried under another menu (More Ways to Watch). If you search for a piece of content hosted by a service that doesn't offer a trial subscription period, you'll see something different than what we saw with "Dune."
If I search for the TV show "Brooklyn Nine-Nine," I get to a page that shows Amazon's "Buy Episode" or "Buy Season" links first, then the direct link to the platform it's hosted by — Peacock — hidden under the "More Ways to Watch" button. I also have a subscription to Peacock.
So if you're using Prime Video, Netflix, Disney+, or Hulu, you're going to have a slightly easier time accessing your preferred content with the TV's search function. If you only ever just jump right into one of these apps because you already know where your favorite content is, it shouldn't be an issue.
Remote control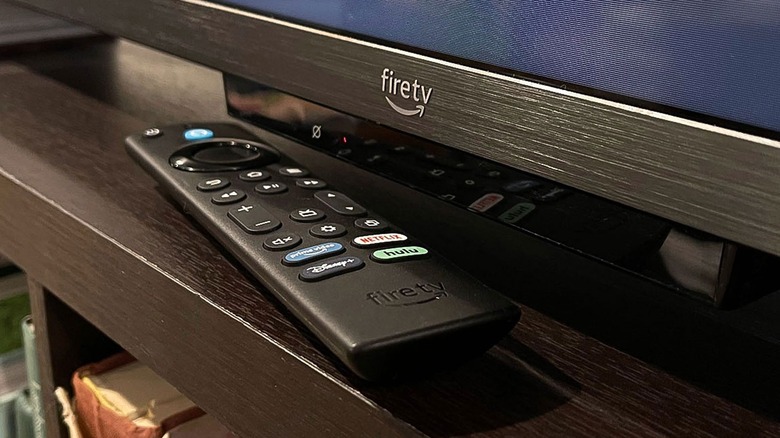 Chris Burns/SlashGear
The Fire TV remote that comes with this television set has an Alexa button at the top and four shortcut buttons at the bottom. You can press a button for quick access to Prime Video, Netflix, Disney+, and Hulu. If you search for content that's hosted by any of these four services, you'll find a big "Watch Now" button that opens the content in its associated app.
The remote control is a fine weight and size and its buttons feel like they'll last a few years, at least. There aren't so few buttons that the average person won't be able to start to explore their TV. There also aren't so many buttons that you'll need to make an instructions sheet for your grandparents when they visit.
I'm a little disappointed that there is no simple hardware "Input" button to access content through the TV's multiple HDMI ports, but I'm glad the option is available on the TV's built-in software's home screen. I also wish that there were a larger flat section on the bottom of the remote so that, if I wanted, I could attach a GPS tracking device with ease. It's not as if most major competing products' remote controls have a space to easily pair with a tracking device, it's more of a general "I feel like all remotes are missing this feature" sort of situation.
TV hardware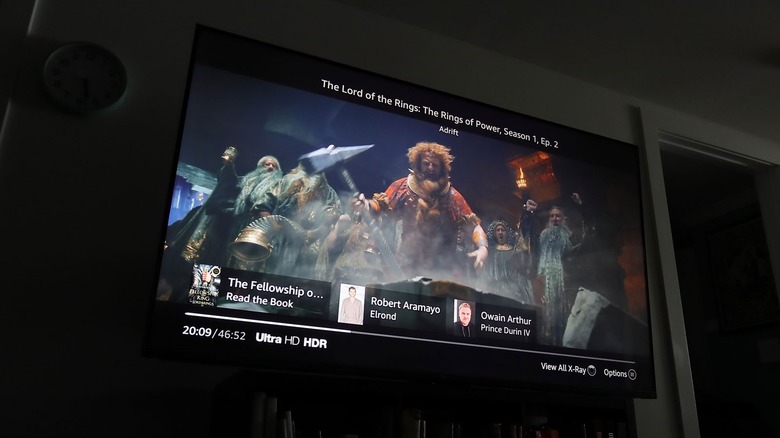 Chris Burns/SlashGear
We are reviewing a Fire TV Omni 65-inch QLED Series television set. This television has a 64.5-inch viewable display size with 3840 by 2160 pixel resolution. That amount of pixels means we're looking at a 4K UHD panel that's quite similar (in size, at least) to what we reviewed at the tail end of 2021 with the Fire TV 65-inch Omni Series TV.
The big difference between that model and this model is the tech — QLED vs OLED. Because this set has local dimming and a wider color gamut, some of the most extreme content that struggled on the older model now looks as brilliant as it should — or as clear as it should. Where the extreme dark of "Game of Thrones: The Long Night" looked like a mess on the older screen, now I can see a decent amount of detail. Where "Encanto" looked lovely on the older set, this new TV's color capabilities give the movie a more extreme depth and range of tones.
On the right side of the back of the TV you'll find a full-size Ethernet port, HDMI 1.2 port, Cable/Ant port, 3x HDMI 2.0 ports, USB 2.0 (5V, 500mA) for power output to 3rd-party hardware, an IR emitter, headphone jack, optical port, and 3x HDMI 2.0 ports.
The HDMI 2.1 port works with eARC, and audio support includes Dolby Digital Plus with passthrough (of Dolby-encoded audio). Though it's unlikely that most users will use the headphone jack, I appreciate that it's there as an option. The same goes for the ethernet jack — I probably wouldn't use it (since this set also works with basic Wi-fi), but I'd be glad if I ever needed it.
Wi-fi, refresh rate, and Ambient Experience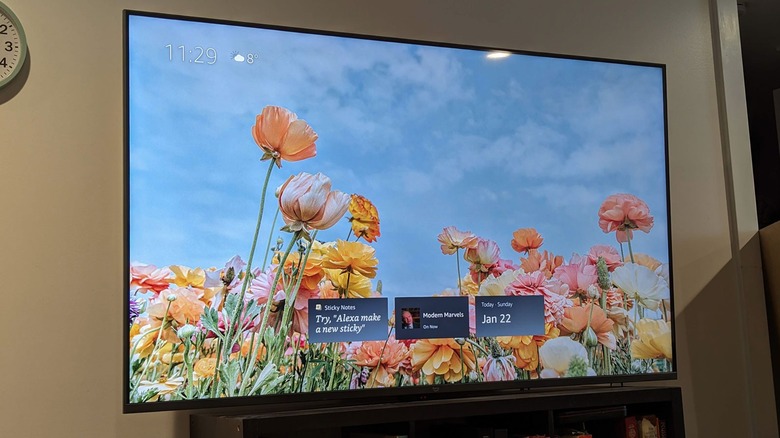 Chris Burns/SlashGear
While we do get basic wireless internet here, this TV does not have Wi-fi 6E support. Most televisions do not yet have access to this next-level wireless internet, but this will be a far more common feature on comparable sets in the near future. If you absolutely need perfect connectivity, you can always use the set's ethernet port — which won't be perfect, but will be about as reliable as it gets.
Variable refresh rate (VRR) on this television set maxes out at 60Hz. That means you can see 60 frames every second, supposing your chosen software can successfully deliver that rate of refresh. There are television sets on the market that have the ability to deliver 120Hz (or beyond), but the vast majority of the content that's available (outside of video games) is intended to be viewed at the same refresh rate it was captured in, and that's usually 24 frames per second.
This television also has a feature called Fire TV Ambient Experience. This feature is like the lock screen on your smartphone. You can choose to have widgets — quick access to recommended content, weather and time, and Sticky Notes. This television has the ability to sense motion and light. It doesn't have a standard camera (it's not really watching you eat snacks in your armchair), but it can sense whether your lamp is on and if you've just entered the room. The Ambient Experience works hand-in-hand with this TV's sensors.
Pressing pause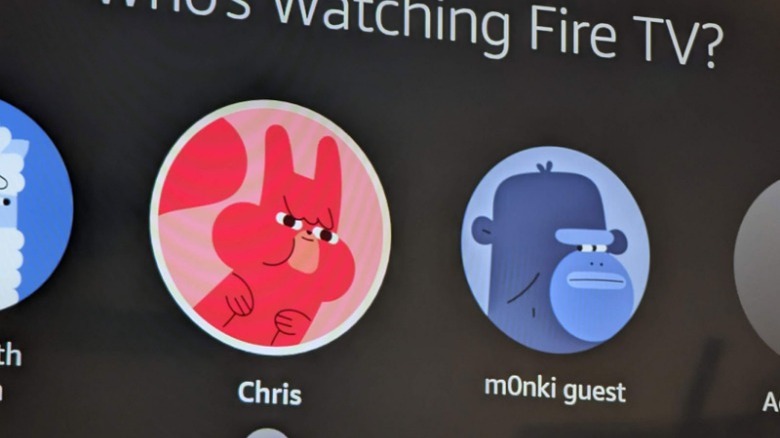 Chris Burns/SlashGear
This TV's light and motion sensors have the ability to put your TV to sleep or activate the Fire TV Ambient Experience. The only time I've found this setup to be helpful is when guests are over — especially if they're prone to leaving the room not long after they've started a new TV show. 
This setup can quickly become annoying if you're used to being able to pause your TV, walk away for a few minutes, return, and press play. With this TV's sensor setup, you could instead return to find your TV showing its Ambient Experience or a blank screen.
Ambient Experience is fine — it can be fun. It's the point at which you try to re-start your movie or show that you'll find a few barriers. You'll sit down and press a button on your remote, and you'll be met by a profile selection page. Once you get past the profile selection page, there may be a bit of lag time between button presses and the loading of each screen, resulting in you hitting your back button too many times, sending you back to the home screen. 
The closest you can get to a traditional TV experience in this regard is if you switch Ambient Experience off and maximize the "idle" time to 15 minutes. So, so long as it doesn't take you more than 15 minutes to take a bathroom break or prepare some popcorn, you should be fine.
Wrap-up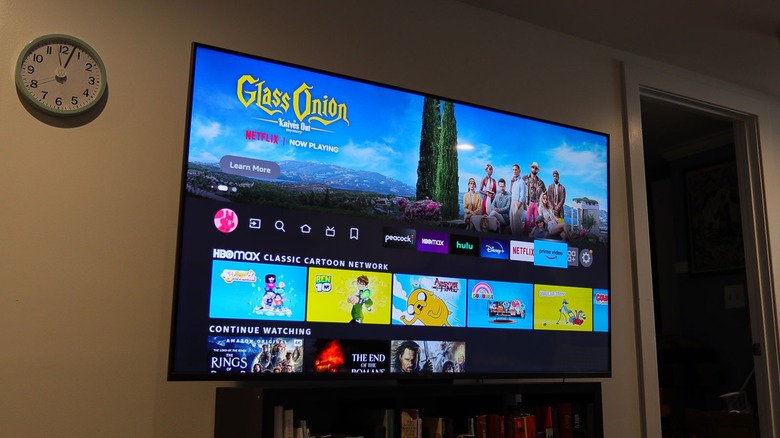 Chris Burns/SlashGear
The Amazon Fire TV Omni 65-inch QLED Series television has the potential to be a great television set. The experience delivered with this TV is very much like Amazon itself: ready and willing to deliver the content you want, when you want it, but convenient to a fault. It goes the distance to provide you access to content, but also goes further than necessary to attempt to get you to buy, rent, or subscribe to that content using Amazon or one of its affiliates. 
Aside from the upselling tendencies of the platform, the TV works just fine. It sometimes takes a few seconds longer than I'd like to load an app, but the platform is solid. There is no reason to expect that Amazon will stop supporting the platform any time soon. When you're buying a device that depends on its software to work, software support (by way of guaranteed software updates) should be on your radar. Amazon currently guarantees that they'll provide security software updates until at least 2026 for this particular model.
The Amazon Fire TV 65-inch Omni QLED Series 4K UHD smart TV can be found on Amazon for a list price of approximately $800. At the time this review is set to be published, the set has a sale price of approximately $550. I'd put the value of this set at somewhere between those two prices, assuming we're getting free shipping, of course.