NVIDIA SHIELD TV (2019) Review: Android TV Meets AI Upscaling Magic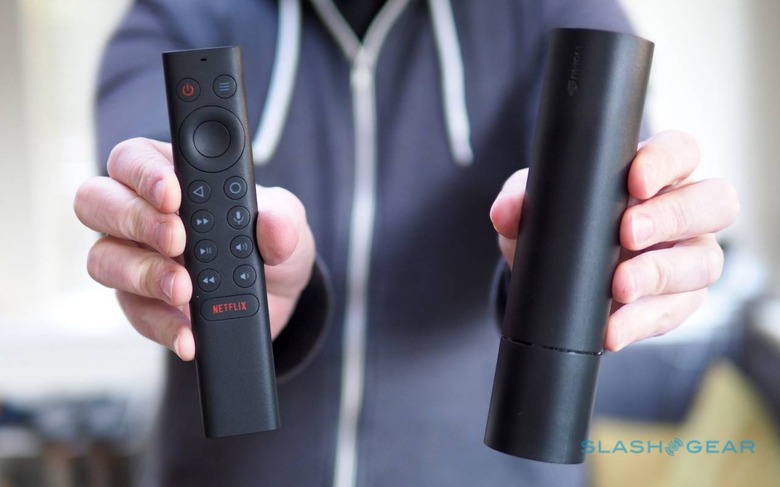 EDITORS' RATING: 9/10
For something intended to be hidden out of sight, the NVIDIA SHIELD TV (2019) sure is a funny shape. Then again, after four years solidifying its reputation as the go-to Android TV box, perhaps NVIDIA's brand new SHIELD TV is allowed to step outside the lines a little. One thing's for sure: with a new AI-powered upscaler, lower sticker price, and brand new remote, there's more to this 2019 model than just a fresh shape.
NVIDIA SHIELD TV (2019) hardware and setup
First thing's first: the shape isn't an accident. While the SHIELD TV Pro, which launches alongside this model, looks much like its predecessor, NVIDIA had different goals for its mass-market version.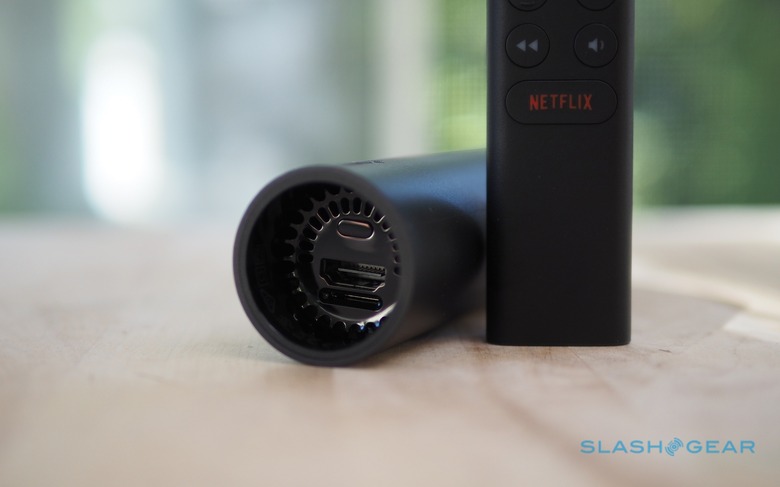 The pass-through design – with power and gigabit ethernet on one end, and HDMI-CEC on the other – means it can sit among the rest of the unruly cables behind your A/V center. However, unlike HDMI stick designs, you won't get the wireless-interfering side-effect of having a TV blocking your WiFi.
Inside there's a new NVIDIA Tegra X1+ chipset, which the company says is up to 25-percent faster than the old Tegra X1. It's paired with 2GB of memory and 8GB of storage, and there's a microSD slot to add to the latter. The SHIELD TV Pro gets 3GB of memory and 16GB of storage, incidentally, but uses the same processor.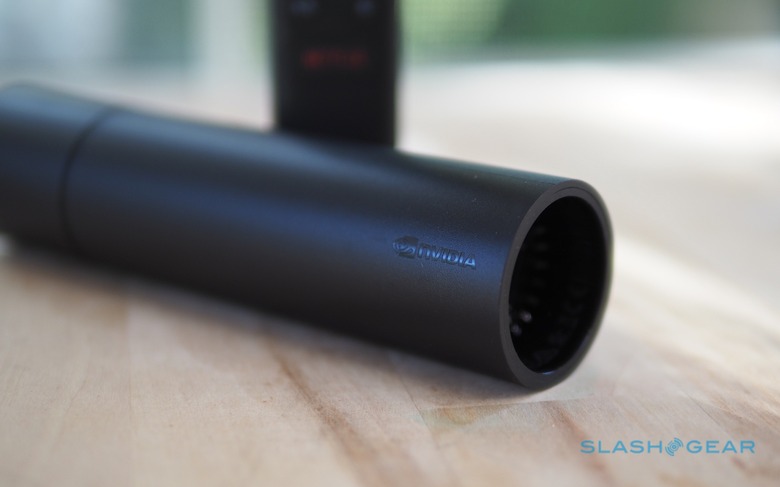 As well as gigabit ethernet there's WiFi 802.11ac and Bluetooth 5.0+LE. Setup is, like any Android TV box, straightforward but potentially time-consuming. If you've got an Android phone you can share its account and WiFi settings, though sadly there's no easy way to log into your various on-demand accounts from your phone. Get ready for lots of clicking around an on-screen keyboard to enter usernames and passwords.
NVIDIA SHIELD TV (2019) remote
You'll do that clicking with the brand new SHIELD TV remote control, and it's possibly my favorite part of the new set-top box. For a start, it looks and feels a lot more like a "proper" remote; the old version's glossy plastic and over-designed aesthetic left it looking a little too much like a gamer's vape for my tastes.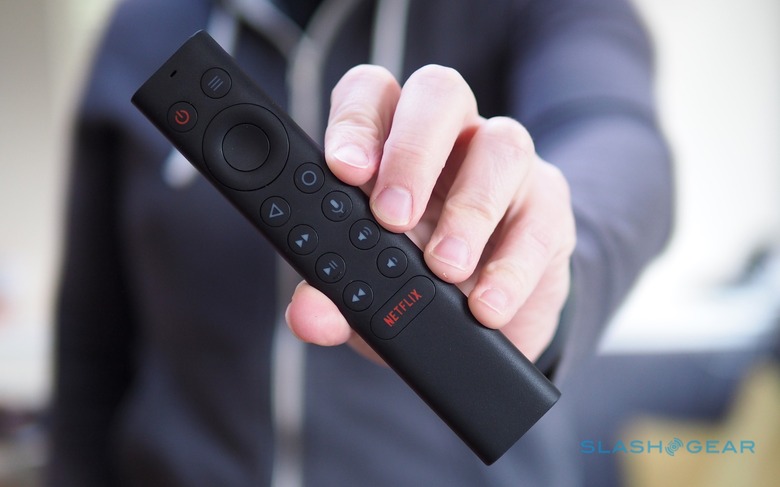 More importantly, NVIDIA has addressed some of the lingering frustrations for its controller. It connects via Bluetooth but you still get an IR blaster so that it can adjust your TV's volume or other A/V equipment, if that can't be done by HDMI-CEC commands. Two AAA batteries replace the old button-style batteries and should last around six months, plus there's a lost-remote finder feature. Misplace it behind the coach cushions and you can make it ring, Tile-style, either from the SHIELD TV app for iOS and Android, or by pressing a button on the SHIELD TV itself.
There are more buttons this time around, too, with motion-sensitive backlighting. As well as the D-pad there are dedicated play/pause, fast forward, rewind, and volume keys, together with a Netflix shortcut. Home, back, and Google Assistant buttons are included – along with a microphone – plus a power button. Finally, there's a new Settings key, which can be programmed to launch the app of your choice or to trigger things like mute, taking a screenshot, or open the recent apps or all apps views.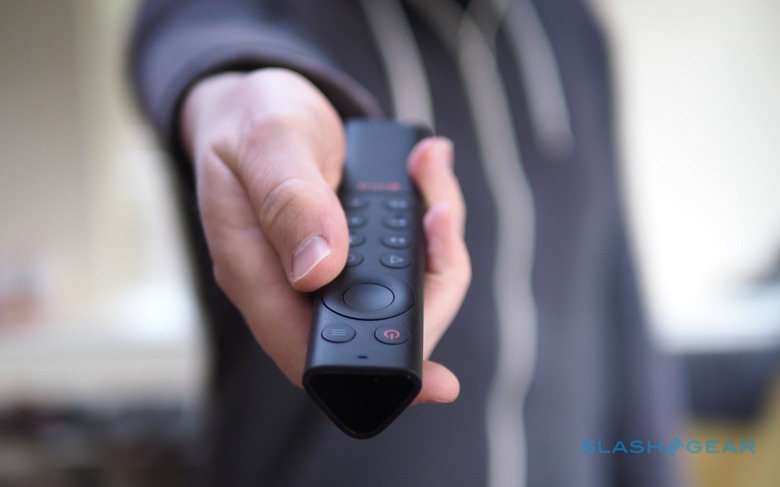 Some remotes feel cheap, which seems like a false economy when you consider it's the primary way by which you interact with your streaming device of choice. That's an accusation which can't be leveled at the SHIELD TV remote, though: it feels sturdy and reassuringly dense. The triangular profile means it won't roll away, either, and I quickly came to appreciate the backlit buttons.
It's not really designed for playing games, though, but neither the SHIELD TV nor the SHIELD TV Pro come with a game controller this time. NVIDIA says that's because most gamers already have a pad they prefer; along with SHIELD Controller and generic Android game controllers, there's also now support for the Xbox One Wireless Controller and the PS4 DualShock 4 Wireless Controller. Considering I'm not a gamer, I'm happy that I'm not expected to buy the gamepad as a matter of course.
NVIDIA SHIELD TV Android TV
The new SHIELD TV arrives just as Google is rolling out a new version of Android TV, with support for things like Assistant Routines and smarter suggestions for voice searches. More important, though, is a redesign of the Google Play store. It's now easier to browse and discover new apps.
The home screen – which, NVIDIA points out, is completely ad-free unlike the layouts of some of its rivals – can be completely reorganized. If you'd rather not have the Google Play suggested-apps strip, for example, you can remove it altogether. If you tend to use Netflix more than Amazon Prime Video, you can shuffle their order in the list. I've no complaints when it comes to speed, either, the SHIELD TV lag-free even without that extra gigabyte of RAM the the Pro version adds.
Four years is a long time in the living room, and so the new SHIELD TV arrives with a clutch of new format support. There's Dolby Vision and Dolby Atmos – supported on services like Netflix, Prime Video, Disney+, Vudu, and Movies Anywhere – along with HDR10 as a backup. Keeping surround audiophiles happy, there's now passthrough support for Dolby TrueHD, Dolby Atmos, DTS-HD, and DTS-X.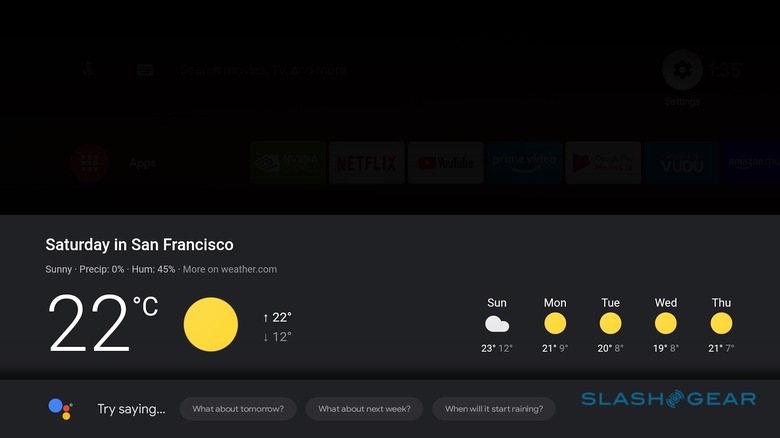 NVIDIA opted not to include a far-field microphone, quite possibly because it knew SHIELD TV's shape meant it probably wouldn't be left out on display. You can interact with the Google Assistant using the microphone in the remote, after having pressed the mic button. Alternatively, if you have a Google Home or other Assistant-powered smart speaker or smart display, you can speak to that and control the SHIELD TV after linking them first.
If you're an Alexa user, SHIELD TV is assistant agnostic. You can just as easily link the set-top box with your Echo smart speaker and control it by voice through that, instead.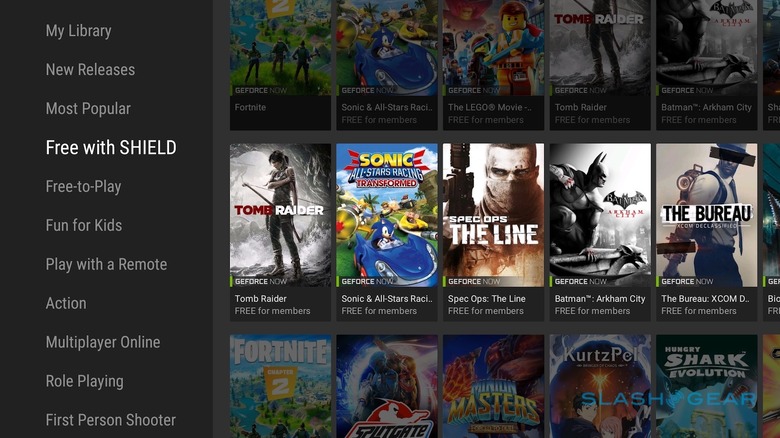 NVIDIA's special sauce is its gaming prowess. Android TV isn't short on games these days, some free and others paid, through the Play store. However NVIDIA has its own GeForce NOW service, a cloud-gaming platform that hosts AAA titles on remote computers and allows adapters like the SHIELD TV to play them. It means you can play games like Fortnite, Assassin's Creed III, and Batman: Arkham City and, since GeForce NOW is still currently in beta, it's all free.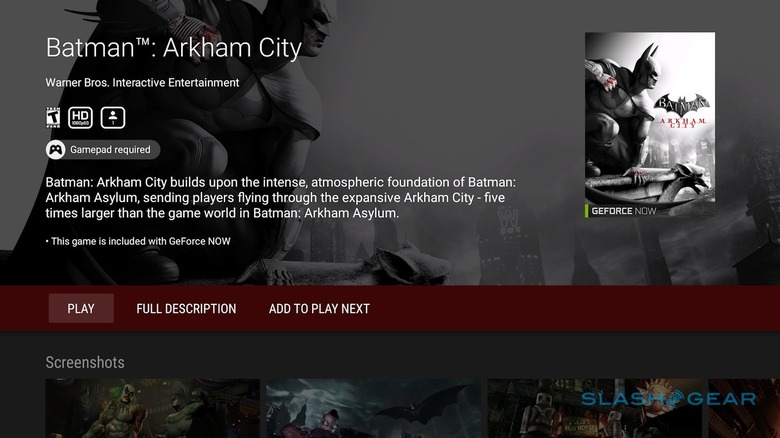 Like I said, I'm not a gamer, so GeForce NOW is wasted on me. Still, being able to boot up the SHIELD TV for guests that are into games, and give them access to big-name titles without needing to invest in a console first, is a nice touch. Or, you can ignore the gaming aspect altogether, hide the GeForce NOW row in the home screen, and treat the SHIELD TV like just another set-top box.
NVIDIA SHIELD TV AI upscaling
That's not to say NVIDIA's box acts like every other streaming media adapter. You could well argue that it's grossly overpowered for what it needs to do, but the Tegra X1+ does actually get put to good use.
The old SHIELD TV had a video upscaling mode, and the new version carries that over, now known as "Basic" upscaling. There's also a new "Enhanced" version, which promises better results as well as 60 fps video support. The headline feature, though, is "AI-Enhanced" upscaling.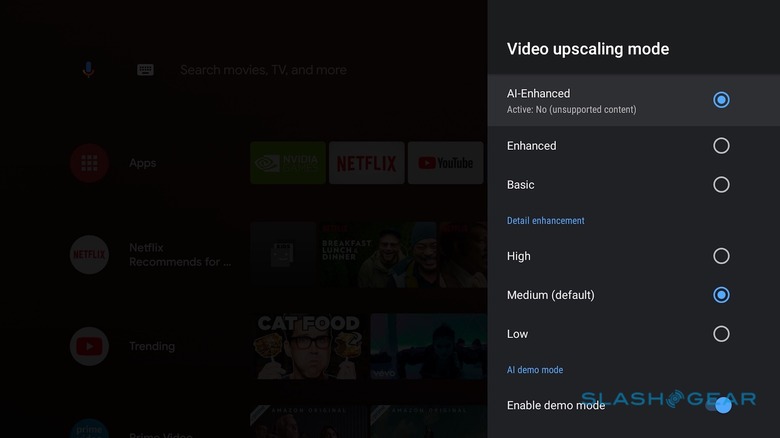 NVIDIA fed a deep learning neural network with 720p and 1080p source files, along with traditionally upscaled versions, and then set it to work figuring out what detail might be missing. The result is an AI that can run in real-time on the SHIELD TV, creating near-4K versions of video. It's something no other set-top box has attempted, potentially because they simply don't have the grunt to do it.
There are some limits, mind. For a start, it works best with relatively recent video: you can't feed the AI a black & white classic and expect detail to be generated out of nowhere like alchemy. Sports, too, aren't its forte: it tops out at 30 fps, for a start, though NVIDIA tells me there's the potential for further refinements and subsequent software updates.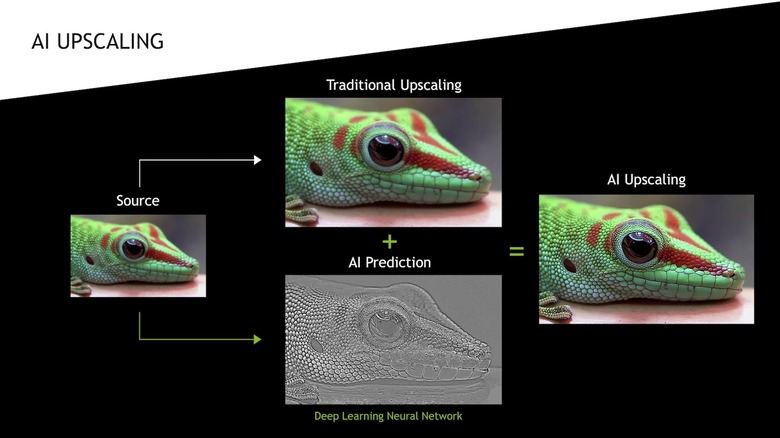 When it does work, though – in apps like YouTube, Netflix, Prime Video, Hulu, HBO, and others – it's fairly astonishing. It can't quite make true 4K out of a 720p or 1080p stream, no, but it definitely adds crispness and detail. Folds and creases in fabric suddenly gain more realistic texture; actors' faces lose some of that unnatural Botox-smoothness; and there's a general sharpness and color-richness that does come surprisingly close to Ultra HD.
You can switch between Low, Medium, and High detail levels, and better still NVIDIA gives you a way to see just what difference the AI-Enhanced upscaling is making. AI demo mode gives you a split-screen slider you can drag from left to right, to get a before/after perspective. I suspect it's the demo which will sell the most SHIELD TV (2019) boxes.
SHIELD TV vs SHIELD TV Pro
Aesthetics aside, the differences between the SHIELD TV and the SHIELD TV Pro are relatively slight. Gamers will probably appreciate the extra gigabyte of memory and doubled storage, though if all you need the latter for is downloading Play store apps, a microSD card is an easy way to fill the gap.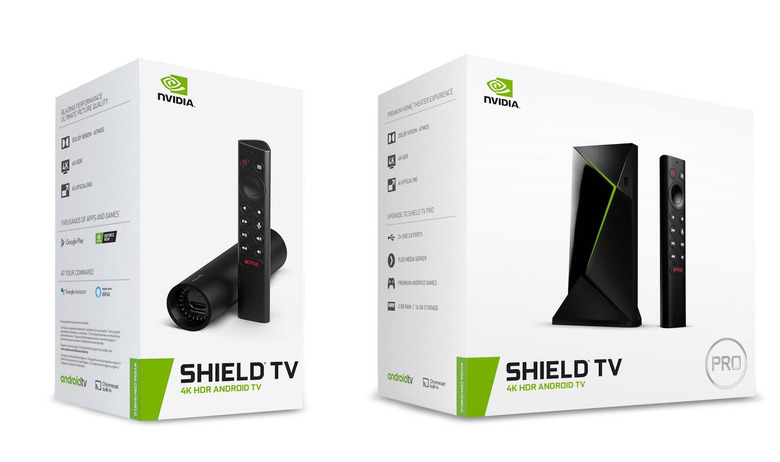 The Pro adds a pair of USB 3.0 ports, which can be used for external storage, peripherals like a keyboard and mouse, webcams, and TV tuners, among other things. Or, you could plug in a SmartThings Link, and turn the SHIELD TV Pro into a SmartThings Hub for home automation. The SHIELD TV Pro has Plex Media Server support as well, including 1080p transcoding.
If you're ready to make your set-top box the hub of your connected home, the extra $50 for the SHIELD TV Pro is probably worth it. For most people, however, I suspect the $149.99 SHIELD TV is more than enough for their needs. It's worth noting that you do still get things like GeForce NOW support with it, even if you're down on memory a little, so gamers aren't left out in the cold.
SHIELD TV versus the competition
The world is not short on ways to get access to streaming media right now. Right now I have an Apple TV and a Fire TV plugged in to my smart TV – which itself has its own apps for things like Netflix and YouTube – and that's not counting the drawer of other set-top boxes currently left unconnected. Some are considerably more inexpensive than a SHIELD TV, too, even at this new, lower starting price.
The reality is that which box makes sense for you will depend on what you're watching, how you're watching it, and how important features like video and audio quality are to you. If all you care about is getting your subscription to Netflix's entry-level package onto your TV, then a cheap Fire TV Stick probably makes a lot more sense than NVIDIA's box. If you've made iTune purchases, meanwhile, your only real route is an Apple TV.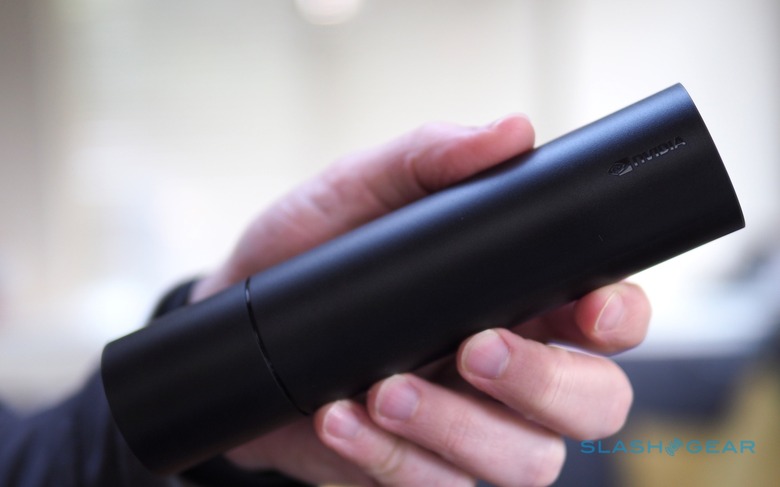 Where the SHIELD TV shines is in its flexibility. It has the broadest list of 4K support fo third-party streaming services; no other set-top box offers the same Dolby Vision and Dolby Atmos support. Android TV's varied music apps, too, help give it an edge.
Is it overkill? Maybe, though you'll probably know whether that's the case for your, particular situation. I do think, however, that the AI-Enhanced upscaler is a feat worth seeing with your own eyes. Even if you're not the sort of person with a living room studded with Atmos speakers across the floor, walls, and ceiling, the ability to coax more detail out on your existing TV is near-magical.
NVIDIA SHIELD TV (2019) verdict
NVIDIA's reputation for the SHIELD TV is deserved. Few set-top boxes have the longevity and the consistency of support that NVIDIA has delivered to its users; the loyalty they have in return is strongly deserved. The SHIELD TV, therefore, had a tough act to follow.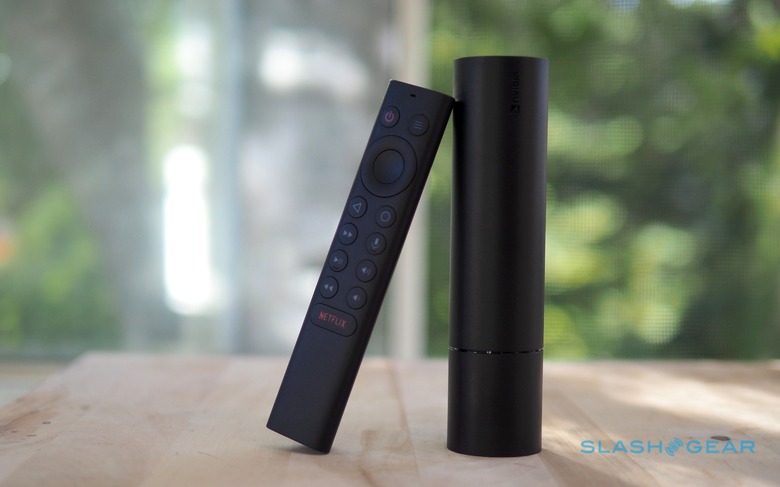 That it does so with such polish is a testament to NVIDIA's willingness to listen to its most demanding users and recognize that, when it comes to their living rooms, those users know best. This 2019 SHIELD TV is more than a mere refinement, however. The AI upscaling is a game-changer, and services like GeForce NOW pave the way to a whole different way of playing games – one where the traditional, expensive console is unnecessary.
Those who simply must have the best specifications should probably look to the SHIELD TV Pro. For the rest of us, the $149.99 SHIELD TV strikes a compelling and capable balance between the flexibility of Android TV and the convenience of getting home, sitting down on the couch, and just getting on with watching your shows. That's a much-underrated feature these days, and for all the whiz-bang features NVIDIA packs into its set-top box, the new SHIELD TV works best as a gateway to 4K from as many places, in as many ways, as possible.