Amazon Fire TV Cube (3rd Gen) Review: Power, Smarts, And Clutter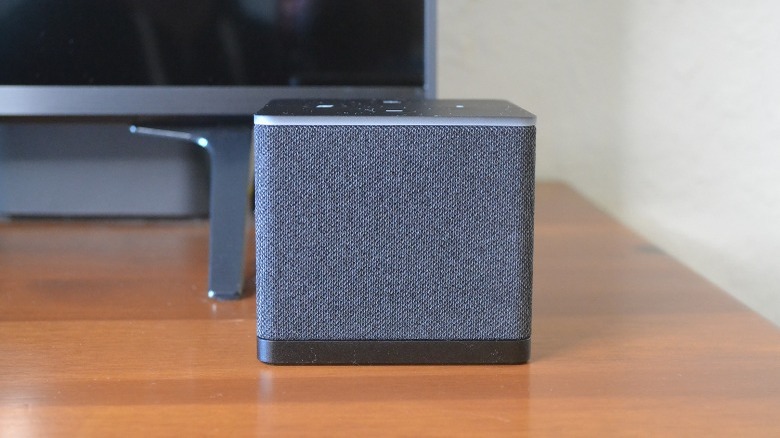 Steve Smith/SlashGear
As a decade-long Roku user, I have only dabbled in using other media streaming devices. It would take an incredible device to get me to switch platforms. The $139.99 Amazon Fire TV Cube caught my attention and I was excited when the opportunity arose to test out Amazon's latest and greatest streaming device. While not a perfect experience, Amazon has packed so much into this device that I find myself ready and willing to switch camps.
The third-generation Amazon Fire TV Cube is one of those products that have the power to completely change how you consume content. It excels as a streaming device, but its real power comes from the inclusion of Alexa. Having Alexa onboard effectively has the Fire TV Cube doing double duty as a media streamer and an Amazon Echo. While I thought I would enjoy my time with the Fire TV Cube, I didn't think it would change how I use my living room. Amazon created a well-rounded device and a powerful addition to any entertainment setup.
Design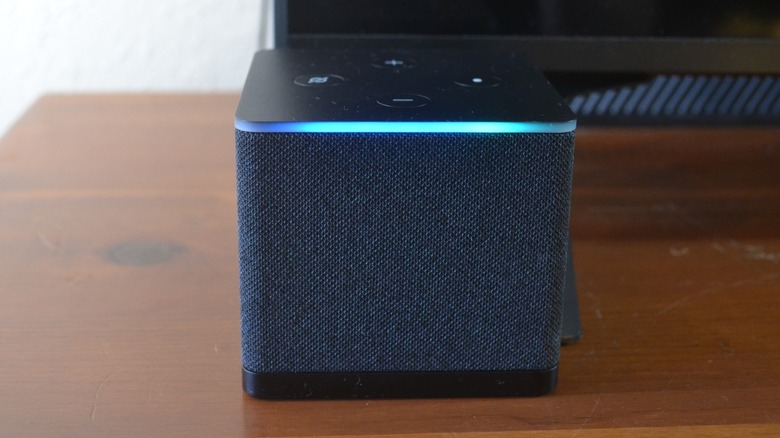 Steve Smith/SlashGear
The design is similar to previous versions but has been further refined for this generation. Following Amazon Echo and Amazon Dot aesthetics, the Fire TV Cube features slightly rounded corners wrapped in fabric. Softening the corners and getting rid of the plastic on the sides, gives this generation's TV Cube a more pleasant and approachable feel. The device measures 3.4 x 3.4 x 3.0 inches, which means it's slightly narrower and taller than the Roku Ultra and Apple TV 4K.
The top houses four buttons for controlling Alexa: volume up, volume down, mute, and action buttons. You also get a four-microphone array, which did a fantastic job of hearing me throughout my testing experience. There is a light bar at the top edge to indicate Alexa is active or to let you know of issues, such as being disconnected from the Internet. The bottom of the device is made of rubber, so you don't have to worry about it sliding or scratching any surfaces.
Hardware and port selection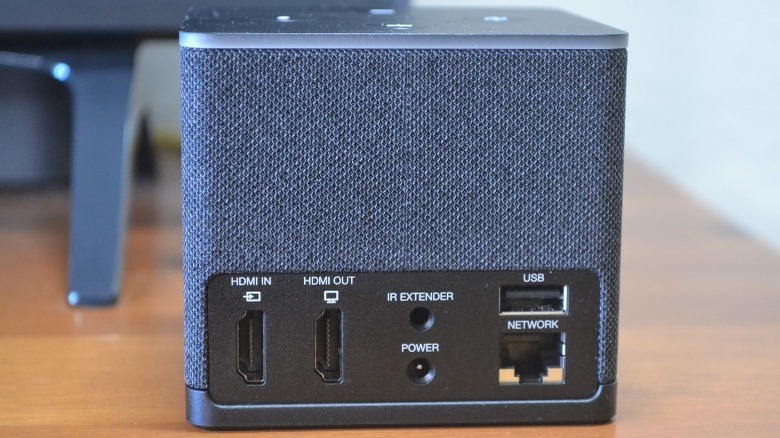 Steve Smith/SlashGear
This Fire TV Cube has an octa-core CPU, 2 GB of RAM, and 16 GB of internal storage. This device is incredibly quick and loading was practically non-existent. You will notice the speed of the device from the moment you power it on. It flies from one screen to the next and it maintained that speed throughout my testing.
Around the back, you will find a wide selection of ports. There is an HDMI 2.1 input, an HDMI 2.1 output (which is ARC compatible), a USB 2.0 port, an IR extender, and an ethernet port. I was surprised and happy to see an onboard ethernet port this time around, so initially, I hardwired an ethernet cable to the Fire TV Cube. I was disappointed to find out it only supports 10/100 speeds. While it topped out at 100 Mbps with a wired connection, I experienced 500 Mbps speeds with a wireless connection thanks to the inclusion of Wi-Fi 6E this time around. Having an HDMI input gives you the ability to use Alexa to control things like your cable box with just your voice.
Underneath the fabric houses an 11-watt speaker. It's great for listening to Alexa and is plenty loud enough. Just don't expect it to replace your sound bar — or TV speakers for that matter. It also includes Bluetooth 5.0 for connecting headphones and game controllers.
The standard remote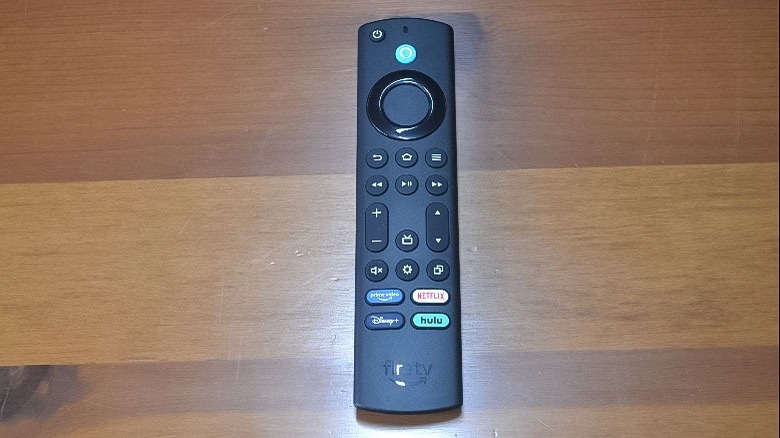 Steve Smith/SlashGear
Included with the device is the Fire TV Alexa Voice Remote. The remote is well laid out and I got used to the layout quickly. The top of the remote has a button to power on your tv and a blue button used to activate Alexa. You have you hold down the Alexa button to get it to listen to you. Muscle memory kicked in for me after a significant amount of practice with the process. I kept tapping it and talking, only for Alexa to not perform the task that I was asking it to.
You get a large round button for navigation, as well as the standard array of buttons including a back button, home button, menu button, play, fast-forward, and rewind buttons. The bottom of the remote has four hardcoded buttons for quickly accessing various streaming services. Roku also adds these buttons to its remotes and it has been my biggest gripe with streaming remotes. Yes, they are convenient if you subscribe to the service, but are a waste of space if you don't. The standard remote has no programmable buttons and lacks a backlight. Amazon does offer a pro remote, which we will cover later.
Audio and video quality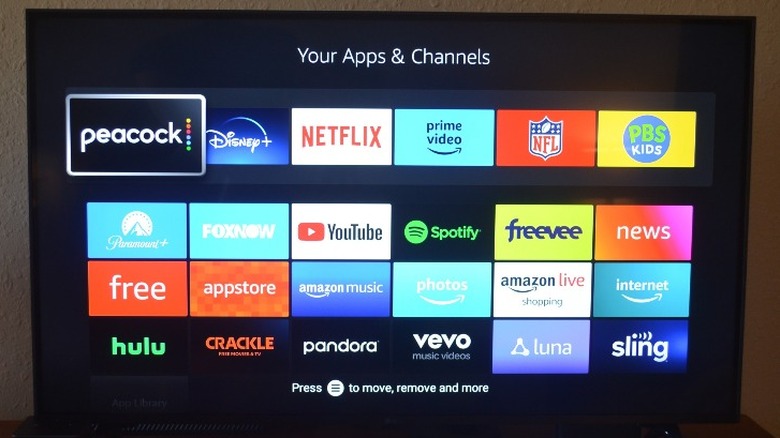 Steve Smith/SlashGear
Amazon knows how to put its hardware to good use and included a range of audio and video standards to bring you the best experience possible. For audio, the third-generation Fire TV Cube supports Dolby Digital Plus and Dolby Atmos. For video, the Fire TV Cube supports Dolby Vision, HDR 10, HDR 10+, and HLG standards.
This adds up to a device that produced a crisp and clear video on my LG 4K TV. It seemed smoother and clearer than my experience with Roku. This may have something to do with Amazon's new Super Resolution Upscaling tech. Super Resolution Upscaling takes standard HD video and upscales it to look like 4K content. It's not mind-blowing better, but it does sharpen the image a bit.
During my testing, I ran into an audio issue that became very frustrating until I figured out the problem. While streaming "Modern Family" from the Peacock app, the audio would fall out of sync whenever a commercial came on. The audio would remain out of sync until I could rewind the stream to sync the audio again. I eventually stumbled upon a fix by changing the audio stream from best available to PCM. To do this you go to Settings, Display & Sounds, Audio, Surround Sound, and PCM. This may be unique to certain equipment setups but it was a frustrating experience.
Alexa allows a remote-free experience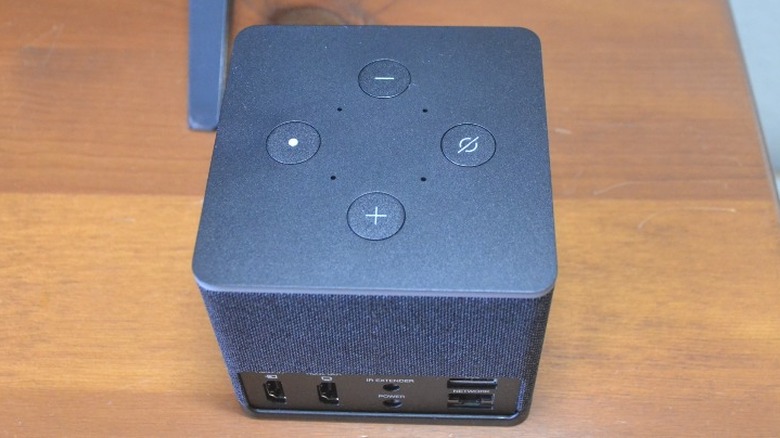 Steve Smith/SlashGear
The real power of the Fire TV Cube comes from Amazon's inclusion of Alexa. Being able to perform just about every task audibly is better than I thought it would be. Throughout my testing, I have found myself increasingly using Alexa by default. I even notice my wife, who was reluctant to use Alexa, now using it on a much more consistent basis.
Using Alexa to search for content is intuitive and quick. If you are on the home screen and search for a movie, you will get results from a variety of apps. If you are in a specific app and search for a movie, it will look for it within the app itself. Alexa has been especially handy for pausing and resuming a stream and rewinding content. Instead of using the remote, with which I tend to rewind video too far, I would ask Alexa to rewind for 30 seconds or even a minute at a time. Alexa allows these granular adjustments that add up to an intuitive and convenient experience.
Alexa can open apps, search the weather, control devices around your home, and if you still have cable, gives you the power to control your cable box. It's smart enough to switch inputs and change the cable channel to the one you requested.
Fire OS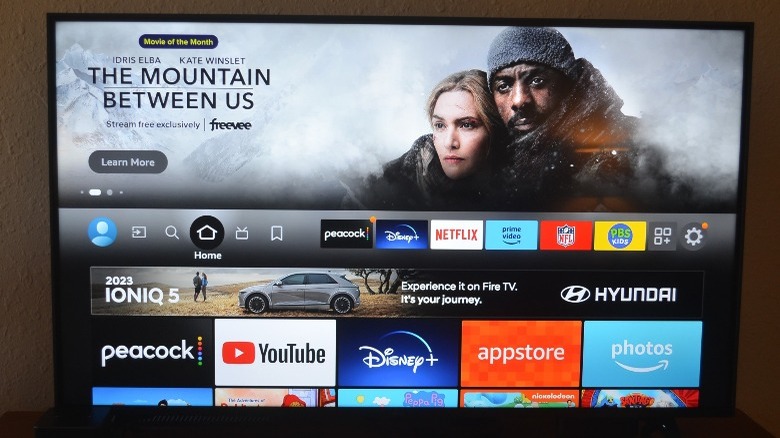 Steve Smith/SlashGear
Amazon's Fire OS is a capable operating system but it has some issues. Coming from the clean interface that Roku uses, Fire OS is a bit hectic. You get access to the usual apps, but it's not packaged as nicely here. I prefer my OS to be clean and one that gives me quick access to my installed applications. Fire OS doesn't offer that — instead, it seems to be filled with ads or unneeded suggestions.
At the top of the home screen in Fire OS — taking up close to half the screen — is a banner with various ads for shows. Down below is where you will find suggestions for shows to watch based on your installed applications. I find the overall layout to be cluttered and a bit of a mess.
Sandwiched in between the two is a thin bar that lets you access your home, live tv guide, and your installed apps. This is where I spent most of my time and largely ignored the rest of the home screen. This is unfortunate and I hope Amazon refreshes the interface to be less busy and ad-heavy.
Alexa Fire TV Voice Remote Pro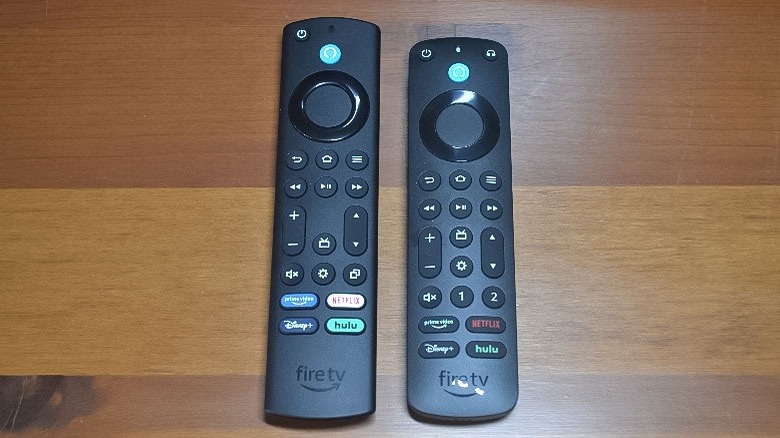 Steve Smith/SlashGear
Amazon sent me its $35 remote to test alongside the Fire TV Cube. The Remote Pro takes the excellent standard remote and adds even more features making it my favorite streaming remote to date. The Remote Pro is slightly shorter and boxier than the standard remote, but they weigh about the same.
The Pro version adds a remote finder feature, backlighting, two programmable buttons, and a headphone button. If you lose your remote, all you have to do is ask Alexa to find it for you. As long as your remote is within 30 feet of the Fire TV Cube, it will set off a sound from the remote itself until you find it. This feature is especially handy for those who have couches that like to swallow items.
The backlighting feature is nice to have in dark environments. It automatically activates whenever you touch the remote and turns off after a few seconds. The two programmable buttons can be used to quickly launch apps or commonly used Alexa commands. The headphone button is just quick access to the Bluetooth menu.
A Wonderful and immersive experience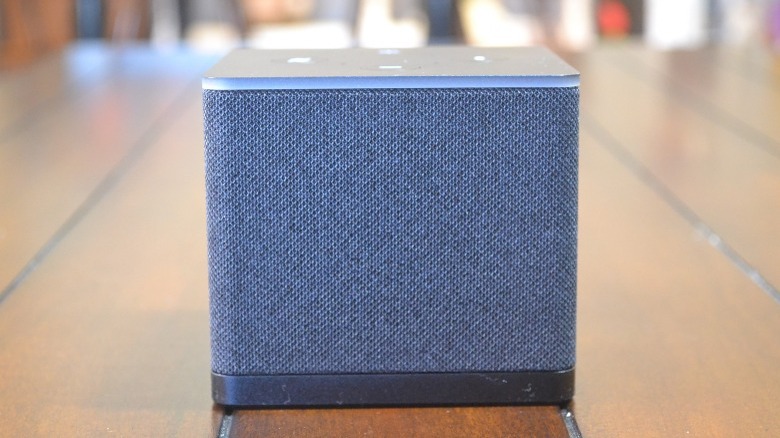 Steve Smith/SlashGear
My time spent with the third-generation Amazon Fire TV Cube was fantastic. The device is incredibly quick and the video quality is top-notch. The true power of the Fire TV Cube was the integration of Alexa. Using my voice to control the device was an intuitive and pleasurable experience that has radically altered the way I interact with my television.
While my experience wasn't perfect and there were a few hiccups, it was largely a good one. If Amazon could streamline its Fire OS to be less add heavy and less cluttered, this would be hands down the best streaming device on the market. As it stands, it does leave some room for other brands to beef up their offerings.
For $139.99 you are getting a device that does double duty as a media streaming device and an Amazon Echo. While the price is $20 more than the previous generation, the Fire TV Cube does enough to justify its relatively high cost. This is especially true if you are already in the Amazon ecosystem.