Amazon Fire TV Cube Review: Alexa, hide the remote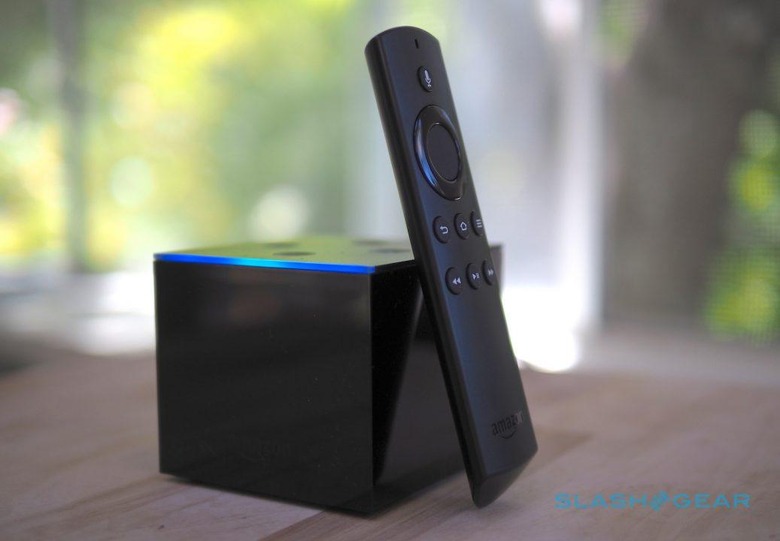 We may receive a commission on purchases made from links.
Alexa is coming for your living room and, just like the Borg cube that the Amazon Fire TV Cube might remind you of, resistance is futile. Amazon's virtual assistant may not be an entirely new addition to the TV experience, thanks to integrations into early Fire TV adapters and dongles, but the Fire TV Cube ousts buttons completely in favor of end to end voice control.
The Fire TV 4K with Voice Remote, for example, demands Amazon's special, microphone-packing remote control in order for Alexa to work. Press and hold the button like a walkie-talkie, ask for the show or other content you want, and after a few seconds consideration Alexa delivers the goods. It's neat, but I've always felt like, if I have the remote in my hand already, why not just navigate using the regular buttons?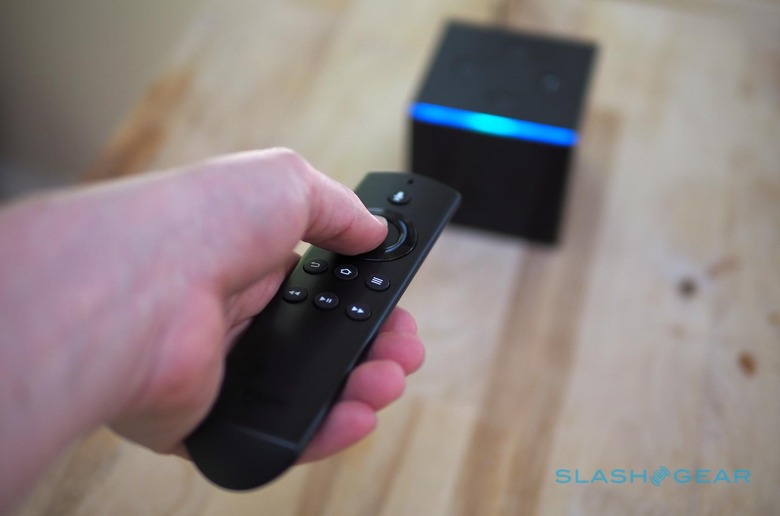 Alexa, can you hear me now?
The Fire TV Cube remedies that by borrowing the microphone array technology from an Echo smart speaker. There are eight microphones inside the 3.4 x 3.4 x 3.0 inch box, and the familiar volume, mic-mute, and Alexa trigger buttons on the top. An LED bar along the upper front edge glows blue when Alexa is listening, pulses when the assistant is processing, and lights up red if there's a connectivity problem.
Courtesy of the "Alexa" wake-word you needn't grab for the remote, though Amazon includes that anyway. It's the same Bluetooth-connected controller that comes with the Fire TV 4K. Like that, the Fire TV Cube packs 4K HDR-10 60fps video support and uses a quad-core 1.5 GHz processor, though it doubles the storage to 16 GB. There's Dolby Atmos and 7.1 channel surround sound support, too.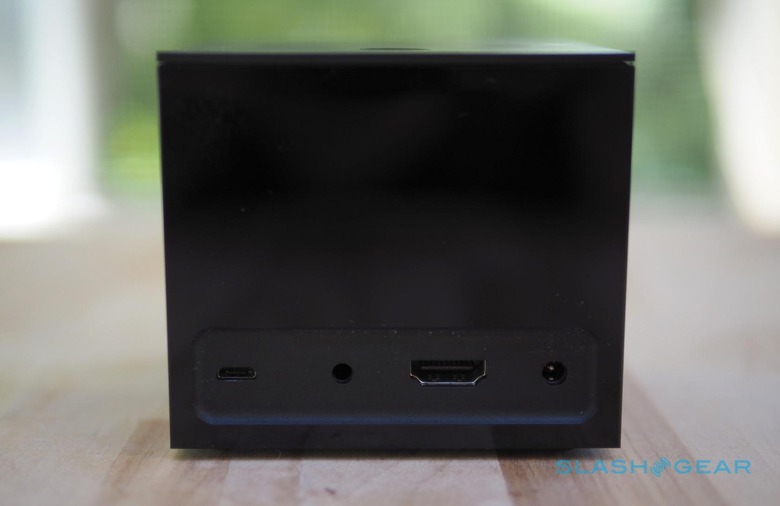 Plug me in
Boxes that attempt to weave together the often needlessly complicated components in our varied home entertainment setups have been tried before, and any that promised more than the very basics are typically defeated in the process. With thousands of set-top boxes, streaming devices, TVs, and more to play nicely with – not to mention surround sound systems, speaker bars, and other home theater kit – it's perhaps no surprise that few companies have nailed the experience.
Amazon gets a lot right with the Fire TV Cube's setup process. Plugging the box in via HDMI – you'll need to supply your own cable – and hooking up the power is enough to get you started, though if you don't want to use the 802.11ac dual-band WiFi there's an ethernet adapter in the box, too.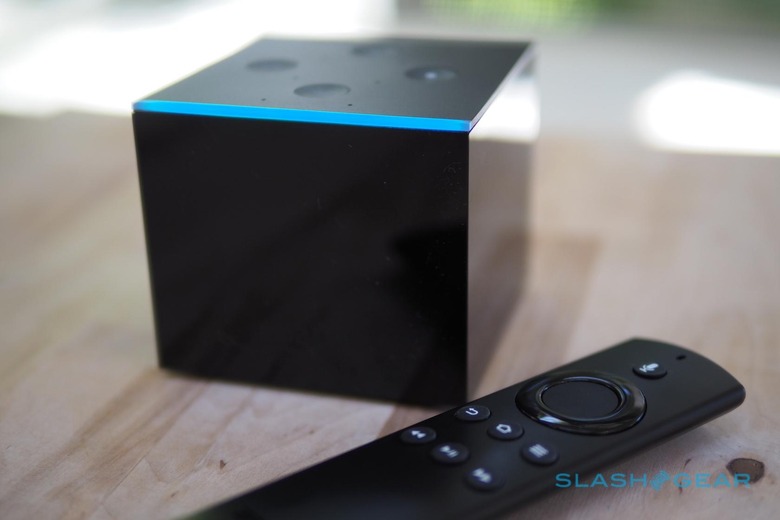 I have a fairly straightforward entertainment setup: a Samsung TV and a Sonos Playbar. While I have a Fire TV Stick and a Chromecast plugged in via HDMI, most of the time I rely on an Apple TV. That's mainly because I have content purchased on iTunes, along with Netflix and Amazon Prime Video.
The Fire TV Cube handled them with aplomb. The TV and sound bar were configured automatically, Amazon's box able to control the Samsung via HDMI-CEC – which most recent TVs support – and the Sonos courtesy of IR blasters built into the sides of the Fire TV Cube itself. After I connected to WiFi, signed into my Amazon account, and downloaded the Netflix app I was up and running.
What I don't have is a cable TV box, though Amazon promises compatibility there too There's support for cable and satellite boxes from DirecTV, AT&T U-Verse, DISH, Comcast, Spectrum, Verizon, Cox, Altice, and Frontier. You can find the full list of compatible devices – including A/V receivers and more – at Amazon's site.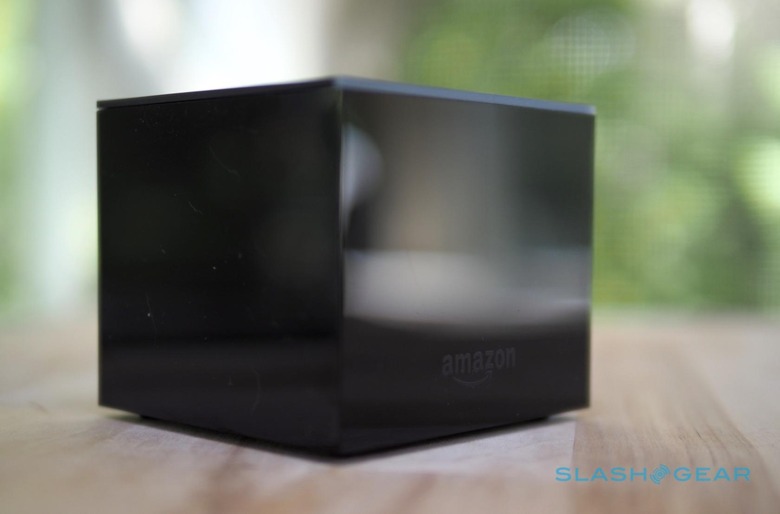 IR obviously relies on line-of-sight to work, but the Fire TV Cube needs to be out of your A/V cabinet in order for Alexa to hear you. Amazon addresses that by including an IR blaster in the box, too. Plug that in, then snake it into whatever cabinet holds your media gear, and it can control it all from afar.
Though IR has a reputation for being clunky, I'm not entirely sure how Amazon could've addressed the multi-device problem any more elegantly. Not, certainly, if it wanted to ensure compatibility with the more common tech in most living rooms. Even with that, there are some omissions which might give you pause: you can't control an HDMI switch or hub with the Fire TV Cube, for instance, nor a projector. If you're a Logitech Harmony Remote owner, that won't work with it either.
I just want my shows
I confess, I was a little skeptical as to how useful Alexa would be in the Fire TV Cube. I find I generally don't use any of the set-top box assistant technologies – whether Alexa on the Fire TV 4K, or Siri on the Apple TV – because they invariably only do half a job. At some point I need to use the remote, at which point I figure I may as well just navigate the old-school way.
Consider me surprised, then, when I discovered just how much more I grew to rely on Alexa with the addition of her wake word. A big part of that is down to how comprehensively Amazon has ensured its assistant can integrate.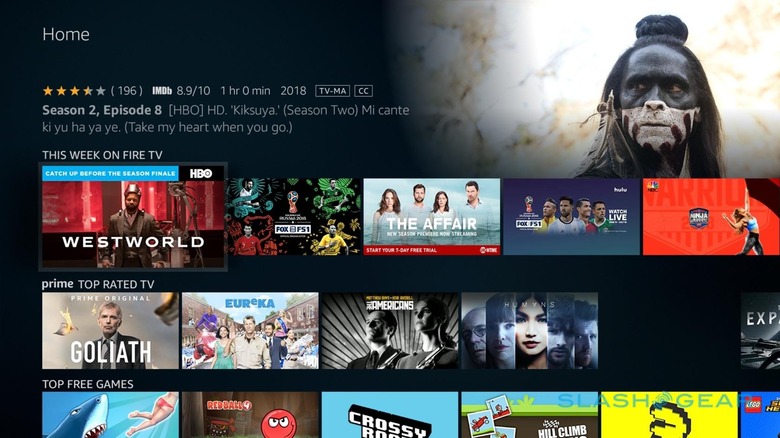 As I slump down onto the couch, for instance, I can say "Alexa, turn on Netflix" and have the TV switch on, the sound bar power up, and the Netflix app load. Or, I can ask "Alexa, play The Man in the High Castle" and it will automatically pick up from where I left off last. Skipping through the title sequence is easy when you can say "Alexa, skip forward sixty seconds," and there's similarly voice control over play/pause, volume, and even switching between HDMI inputs on the TV. When I'm done, "Alexa, turn off the TV" shuts everything off again.
Where I've stumbled integrating Alexa into my viewing flow before is search. The Fire TV's voice remote, for instance, allows you to search by speaking, but then leaves you to scroll through the results manually. In contrast, the Fire TV Cube serves up its results in a different way: a 3x2 grid of thumbnails.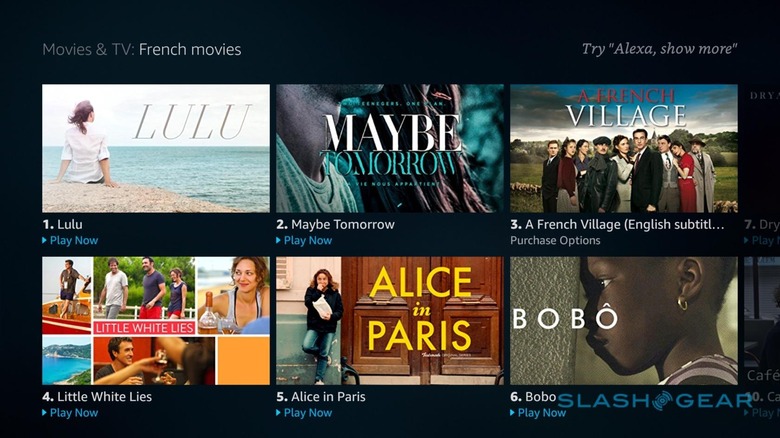 Each result is numbered, and you can say "Alexa, play 3" to make your selection, or ask "Alexa, show more" for the next page. There's support for adding content to your Watchlist by voice, along with navigating through seasons or episodes when you're looking at a TV show. It's not how I'd want to go hunting through a long list of titles, but it's impressively intuitive when you're dealing with just a few pages of results.
Usefully, Amazon uses universal search. If you have a way to watch a result for free – it's on Amazon Prime Video, for instance, and you're a Prime subscriber – then you'll see a "Play" label below it. If you know the channel and source you want specifically, you can ask for that, too: "Alexa, tune to ESPN on PlayStation Vue," for example.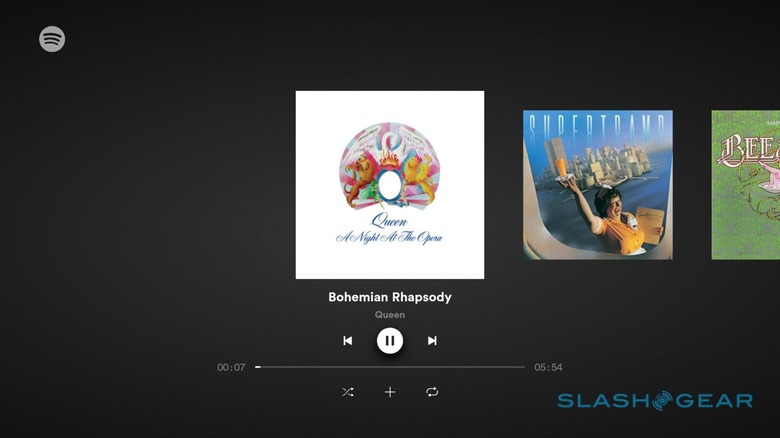 You can ask for cable channels by name or number. If you don't have a free way to watch a search result, Amazon will offer ways to rent or purchase it. There's smarts there, too. When I asked for Bohemian Rhapsody by Queen, the Fire TV Cube recognized that I'd previously downloaded the Spotify app on another device, that the track was available on that, and prompted me to install it so that I could stream it.
There are some hiccups still, mind. Netflix is still working on adding voice support in the app: I wasn't able to ask Alexa to play Queer Eye, for instance, though once I started playback using the remote I could then use voice to pause it, skip, and adjust the volume. Hulu's app is apparently a work-in-progress, too. Amazon expects both to be ready around the time when Fire TV Cube units start shipping to buyers. [Update 6/22: Netflix has updated its app to support the Fire TV Cube's Alexa voice control]
I'm lost
One of the reasons IR blaster-based set-top boxes have such a bad reputation is that there's a tendency for the whole system to get confused. Someone presses a button on a remote control they're not meant to be using any more, or the TV switches unexpectedly to a different channel, and all of a sudden nothing works quite as you expect it to.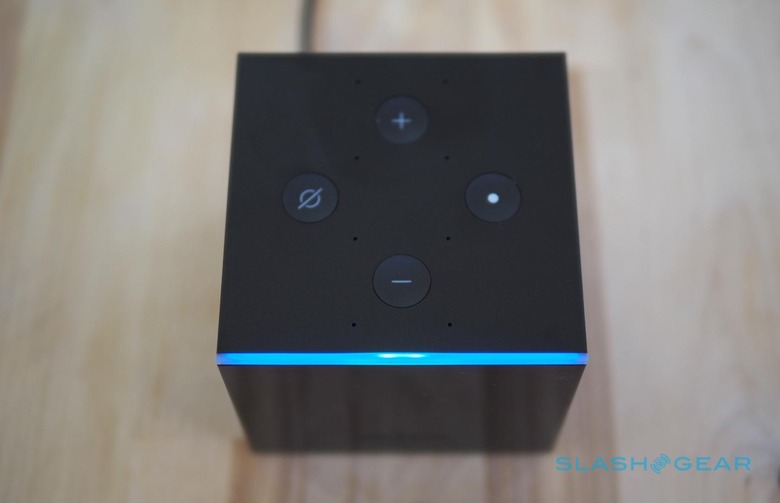 Part of Amazon's fix for that is a special Alexa command, "I can't hear you." Say that when you're speaking to the assistant but can't hear her responses through whatever speakers you're using, and it'll automatically start speaking through the small – and fairly tinny – speaker built in. Saying "Alexa, go home," meanwhile takes you back to the Fire TV homescreen and can help set all your inputs back in sync. [Updated to clarify the "I can't hear you" and "go home" phrases]
Half an Echo
In many ways, the Fire TV Cube's Alexa support is much like a regular Echo. You can ask general knowledge questions or for news reports, and Alexa will read the answers out. If the TV isn't on, the internal speaker is used instead.
Some features have added graphics now, too. Ask for the weather forecast and you'll see the upcoming conditions on-screen. An increasing number of news providers offering Flash Briefings now have video versions, too. There's smart home integration for Alexa control over lights and other IoT gadgets, and you can use Routines too, triggering a number of devices with one key phrase.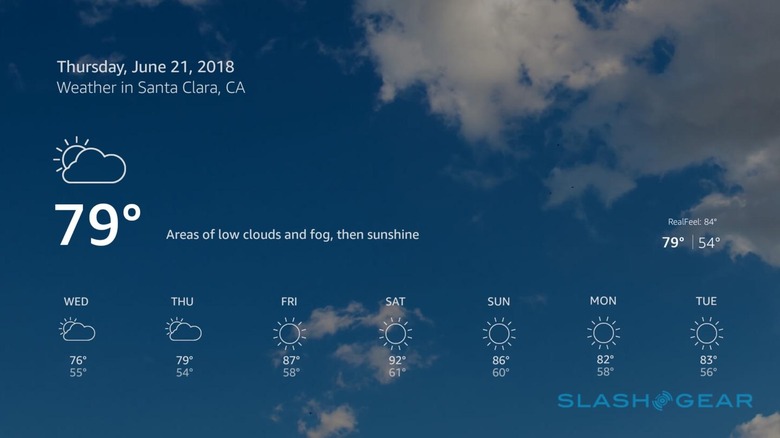 It's not a clean sweep, though. There's no Alexa calling or messaging, and no support for pairing a phone or tablet via Bluetooth for streaming music. Sleep timers will be added later in the year, Amazon says, but you can't do multi-room music, which seems an odd omission given the Fire TV Cube's multimedia focus. There's also no support for remotely controlling the Fire TV Cube through an Echo elsewhere in the house.
I'm a little disappointed that Amazon opted to leave out the growing communications talents Alexa has on the Echo range. Throw in a camera and the Fire TV Cube could've been a great video calling system, for instance. The Amazon team considered it, I'm told, but decided it made more sense initially to focus on entertainment.
Verdict
When you can have a Fire TV Stick for a third of the price of the $119.99 Fire TV Cube, complete with the Alexa Voice Remote, is the premium for completely hands-off control really worth it? Leaving aside the fact that the cheaper stick lacks things like 4K, HDR, and Dolby Atmos support, my answer would be – to my own surprise – yes. A qualified yes, at least, anyway.
My primary frustration with the Fire TV Cube isn't Amazon's fault: I still need to switch to the Apple TV in order to access the purchases and subscriptions I've made through iTunes. Sure, I could've bought that content through Amazon's store instead, but I doubt I'm the only person out there dependent on Apple's box simply because it won't release an app for rival platforms. I can, at least, switch to the HDMI the Apple TV is hooked up to via Alexa voice command, and then back to the Fire TV Cube by voice when I'm done.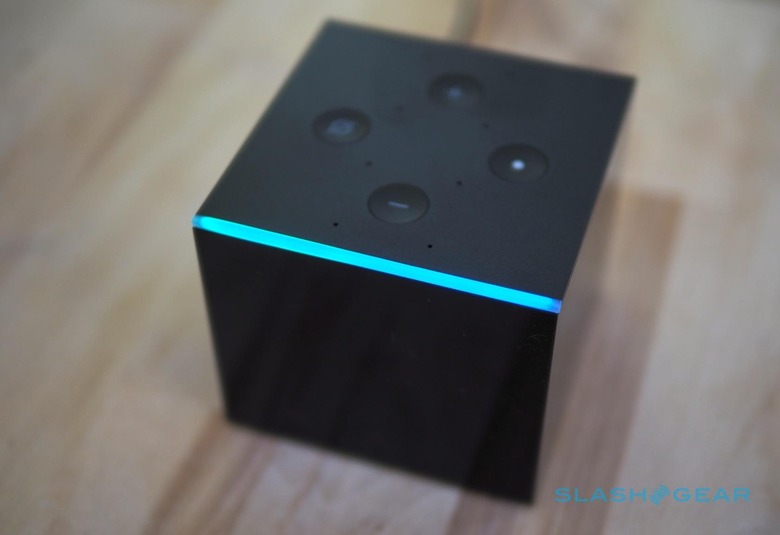 The deciding factor for how successful the Fire TV Cube is, I think, how often I had to reach for the remote in order to get something done. That's been the case far less than I expected it to be. Amazon's thoughtful collection of voice commands, and Alexa's accurate reception makes for an experience that's impressively straightforward to navigate. There's some groundwork for third-party services to do in order to fully integrate, but it seems most of the big names – Netflix, Hulu, SHOWTIME, CBS All Access, and more – are onboard with that.
No, I can't promise that you'll never pick up a remote control again. Yet with just about all major set-top boxes pushing some sort of voice control, so far Alexa on the Amazon Fire TV Cube seems the most successful at delivering everyday functionality without frustration. Alexa, take a bow.
SlashGear uses affiliate links, and sometimes if you buy something we get a small percentage of the sale. That has no impact on our editorial coverage