Rules To Follow When Driving A McLaren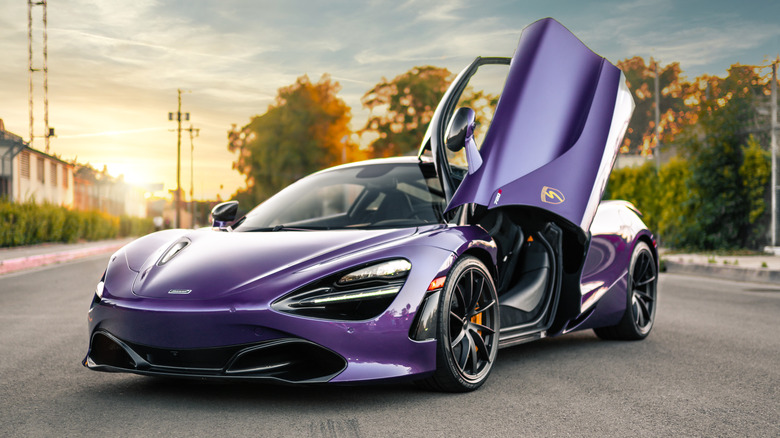 PaulLP/Shutterstock
Very few brands can claim to have had as much impact on the auto industry with their first production road car as McLaren did with the F1. Launched in 1992, the F1 is widely considered to be the first ever hypercar, and it was crowned the world's fastest shortly after it launched. With its 6.1-liter BMW V12 engine and cutting-edge carbon fiber chassis, the F1 set the blueprint for what the highest echelon of performance cars should look like, and it's only recently with the rise of electrification that the template has begun to change again.
While McLaren's original road car was nothing short of revolutionary, it would take until 2010 for McLaren Automotive in its current form to be created. The freshly-awoken brand launched the MP4-12C, then set about fleshing out its lineup to include everything from million-dollar hypercars to Lamborghini Huracan-rivaling "entry-level" machines. It may still be a young brand by automakers' standards, at least in its current form, but McLaren has quickly built up a worldwide base of dedicated owners. Here's a quick rundown of some good rules of thumb for anyone looking to join this exclusive club.
Remember the brand's history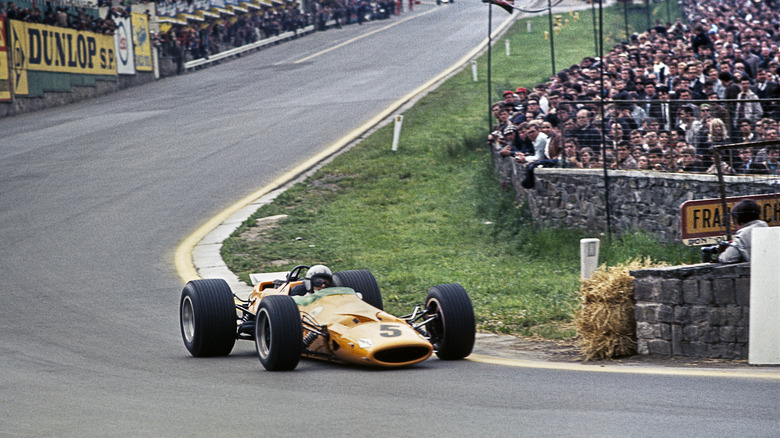 Bernard Cahier/Getty Images
While McLaren Automotive is a fairly recent endeavor, any motorsport fan worth their salt will be well aware of how influential McLaren's racing operations have been in Formula 1 over the decades. Bruce McLaren founded his company in 1963, and by 1965, he'd decided to enter Formula 1. Just a few years later in 1968, he found himself on the top step of the podium for the first time at the Belgian Grand Prix (via McLaren). Over the next decade or so, McLaren continued to establish its presence in the sport, the team's progress culminating with an exceptionally successful season in 1988.
It was around this time that McLaren decided to transfer its racing know-how into a road car, and after a few years of development, the F1 was unveiled. The pioneering nature of the car has made it one of the most sought-after cars in the world today, and since only 106 examples were ever built, they rarely ever come up for sale. When they do, collectors are willing to pay eye-watering sums to get their hands on one, with Glenmarch data showing the average selling price to be around $20 million. Even by most McLaren owners' standards, an F1 is completely out of budget.
Don't worry about the dealers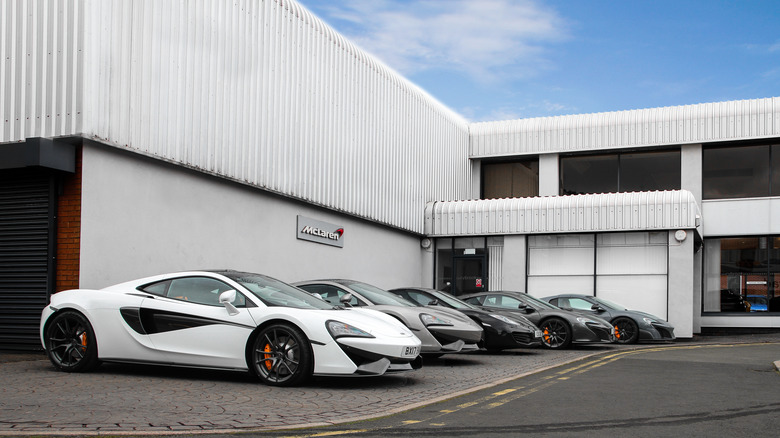 dimcars/Shutterstock
While dealerships for some exotic brands like Ferrari have a reputation for being difficult to deal with, McLaren's dealers are, by all accounts, a much more pleasant experience. Ferrari dealerships have been known to vet customers before allowing them to buy certain cars, and in some cases, allegedly banning certain celebrities who don't fit their image. You're also expected to buy several cars from Ferrari's lower-level range before being allowed to purchase one of their halo models, and it reportedly helps to try and become personal friends with your dealer by wining and dining them at your own expense.
Auto aficionado and veteran collector Jay Leno claimed that all these rules were enough to put him off buying a Ferrari altogether, even a used one. However, Leno said in the same interview that McLaren dealers were a completely different experience: "I paid exactly the sticker, buying it was a terrific process. [...] They called me one day and said, 'Oh, there's an upgrade from 592 horsepower to 617. You want the upgrade?' I said, 'Well, how much is it?' and they said 'It's free.'" He also noted that, during the buying process, a McLaren salesperson advised him that the costly optional carbon brakes were unnecessary for road use, saving him roughly $20,000 (via The Drive).
Prepare for some big maintenance bills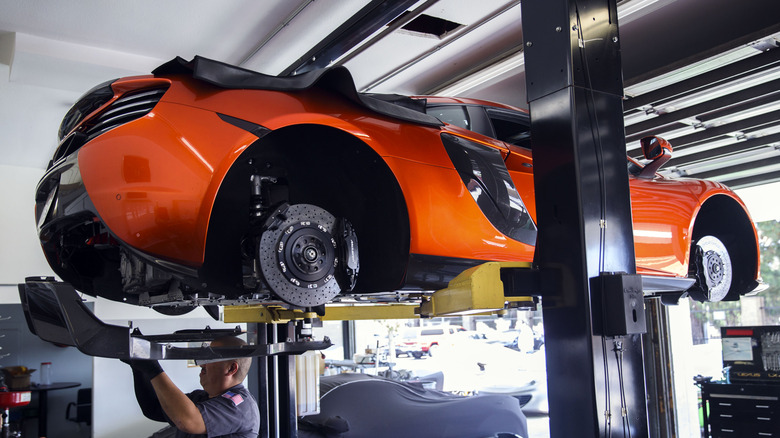 Bloomberg/Getty Images
Although Leno might have saved some money off the purchase price when buying his McLaren, he'll still have to fork out for some eye-watering maintenance bills when it comes time to take the car in for a service. It's worth pointing out, of course, that any exotic car is going to cost a lot to maintain, and if you don't have the cash flow to comfortably afford the ongoing costs, it's probably best to avoid buying one altogether. Even so, it seems McLaren can be especially costly when it comes to purchasing official parts from them.
McLaren 600LT owner Parker Nirenstein, better known as the YouTuber Vehicle Virgins, posted a video in 2021 that highlighted just how much extra McLaren charged for its parts when bought through the brand's official channels. A new set of front brake pads reportedly retailed for $2,600 from McLaren, when in comparison, the same parts for his Lamborghini Huracan cost around $900. Nirenstein's mechanic was able to eventually buy the pads directly from the supplier for just under $600, saving him around $2,000 in apparent markup fees. Even by supercar standards, it seems like replacement official McLaren parts are exceptionally expensive, so would-be owners should be well aware of the potential costs before buying a "bargain" used example of the car.
Embrace the switch to hybrid power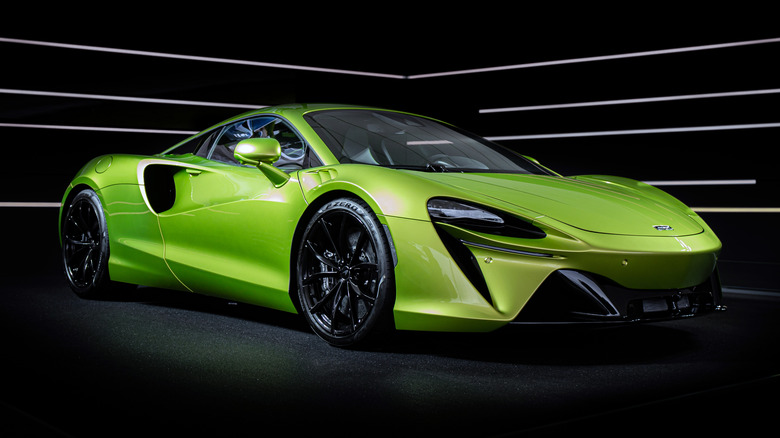 Martyn Lucy/Getty Images
McLaren's road cars have always been about making the most of cutting-edge technology to maximize performance, and as part of that continued innovation, the brand recently released its first series production hybrid, the Artura. It's not the first McLaren to feature a hybrid powertrain, as that honor goes to the P1, but it's the first hybrid car that will be freely available to order from McLaren dealerships. SlashGear's Executive Editor Chris Davies recently got to try out the Artura on the road, and found it to be just as punchy as the brand's gas-powered cars when driven hard, yet more versatile than ever.
In particular, the all-electric mode stood out as a highlight, as it enables the car to run entirely on battery power for short distances. While a supercar is undoubtedly at its best when gunning down backroads or being flogged around a track, the reality is that many owners will spend a significant portion of their driving time crawling through city traffic. The added option of electric mode in the Artura makes the car a more practical daily driver than ever, yet it's still just as capable as its predecessors in terms of pure performance. It seems likely that McLaren will embrace hybrid power across more of its range in the near future, especially now that the successor to the sought-after 720S is in development.
Be sure to schedule a track day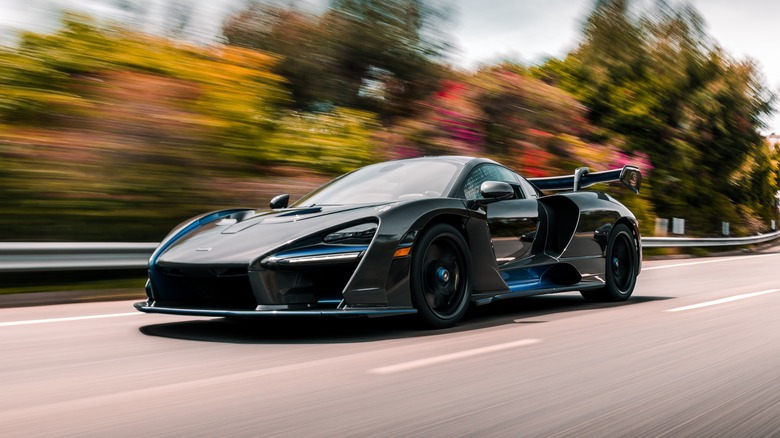 Brandon Woyshnis/Shutterstock
McLarens have always been built to be performance cars first and foremost, a trait that can sometimes be seen in their "function over form" exterior styling. The Senna is a particularly notable example of this, with even company executives politely describing the car's design as "unforgiving." Looks didn't matter when drivers got to experience the Senna at the track though, and that's exactly the point: There are cars built to be driven, and driven hard. No matter which model you opt for, booking a track day is the best way to push the car to its limits and make the most of its razor-sharp handling.
Tracks are also a controlled space designed specifically to be safe in the event that anything does go wrong, unlike highways or backroads. Plus of course, there's no risk of losing your license if you're clocked pulling triple digits on the track. In other words, you're simply missing out if you don't take your car to a track where you can properly push it to its limit.
Join an owners club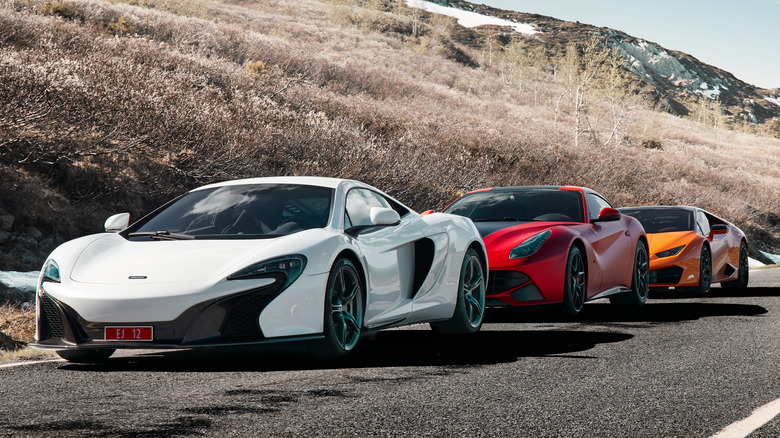 Artur_Nyk/Shutterstock
A good rule of thumb for any performance car owner is that the best place to meet like-minded enthusiasts is through an owners club. As a relatively new brand, most McLaren owners clubs are still fairly small, so it should be easy to get to know other members. Joining a club also gets you access to events, meets, and perks, so it's a no-brainer for anyone looking to make the most of the ownership experience.
Not only that, but in-person owners clubs as well as online forums are great places to get advice on everything from maintenance to the best places for road trips. Local clubs vary between countries and regions, but a quick browse down your search engine of choice should be enough to work out where your nearest chapter is. If there's no McLaren-specific owners club near you, a general supercar club is an equally good choice.
Modify it if you want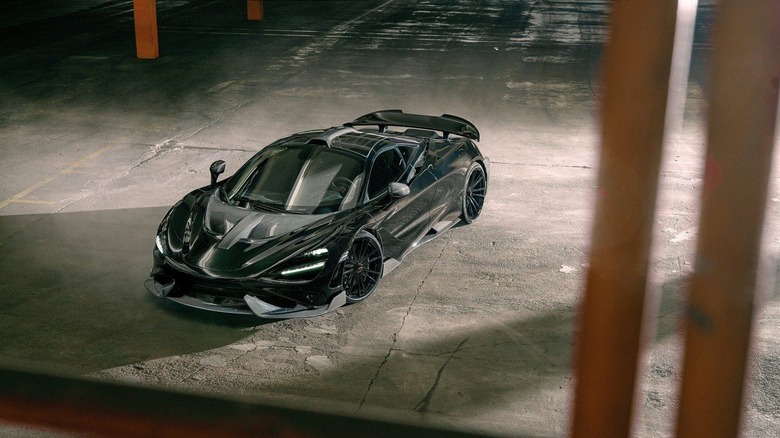 Novitec
There are plenty of manufacturers out there who take a generally dim view of owners who modify their cars, with one Italian brand, in particular, being notorious for issuing lawsuits against owners who modified their cars in ways it deems unsavory. McLaren doesn't have the same views, thankfully, and so owners are free to upgrade, customize, or tweak their cars to their heart's content. Aftermarket tuning specialists like Novitec have taken full advantage of this, with the German tuner unveiling a particularly impressive kit for the 765LT that cuts the car's 0-62 mph time down to just 2.5 seconds.
The kit includes an upgrade to the car's 4.0-liter V8 engine, which pushes its maximum output up to 855 horsepower and 898 Nm of torque. There's also a custom Inconel exhaust available to give the 765LT an even more distinctive sound, and forged wheels built in collaboration with Vossen. Not to mention, plenty of carbon fiber accents and aero bits to really highlight just how brutally fast the car is.
Expect plenty of attention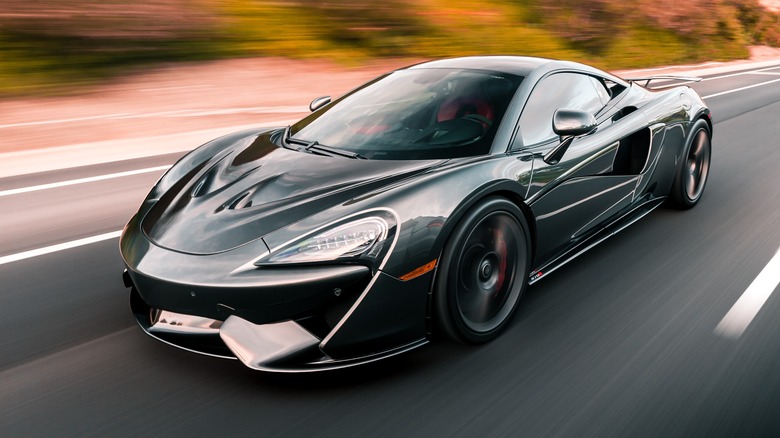 Brandon Woyshnis/Shutterstock
Driving any supercar will invariably mean you attract a lot of attention on the road, and McLarens are no exception. A reviewer at Ars Technica described how driving around Chicago in a 570S Spider, there was no shortage of drivers in other performance cars that wanted to race on the highway and at the stoplights, with everything from a Jeep Grand Cherokee SRT8 to a Mercedes SL65 AMG BiTurbo trying to throw down. In addition, taking the car to the gas station became an event in itself, with passersby stopping to chat about the car or take photos.
Even a policeman asked for a picture during the reviewer's time with the car, stopping to take them while waiting at an intersection. Depending on how much you like attention out in public, this might be a good thing, or it might quickly become a major annoyance. Either way, it's not like you have a choice when you're driving a McLaren.
Make sure your insurance covers natural disasters
This might seem like a niche rule, but it's one that a certain P1 owner will be glad they followed after the floods caused by Hurricane Ian in 2022. The owner, who goes by the handle "Lambo9286" on Instagram, saw his yellow and black hypercar washed into the streets by floods just a week after he purchased it, along with his Rolls-Royce and several other exotic cars (via Motor1). Having your new McLaren trashed is bad enough, but without the correct insurance, this could have been a very costly disaster as well as a collector's worst nightmare.
Luckily for the owner, his insurance did cover the damage, with State Farm eventually writing it off and selling it through a Copart auction in January 2023. The car was bought by the YouTuber Tavarish, who plans to eventually restore the P1 and get it roadworthy again while documenting the rebuild for his channel.
Don't let it sit in a garage forever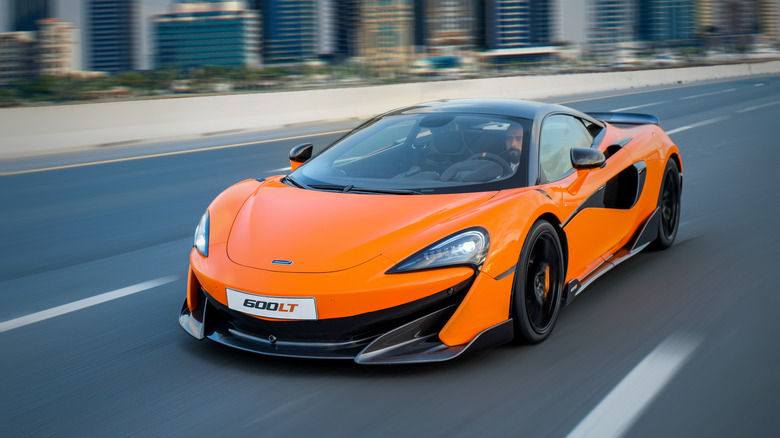 Mesam/Shutterstock
Perhaps the number one rule that every McLaren owner, and every supercar owner in general, should follow is not to let the car become a garage queen that's barely ever driven. McLaren's whole ethos as a company is to make the most capable, enjoyable driving machines possible, and although it's probably better from an investment point of view to keep the mileage low, it's not really in the spirit of McLaren ownership.
Anyone who buys a car like this and leaves it holed up for months on end is arguably missing the point of buying one in the first place. Especially with exclusive hypercars like the recent Speedtail or the Elva, there's a good chance that they'll be more valuable in a few years' time anyway, regardless of whether they've got 100 miles on the clock or 10,000 miles. So, there's really no reason to not get out and enjoy your car, even if you don't follow any of the other rules of ownership.