2023 Cadillac Escalade Review: Five Stars And Stripes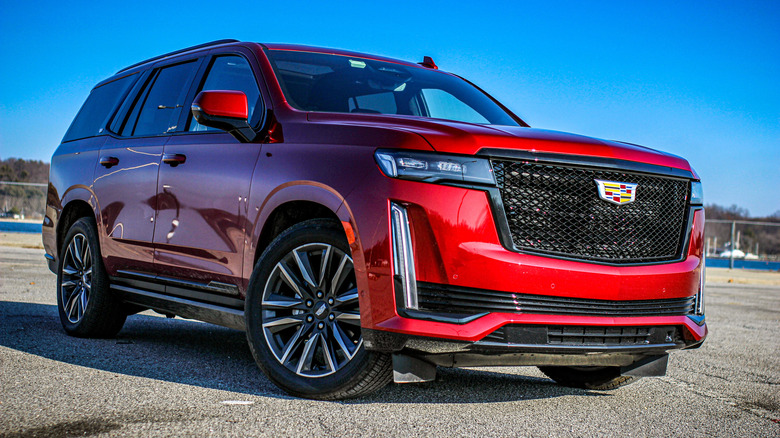 Alex Kalogiannis/SlashGear
Given our current automotive proclivities, it's no wonder that the top American luxury vehicle is the Cadillac Escalade, a big, bold SUV that's muscled out the stretched limousine as the standard for automotive superstar status. Why? Simply due to the fact that the Escalade does all of what a limousine does, but better, while still having some practical utility in-between proms.
It isn't something that happened overnight, however. Since its debut at the turn of the century, the Escalade has had five generations to roll with the technological advances, improved manufacturing methods, and trends in design. This has culminated into its latest iteration, the most refined, streamlined Escalade yet that might be as enjoyable for the driver as it is for its pampered passengers, be they club-hoppers, dignitaries or a vacationing family.
Super-duper Uber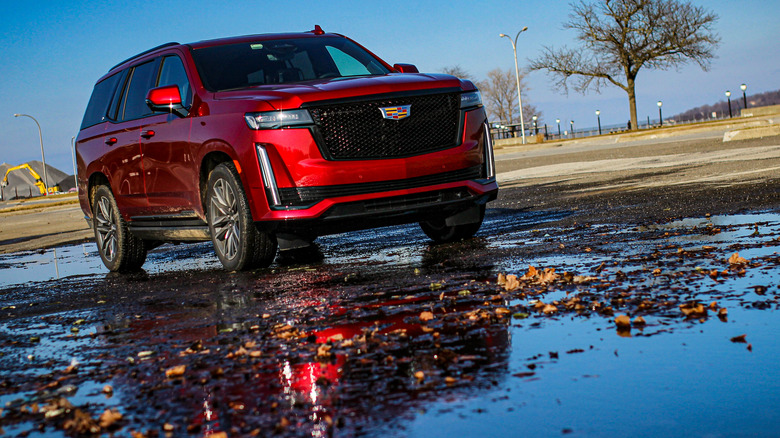 Alex Kalogiannis/SlashGear
The 2023 Cadillac Escalade is the latest version of the luxury SUV's current generation that was introduced in 2021. There are six trims with various available options, five of which are available in two-or-four-wheel drive, and powered by either a 6.2-liter V8 or an optional 3.0-liter turbo diesel six cylinder engine. The standard V8 gives the Escalade 420 horsepower and 460 pound-feet of torque to work with, sending it to the wheels through a 10-speed automatic transmission. The last trim is the new Escalade V that is fitted exclusively with four-wheel drive and a supercharged 6.2-liter V8.
Prices range from the base "luxury" trim that can start as low as $81,190 for a two-wheel drive model, to the $112,090 asking price for the four-wheel drive Sport Platinum you see here. Each trim throws in more options and packages on top of the V8 and drivetrain of your choosing, with the optional diesel engines also raising the bottom line. Lastly, the brutish line-up topper, the Escalade V, starts at $151,090.
Apart from the addition of the Escalade V to the lineup, not much is new for the 2023 model year apart from a couple new exterior colors, Agent Silver and Dark Emerald. Either way you still get seating for — checks notes — lots of people and — checks again — tons of stuff. All of which rides on a new adaptive air suspension paired with Caddy's magnetic ride control dampers, and a new independent rear suspension that not only gives the large SUV a smoother ride, it frees up space that allowed designers to increase the passenger compartment dimensions.
Club mix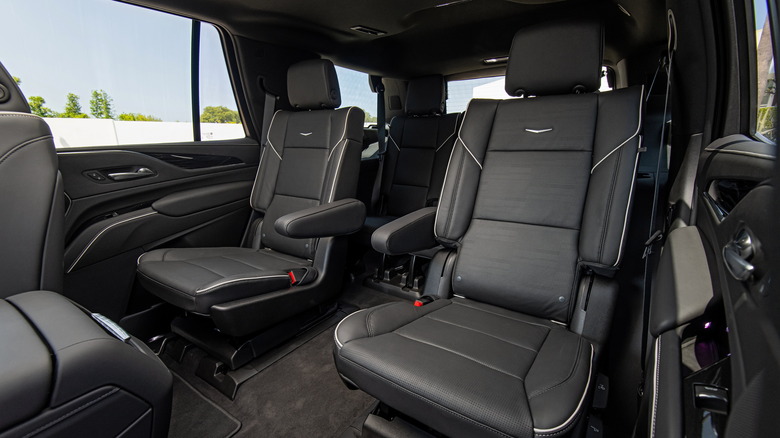 Cadillac
This generation Escalade is a tight clean-up of the SUV's bold features, yet keeping the look that gives it its identity. Starting up front, the emblem-mirroring grille incorporates the more slender headlamps for a sharper and more distinct fascia. Around back, the SUV retains its signature tall tail lamps and the shuttle's overall silhouette is maintained. Generally, it's quite a safe approach for a car which has looked overly busy in the past, and while it might be reserved, it's still impactful and likely to hold up with time.
Stepping up into the passenger compartment reveals enough room to lounge in with five or six buddies, depending if the second row is situated with two captain's chairs that wouldn't look out of place in an airliner's business class. If you have more stuff than people, both rows can be folded down to make use of the 121 cubic feet of total cargo space in the standard sized Escalade. With all the seats in place, there's still 25.5 cubic feet available for supplies.
On full display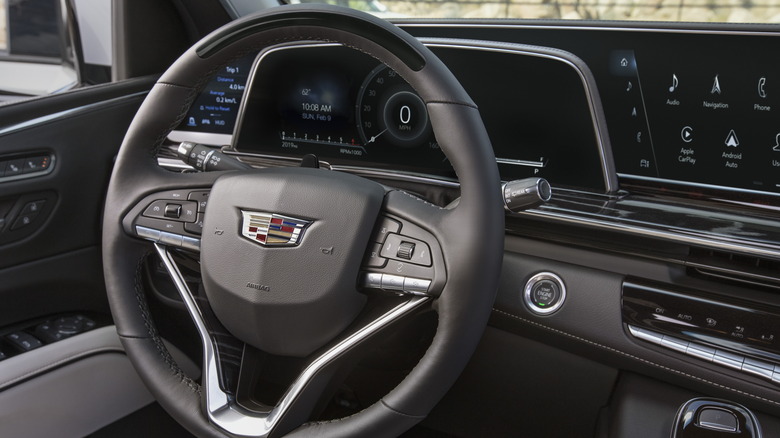 Cadillac
What further makes the Escalade so compelling is its host of tech that covers entertainment, safety and conveniences. Two 12.6-inch touch displays are available for the second row. These can be used for web browsing, video streaming, mobile device mirroring, and can have electronics connected via HDMI and USB inputs if you brought your own PlayStation 5 with you for the ride. They can also display the native navigation system for passengers to suggest destinations that the driver can confirm.
A good portion of the car's gadgetry is meant for the driver, though. New to this generation of Escalade is a 38-inch curved display that runs from the driver's door and across the dashboard. This houses the 16.9-inch infotainment screen, a 14.2-inch gauge cluster, and a 7.2-inch control panel. The two touchscreens are responsive and easy to use, with the smaller one used to influence the gauge cluster, be it trip data or to engage the night vision mode, which is as fun to do as it is to say.
Pilot and co-pilot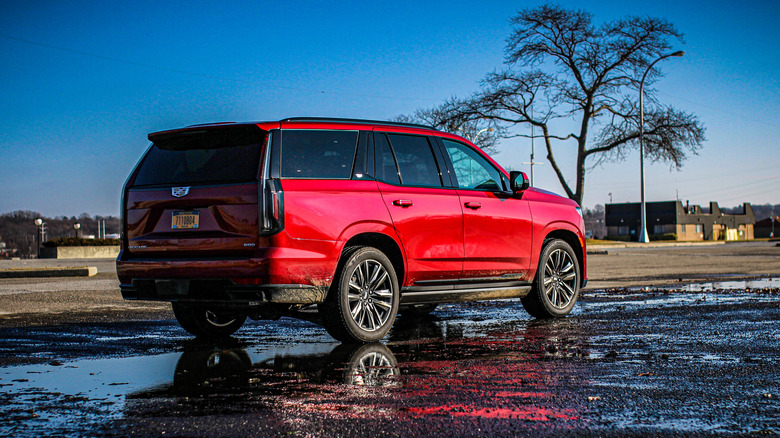 Alex Kalogiannis/SlashGear
The main screen has all your typical features ranging from navigation to car settings. Many of these functions are keyed to individual apps and are laid out tablet-style on a big page. Thankfully, also like a tablet, there's a menu bar where the most-used commands can be placed, and it's just as easy to customize with a simple drag-and-drop motion. There's also a huge collection of cameras and sensors on board to give the driver a "spot" while they manage the massive car and potentially unruly rear-seat rider. All sorts of pre-collision alerts and emergency braking, parking assist, and cross traffic alerts are available. Essentially, the car is looking out for you in just about every way that you'd wish it to, while on the road or even when maneuvering in tight spaces.
All of this is also tied into the available Super Cruise, a hands-free drive assist mode where the Cadillac can take control of most functions under driver supervision. This mode only works on the highway and even then, only on specific ones that have been LiDAR mapped and approved, though at this point most of the major ones in North America are compatible.
When the driver is ready, a couple button presses will engage the mode and the Escalade will drive along with its adaptive cruise control while the map data and lane-keep assist help the car follow the road. In its latest form, Super Cruise-enabled vehicles can automatically change lanes if it notices that traffic is moving faster in the next one over. In the meantime, the driver is free to take their hands off the wheel, though they still need to be attentive for many reasons, and the system does monitor their face to make sure they're still paying attention.
Escalade, quickly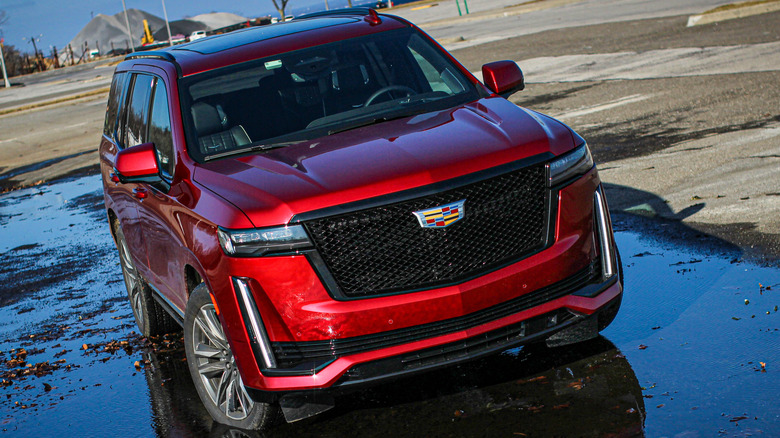 Alex Kalogiannis/SlashGear
Driving the Escalade is initially daunting due to it being a big blocky luxury bus, but Cadillac has had plenty of time to get the formula right. As such, it knows how to make the Escalade feel much more manageable. The SUV's magnetic ride control is constantly shifting to adjust to the different road conditions while the new adaptive air suspension is continuously active throughout the drive as the situations changes. Upon learning that it would be equipped with an independent suspension, one would easily be led to believe that this was to imbue the hulking people-mover with some sporty chops, but thankfully, while it does positively affect performance, it makes the Escalade ride smoother and travel around bends with assuredness.
It makes good use of the 430 horsepower it has on tap, considering its heft. While not face-melting off the line, it's got enough grunt to snap away at a red light faster than anyone else was expecting, which is handy when preemptively plotting maneuvers in the big Caddy. There's even a satisfying V8 snarl to go with it, which is welcome. Still, it's very composed most of the time, and it's easy to get lulled into thinking it can take a bend at higher speeds. This might apply on the highway but if it isn't traveling in a straight line, it's best not to try and go anywhere in a hurry.
Suffice it to say that the V8 pulling all this luxury across town demands a great thirst, mitigated a bit by auto-stop-start to avoid idling, but not making that much of an impact. At the end of the day, the four-wheel drive Escalade musters up a 14/18/16 city/highway/combined MPG.
The long haul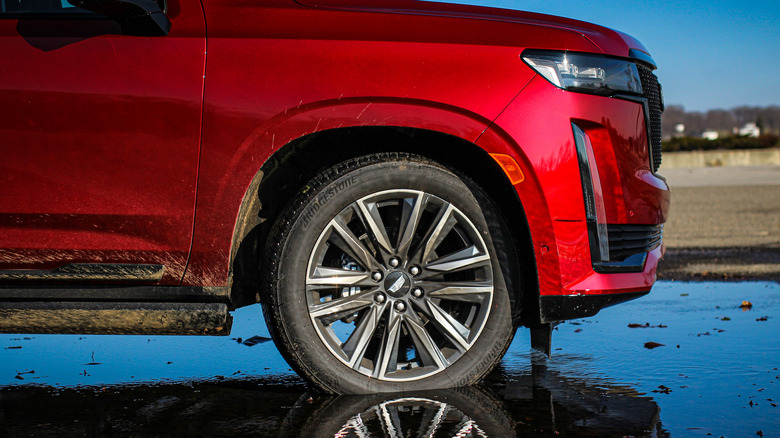 Alex Kalogiannis/SlashGear
Highways are very much where the Escalade is comfortable, and it's a very welcome means of travel for trips short or long. Around town, the Cadillac is quite deft with its handling thanks to the above systems in play. Its control allows drivers to be precise in tight spots and the suite of sensors and cameras provides a very necessary level of awareness to put it to use effectively.
At either high speeds or low, the extra set of digital eyes is a welcome one, with the SUV constantly alerting the driver of potential hazards, cross-traffic, abruptly stopping forward traffic, or even when parking too close to a wall. In all of these situations, an audible sound and accompanying warning graphics do their job, but they're supplemented by haptic responses in the driver's seat for a tactile — if slightly jumpy — alert. These are also directional, too, so once the initial shock of a seat vibration is acclimated to, it's a handy way of letting the driver know which side of the car they should look out of.
Rate your ride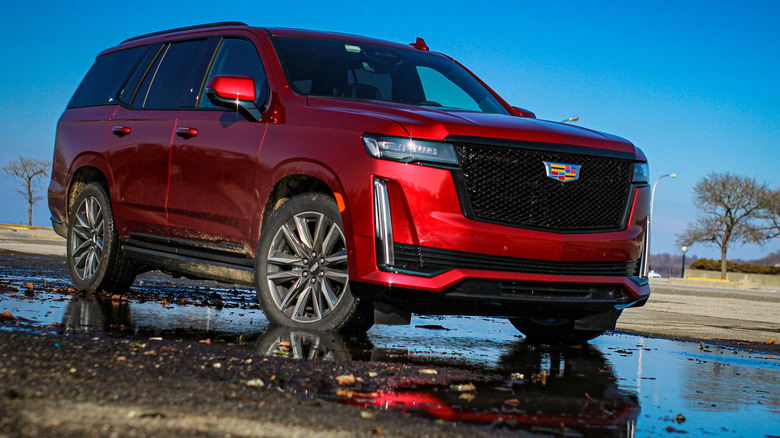 Alex Kalogiannis/SlashGear
The Cadillac Escalade has always been a bit much, in just about every sense. It's big, spacious, and audacious, all of which has been the appeal. Love it or hate it, the latest version has refined much of what detractors have griped about. From an aesthetic view, it's still big but its conservative style has cleaned up the old blown-out design leaving it much more palatable. Cadillac has made good use of the extra interior space, making it more comfortable and easier to enter and exit than ever before. Rear seat conveniences continue to make the passenger compartment the best seat in the house, but the streamlined interface behind the Escalade's curved glass dash does a stellar job in managing all the myriad functions that a driver has to juggle at any one time, and the easy customization options are a godsend.
Managing the physical car has also been greatly improved. Though there's no avoiding the ESV's sheer mass, the standard Escalade makes great use of the suspension improvements to make is a gentle cruiser, even while the beastly V8 dials on the power. Make no mistake, while it feels like driving a steam engine, it doesn't corner "like its on rails," but the adaptive ride control — among the other aforementioned suspension improvements — make this behemoth way more manageable than it has any right to be. The same goes for the convenience tech amplifying the awareness around the car, all of which reduce the stress of hauling such an oversized vehicle around town.
Of all of its wealth of conveniences, Super Cruise might be the most impressive, though it's more of a showcase of technology that can come in handy on occasion rather than a daily tool to be utilized. It's also not for everyone, so whether it's a boon or something never to be touched boils down to the individual driver. In either case, the Escalade rolls on as a toy chest of convenience and luxury, and beating it at its own game is something rivals will continue to struggle with.