Audi SQ7 Review: Special SUV Pairs Speed With Seating For Seven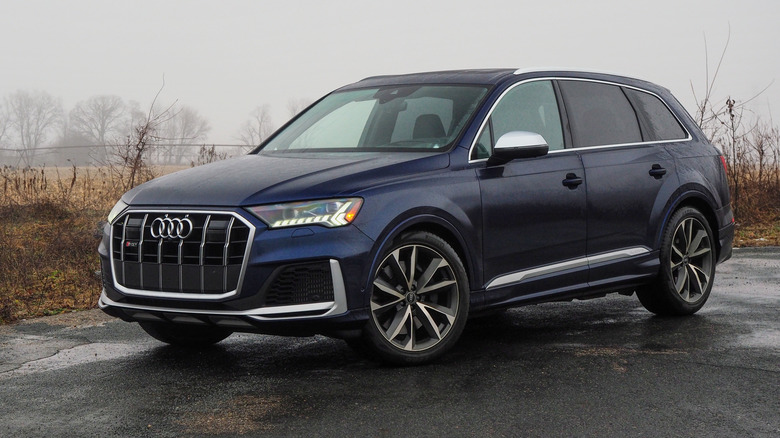 Chris Davies/SlashGear
The Audi SQ7 is an SUV for naughty mommies and daddies. Little shapes vehicle purchase decisions like needing to accommodate a family and its paraphernalia, and the three-row SUV category has flourished with options from affordable through to premium. With a starting price of $87,500 (plus $1,095 destination), this SQ7 certainly falls on the latter end of that spectrum, but it's not just fancier seats and gadgetry that earn its sticker.
In fact, there's remarkably little of the tech we've seen other SUVs summon in order to placate those in the back two rows. Audi will sell you a Sport Package ($5,900) with active roll stabilization, a sport rear differential, and red brake calipers, but there's no rear-seat entertainment option, no seat-back screens, and no HDMI inputs for media and consoles like other family trucks provide.
The main entertainment, then, comes for whoever is behind the wheel. A V8 engine with 500 horsepower and 568 lb-ft of torque to play with; a bevy of platform features intended to do as good a job as possible at hiding the inevitable length, height, and heft of a family ride. All seemingly with the idea that, while you may spend much of your day acting as chauffeur to schools, sports clubs, and fast food drive-thrus, there'll always be a little left over to have some fun.
Solid not shouty style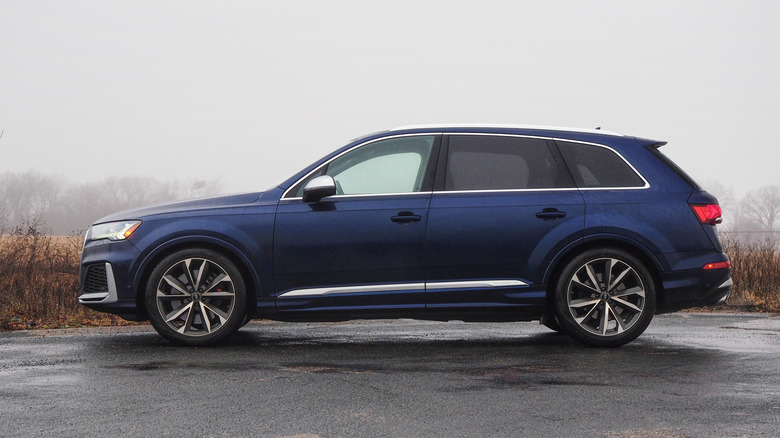 Chris Davies/SlashGear
The Q7 has been around for a while now, but I think it still looks good. Solid and purposeful, with just the right degree of exterior chrome; Audi's sculpted lines and creases help offset the somewhat slab-sided proportions that help with cabin space. As usual, Audi has a selection of sober white, gray, and black exterior paints to choose between, but you at least get a bright red and a bright blue option if you're feeling more daring.
In SQ7 form, the automaker adds some tweaks but stops short of an all-out makeover. There are quad exhaust tips and alu-optic mirror housings, for example, while the bumpers get bigger air inlets. A Black Optic package will, for $1,150, switch the exterior chrome to high-gloss black instead.
Even without it, the SQ7 plays on the subtle side. On balance, I think that's a good thing, even if I'm curious what an RS Q7 might look like. Instead, Audi saves the real fun for under the hood.
No electrification, just an incredible soundtrack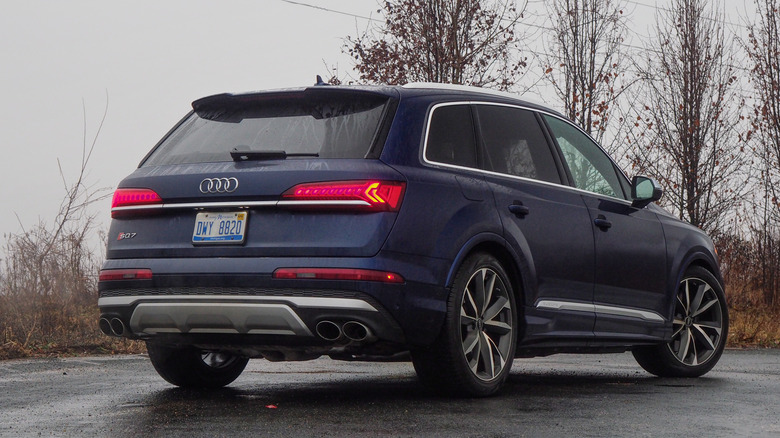 Chris Davies/SlashGear
There's no electrification, no real nod to economy beyond the auto-stop start. What you do get is a 4.0-liter TFSI twin-turbocharged V8, and what could be one of the best-sounding engines in recent memories.
The aural appeal of a V8 generally is hardly in question. Nonetheless, there's something about the basso rumble of the SQ7's which has particular charm. Never angry, never howling, it gurgles like a big cat's purr when unstressed, a warming promise of something playful within arm's reach. Plant your right foot, meanwhile, and the growl grows in intensity and volume, though avoids harshness in the process. Think "professional opera singer gargles with gasoline custard" and you might be getting close.
There's no adaptive exhaust button, though Audi's drive modes — with Dynamic as the most fiendish, through Auto and Comfort, with Offroad and Allroad options for risking the 21-inch 5-twin-spoke graphite gray wheels in the mud — do keep the volume tamed in the more placid settings. That's probably more because the standard 8-speed Tiptronic slurs up a ratio well before you climb too close to the redline just shy of 7k rpm.
A big sports SUV that drives smaller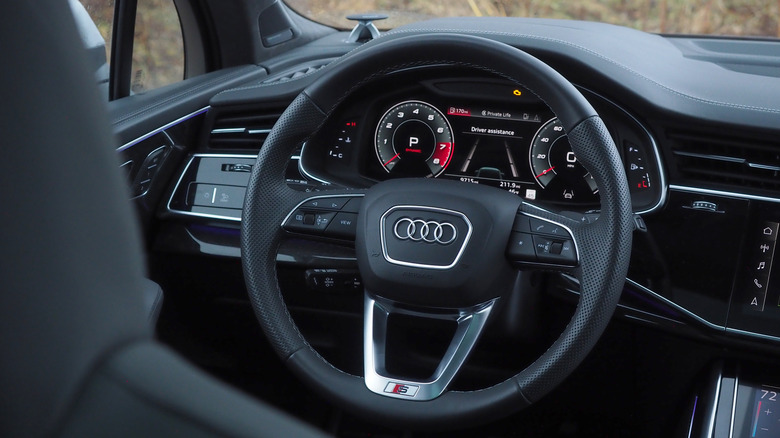 Chris Davies/SlashGear
Flick to Dynamic, though, and while this three-row SUV doesn't sport Audi's R badging, that's not to say it's disappointing for more eager drivers. The standard sport adaptive air suspension tightens, while the all-wheel steering helps trim the feeling of overall heft. You could almost think you were piloting something Q5-scale.
There's weight through the wheel, but not too much. The SQ7 is easily placed, the brakes capable without being grabby, and while it's easy to stack on speed without realizing it — we can probably blame good cabin insulation for that, too — shedding it is stress-free, too.
Tap back into Auto or Comfort modes, meanwhile, and things take a turn for the placid. The V8 can still be readily roused for overtaking or simply making the best use of long, straight country roads, but the suspension softens noticeably. Underwhelming road surfaces are flattened into easeful smoothness; bigger potholes may make for a bump, but it's still more of a gentle reminder of the real world outside than a cabin-shaking experience.
Performance with a side of practicality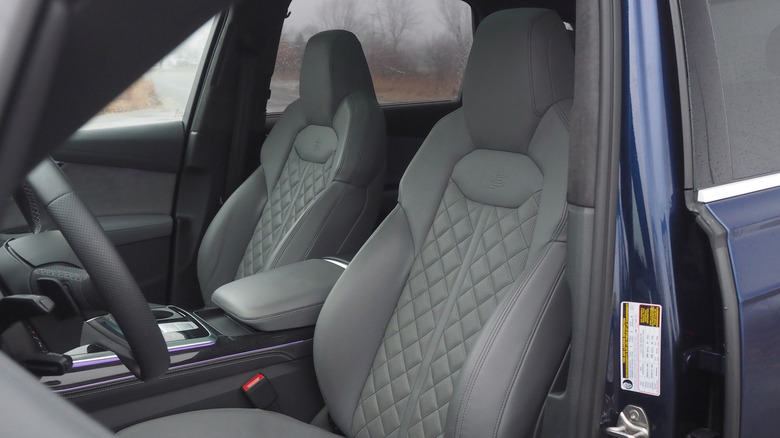 Chris Davies/SlashGear
With an official 0-60 mph time — that feels conservative — of 4.3 seconds and a curb weight north of 5,200 pounds, you'd be excused for assuming that economy isn't the SQ7's primary focus. According to the EPA, you could see 21 mpg on the highway, 15 mpg in the city, and 17 mpg combined. At a comfortable cruising speed, the highway numbers aren't difficult to achieve, but any sort of heavy right foot will generally see the big Audi gulp down premium unleaded with alacrity.
It's all very usable, though. There's up to 7,700 pounds of towing capability — with the $750 Tow Package that also adds a hitch receiver and seven-pin connector — and roof rails come fitted as standard. For the 2023 model year, Audi adds Remote Park Assist Plus as an option; that automatically navigates the SQ7 in and out of both perpendicular and parallel parking spots, either from when you're inside the SUV or through the Audi app when you're standing next to it.
Familiar tech in a spacious cabin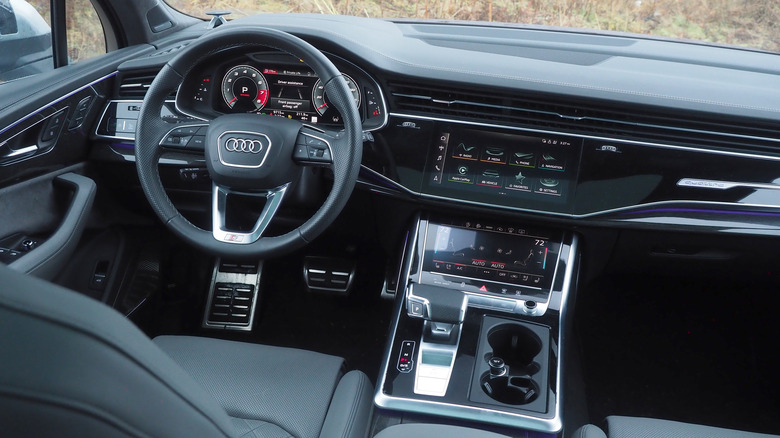 Chris Davies/SlashGear
Audi's twin-touchscreen dashboard is a familiar thing by now. The larger upper panel handles multimedia, navigation, vehicle settings, and — if you connect your smartphone – Android Auto and wireless Apple CarPlay. Beneath it, a slightly smaller touchscreen takes care of climate and seat settings.
Quad-zone climate control, a heated steering wheel, heated front seats, a panoramic sunroof, and a power-folding third row with convenient buttons in the trunk are all standard. So, too, is active lane assistance, adaptive cruise control, a hands-free tailgate, and Audi's virtual cockpit plus. Blind spot warnings, rear cross-traffic warnings, Audi pre sense forward collision warnings and avoidance assistance, and lane-departure warnings are also included.
Space in the first and second rows is resolutely adult-scale. The third row is a little tighter, though still not uncomfortable; all second and third-row seats get LATCH support for child seats, too. With all seats up, you're looking at 14.2 cubic feet of trunk space; that expands to 35.7 cu-ft with the third row flat, and 69.6 cu-ft with the second dropped too.
Plenty of options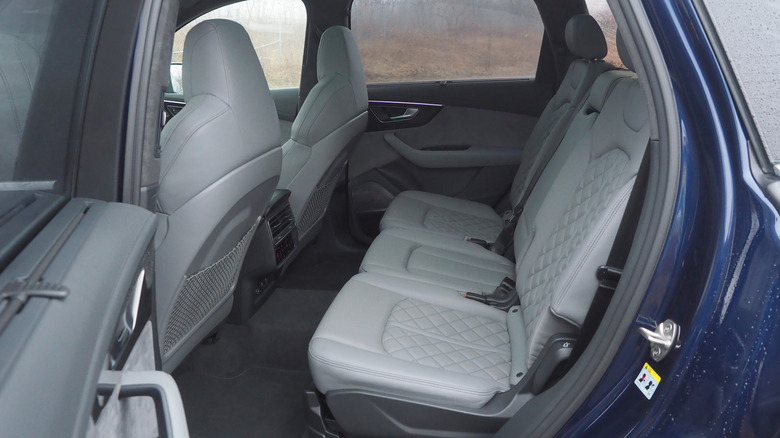 Chris Davies/SlashGear
Some of the fancier tech is reserved for the Prestige package, a $5,000 option that includes a head-up display, intersection assist, the Executive package, and power soft-closing doors alongside dual-pane acoustic side window glass. The $2,900 Luxury package adds black Alcantara for the headliner, extends the leather trim to the upper door panels, adds front passenger seat memory, and gives both front occupants massage seats.
If you want to upgrade the standard Bang & Olufsen Premium sound system to the beefier Advanced version with its pop-out dashboard tweeters — always a good party trick — you're looking at another $5,000. The laser headlights are $1,250, but due to U.S. regulations, they still lack the tricks of their European counterparts. Audi has repeatedly said it could theoretically upgrade existing cars equipped with the right hardware should the laws change.
Finally, Navarra Blue metallic paint ($595) takes the whole SUV to $103,340 (including $1,095 destination). That's certainly not inexpensive, and it gives the SQ7 some solid competition in the luxury family SUV segment.
The rivals can't quite nail the recipe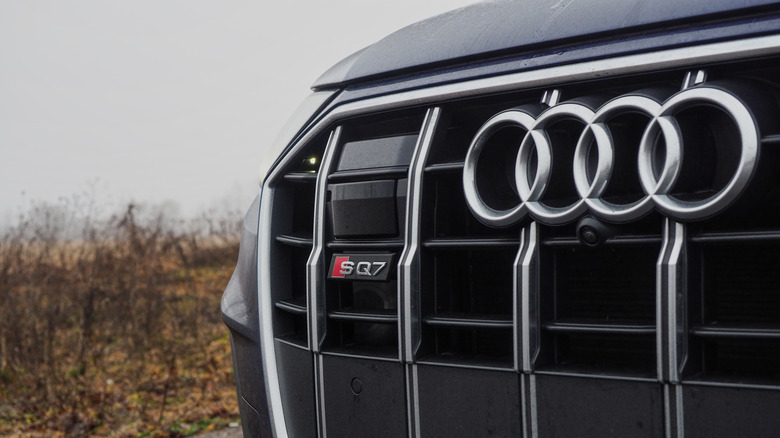 Chris Davies/SlashGear
Eager drivers will undoubtedly want to wander over to their nearest Porsche dealer and check out the Cayenne. It has more badge prestige and a higher sticker price to go with it, but you sacrifice that third row of seats at the same time. In fact, Porsche officially describes its SUV as a "4+1" configuration.
The same two-row restriction applies to the BMW X5 M, which is also more expensive (and more powerful) than the Audi. Over in Mercedes-AMG's stable, you'll need the GLE 63 S to best the SQ7's performance — the regular GLE 53 falls well short — and you still can't get that third row of seats. Mercedes has a 3rd-row Seat Package for the GLE, but it's not offered on the AMG versions of the SUV.
The wildcard might well be the Genesis GV80. It falls well short on power compared to the Audi but can be had with third-row seats (albeit very snug ones), and Genesis' cabin feels more upscale in places than the SQ7 despite a $30k price delta. At six figures in Prestige trim, and with the Luxury package onboard, Audi's use of plastic for the paddle-shifters feels like squandering a touch-point. Cheaper cars jump to metal and feel far more premium for it. The same goes for the steering wheel controls, more clicky plastic and familiar from the automaker's vehicles half the SQ7's price.
Audi SQ7 Verdict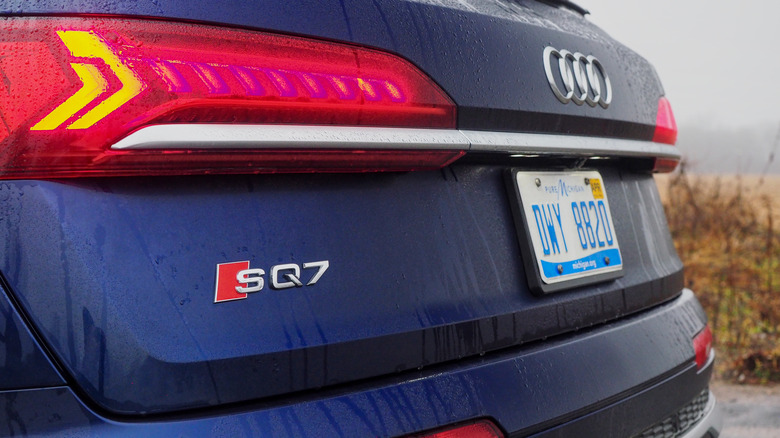 Chris Davies/SlashGear
Audi's push to electrification hasn't quite put the SQ7 on notice yet. Though the growing e-tron family has several SUVs, none promise the same three-row flexibility as this gas model. The recently-renamed Q8 e-tron is smaller and seats five; its Q4 e-tron sibling is smaller still. If fully electric and seating for seven are what's required, for now, you'll need to look to something like a Rivian R1S or Tesla Model X.
I'm curious to see Audi's take on that particular segment, but I'll also be sad when the SQ7 is finally put out to pasture. Little spans the Venn diagram of practicality, comfort, and rewarding dynamics quite like it. The big Audi feels special but also up to the task of daily chores; playful, certainly, but without sacrificing that all-important "Utility" part of the SUV.
Are there faster SUVs, or fancier ones, or more frugal? Sure, but there's a timelessness to the SQ7 that appeals. Because, after all, just because you need a family hauler, that doesn't mean you have to give up on fun along the way.