2024 Audi Q8 E-Tron Gives Electric SUV A New Name, More Range, More Tech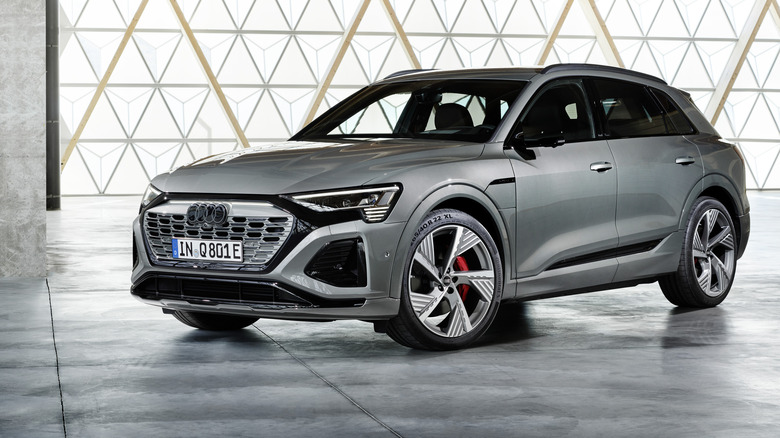 Audi
Goodbye Audi e-tron, hello 2024 Audi Q8 e-tron. Flagship SUV — or shapely Sportback — of the automaker's all-electric line-up, the new name brings with it a bump in range, performance, driving dynamics, and eco-cred in the cabin. Audi's rebranding makes a lot of sense: after all, when it launched the first Audi e-tron SUV back in 2018, it was a brand new segment for the German automaker, along with a brand new name.
Since then, we've seen the arrival of a number of additions to the e-tron line-up, most recently the Q4 e-tron, and soon there'll be a Q6 e-tron SUV too. Audi, then, has decided to hit reset on its most lavish SUV.
It's doing that by borrowing a nameplate from the de-facto flagship of its internal combustion SUV series, the Audi Q8. Though similarly sized to the Q7, the Q8 outfits its spacious cabin for just five, unlike the family-friendly (and more affordable) three-row vehicle. In addition, it's more luxurious and more potent.
It's also now outclassed by the 2024 Audi Q8 e-tron. Effectively taking the old SUV and giving it more power and range to go with the new badging, it'll also come in both SUV and Sportback flavors. There'll be an Audi SQ8 e-tron, too, with the greatest performance.
New style and new badging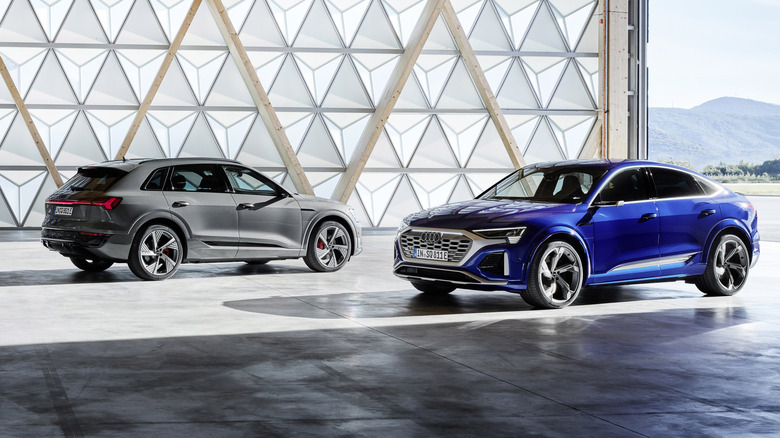 Audi
Considering it's a familiar design, Audi has worked hard to spruce up the Q8 e-tron's aesthetic. There's now a new, 3D singleframe "mask" grille — which will be offered in different finishes, including black and aluminum — topped by a projection light bar that links the LED headlamps. It also has the pleasing side-effect of illuminating the Audi four-ring logo, which is now finished in white and with thinner lines.
It's not the only badge tweak. The Q8 e-tron also debuts Audi's new B-pillar branding, with the model details laser-etched into the black; we'll see that roll out to other Audi cars progressively, too. You still get the model name on the trunk line, though it's now finished in gloss black.
For the Q8 e-tron SUV and Sportback specifically, there are also new aero tweaks. That, Audi says, has helped reduce the drag coefficient to 0.26 and 0.24, respectively. There's also a redesigned rear, cleaner than the old e-tron SUV.
Addressing the biggest issue: range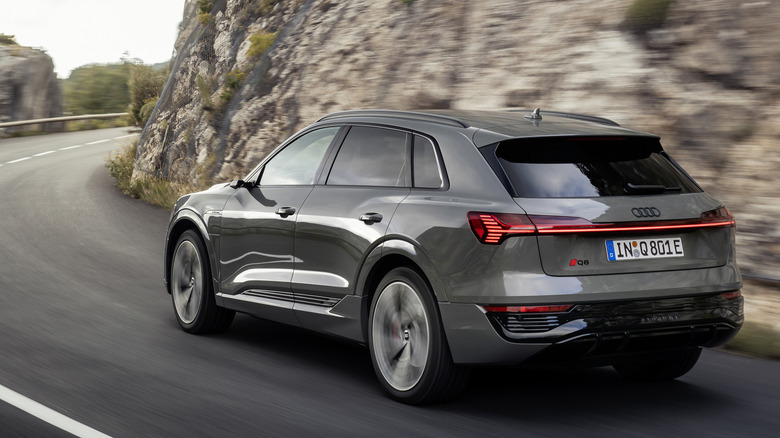 Audi
The biggest changes, though, are underneath the skin. Even when it launched, the e-tron SUV's 204 miles of EPA range wasn't especially impressive, and while that has nudged up to 226 miles in the 2023 model year car, it's still on the low side for a luxury electric SUV.
Customers wanted better range and better efficiency, Audi says, and that's what this 2024 Q8 e-tron brings. The old 71 kWh battery is being discontinued, replaced by a 95 kWh point of entry to the line-up. On European cars, badged the Q8 e-tron 50, which should deliver between 298-310 miles of range — body style depending — on the European WLTP cycle.
The U.S. will only get Audi's new, even bigger battery, however. The Q8 e-tron 55 will have a 114 kWh pack — tapping new nickel cobalt aluminum cell chemistry for greater density — expected to be rated for 360-372 miles. Again, that's on the WLTP cycle, which is typically more generous than the EPA version, but generally, Audi says to expect a 30-40% range increase overall. Final U.S. spec testing will be completed closer to the SUV EV's arrival in dealerships, but Audi is expecting around 300 miles on the EPA cycle.
New motors mean more performance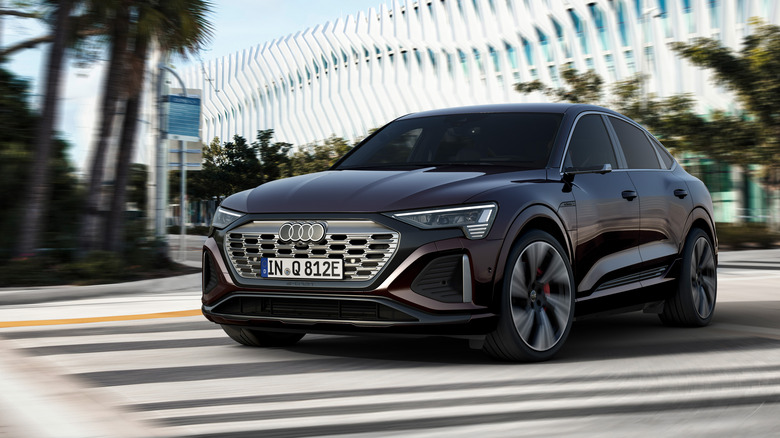 Audi
There'll also be a performance boost. With more windings on the rear electric motors' stator — moving from 12 to 14 — the new e-tron will require less current to deliver the same amount of torque as the old SUV. The base 50-spec car will do 0-60 mph in 6.0 seconds, thanks to a 20 kW power bump.
The Q8 e-tron 55, meanwhile, will take 5.6 seconds for the same run. Arguably more important, Audi has also used a new steering system with new software for more a precise cornering feel with less effort required and more feedback, while the new axel kinematics promise a more direct and lightweight feel.
There are also updates to the air suspension, for less roll, and now all Q8 e-tron will use that system as standard. The braking system remains predominantly brake-by-wire, with Audi making heavy use of regen. The automaker says that in around 90% of driving you'll only be using the electric motors to slow the SUV, and up to 0.3g of deceleration can be done by regenerative braking alone.
While the base Q8 e-tron sticks with 150 kW DC fast charging, the other models — including every version offered in the U.S. — will see an increase to 170 kW. That means it'll take around 31 minutes to go from 10-80%. Plug & Charge will be standard.
The SQ8 e-tron is the triple-motor flagship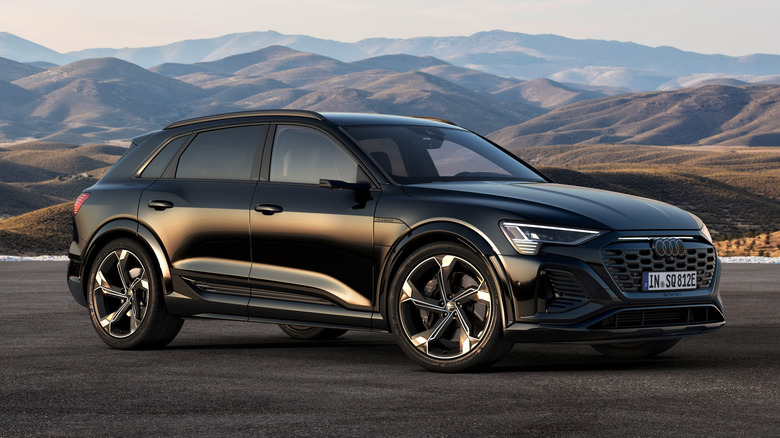 Audi
Then there's the 2024 SQ8 e-tron, the most potent of the line-up. It'll come with the 114 kWh battery as standard too, with an estimated range of 310 miles on the WLTP cycle. Again, EPA figures haven't been confirmed yet, but expect a roughly 30% uplift.
Of course, the big draw here will be speed. The SQ8 e-tron will do 0-60 mph in 4.5 seconds, Audi says, courtesy of a three-motor setup. Altogether, you're looking at 370 kW (496 horsepower) and 718 lb-ft of torque in boost mode. Top speed is limited to 130 mph.
It's not just in a straight line where the triple motors pay dividends. Audi's setup puts a single 124 kW electric motor on the front axle and gives the rear wheels a 98 kW motor each. That allows the SQ8 e-tron to do torque vectoring, distributing power across the rear wheels according to factors like which has the most traction.
A sleeker, greener cabin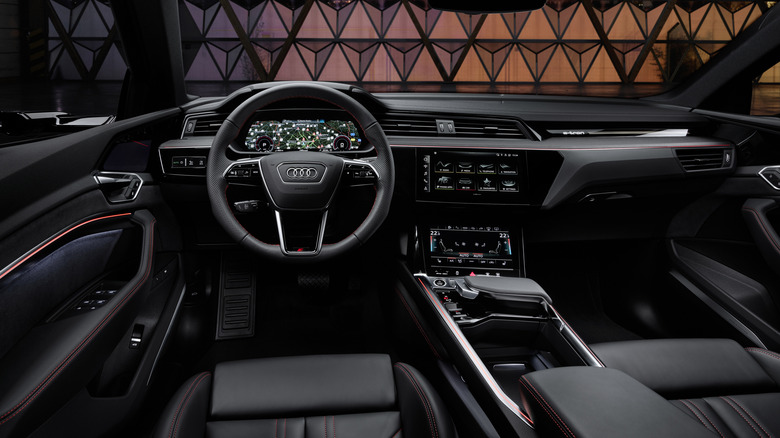 Audi
Inside the SUV remains familiar, though Audi has updated its color and trims, with new decorative inlays, new walnut wood, and the option of a fabric made from recycled PET bottles. The old base trim has been retired, making the Advanced Line the point of entry. The leather seats all have contrast stitching, now, and a Dinamica upholstery — made from 40% recycled materials — is optional.
There's a glass, opening panoramic roof, and the option of quad-zone climate control as an upgrade to the dual-zone standard system. Ventilated seats are available, as are massage seats. As standard, there's a dual-touchscreen MMI touch response infotainment system, with 10.1-inch and 8.6-inch stacked panels, voice control, and an optional head-up display. Audi's virtual cockpit is standard, too.
As we've come to expect, however, some of Audi's newest technology is out of reach for U.S. drivers. The optional digital Matrix LED headlights are the most prominent example, current road safety regulations not allowing their ability to animate lighting patterns to show when you're changing lanes, when upcoming roads narrow, and flag traffic warnings ahead of the car. Audi says that, if the hardware is installed, it hopes to be able to push out software updates that enable it in U.S. vehicles should the rules change.
Bigger appeal, bigger price tag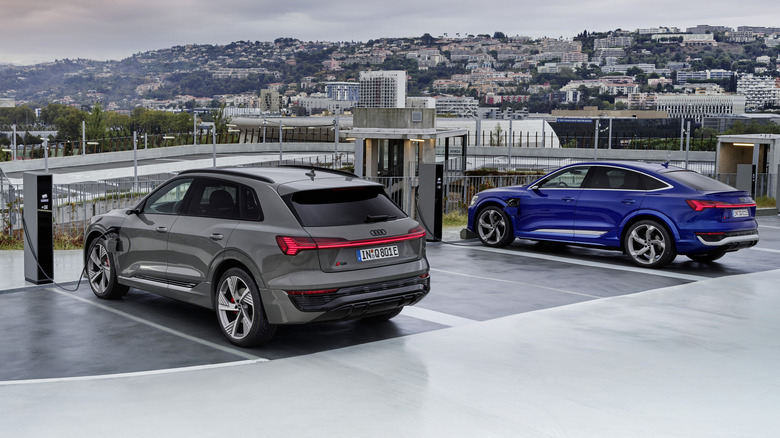 Audi
In Europe, the first examples of the new Q8 e-tron and Q8 Sportback e-tron are expected to arrive at the end of February 2023. It'll be priced from 74,400 euros ($75,000) in Germany for the base spec car.
As for the U.S., production is expected to begin a couple of months later, with the first examples arriving in North America in spring 2023. Pricing will be confirmed closer to the order books opening, with a likelihood of some increase given the healthier base-spec. By way of comparison, the current 2023 e-tron SUV starts at $70,800 (plus $1,195 destination) for the base Premium trim, while the Premium Plus trim starts at $77,800 (plus destination).
By summer 2023, Audi predicts, it should have the EV on sale in more than 100 countries. Just in time, in fact, for the hype to begin around the launch of the A6 e-tron sedan and its shapely A6 e-tron Avant wagon sibling.